The points and miles game has spoiled me. Whereas at one time I was almost laser-focused on saving every cent even on simple stuff, flying first class and sleeping in style using points I picked up from credit card spend has changed that to an extent: I don't get as excited over tiny wins. And because of that, like many readers may have I got caught sleeping on the Cash app. Luckily, I recently woke up and realized that it can be a useful tool for my belt – and not just for the mini wins. Note that there is no referral link in this post — I'm not writing this to pick up referrals but rather to alert you to the fact that there are a few reasons to love this little reward vehicle.
What is the Cash app?
The Cash app is sort of like a reloadable prepaid debit card. At first, it doesn't sound like it makes much sense: you load this prepaid debit card with……your bank debit card. Why add a middle man?
For the average consumer, I think one of the advantages is  probably the fact that you could budget this to be your "everyday spend" card if you were on the Dave Ramsey / "no credit cards" train but still wanted to feel rewarded for spend.
Another advantage could be the ease with which you can pay others. For example, I recently needed to send a few bucks to a family member to pay her back for a small gift she picked up for me. With the Cash app, I could load the app with money using my debit card, send the money to her, and she could withdraw the cash from an ATM in a matter of minutes (and this is of course one of my concerns with the app as well).
But I think the Cash app's main selling point is how it can save you money on purchases in the same kind of way that credit cards can through return on spend — and in some cases more significantly.
Saving money on normal stuff with the Cash app
Each Friday, the Cash app releases new "boosts". These are opportunities to save money at various merchants when using your card. You effectively get a discount because the Cash app kicks in the difference between the full price and your discounted price.
For instance, I recently had a boost for 10% off at Dunkin'. My order totaled $14.10. As you can see in the screen shot below, the Cash app paid the "boost" of $1.41 and charged my Cash card $12.69.
I know what you're saying: savings of a buck forty-one? Big whoop. However, 10% beats the return on any credit card that I'd have used in the same situation. Granted, I could surely get discounted Dunkin' gift cards, etc — but I don't always stock up in advance on stuff like that. Getting 10% off on a spontaneous stop for coffee and donuts beats what I would have gotten with a credit card by at least 5%. And my savings surely could have been more had I purchased a Dunkin' gift card for my next stop, though I'm glad I didn't on that purchase since my boost this week is 20% at Dunkin' (not sure I'll use that either since I got a free 3-month Panera coffee subscription with T-Mobile Tuesdays last week, but on the other hand more coffee discounts is probably always a good thing for me).
Similarly, for much of the past few months, I've been seeing weekly boosts for 10% back on any one grocery purchase up to $7.50. One day I ran to the store and just needed a few things. I did the mental math and realized I had about $25 worth of stuff. I decided to grab a $50 Amazon gift card and I loaded my 10% off grocery boost (which discounts the total up to $7.50). Again, the total wasn't huge, but how many credit cards do I carry that would have offered greater than 10% back on that purchase? Zero. Well, OK. Now there's that Platinum card. But at the time the answer was zero :-).
Very recently, I've gotten a bunch of useful boosts. I reported many of them in this post. The cap on all of them is $7.50 back, but this week alone I could easily see myself using 15% back at any restaurant, 15% back at Walmart, 15% back at the Home Depot, and my boost for $5 off any purchase. If I just use those, that will be $27.50 in my pocket this week alone with very little effort (and it's worth adding that I wouldn't otherwise get a return of 15% on those purchases). I will likely also use my offers for 20% back at Dunkin', 20% back at the USPS, and 10% back at a couple of places like Walgreens or CVS, though I probably won't max those out. Still, my point is that it adds up.
The biggest hassle is that savings are not automatic – you have to load the boost to your card before you use it. You do that via the menu item that looks like a debit card, where you "swap" in the boost you're about to use. I've done this a minute or two before using the card and it has worked smoothly — though in a couple of situations, the boost didn't activate automatically (as discussed below). I'm not exactly sure why it failed. The most recent time that happened, I had activate the boost 12 minutes before checking out, so it isn't as though it was just too fast for the system to catch up.
Cash app makes debit card requirements rewarding
One of the big reasons I've found myself in love with the Cash app as of late is because of how it makes debit card purchases rewarding.
I've written several times this year about my progress toward new bank account bonuses. I've earned thousands of dollars this year mostly by moving my money around from bank to bank.
Many new bank account bonuses are easy — you may simply need to deposit a certain amount or receive direct deposits totaling $X in order to get $Y in bonus money. However, some account bonuses require debit card transactions. While not a new account bonus, I recently got targeted for $15 in bonus money per month for doing 10 debit card transactions each month for the next 6 months with my HSBC debit card (and another $15 per month for doing 3 bill pays). My wife received the same offer.
If we each complete the 10 debit card transactions, that's $30 per month for six months — a $180 win in two-player mode. But who wants to do 20 debit card transactions per month? Then I have to either remember to carry the debit card to use it for $2 drink purchases or use it for bigger purchases and forgo rewards I could have earned on my credit card, etc. I figured I'd probably mostly use my HSBC debit card to reload my Amazon balance or buy Amazon gift cards from Amazon — a "same as cash" feel.
However, the Cash app is better. You load the app with a debit card and debit loads can be done in whatever amount you choose. Since, for example, the 10% grocery boost each week has been good for a purchase of up to $75, I've just loaded $5 here and $10 there over the course of several days, doing 10 transactions in the process. The effect is similar to reloading my Amazon balance, but I'll save 10% (or maybe more depending on the boost) in the process. Essentially, I'll get better-than-credit-card-rewards while completing the requirements to pick up $180 in bonus money for the two of us.
I am currently working on a $500 bank account bonus that requires 5 transactions to post to the account. Cash app here I come!
I recently wrote about how NorthOne is offering a $25 bonus to those account holders who use their debit card before 11/21. NorthOne, meet Cash app.
There are a number of situations I've run into in just the few short months that I've been using the Cash app where I was happy to earn rewards either in situations where I wouldn't have expected them (i.e. on debit card purchases that I had to complete anyway) or that outpaced what I would have otherwise expected.
And the Cash app even saved me once recently when I was standing at Walmart and my, erm, "debit" card didn't work. I was able to instantly load what I needed onto the card and use it to complete my purchase.
Cash app downsides
While I've found the app both rewarding and convenient, it isn't without downsides.
For one, I've had a couple of situations where my boost did not apply automatically as noted above. For instance, I made a Walgreen's purchase a few days ago and did not get the 10% boost. Under the support section in the app, it instructs you as to where in the menu to find the place to report a missing boost. There's just one problem: that menu option doesn't actually exist. They give you clear instructions as to where to find it in the menu, it just isn't there. So I had to reach out to the general support messaging. That's no big deal except both times that I've had to do this, I've gotten a canned response from support telling me where to report the missing boost — the same instructions found within the app that lead to a place where the button to report the missing boost doesn't exist. Both times, I've both explained in advance that there is no place to report the missing boost under the transaction details and both times I have had to follow up with a second message to let them know that, as I'd written in my first message, their suggestion leads to no such place to report it (with screen shots attached to show it). They don't seem particularly interested in fixing that problem, but in both cases they credited my account accordingly. It was a little annoying to need to send two emails to get resolution on a transaction worth just a couple of bucks. If I had to do that regularly, my enthusiasm for the Cash app would be zapped. Thankfully, most transactions have been fine.
The other key concern for me is security. I haven't had any issues with the security of the app or problems with fraudulent charges. However, adding cash from the debit card linked to my account is almost too easy — all I have to do is open the app, click "add cash", and enter an amount and it charges my debit card (no need to log in or enter a PIN or anything). If I didn't have a screen lock on my phone, it would potentially be easy for anyone who got a hold of my phone to load up the app from my debit card and send money quickly. Maybe I wouldn't be held responsible for fraudulent debit card transactions in a situation like that, but it's a potential concern for sure. I actually really like how quick and convenient the app is, but adding a PIN that needs to be entered to reload (similar to the way someone can log in to apps like Robinhood or SoFi with a simple PIN entry) would add a layer of security that I wouldn't mind.
That's not to say that I am particularly concerned about the Cash app, just that I could see room for improvement there and I could understand why some may be uncomfortable with it.
Bottom line
The Cash app isn't necessarily a huge win in itself; saving up to $7.50 at a time doesn't feel like hitting the lottery. However, the savings can outpace credit card rewards on the same transactions in many cases. And those small savings do add up. I had a math teacher growing up who told us that he won the lottery every day: he put an envelope in his glove compartment and put a buck in it every day for the lottery ticket that he didn't purchase and at the end of the year he was a $365 winner every time. The cash app can easily beat out Mr. Yaeger's annual lottery haul.
Better yet, it has made meeting debit card transaction requirements for bank bonus money a breeze — and rewarding at the same time. Again, the difference there won't be massive on any individual transaction, but just like earning 5 miles on your coffee here and 100 miles on a bill there, it adds up over time to make for savings and rewards that are worth the near-zero time investment in my opinion. I'd ignored this one for a long time because of the seemingly small size of the savings, but I now see that this was shortsighted. I'll take the easy wins as long as I don't have to deal with reporting too many missing boosts.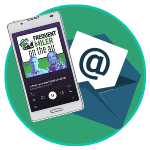 Want to learn more about miles and points?
Subscribe to email updates
 or check out 
our podcast
 on your favorite podcast platform.