Quite a few readers asked how Greg and I were getting home from our 40K to Far Away challenge and I'd been intending to write a post about how I did it. Then, last night, American Airlines suddenly had award space bookable to New Zealand from 10K round trip. Round trips dried up relatively quickly and some readers were only able to snag one way for 6K miles (and apparently in addition to the Los Angeles to Auckland route that we posted, there were both connecting flights from other US cities available as well as flights to Australia). I don't know whether or not American will honor the tickets it sold, but regardless as to whether or not they do, Down Under remains a tough nut to crack in terms of premium cabin award availability. Here are a few tips should you find yourself planning a trip Down Under and/or needing a way home after your 6K one-way ticket that we all hope sticks.
1) Accept that you're probably going to have to travel via Asia for premium cabin space
Greg wrote a post earlier this year entitled, "How to piece together an impossible award". You should see that post if you're actually one of those people who booked a one-way to Auckland and are now hoping to find a way back in business class. Note: I'd recommend waiting at least a week or two before making any further nonrefundable plans if you booked last night's AA Economy Web Specials fares to be sure that American honors them. In short, you are very unlikely to find premium cabin award space directly between New Zealand and the US, but as Greg points out there are some excellent options for getting to Asia (like 40K AA miles for business class on Qantas to Asia) and it is much easier to find premium cabin award space from your choice of Asian gateway to the US than it is directly from Australia or New Zealand. This surely makes the journey much longer, but it also gives you a chance to visit an additional city.
2) If you can accept economy class, save a few miles with LifeMiles
If you booked your way home via the AA sale and now need a way to get to New Zealand and your main focus is getting there as soon as possible rather than in a premium cabin, most easily-accessible Star Alliance programs charge 40K one-way for awards between New Zealand and North America. Avianca LifeMiles charges that same price from most US cities, but only charges 35K one way for the Air New Zealand flight from Los Angeles to Auckland (though, oddly, it's 40K in the other direction). That's a modest savings, but it could shave a few miles off.
3) Consider some of the cheap fifth freedom routes from Auckland
If you're looking to pair your trip to New Zealand with another destination in the region, consider the fact that there are a couple of really cheap 5th freedom routes from Auckland. For those unfamiliar, a 5th freedom route is when a carrier from Country A transports passengers between Country B and Country C (an origin and destination outside of the airline's home country). Airlines sometimes do this on routes where they would need to refuel or for other logistical reasons.
Last month, I highlighted a post from Miles to Memories in our week in review around the web that told the story of one of their authors getting stuck with an invalid ticket on a route that shouldn't have been sold as a fifth freedom flight. Within that post, Ryan linked to this full list of fifth freedom flights. The timing on that post was excellent; my wife, son, wife's sister, and our brother-in-law had decided that they wanted to meet up with me for my last stop on the 40K to Far Away challenge (Niue), which meant that I would need to find a way for 4 adults and 1 child to get back home from New Zealand, ideally in comfort after a week of uncomfortable flying. When I saw the list of fifth freedom routes linked above, I noticed there were three from Auckland:
Auckland to Bali on Emirates
Auckland to Brisbane on China Airlines
Auckland to Sydney on LATAM
The route to Bali probably would have been ideal had I been able to find easy award space home from Bali, but I couldn't for the dates I needed. That's definitely a route to keep your eye on from Auckland. If you can find an award on Emirates, it would position you to Asia (Bali) for a reasonable business class option home (as outlined below).
However, if you're looking to pair your visit to New Zealand with a trip to Australia, check out those fifth freedom routes.
For example, here's a look at a random December date from Auckland to Sydney in lie-flat business class on LATAM.
Granted, that flight is only scheduled for 3.5 hours. Still, at a hundred bucks more than the cheapest full-service-carrier economy class ticket and a hundred bucks less than what Qantas or Virgin Australia will charge for recliner seats, that's a bargain.
In my case, I was looking to get back to Brisbane — both for Brisbane Eat Street and for a Singapore KrisFlyer Spontaneous Escapes award (outlined below). While not quite as good as the LATAM option above, China Airlines offers lie-flat business class for very reasonable prices between Auckland and Brisbane.
It was actually a few bucks cheaper when I booked it (likely thanks to currency fluctuation). This is another relatively short flight at about 3.5 hours, but after several hours of travel form Niue to Auckland, and considering that my not-quite-2-year-old son would definitely be ready for bed by the time this took off, I thought it was well worth having a flat bed. It was a good call as he went right to sleep. That meant that I missed some of the service, but still enjoyed a fantastic seat. The China Airlines A350 is nice. This picture does not do the cabin justice.
4) Remember Air Canada is an option from Australia
During my searches for ways home from Down Under, Juicy Miles reminded me that Air Canada has a few routes between Vancouver and Australia as they fly to Brisbane, Melbourne, and Sydney. Air Canada's business class looks reasonably nice and at the time I was looking (a month or two ahead of departure), I was finding decent award availability for multiple passengers. Air Canada's Aeroplan will charge you 80K miles from Australia to North America in business class, including your connections beyond Vancouver. You may be able to do even better with LifeMiles by connecting to an economy class flight from Vancouver to your US city thanks to the way that Avianca prices mixed-cabin awards.
Also keep in mind that Aeroplan will let you connect in Asia for the same price (though no stopover if you're booking one way).
How I would have done it
Had I been traveling all alone, my plan was to have flown Qatar Airways QSuites from Auckland to Doha to one of their many European destinations for 85K AMerican Airlines miles one way. Doha to Auckland is the second longest flight in the world and pairing that with another super long flight to Europe in QSuites for 85K miles sounded pretty darn good to me. From Europe, I could have likely then been happy with one of the cheap low-cost carriers home or used Avianca LifeMiles to perhaps snag a discounted ticket home (as we've shown they have award pricing as low as 16.5K miles one-way in economy class on some routes to/from Europe).
However, when my family decided to come, I knew that traveling via Asia would make more sense for all of us. Still, this is an option you shouldn't overlook if you're looking to get maximum premium cabin time in the sky for a reasonable number of miles. Make no mistake, this is a long way home, but it sure looks pretty luxurious for business class.
How I got home
After landing back in Auckland from Niue at around 5:30pm (the flight from Niue to Auckland is an all-economy-class-flight that only operates twice a week), we picked up our bags and went through immigration and customs only to walk directly to the China Airlines check-in counter to check in for our 8:30pm flight to Brisbane. I'm glad we didn't cut it any closer than 3 hours between arrival and departure as there was a long line at customs in New Zealand and we really didn't leave ourselves with much time to play with. We did briefly make it to the Strata lounge in Auckland International Airport before boarding. I had visited this lounge the week before on the way to Niue. It is a Priority Pass lounge and also the contract lounge for some of the foreign carriers. Apparently, it was runner-up in the race for best Priority Pass lounge in the Asia Pacific region a year or two ago and I can see why. Service was excellent, the food selection was hearty, and they even have a kids' play room. It's worth a stop.
From the lounge, it was on to China Airlines business class (pictured above) for the trip to Brisbane. Service was warm and welcoming and they gave us a goodie bag for my son that included a sticker set, baby food, a diaper, wipes, and that sort of thing. There was no amenity kit for adults on the short flight, but I slept through most of it. The seats were very nice. China Airlines is a Taiwanese SkyTeam carrier and I'd definitely consider China Airlines for future trips to Asia based on this short flight.
Part of the reason I had chosen for us to fly to Brisbane was because Brisbane was on the previous month's list of Singapore Airlines Spontaneous Escapes. For those unfamiliar, Singapore KrisFlyer releases a monthly list of routes with reduced award pricing, presumably with the goal of filling otherwise empty cabins. Since I was looking to fly 4 adults and one child, routes with excess capacity seemed like a good opportunity to pick up multiple seats. Indeed, that was true: I had no trouble booking 4 adults in Singapore Airlines business class on their regional A350 for 43,400 Singapore Krisflyer miles and about $64 per passenger (and that's awesome since Singapore is an Amex transfer partner, Chase transfer partner, and Citi transfer partner, making it easy to put together the miles for four of us). Singapore operates business class with 2 cabins on this flight, a larger main front cabin and a second "mini cabin" between galleys. I booked us in the mini cabin and we ended up being the only passengers in the mini cabin. Flight attendants asked if we felt like we were flying private, and between having the mini cabin to ourselves and Singapore's characteristically fantastic service, we sure did feel like we were flying private. Again, service was terrific.
The seats were of course spacious and comfortable. Unlike my previous experiences on on the A380 and 777, the seats did not need to flip down to make a flat bed but rather recline the way all other business and first class seats do.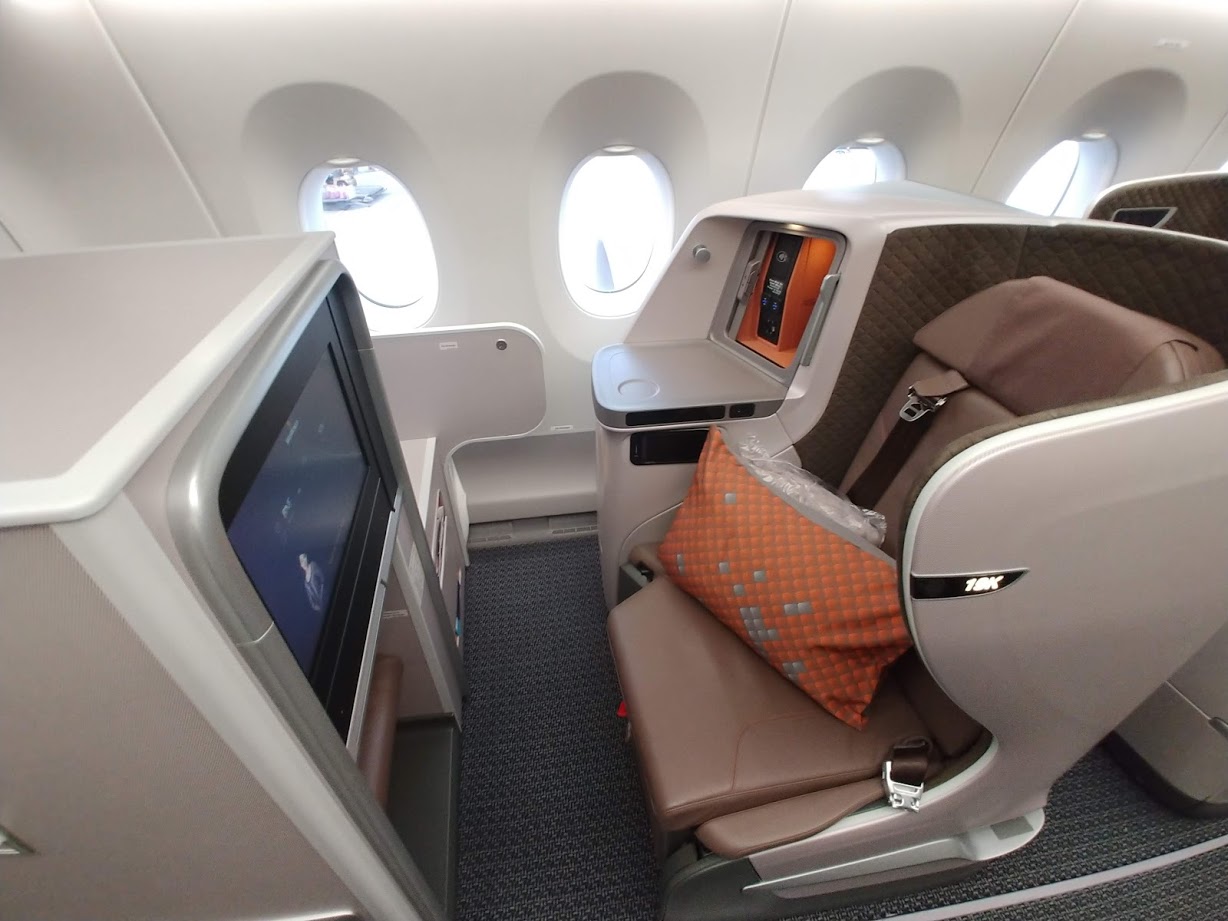 Food was also quite good on the flight. In Brisbane, there had been some confusion over my son's ticket (I had added him as a lap infant after booking the award and I noticed the night before we took off that the agent had somehow messed things up so as to create a separate reservation with my son where he had a ticket and I didn't, but I still also had my original PNR with a ticket number). I knew it would take a bit of time to sort it all out, but staff at the airport were able to get it fixed. While we were there, my wife struck up a conversation with one of the agents and ordered my son a toddler meal on the flight rather than the "baby meal" he was scheduled to get as a lap infant. As he long ago eschewed baby food, the toddler meal was a much better move.
Then we spent a couple of nights in Singapore before heading home. One of the best deals in award travel is using Alaska Mileage Plan miles to fly in business class between Asia and North America for just 50K miles one-way on Cathay Pacific. What's more, Alaska allows a stopover on a one way award (though eligible stopover cities vary by carrier). Thus, I was able to book from Singapore to Hong Kong to Newark (with the HKG-EWR leg on Cathay's A350) for 50K Alaska miles and about $92 per passenger. I booked about a month in advance and had no trouble finding days with as many as six seats available in business class to various US gateways. Personally, I'm glad we went with Newark. I'd flown Cathay's 777 business class to and from JFK a couple of times and just didn't really like the seat. The seat on the 777 was similar to the seat on the A330 we flew from Singapore to Hong Kong. That seats looks pretty nice.
And don't get me wrong, the seat above is leaps and bounds better than the long economy class flights I'd taken the week before. However, I just don't find the seat particularly comfortable. Nor do I find the inside pocket (the orange area) particularly useful since the pocket itself is really shallow. I put my laptop there for a minute, but I was afraid it would somehow lean over and get crunched when reclining my seat.
However, I was really pleasantly surprised by the A350 on the way to Newark. Suddenly, that pocket near my knees was much more functional since it was both enclosed and big enough for my laptop and several other items (some snacks, a battery pack, and some other stuff).
Furthermore, though I didn't get a great picture of it, the seat aligns with that pocket and the front ottoman to make for a wider sleeping surface area.
Between that wider surface area and the comfortable bedding (both mattress pad and blanket), I slept really well on the long flight to Newark. We once again booked the mini cabin (we've discovered that a mini cabin is nice when traveling with a baby), and this time it only had 2 rows in a 1-2-1 configuration. My wife and I had one set of middle seats and my sister-in-law and brother-in-law had the other pair, so that left only 4 other seats in our cabin. A couple of them ended up empty, so the flight attendants invited us to put our son in one of the empty seats across from us when he fell asleep, which is exactly what we did. He slept…well, like a baby…and I think I speak for all of us in the cabin when i say that was a win.
Bottom line
If you're looking for ways back from Auckland and/or Australia, you'll likely have to consider flying via Asia to get home in business class. That gives you a lot of options. In my case, to recap, I booked:
Auckland to Brisbane on China Airlines (A350 business class) for $317 (at the time)
Brisbane to Singapore on Singapire Airlines (A350 business class) for 43,400 Singapore Kirsflyer miles + $64.04
Singapore to Hong Kong to Newark on Cathay Pacific (A330 and then A350 business class) for 50K Alaska Mileage Plan miles + $92
Altogether, that's 93,400 miles and less than $500. While certainly not cheap, keep in mind that I also got to stop for as long as I wanted in Brisbane and Singapore and I could have had an additional stopover in Hong Kong. Seeing 3 additional cities for that price and enjoying some very comfortable flights on modern planes definitely isn't a bad deal if you have the time. Of course, my flight from Brisbane to Singapore was a limited-time deal, though it's worth noting that the same flight when on sale for the same price again the following month, so that route may be ripe for the booking for now.
However, there are many more ways to play it: 40K American Airlines miles will get you from Auckland to more or less any Asian destination in business class on Qantas or Fiji Airways if you can find availability. I had originally hoped to use that award chart sweet spot to get to Japan and fly Japan Airlines business class or first class using Alaska MileagePlan miles. but couldn't find the availability (even for 2 passengers at a time). With regular LifeMiles sales and their very advantageous mixed-cabin itineraries, there are many opportunities to get to the US from Asia in business class in the 60K's, so there are a plethora of options if you don't mind the long route home.