When word came yesterday of the impending Hyatt category changes, I cringed and turned half away from the screen as I searched the list for the Hyatt Regency Grand Cypress. I was sure that this gem of a property would finally increase out of reach for Hyatt Category 1-4 free night certificates. And so, before I had time to fully process the hit of the latest category changes, I breathed a sigh of relief. After my second stay here in the past couple of months (and the second time I've extended a stay longer than originally planned!), I can't wait to come back again and I am thrilled that it is staying in Category 4. While this property won't be for those looking for a small boutique hotel experience, it is a great spot for families, particularly if you're looking to visit the Disney parks but certainly also if you just want a really nice full-service Hyatt for fun in the sun.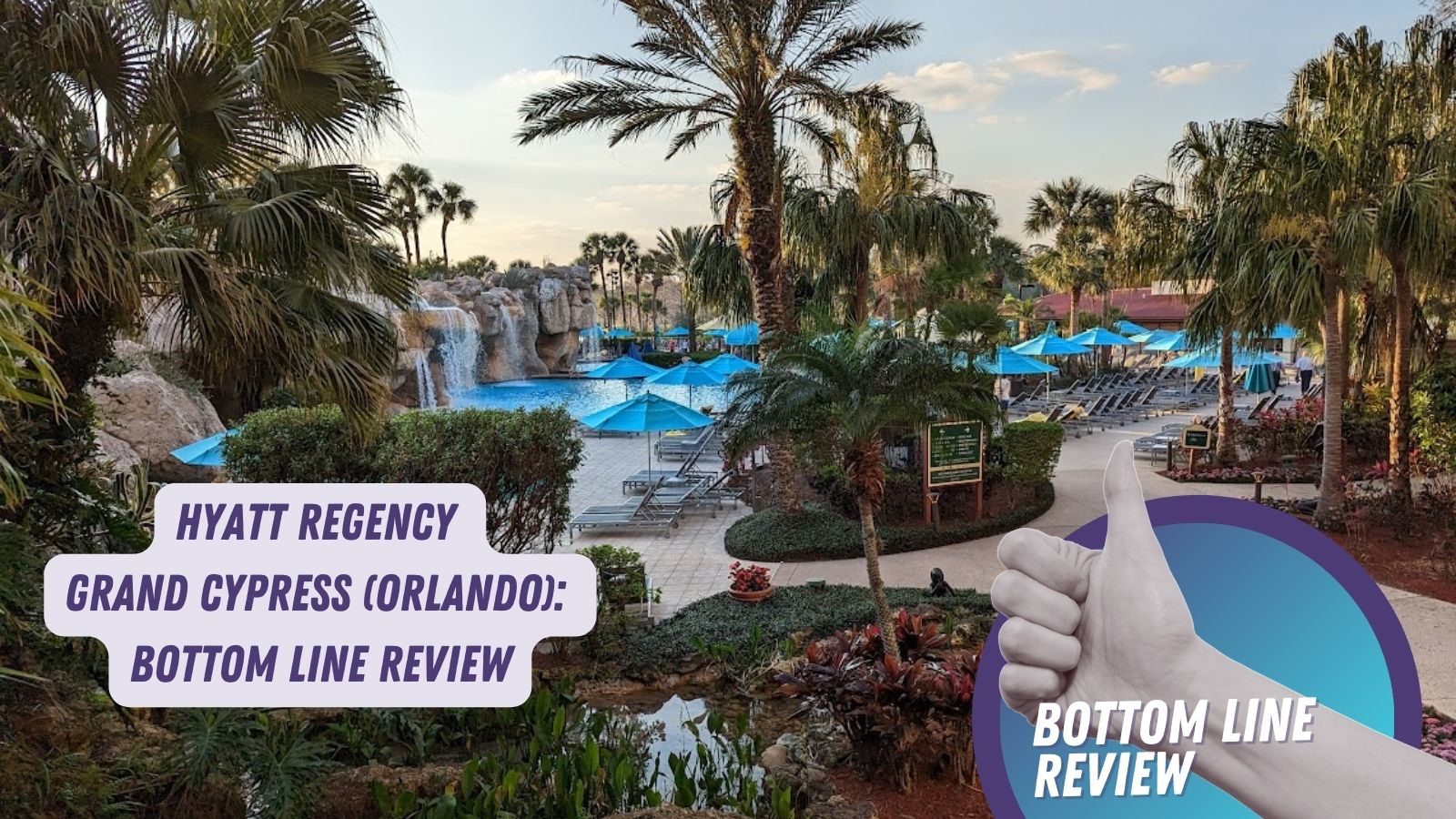 Hyatt Regency Grand Cypress (Orlando) Bottom Line
Not to be confused with the Hyatt Regency Orlando, which Tim reviewed just a couple of weeks ago, the Hyatt Regency Grand Cypress is the other Hyatt Regency in Orlando. Like that Hyatt Regency Orlando, the Hyatt Regency Grand Cypress is a large convention center property, but not quite as large as the Hyatt Regency Orlando and without a club lounge (which is certainly a great feature that the Hyatt Regency Orlando has over the Hyatt Regency Grand Cypress).
However, if you are traveling to Orlando with a family and you're looking to visit the Disney parks, the location of the Grand Cypress is better, full restaurant breakfast is very good, and in addition to a sprawling pool area with a water slide, the Hyatt Regency Grand Cypress has a climbing wall, free bike rentals, mini golf, pitch-n-putt, and paddle boats. Overall, the hotel is clean, modern, has very good facilities, and some of the warmest staff I've encountered at a domestic Hyatt (and that's a bold statement).
Hyatt Regency Grand Cypress Key Details
Price: As a Category 4 property, a standard award is 15K points per night. On my most recent stay, several nights of my stay were peak-priced at 18K. We used two of my wife's Category 1-4 free night certificates (which are valid for use even when peak pricing is in effect) and we booked several nights on points. We were upgraded to a "junior" suite at check-in (in quotation marks because there really wasn't anything "junior" about it – this was a full suite). On my previous stay, I booked a premium suite award (for 30K points per night) for several nights (the VIP suite). Both are pictured separately.
Value: During this stay, the value was very good. Standard rooms during our stay were $320-$350 per night before taxes and fees (I looked up a night next week and the daily rate for a standard room is $599 or 18K points). The junior suite to which we were upgraded on this most recent stay was selling for around $475 per night plus taxes and fees.
Location: Very good if your primary aim is to visit Disney parks. The hotel has free shuttle service to Disney World, Disney Springs, and Universal Studios. Note: The shuttle service runs on a set schedule that may not be convenient for you depending on your needs. This isn't near downtown Orlando and the immediate surrounding area is mostly chains, but Uber Eats and DoorDash have plenty of options nearby and there is a Publix and Target within an easy drive.
Room: I've now seen several different rooms here. All have been very clean and spacious. A/C blows cold. On our previous stay, we had a VIP suite for most of the stay and a standard room for the last night. On this stay, we had a junior suite. Furniture and fixtures were in excellent condition in every room I've seen.
Parking: Free for Globalists on an award stay, otherwise $30 per night for self-parking or $45 per night for valet (plus tax).
Resort/Destination Fee: $45+ tax per room per night (waived on award stays). This fee includes: Four Round-Trip transportations to Disney, Daily Scheduled Daily Transportation to Disney Springs, 24 Hour Access to Stay-Fit Fitness Center, 7 Hole Pitch n' Putt Course, Walk-in Court Times at Racquet Club (Racquet and Balls included) or Access to Pickleball Courts, Bike Rentals, Rock Climbing Wall, Sailboats, paddle boards, kayaks and paddle boat rentals, Daily scheduled activities, 5 Miniature Golf Course alongside Pitch n Putt., 10% Discount on 50 Minute or longer Spa/Salon Services and Retail at Marilyn Monroe Spa, Nightly Movie at the Pool (weather pending), Access to basketball courts, 1 Mile & 3 Mile Mapped Outdoor Jogging Courses, 10% Discount on Recreation Retail & Cabanas (not to include F&B), 10% Discount on Recreation Retail & Cabanas (not to include F&B), Kids (12 and under) Eat Free at Dinner in LakeHouse with paid Adult Entrée, One Round Trip Transportation to Universal Studios Orlando Daily
Internet: Strong signal in our room and around the resort grounds. I had no trouble with most regular tasks, though when I ran speed tests I was surprised that it wasn't nearly as fast as my signal tethered to my T-Mobile 5G phone. I did a zoom meeting from the pool and it was mostly fine, but I hit a little lag a few times.
Service: Excellent. From the reception staff to the waitstaff at breakfast to the valet employees to housekeeping staff, poolside waiters, etc — every employee I've encountered has been genuinely friendly. It is impressive how well that culture seems to permeate all departments at what is a large property.
Turndown service: None.
Dining:

Lakehouse restaurant: Serves breakfast (buffet or a la carte) from 7am-11:30am, lunch 11:30am-2pm, and dinner (6pm-10pm). During dinner time, this restaurant also has a sushi bar. One kid under 12 eats for free with each adult entrée.
Four Flamingos: Fancy dinner joint serving some sort of "Florida cuisine" from 5pm-10pm. Ironically, since we've had great suites on both stays, we've not yet eaten here (it's been so convenient getting Uber Eats and eating dinner in the room!).
On the Rocks Poolside Restaurant: Open 11am-6pm during the week or 7pm on weekends. The menu consists of stuff like burgers, chicken avocado salad sliders, tostones, and that sort of thing. Kids menu includes grilled cheese, chicken fingers, and PB&J (and maybe a couple other options). The chicken avocado sliders are surprisingly good, everything else is fine (except the "salsa" they serve with the tostones, which is like ketchup with a little green pepper of some sort mixed in).
The lobby bar: Seems like a fine place to get a drink and on some nights the convention crowd runs deep here, so it can be lively (but no loud music).
Cafe / Marketplace: Off the lobby, there is a cafe / marketplace serving Starbucks coffee and selling a pretty wide range of snacks and microwavable food like mac & cheese, ramen noodles, etc.

Spa: There is a full-service spa but we didn't visit it.
Fitness Room: There is a very good fitness center near the pool if not the largest I've seen. It has about a half-dozen Peloton bikes, about a dozen treadmills, a bunch of LifeFitness machines, and free weights. The hotel hack of getting free bottled water in the gym doesn't work here as they just have a water cooler with paper cups.
Hyatt Globalist Benefits: 

Suite Upgrade: On my most recent stay, I booked a standard room (a couple of nights on certificates and then I extended using points for a standard room). At check-in, I asked about an upgrade to a junior suite (I saw they were available in the app) and we were upgraded.
Free Breakfast: Served in the restaurant. You can choose between the buffet and ordering a la carte. Picture of the menu is included in photos.
Late Checkout: Automatically given 4pm on both stays.
Parking: Valet parking was free on award stays. Service from the valet is surprisingly speedy considering how busy they seem to get

Would I stay again?  Absolutely. I extended my stay the first time back in late November and then I originally booked two nights for this stay and ended up staying for 5. We will definitely be back — my wife said that she thinks it is her favorite domestic hotel. It's not that it's fancy, but it's perfect if you've got young kids, the rooms are very clean, service is excellent, and there's plenty to do.
Pros and Cons
Pros
If you're here for the parks or a convention, this is a great location.
Plenty of activities included with the resort fee for a family to have a great time without spending additional money (keep in mind that with Hyatt, resort fees are waived on award stays regardless of status). Our kids would have been happy to play mini golf, pitch & putt, play in the sand, and go to the pool / down the water slide / into the waterfalls all day every day.
Great service from everyone. The guy cleaning the lobby who moved a chair at a table near me as I was typing this and he apologized for the noise that I hadn't even noticed.
Great pools with plenty of space. The pool never felt crowded.
Very fast elevators (might seem like a weird thing to call out, but multiple people commented on how quick they were)
Cons
The location doesn't make for easy walking anywhere.
No microwaves in rooms. I often find that hotels will bring you a microwave if you ask, but this property will not. They have public machines on some guest floors and one in the cafe. This is kind of weird given the size of the kitchenette in the suites — they have plates, glassware, silverware, and a bunch of cabinet space, but nothing to heat food.
Cafe / marketplace is really pricey on some items. My wife got a large bottle of water and it was $8.
They charge a fee for accepting packages if you have something delivered. We extended our stay, so we needed some more diapers. We placed a Walmart order for one box of diapers and they charged us $10 (apparently that's the fee for a package over 2lbs). We would have just driven to a store if we had realized how much it would cost.
Hyatt Regency Grand Cypress Rooms
Junior suite
Note: Our "junior suite" had a massive terrace. Most junior suites won't have this.
View this post on Instagram
VIP Suite
On our previous stay, I had paid 30K points per night for a VIP suite. It was much larger than the junior suite, but not worth the additional points if you can use a Hyatt suite upgrade to the junior suite (which is a "standard" suite). However, if you need a lot of space and/or only premium suites are available, this could be a good use of points.
Our VIP suite was a "pool view" room, which also featured a view out to the Disney parks. That meant the ability to see fireworks shows nightly during the holiday season.
Restaurants / breakfast menu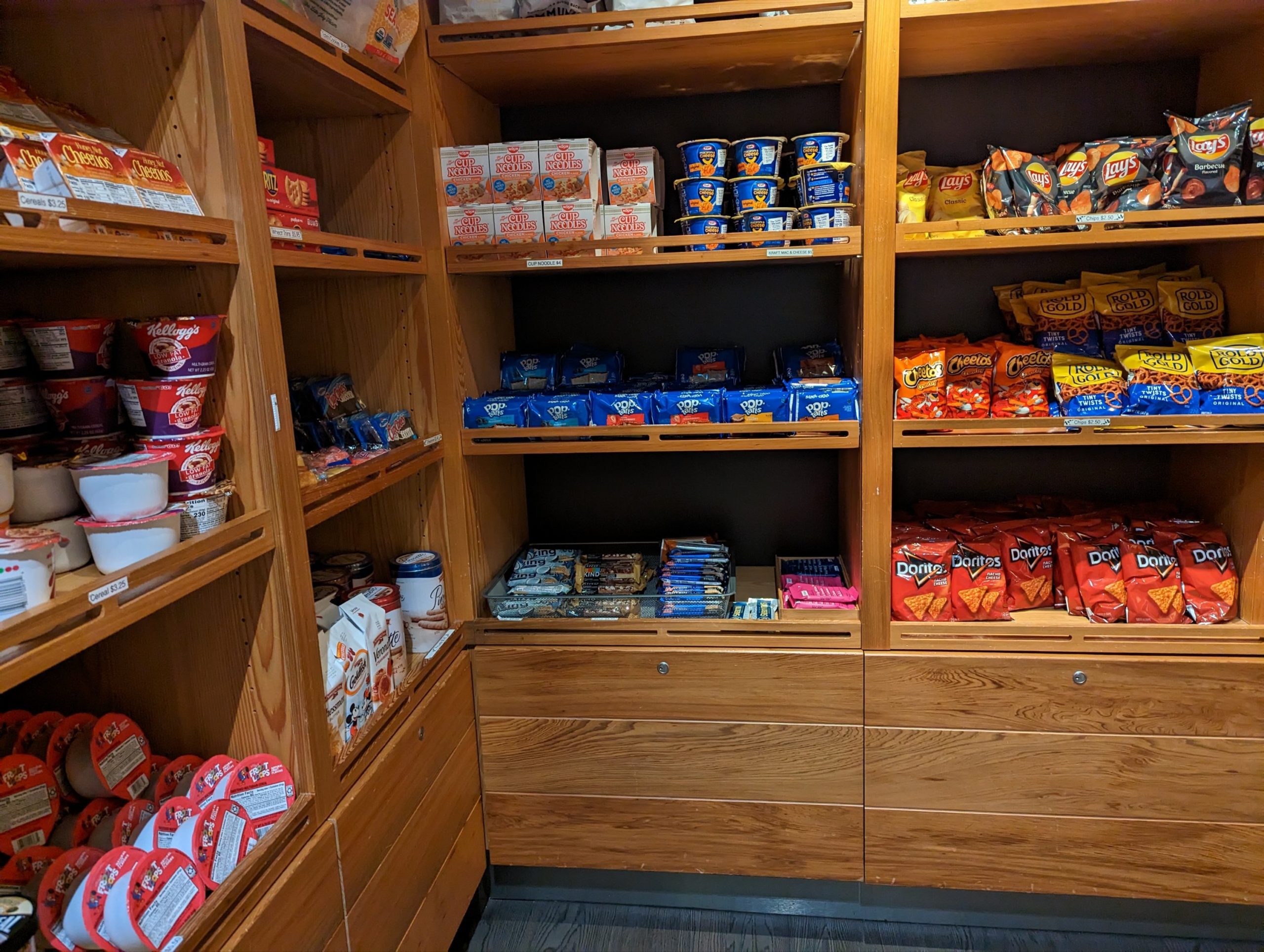 Hyatt Regency Grand Cypress Grounds and activities
Pools & water slide
Beach, splash pad, bikes, and climbing wall
Mini golf and pitch & putt
Fitness Center
Guest laundry & arcade
Hyatt Regency Grand Cypress Disney and Universal shuttle schedule and other activities
The Hyatt Regency Grand Cypress features daily shuttles to the Magic Kingdom at Disney World, Universal Studios, and Disney Springs. Note that the shuttle schedule runs limited drop-off and pick-ups as shown in the image below. We had a rental car (we needed one for a number of reasons), so this was a non-issue for us, but the limited drop-off and pick-up times might not make the shuttle useful for those who want to go without a car.
Fire pits, landscaping, other property pics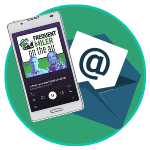 Want to learn more about miles and points?
Subscribe to email updates
 or check out 
our podcast
 on your favorite podcast platform.