Offer valid 6/9/13 thru 6/15/13 only.
I visited two nearby OfficeMax stores yesterday to checkout this OfficeMax deal. By buying $200 worth of Visa or MasterCard gift cards at OfficeMax you'll get $10 off. Is that a good deal? Is it worth it?
First let's look at the terms & conditions. I've pulled out the important parts:
Limit 1 offer per transaction
Customers may purchase multiple Visa gift cards and/or MasterCard gift cards in denominations that cumulatively amount to $200 or more to meet the minimum purchase requirement
MaxPerks® Rewards are not redeemable for this offer.
Here is what the first and third parts of the T&C mean to me:
Limit 1 offer per transaction = No limit. Since it doesn't say limit 1 per customer, this means to me that if you want to buy more than $200 worth, you could simply ask the cashier to ring up each $200 bundle separately.
MaxPerks® Rewards are not redeemable for this offer = OfficeMax gift cards are redeemable for this offer. It doesn't say that you can't use OfficeMax gift cards to buy these gift cards, so it appears to be OK.
My Experience
I still had a few OfficeMax gift cards laying around from previous deals, so I brought the gift cards and my Ink Plus card along on my shopping trip. At the first stop, I reconfirmed what I had learned before: my local OfficeMax store no longer carries $200 Visa gift cards. Rats, that would have been a good deal. The best alternative was to buy two $100 cards, each with a $5.95 fee. I chose Visa gift cards over MasterCards because the Visa card PINs tend to work better. I brought four $100 cards to the register and asked to pay in two transactions. No problem.
After the first two cards were rung up, I saw that the total came to $211.90. That was wrong. Where was my $10 off? I showed the weekly ad to the cashier. She got out her big black binder full of scan-able coupons, found this deal, and scanned it in. Success! The new price came to $201.90
I gave the cashier my OfficeMax gift cards which she took and processed without comment. I then paid the small remaining balance with my Ink Plus (so as to earn 5 points per dollar). Done.
At the next OfficeMax store, I again couldn't find anything better than $100 cards with $5.95 fees. I bought two. This time the cashier had much more trouble finding the scan-able coupon (it hadn't been put into the binder yet), but eventually everything rang up correctly. I was out of OfficeMax gift cards so I paid for the whole thing with my Ink card.
Is it worth it?
If you buy two $100 Visa or MasterCard gift cards and get the discount applied, the total comes to $201.90. The fee is very close to 1%. That's not bad, but you can do just as well by buying $500 Vanilla Visa gift cards for $504.95 at various stores (drug stores, gas stations, etc.). And, dealing with a single $500 gift card is much easier than dealing with a bunch of $100s.
The benefit of the deal comes in if you want to liquidate OfficeMax gift cards (as I did) or if you can earn bonus points on your credit card at OfficeMax. The best credit card options are the Chase Ink cards that earn 5 points per dollar, and the Amex SimplyCash card that earns 5% cash back at office supply stores (see Best Category Bonuses). Either way, you will earn approximately 4% profit by buying gift cards, or more if you value Ultimate Rewards points higher than 1 cent each (and you should!).
If you decide to use OfficeMax gift cards to pay, keep in mind that some OfficeMax stores do not allow buying gift cards with gift cards. Your mileage may vary.
So, the answer to the question is yes, under certain circumstances, this is a good deal. I don't plan to buy any more of these gift cards though because I find dealing with $100 cards to be a hassle. Even loading the cards onto my Bluebird card (see Gift card PINs) is a bit more of a hassle than I want to deal with.
How about you? Is this deal worth it to you? More importantly, does your local OfficeMax store carry $200 Visa gift cards anymore?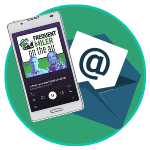 Want to learn more about miles and points?
Subscribe to email updates
 or check out 
our podcast
 on your favorite podcast platform.