IHG has been in the news over the last week, incredibly making Rewards Club seem almost…exciting? First, they announced revamped perks on the Chase IHG Traveler Card and the Chase IHG Premier that make each card signifcantly more attractive.  Alongside the improved credit cards, there is a re-tooling of IHG Elite Tier levels and benefits as well as an extension of some Ambassador benefits (and a nice promotion) for the very desireable Kimpton and Six Senses brands.  Add it all together and it's had me asking the question…what's the best IHG credit card strategy moving forward?
What's Changed
Earns 1 "free" night per year valued up to 40,000 pts.  Starting in March, cardholders will be able to use their certificate for properties above 40k by paying the difference in points.  Unlike Marriott's changes in this direction, there is no top-up limit.
New bonus categories of dining, travel and gas earn 5x (or ~3% back based on our IHG reasonable redemptions value)
$50 of United Travel Bank cash each cardmember year – DOC is reporting that this will be twice-yearly $25 credits that will expire 6ish months after issue and are not bankable.  This would be a significant blow to this benefit.
No change to fourth night free benefit that allows a cardholder to book 4 nights for the price of 3
Increased Annual fee from $89 – $99
Other IHG cards
The no-fee IHG traveler is also getting some increased bonus categories (3x on utilities streaming and dining) that are a good value for a no annual fee hotel card. IHG will be launching a new business card that apes 95% of the Premier card features, including the ability to top up the free night certificate, but with no 5/24 impact.
It's worth noting that the old IHG Select Card (that many of us have chumming around with the dust-bunnies in our sock drawer) is unchanged.  It will still have a $49 dollar annual fee, 10% back on award bookings (up to 100k back) and a 40k anniversary free night certificate.  There are two key, and somewhat under-the-radar differences:
The anniversary 40K certificate from the Select Card WILL NOT be able to be topped up.
Starting March 24th, Chase will impose a "family rule" for IHG Select cardholders, meaning if you already have a Select you WILL NOT be able to be approved for a Premier and vice-versa.  I'm unclear as to whether the family rule applies to people who hold Traveler or the Business Card but not the Select. (h/t MtM)
Now, whether or not IHG has the IT chops to properly execute these restrictions is TBD, but that's the official word on the street.
Intercontinental Ambassador
Ambassador, Intercontinental's paid elite status, also confirmed how their higher-end brands Regent, Kimpton, Mr. and Mrs. Smith and Six Senses will be treated by the program:
Ambassador complimentary weekend night will be usable any night of the week at Kimpton and Regent until 12/31/22
Ambassador benefits will apply at Regent until 12/31/22
Ambassadors will receive a welcome amenity and room upgrade at Mr. and Mrs. Smith properties
Ambassador benefits will apply at Six Senses Resorts
Six Senses is the most exciting IHG brand in my eyes, and it has by far the best Ambassador recognition including:
Complimentary breakfast for two in the main restaurant each day
Signature Amenity of either a complimentary 50 minute Six Senses Spa massage for two or local "experience (once per stay)
Complimentary one category room upgrade (subject to availability)
Extended check-out of 4PM (subject to availability)
Early check-in of 10AM (subject to availability)
Complimentary internet access
Wellness Platter on day of arrival
Six Senses has some absolutely beautiful resorts that are a pretty distinct cut above the rest of IHG's portfolio.  Being able to recieve these benefits on award stays in combination with the 4th night free AND the ability to top-up free night certs has me looking for someone to put an "I❤️IHG" tattoo on my chest.  Greg has the Six Senses Laamu on his bucket list…and for good reason:
With new rules and Ambassador status, you can book a water villa (that retails for around $1,100-$1,500/night) for a 40K certificate and a 60K topup and get free breakfast for two, a room upgrade and a free massage.  Wow.
A couple words of caution are warranted.  Since Six Senses has been added to IHG, I've only seen a couple of examples of someone using Ambassador there, so we don't yet have broad confirmation that these benefits are being honored as stated at each resort (although they should be).  Also, IHG's pricing is now dynamic, so there's absolutely nothing keeping them from jacking up all of the award prices once the changes take effect. I think that's unlikely, but the possibility exists.
So now what?
My wife and I have had both the Premier and the Select for years and love the ability to stack the Premier's 4th night free benefit and the 10% back on bookings from the Select.  During the pandemic, the 40K certificates have built up because of extensions.  At the same time, I have been finding it increasingly unwieldy to use them for optimal value (especially with so many properties pricing themselves at 41,000 pts).  So right before the new changes were announced, I downgraded our Premiers to the Traveler to avoid the annual fee.  I'll absolutely product change them back up once the changes take effect.  The question is what to do with our two Select cards.
Previously, I've never considered upgrading the Selects. The $40 difference between the annual fees of the Premier and Select wasn't worth it, especially since we would lose the 10% award booking refund.  Now, assuming that the top-up-ability of the Premier doesn't transfer as IHG says it won't, those certificates become waaaay more valuable to me and I think it makes upgrading at least one a good option.  But, we'll keep at least one Select open so that we can continue to take advantage of the award credit.  That gives us three "super-40K" certificates each year and we still keep 10% back on points spend.
Using the Six Senses Laamu as an example, it would allow us to book 7 nights for 432K (270K for 4 nights using 4th night free and 10% back + 3 certs + 162K top-up for the certs with 10% back) or 61K/night, somewhere between 1.7-2.5 cents per point.  That's the kind of aspirational value that's always been missing from the program and I'm very excited to play around with it.
If I was in 1-player mode and just had the Select, this would make the Premier card worth a sacred 5/24 slot for me…before March 24 in case IHG/Chase is able to prohibit Select cardholders from adding a Premier like they intend to.  Then, I would wait until AFTER March 24th to find out if indeed the Select certs aren't able to be topped up before deciding whether or not to upgrade that as well.  If I didn't have any IHG cards, I'd probably wait until the Business card is launched, get that first (to keep a 5/24 slot open), and then pick up the Premier as the personal card.
Final Thoughts
I've been able to get very good value out of IHG Rewards over the years, primarily because I'm a National Parks nut and often find myself spending the night in middle of nowhere America.  It's never been exciting though.  Until now.  IHG Rewards Club and the associated cards are more appealing than ever due to the combination of brand additions and credit card re-tooling.  It's worth taking a look at the entire combination before the changes happen at the end of March in order to maximize the potential upside.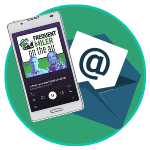 Want to learn more about miles and points?
Subscribe to email updates
 or check out 
our podcast
 on your favorite podcast platform.