Over the past several years, business credit cards have been the best option for acquiring points, miles and cash back through welcome bonuses.  Business card offers consistently top our Best of the Best Offers list.  Plus, most business cards do not add to your 5/24 Count and so they make it easy to keep getting more and more cards.
Chase's 5/24 Rule: With most Chase credit cards, Chase will not approve your application if you have opened 5 or more cards with any bank in the past 24 months.

To determine your 5/24 status, see: 3 Easy Ways to Count Your 5/24 Status. The easiest option is to track all of your cards for free with Travel Freely.
Pandemic influence
During the pandemic, things have changed.  Business card offers still top our lists, but card issuers have made it harder and harder to get approved for business cards.  During the recession, businesses are less likely to be able to pay their bills, and card issuers don't want to be stuck footing those bills.
Meanwhile, we've seen the appearance of some of the best offers ever for consumer cards.  Are individuals really less likely to default on their credit card bills than small business owners?  Card issuers seem to think so.
Here are a few examples:
Chase has made their Freedom and Freedom Unlimited offers exciting.  They've continued the 20K welcome offer but tacked on 5X grocery earnings for the first year on up to $12K spend.  If you spend the full $12K at grocery stores in the first year (and don't otherwise use your new Freedom card at all), you'll end the year with 80,000 points.  That's awesome for a fee-free card.  See these posts for more details:
Air France's credit card now has a 50K welcome offer.  True, it's not particularly notable for an airline card to offer 50K miles, but this card has only offered up to 25K miles until now.  It has changed this snoozer of a card to one to consider if you've already hit up all of the more valuable offers (or if you need a good way to keep your Air France miles alive).
The Amex Hilton Aspire card continues to offer 150,000 points after $4K spend.  What has changed is that Amex has made the card more valuable this year: free night certificates last longer and are good any day of the week; the $250 resort credit can be earned through dining and delivery purchases; and they've offered a great grocery spend bonus (12X) through the end of July (plus, I think it's likely that we'll see other spend bonuses appear in August).  For details, see: Is it time to get an Amex Hilton Card?
Amex has offered up to 125K for their Platinum card (targeted).  And, overall, Platinum cards have become more valuable than ever this year thanks to a slew of new credits.  See: Is it time to get an Amex Platinum Card?
Best Credit Card Offer Page: Changed
Despite some personal cards having best-ever offers, business cards have continued to top our overall "best of the best" list which is sorted by estimated first year value.  As a reminder, we estimate first year value for each card by estimating the welcome bonus value and subtracting out both the first year annual fee and the opportunity cost of spend to meet minimum spend requirements (see this page for details).
At the top of our Best Credit Card Offers page we used to have the "Best of the Best" list.  But I looked at this recently and noted that the list wasn't very useful.  With business cards taking most of the top spots, the list wasn't showing what most people currently need: a list of the best offers that they can actually get.  That's why, for now at least, I changed the top list to show just the best of the best consumer card offers:
As you can see above, at the time of this writing the Freedom cards top the list now that business cards have been eliminated from view.  If you'd like to see a list of the best business card offers, there's a link at the bottom (second to bottom row).  And if you want to see the original collection of all offers mixed together, you can click on the "Best of the Best Offers" link in the bottom right.
As always, further down on our Best Card Offers page, you can see all offers separately by card issuer.  For example, if you want to view Citi cards, you can click to "jump" to the Citi section, and there you'll see Citi cards separated by "Thank You Points," "Airline Cards," "Hotel Cards," and "Cash Back Cards."
Reader Input
What do you think about the Best Card Offers page change?  Is the top display now more relevant to you or less?  Also, have you applied for any business cards during the pandemic?  If so, let us know which cards you applied for and whether or not you were approved.  Thanks!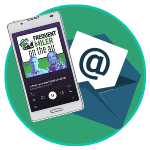 Want to learn more about miles and points?
Subscribe to email updates
 or check out 
our podcast
 on your favorite podcast platform.