There have been several terrific, targeted American Express offers floating around over the past few months, including 150,000 Membership Rewards points after $6K spend for the consumer Platinum, 130,000 points for the Business Gold after $10K spend and another Business Gold offer for 180,000 points after $20K in spend.
For shear magnitude, though, nothing beats the 250K Business Platinum offer. The spend is significant at $30K, but this particular offer allows six months to meet the spend instead of the normal three. The offer first surfaced last month when we reported it was being sent tp some people via mailer. Later, we discovered that it was possible to find out if you were targeted by speaking with an agent over the phone, even if you hadn't received a mailer. The phone offer was slightly better than the mailer version in that it included the option to get another 10,000 points by adding an authorized user card (for a total of 260,000 Membership Rewards points).
Now, US Credit Card Guide has posted a link directly to an application page for the 250K + 10K welcome offer. The link bypasses the initial landing page that you normally encounter when you click through an Amex credit card offer, so it theoretically allows someone who isn't targeted to apply for the welcome offer without needing to call or use various private browsers.
But be cautious. These sorts of links can be dangerous and there have been reports of them leading to an Amex shutdown. We initially debated about whether or not to even share the link, but now that it's making its way around the interwebs, we decided to share it as an FYI to readers (and also to let folks know to be aware of the risk if they see the link elsewhere).
The Deal
American Express Business Platinum targeted welcome offer: Earn 250,000 Membership Rewards points after spending $30,000 within the first 6 months of card membership. There is an option to earn an additional 10,000 points by adding an authorized user and spending $1,000 on the authorized user card (the authorized user spending does apply towards the total minimum spend of $30K)
Key Card Details
Card Name w Details & Review (no offer)
Quick Thoughts
While this is a killer offer, I probably wouldn't take the risk of using the link to apply. There's so many safe (or at least relatively safe) methods to get a pile of of Membership Rewards points right now that, for me, the bank isn't worth the risk on this one. That said, I know there's a lot of folks out there who like to push the envelope and will feel differently. I would at least advise trying the phone method first, in case you can get targeted that way. It will come with much less shutdown danger.
(h/t: US Credit Card Guide)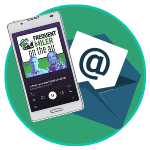 Want to learn more about miles and points?
Subscribe to email updates
 or check out 
our podcast
 on your favorite podcast platform.