Elite status in the right loyalty program can make a trip smoother, more comfortable, or sometimes save you money. Ordinarily, earning elite status requires loyalty to one company over others, but sometimes there is a shortcut: turn status you have (perhaps thanks to a credit card or promotion) into the status you want. If you shop your status around, you might even be able to move your way up the loyalty ladder without any travel at all. That's exactly what I've done recently, though not without some failures along the way.
Starting with Free Spirit Free Status
Before you stop reading, this post isn't about how you can get a free carry-on on Spirit Airlines, it just serves as a starting point for the story.
Earlier this year, Spirit Airlines launched the new Free Spirit program. When they did, I documented how hard they tried to butter us up by sending us free swag.
It (mostly) hasn't worked. I will say that I very much appreciate the swag — in fact, as I type this sentence, I am sitting at the kitchen table with my Free Spirit water bottle on one side and my wife is drinking out of a Free Spirit Coffee mug on the other (don't worry, my coffee is in my Frequent Miler mug) — but the free Spirit swag didn't particularly endear me to the Free Spirit program.
Without telling us, Spirit took things a step farther and quietly upgraded our elite status to Gold. I only know that they did that because I opened a promo email at some point and saw the Gold icon at the top of the email with my name. I'll admit that having Free Spirit top-tier elite status made me want to take it for a test drive by finding a situation where Spirit would fit my plans (at least until I read about Summer Hull's attempt to do the same at The Points Guy). I haven't yet found a situation where flying Spirit fit my plans (that may come later this fall), but that doesn't mean I haven't found a way to leverage Spirit elite status to fly more comfortably and conveniently.
Some readers may remember that Greg has gifted me with a couple of Delta Global Upgrade Certificates (sort of) — see: Passing the GUC: Greg gives global upgrades to Nick…with a catch. The short story is that I was tasked with planning a trip for us to put Greg's Global Upgrade Certificates to great use while meeting a series of related challenges. One of the challenges for our upcoming GUC trip was to find a way to "make good use of our Spirit swag". Another was to earn meaningful elite status. What if I could roll both into one? Surely that would get me more bonus points than meeting either challenge individually.
Shopping my Free Spirit status around
I knew that Greg's definition of "meaningful elite status" would be pretty narrow. To Greg, "meaningful elite status" probably means "Delta elite status". As Greg has pointed out once or twice on Frequent Miler on the Air, Delta is currently running a great status match challenge opportunity with which it is possible to match all the way up to Delta Platinum status.
Unfortunately, the only major airline elite status I have is United Premier Silver thanks to Marriott Titanium status. According to Delta's status matching page, United Silver would only match to Delta Silver. Furthermore, the Delta status match page says that they need to see the activity that led to status. I haven't had a United flight since March 2020. United status that comes courtesy of Marriott might not work.
However, just as I did for my mother-in-law, I hoped that I could somehow reverse engineer a path to go from zero to something meaningful by matching my way around town.
Spirit Gold to Southwest A-list Preferred? Nope.
Southwest Airlines Rapid Rewards is currently offering a status match from other airlines to A-list status. The requirements for the match are actually pretty easy if you hold status with another airline. However, A-list would only get me a match to Delta Silver.
I took a swing at it anyway and specifically requested a match to A-list Preferred. I said that I was looking for them to match my top-tier Spirit Gold status to A-list Preferred and that if they could only match to A-list I would prefer to pass on a match for now (If I could only get A-list, I'd rather wait for a time when I really need A-list benefits than waste a match now. I only want to match right now if it's going to help me get meaningful Delta elite status).
Unfortunately, that was a no-go. Southwest told me that they are not offering matches to A-list Preferred at this time. Swing and a miss.
Spirit Gold to Turkish Miles and Smiles? Nope.
Star Alliance carrier Turkish Miles & Smiles was long a status match favorite among Star Alliance enthusiasts because re-qualifying for Star Alliance Gold status long-term is easier than with most programs. Given a growing supply of United Travel Bank credit and some other United vouchers, I figured I might be able to re-qualify in a future year, so I gave Turkish a shot.
You request a Turkish status match through their "Feedback form" on the website. Hit the "Feedback" button at the top of the home page, select "Membership processes" under "Miles & Smiles program", and then attach your proof of status and some activity in that program along with your Miles & Smiles card. Turning Left for Less has a great overview of how to do this.
Nine days after submitting my request, they told me to pound sand.
Dear Nicholas REYES,

Thank you for your interest in Miles&Smiles, the frequent flyer program which offers a whole world of benefits.

However, the airline whose frequent flyer program you're a member of isn't one of our partner airlines. As such, we're unable to fulfill your request to match your membership status to Elite.

If you have any more questions about the Miles&Smiles program, please contact our call center on 0 850 333 0 849 (if you're calling from outside Turkey, please visit the "get in touch" page on turkishairlines.com to find the call center number for your region).

Thank you for your understanding. We look forward to flying with you soon.

Sincerely Yours,
Oddly, their justification for turning me down was that Spirit wasn't one of their partner airlines. As I understand it, Turkish won't match a partner (Star Alliance) airline but rather you need to have oneworld or Skyteam status or status with another major competitor like Emirates, Etihad, etc. I was not surprised that Spirit didn't make the cut, but I figured there was no harm in trying. Strike two.
Spirit Gold to Delta Gold? No.
Somewhere in the process of requesting matches to Southwest and Turkish, I realized something interesting about the way that Spirit Airlines gave us elite status…..
I originally hadn't thought to try a direct match from Spirit to Delta because Delta doesn't list Spirit on its chart of example matches and also because of Delta's requirement to show account activity with the program from which you match. Most of the time when you get any sort of promotional or matched elite status, the airline/hotel program typically doesn't give you credit for the activity necessary to get there. As an example, I have United Silver status that came from having Marriott Titanium, but my United account still shows that I have earned 0 elite qualifying miles or dollars. I don't get credit for the Silver requirements, I just get Silver benefits.
Much to my surprise, Spirit handled this differently. I noticed that my SQPs (Status Qualifying Points) tracker showed that I had earned the 5,000 points necessary for Spirit Airlines elite status.
Sure enough, when I dug into my account activity, it showed up that I had a Spirit booking that earned 5,000 SQPs. Note that SQPs are different than redeemable points — you essentially get 1 SQP per dollar spent with Spirit (and you can also earn SQPs via the credit card). In my mind, that made Spirit Gold roughly equivalent to Delta Gold since Delta Gold requires $6.000 in Medallion Qualifying Dollars (MQDs). Essentially, Spirit requires you to spend $5,000 on Spirit flights for Gold status and Delta requires you to spend $6,000 on Delta flights for Gold status. Pretty comparable, right?
Delta disagreed.
Dear Mr. Reyes,

Thank you for your email. We appreciate your comments.

We currently do not have a status match for Spirit.  Sorry for the inconvenience.

We appreciate your business and trust your future flights will be enjoyable. We hope you will continue to make Delta your airline of choice.

Sincerely,
Strike three…..or was that just a foul ball?
Spirit Gold to Delta Gold (Pretty please!) ? Yes!
If there is one thing I've learned in my years honing loyalty program and credit card expertise it is the art of the push back. That isn't to say that I've mastered the ability to always get what I want 100% of the time but rather that I've learned that there is rarely harm in stating your case and standing firm with your request to see what happens.
Indeed, I recently wrote about how I had to push back a lot of times with Hyatt in a situation where reps misunderstood a key program feature. Being both polite and firm rarely hurts. Now and then readers ask whether a credit card issuer will match a new offer or a hotel will offer compensation in some situation or another and my response is almost always, "You hit 0% of the balls at which you do not swing", which is my way of saying that you aren't going to get what you don't ask for — so of course you are better off asking than not asking. I always advise people to be polite, be firm, and be reasonable. You aren't going to get Lifetime Supreme Platinum-encrusted Blue Diamond Royalty status when you find a couple of stray hairs in your sink or get three quadrillion points when the card issuer makes a mistake, but if you make a reasonable request the worst anyone will say is no. I'd always rather position myself to maybe get a yes; the only way to do that is to ask.
I took my own advice and stepped up to the plate for one last swing.
Hello,

I know that you do not list Spirit among the airline examples for matching, but your 

status

 match page notes that you will consider matches from other programs. As Spirit Gold 

status

 has a $5,000 spending requirement, it has a very similar benchmark to 

Delta

 Gold Medallion 

status

. I have a number of flights to book for fall travel where Spirit and 

Delta

 compete on the same routes. With my Spirit Gold 

status

, I get a free checked bag (and free carry-on) and exit row seat selection and far more points for my flight spend, which currently makes Spirit an easier choice. However, I would be happy to instead book those flights today on 

Delta

 if you could reconsider and match me to the 

Delta

 Gold Medallion challenge. I have enough travel in mind that I could probably meet the Platinum requirements, but since the Spirit equivalent of an MQD requirement is more similar to 

Delta

 Gold, I'm thinking that a match to Gold Medallion would be reasonable.

I appreciate your time and assistance and hope you'll be able to reconsider.

Thank you,

Nicholas Reyes
Of course I wanted Delta Platinum status and a shot at those Regional Upgrade Certificates, but I had to be reasonable. I know what you're thinking — matching Delta Gold from Spirit Gold isn't a reasonable request. Delta disagrees.
To be clear, that last email to them was truthful: at the time when I requested the match, I had several conferences and events to attend this fall that would have had me crisscrossing the country on routes where Delta and Spirit compete directly and a match certainly would tilt the balance in favor of booking with Delta both because of the benefits and because of the way Delta is rolling over this year's MQMs into next year. Unfortunately, a lot of my plans have changed over the past couple of weeks. I am still reasonably confident that I'll meet the challenge requirements — but more on that to come.
For now, I would say that I have met part of the challenge before leaving the ground: I used a piece of our Spirit "swag" (not physical swag, but swag in spirit, no?) to get meaningful elite status.
A failed attempt with Player 2
Emboldened by my success, I wondered whether I could also get Delta elite status for Player 2. My family was going to be joining me for my fall travel and with Delta's elite status boosts this year I realized that a few flights in Premium Economy / Comfort+ (even if we booked with points) could be enough to get my wife to the Gold requirements also.
Unfortunately, my wife didn't get free Free Spirit status and she has never held airline elite status. She does have a Southwest Companion Pass and I know that we have seen some situations where airlines would match "Companion Pass status" (even though that isn't actually an elite status). As fate would have it, we wrote about just such a situation a few months ago: Spirit Airlines offers weird status match challenge. That's right: Spirit Airlines is offering a match to Gold status for Southwest Companion Pass holders….at least in theory.
I was initially excited about this since it would give me an opportunity to take a second swing at Spirit Gold to Delta Gold. I wondered whether an agent processing requests would simply type "Spirit Gold" into a box or something and see "Oh, we've matched that to Delta Gold before" and process it more easily or whether my wife would have the same success in pushing back or whether she wouldn't be able to pull it off since she'd have no SQPs. I figured that I had to know, ya know, for science.
As it turns out, I was far ahead of myself. We filled out the status match request form for Spirit Airlines…and heard crickets. She submitted the status match request early this month and apart from receiving a confirmation that her request was received and would be reviewed, she hasn't heard anything for about 3 weeks. Spirit's status match page advises you that you should wait until you are ready to request the match since your challenge period would start within 24 hours of your request being approved, but don't count on that request being approved quickly. My wife even followed up with a response email several days ago asking for a status update and still hasn't heard anything.
In this case, it's for the best as our fall travel plans have, well, fallen apart. She would no longer be able to meet the Delta challenge requirements, so there is no sense in wasting a match to Spirit Gold right now. I hope they just drop the ball entirely (though Murphy's Law dictates that the "Congratulations, we've matched you to Spirit Gold!" email will roll in a few minutes after this post publishes). If that happens, I'll be tempted to instead try to leverage it into a Southwest A-list challenge if and when we get some Southwest flights back on the books.
Bottom line
A big part of the "Passing the GUC" challenge is to get meaningful elite status and a very small (tongue-in-cheek) part was to get bonus points for putting our bounty of Spirit swag to good use. I was able to leverage Spirit Gold elite status into a Delta Gold status match that should be achievable if all goes according to my master plan. More details on that master plan yet to come, but thus far I'd say that I successfully shopped my Free Spirit status, which had to be one of the more difficult challenges, right? I look forward to being able to share how I'm meeting the rest.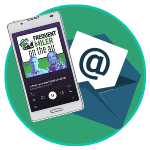 Want to learn more about miles and points?
Subscribe to email updates
 or check out 
our podcast
 on your favorite podcast platform.