In the post "how to get approved for Sapphire Reserve 100K offer" I suggested that people who have signed up for 5 or more cards with any banks in the past two years should start by going in-branch to Chase to see if they are pre-approved.  In-branch pre-approval has proven to be an effective antidote to the 5/24 Rule.  In that same post I also recommended that if your application goes pending, you should wait until you get an official decision before calling for reconsideration.  I wrote:
When you apply for a card, you essentially have three chances for approval: 1) automated instant decision; 2) automated decision after application goes pending; and 3) reconsideration.

Those who call for reconsideration before step 2 is complete force Chase to bypass that step. It is possible that a recon agent will deny an application that would have been approved by the the automated process in step 2.

If you wait, you have an extra chance of approval.  If that process results in a denial, you can still then call to try to overturn the decision.  In fact, I recommend calling several times if the first time isn't successful.
I bypassed both of my own recommendations.  I didn't go in-branch, and I didn't wait to call.
Applying online
In exchange for the $450 annual fee and meeting the card's $4K spend requirement, the Sapphire Preferred card makes it possible to get at least $2,100 worth of travel in your first 12 months of card membership: 100,000 points worth at least $1500 in travel + $300 in travel credits this calendar year (until your December statement closes) + $300 in travel credits next calendar year.  So, regardless of whether you intend to keep the card long term, it's an amazing deal.
Obviously I wanted both my wife and I to sign up for the card.  I thought about having one of us sign up now and the other sign up a year from now, but I wasn't at all certain that the 100,000 point signup offer would still be in place.  Instead I decided to go for it immediately.
Unlike most people who are well over 5/24, we didn't need to go in-branch because we have Private Client status.  Officially you need to have $250,000 on deposit with Chase to qualify for Private Client status.  And I did have that much briefly in my Chase checking account when we sold one house before buying another.  At that point I was invited into the Private Client program, and immediate family members were included.
As I've shown by being approved for the Sapphire Preferred card, the Marriott personal and business cards, the United Mileage Plus card, and the Ink Plus card all in 2016, Private Client status makes my wife and I exempt from 5/24 rules.  For us, there was no reason to go in-branch to apply and we've been more crazy busy lately than usual, so applying online seemed like the thing to do.
UPDATE: Private Client status no longer exempts you from 5/24 status, but it did at the time that I wrote this post.
We finally found a few minutes to submit our applications on September 3rd (the Saturday of Labor day weekend).  Both applications went pending.
Deciding to call
Last week I published "Do Chase Business cards add to your 5/24 total?"  I argued that I thought that they didn't count because they don't appear on your personal credit report.  Most reader comments supported that theory, but a few went the other way.
A reader named Jonathan offered an interesting theory that supported most of the evidence.  He suggested that maybe Chase does include Ink cards in the 5/24 count, but not co-branded business cards such as those from Southwest, United, and Marriott.  I still think that a simpler theory is more likely (that they only count cards on your credit report), but I couldn't rule this new theory out.
I've personally opened both a Marriott business card and an Ink Plus business card this year, so I could potentially be a great test subject for Jonathan's theory.  Some readers with Private Client status have reported being initially denied due to 5/24, but they were able to overturn the decision through reconsideration calls.  My hope was that the same would happen to me.  I wanted to be told no due to 5/24 so that I could ask which cards they included in the count.  This would have given me evidence to support or refute Jonathan's theory.
So, I called.
The agent I spoke with never mentioned 5/24.  In fact, he quickly said that he would approve my application but that he couldn't add to my overall credit line with Chase.  He asked me if he could move credit from another card.  I said yes, he could take $10K credit from my $25K Sapphire Preferred credit line, and we were done.
Almost
When he tried to finalize approval, he hit a snag.  For some reason my application had to go to the "verification department".  He tried to conference them in, but there was a very long wait.  Instead he gave me their direct number and a reference number.  I called and waited on hold for 10 or 15 minutes.  When an agent finally got on the line she verified me simply by sending a text code to my mobile phone which I then read out to her.
Done.  Approved!
Waiting for decision #2
For my wife's application I'm going to wait it out to see what happens.  Hopefully she'll get approved automatically.  If not, she'll have to call and maybe get verified as well, but I'm sure she'll ultimately get approved.
UPDATE: My wife was approved automatically!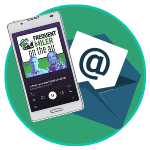 Want to learn more about miles and points?
Subscribe to email updates
 or check out 
our podcast
 on your favorite podcast platform.