If you're into manufacturing spend (techniques for increasing credit card spend and getting the money back) via buying and liquidating gift cards, Simon Mall wants to help.  I'm not kidding.  In Ann Arbor, Denise Murray, Director of Marketing and Business Development at Briarwood Mall (a Simon Mall), reached out to me to discuss changes that will make manufactured spending simpler, with fewer visits and less wait time.
Note: If you're not into buying and liquidating gift cards in large volume, there's not much reason for you to read the rest.  The key takeaway is that Simon Mall wants to court our community.  That's strikingly different from most other organizations that seem to think that there is something wrong or illegal with manufactured spending.  In the long run, this may lead to new opportunities that you will be quite interested in.  When that happens, we'll let you know.
The first change towards simpler and better manufactured spending is that they have recently increased the daily limit on consumer gift card purchases from $10,000 to $25,000. I think this will be particularly interesting to those who have to drive a long distance to reach a Simon Mall (FYI, you can find area Simon Malls here) because it can mean far fewer visits to reach the same result.
Denise introduced me to Matt Morarity, Vice President at Simon Property Group, to learn about this new corporate wide policy.  Through these conversations I learned the following:
The new corporate-wide limit for gift card purchases is $25,000 per person per day.  Note that this limit includes fees, so you would probably want to buy at most $24,500 worth of $500 gift cards if you want to keep things simple.
Gift cards may be loaded up to $500 each, with a $3.95 fee per card.
Visa, Mastercard, and Amex gift cards are available.  Keep in mind that Amex gift cards don't have PINs and therefore can't be used as debit cards.  So, don't buy Amex cards if you plan to liquidate cards through a technique that requires debit payments.  There are also sometimes issues with Amex cards not having their full value available due to $1 holds when a purchase is authorized.  So, just stay away from Amex gift cards.
According to Matt, federal regulations require that they collect additional information for purchases over $10,000:

SSN
Date of Birth
ID Verification

Specific processes may vary from one mall to another.

At many malls you can buy the gift cards at the Guest Services counter.  At others you may need to go to the Mall Office to make the purchases.
Most of the malls welcome people calling ahead.  This way they can be sure to have the gift cards ready to go when you arrive.
As an example, the recommended process at the Ann Arbor Briarwood location is as follows:

Initially, you must fill out a gift card order form (see form image below) which Briarwood will keep on file for you.
You must make 10 purchases before they'll allow purchases over $10,000
You will not be required to provide your SSN or date of birth until you are cleared to make purchases over $10,000
When you do fill out your SSN and date of birth, those forms will be kept secure in a locked cabinet.  An encrypted version of the form will be available at the guest services counter to make future purchases easier.
Each time you go to the mall to purchase gift cards it is necessary to sign and date the encrypted form.
Denise has asked that people call ahead to make large purchases.  This way the gift cards can be ready for you when you arrive.
I expect that we'll see more ms-friendly changes at Simon Malls in the near future.  In Ann Arbor, I run a meetup group (found here).  For our next meetup, Denise Murray, Director of Marketing and Business Development, will host us in the mall's office meeting room in order to discuss the Simon gift card program and how it could benefit manufactured spenders.  We've been told to expect Matt Morarity, Vice President at Simon Property Group, or one of his associates to join us.  I'm hoping that we'll learn then what's coming next.  And, of course, I'll share that info with you as long as it's "on the record" so to speak (so to type?).  Stay tuned.
Simon Mall Consumer Gift Card Purchase Form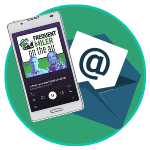 Want to learn more about miles and points?
Subscribe to email updates
 or check out 
our podcast
 on your favorite podcast platform.