There is a new targeted bundle offer out for the American Express Business Platinum card and a Business Checking account that allows the opportunity to earn up to 200,000 total points. This isn't as good as an offer we saw late last year, but it's certainly not a bad offer either. Not everyone will be eligible (and you need to apply separately for the Business Platinum and Business Checking, so keep in mind that you may or may not be approved for both). Still, this can be a nice windfall of points if you're eligible and you can meet the spending requirement (though it comes at the right time of year if you have to make upcoming tax payments).
The Deal
American Express is offering some people a targeted offer to get up to 200,000 Membership Rewards points:

Open a Business Platinum card and earn 150,000 points after $15K spend in the first 3 months
Open a Business Checking account and earn 30,000 points after qualifying activity
Earn 20,000 points when you meet all qualifying activity for both

Direct link to this deal (note that it is targeted)
Key Terms
Separate applications are required for each product, which must be
submitted by 4/30/23.
Quick Thoughts
There are two separate components to this deal. You'll need to open a Business Platinum card and meet the $15,000 spending requirement within the first three months to earn 150,000 points. I do not see lifetime language in the terms (though always be sure to double check since these offers are targeted). My wife had this offer pop up when she logged in to her Amex account yesterday, but the link appeared to work for me also.
For the Business Checking component, you'll need to apply and be approved, deposit $5,000 within 20 days of opening, maintain an average daily balance of $5K for 60 days thereafter, and complete 10 transactions within the first 60 days of having the account open. Note the timelines: You have 20 days from account opening to deposit and then you must maintain $5K for 60 days after first deposit — so the 60-day clock for that begins when you make your first deposit. You also have to make 10 transactions within 60 days of account opening — the clock for that component begins on the day you open your account, not on the day you deposit (ask me how I know). The 10 transactions can even be ACH deposits or withdrawals, so it is very easy to hit ten. Just don't miss the clock on that.
I'm a little unclear as to whether you qualify for the bonus if you have multiple businesses. This section of the terms confuses me:
You are not eligible to earn a Welcome Bonus for any accounts opened for a business that currently has or has had an American Express® Business Checking account.

To be eligible to earn a Welcome Bonus of 30,000 Membership Rewards® points (the "Welcome Offer"), you must meet each of the following qualifying criteria:

Open your first American Express® Business Checking account, which is subject to approval;
On the one hand, it says that you are not eligible to earn a welcome bonus on an account opened for a business that has or has had an American Express Business Checking account, but then it goes on to note that you need to open your first Amex Business Checking account. If you have two businesses (like, for example, an LLC and a sole proprietorship), my instinct is that you probably can be approved under each separate business for a business checking bonus as long as it is the first Amex Business Checking bonus for that specific business. On the other hand, maybe they'll interpret it as one per customer — I'm just not positive. If you have a data point on this, please share in the comments.
If you complete both components, you'll get an additional 20,000 points.
Overall, this is a very good deal if you're eligible, though it's not the best deal we've seen (we previously saw the same deal offer 60,000 points for the Business Checking account component).  Still, given the fact that those with an Amex Business Checking account can redeem Membership Rewards points for $0.01 per point, the total points here are worth a floor level of $2,000 — or potentially much more if transferred to partners to take advantage of the many Amex Membership Rewards sweet spots.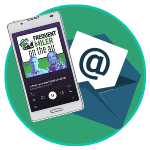 Want to learn more about miles and points?
Subscribe to email updates
 or check out 
our podcast
 on your favorite podcast platform.