Whether you've got a partner for life or a freeloading friend, this week we talk how to bring a companion for free when you fly via one of the many companion tickets on the market. Not all companion tickets are created equally, so we talk about which ones you can ignore and which must be must-haves based on your situation.
Elsewhere on the blog this week, I argue why Southwest points are always worth the same amount, Tim uncovers a hot new sweet spot to the Maldives and Africa, we talk excursions for your "free" Alaska cruise and more.
Subscribe to our podcast
We publish Frequent Miler on the Air each week in both video form (above) and as an audio podcast. People love listening to the podcast while driving, working-out, etc. Please check it out and subscribe. Our podcast is available on all popular podcast platforms, including Apple Podcasts, Spotify, and many more.
Alternatively, you can listen to the podcast online here.
This week on the Frequent Miler blog…
We've tackled this in years past, but I once again attempted to explain why Southwest points have a constant value that is not influenced by the Companion Pass and that this makes them a lower-than-Reasonable-Redemption-Value transfer partner, but look to the comments for enduring controversy over that take. What it comes down to for me is this: If a glitch made it possible to pay one time and book every seat on every Southwest plane for the rest of eternity for $130 or 10,000 Ultimate Rewards points transferred to Southwest points or 8,667 Ultimate Rewards points through Chase Travel as a CSR holder, which would you choose? If you (correctly) choose that you'd pay 8,667 points (instead of transferring 10K points), congratulations: you've realized that 1.5c per point is worth more than you can get via Southwest Rapid Rewards points even if those points got you every seat on every Southwest flight for the rest of eternity.
Using Alaska to fly Condor looks like a fantastic sweet spot. And it gets a big better than the headline when you dig in and find that you could go as far as the Maldives for even less at 65K miles one-way. I used 60K miles per passenger to fly to Europe on Aer Lingus earlier this summer — I really wish I had known about this partnership before I did that! See Tim's post for full details.
Things to love and hate about Vacasa vacation rentals via Wyndham Rewards
At the end of the day, I generally prefer a hotel over a vacation rental. That said, I recently completed a stay at an awesome 4-bedroom Vacasa vacation rental in Alaska and overall I had a great stay. Still, vacation rentals have some drawbacks and I think it's worth considering both pros and cons before you book.
We've written this year about numerous ways that you could match your way to a free (or nearly-free) Alaska cruise. However, once you get there, you're still going to spend money on doing stuff. Don't let sticker shock slow you down — you can book most activities on your own, without the cruise line's help, and save a bundle of cash. Our biggest splurge was the White Pass Railroad in Skagway and I do not at all regret that one.
Privacy is all the rage in business class seats these days, but I am rarely flying in business class without my family. During our Party of 5 Challenge, I thought that LATAM's layout would work nicely for our family since the open design of the cabin would go easy on my wife's claustrophobia and the close proximity of seat pairs makes it easy to help a travel companion (one of our kids usually) with the stuff they need. When you add in good service and catering, I'd be happy to fly LATAM to South America again.
The addition of IHG to maxmypoint made it time for a republication of this resource that includes the various tools on the market that can help you scope out that highly-desirable award availability.
I was curious to read Stephen's review of The Beekman since it is a property that I have considered booking a number of times on quick jaunts to New York City. While you'll want to consider the map of Manhattan to decide whether or not this location makes sense to you, Stephen's review leaves me thinking that I'd probably be happy with a night here. I personally don't mind staying in not-midtown during the summer months even when I'm going to do some things in midtown since I enjoy strolling different neighborhoods. When it gets cold and snowy though, I'd typically like my hotel to be as close to my intended destination as possible, so YMMV.
If you've been wondering how you can get your hands on some of that sweet FM swag like the trucker hats, water bottles, or luggage tags that you saw us using during the Party of 5 challenge, wonder no more. Carrie has the details about how to find what you seek.
---
That's it for this week at Frequent Miler. Check out this week's last chance deals and mark your calendar accordingly.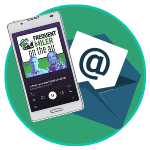 Want to learn more about miles and points?
Subscribe to email updates
 or check out 
our podcast
 on your favorite podcast platform.