Wow, the StayCayToFarAway contest has been fun!  As a reminder, all four Frequent Miler team members have been competing against each other in a series of challenges: Destination Cooking, Travel Themed Life Hack, Imitation Travel, and Improv Travel.  For each challenge, the task was to create a short video and accompanying post.  Winners were determined by Youtube "likes", and the grand champion was determined by vote.
Without further ado, here are the results…
Grand Champion
Between Nick and I, we came in first place in every single weekly award and every single category award.  That explains why we arrived at the award ceremonies dressed to the nines (an archaic expression meaning we were dressed nicely).  Meanwhile, not expecting to win, Stephen hid his face behind a pug mask, and Carrie sent her niece-drawn avatar in her stead (the drawing's blue face lend two meanings to the word "Avatar").
The Academy, though, had a surprise for us all.  Two surprises really.
Congratulations Carrie!
The Grand Champion was decided by readers (AKA "the Academy") through a reader poll.  When we first opened the poll, Carrie jumped out to an early lead.  And Stephen was dead last.  But then Stephen published his masterpiece: The Truth Behind The Frequent Miler Team (AKA #VoteForStephen #SmearCampaign).  If you haven't watched the video embedded in that post, you really should.  It was brilliant.  And it had a huge effect on voting.  Stephen quickly jumped ahead of everyone else and was solidly in first place for several days.  On the last full day of voting, though, Carrie and her avatar appealed for votes in her post: When they go low, Carrie goes high.  And while it was close, Carrie's appeal did the trick.  She won!
Carrie's win was a surprise.  Don't get me wrong: Carrie's contest performance was very strong, but she was relatively unknown going into the contest.  She grew up on the mean streets of Amish Country Ohio never expecting to lift herself by her bootstraps (another archaic expression BTW) to achieve ultimate stardom as the 2020 Frequent Miler Far Away Champion.  Yes somehow and in some way she did just that.  Congratulations Carrie!
Good job Stephen!
While Stephen was no doubt disappointed when he failed to maintain his lead, he was consoled by the fact that he has a second-place dynasty in the making.  In last year's 40K to Far Away Championship, Stephen came in second place.  He has now repeated the honor.  Will he three-peat with next year's contest?  Only time will tell.
Better luck next time, other guys!
Going into the final day of voting, Nick was firmly in last place.  A last minute surge of (suspicious?) voting, though, was enough to give him a tie for third place with me.  We were consoled, however, by our many other trophies from the contest…
Weekly Winners
We reported the weekly winners before (most recently here), but for completeness here again are the final weekly winner results:
Week 1: Nick
Week 1 rankings by number of video "likes" received by the end of that week:
Nick: 100
Greg: 60
Stephen: 57
Carrie: 51
Week 1 details can be found here.
Week 2: Greg
Week 2 rankings by number of video "likes" received by the end of that week:
Greg: 88
Carrie: 85
Stephen: 61
Nick: 27
Week 2 details can be found here.
Week 3: Greg
Week 3 rankings by number of video "likes" received by the end of that week:
Greg: 95
Carrie: 59
Nick: 37
Stephen: 19
Week 3 details can be found here.
Week 4: Stephen and Nick
Week 4 rankings by number of video "likes" received by the end of that week:
Stephen and Nick: 72
Greg: 46
Carrie: 20
Here's how Nick summed up the results:
Interestingly, in Week 1, my Destination Cooking video ran away with first place by a large margin. Greg took Week 2 by just three votes over Carrie. Week 3 was a runaway win for Greg by a large margin. As noted above, Week 4 came down to the wire, with the tie score coming in with just nine minutes to go and Stephen denying me my bid claim two weekly wins on par with Greg's.
Week 4 details can be found here.
Category Champions
The results are in!  I took first place in 3 of the 4 contests and Nick took first for his Cooking video.
Here are the winners of each category, based on Youtube "likes" as of noon Saturday May 23:
Destination Cooking Winner: Nick
Each contestant created a mini cooking show demonstrating how to prepare some kind of food from someplace in the world.
Travel Lifehack Winner: Greg
Each contestant created a video showing off one or more life hacks that relate to travel. 
Imitation Travel Winner: Greg
Each contestant created a video showing off a destination, but without using real photos or videos of that location. 
Improv Travel Winner: Greg
Each contestant received a video tour of a real destination assembled by another team member from their real travel photos and videos.  The contestant didn't know what the footage was until they started recording with their face in front.  The goal was to create an improv tour of that destination.
Vote tallies shown above were last updated on 5/23/20 at Noon Eastern Time.
---
The worst, most cringeworthy, and grossest moments
In case you missed it my earlier publication of these awards, here you go again…
Most Disgusting
Winner: Greg's Underwear
This one was too gross to publish as a picture here. If you want to see my underwear (who wouldn't?) there's only one place to go: watch my Hotel Survival Hacks video which shows (among other things) how best to protect your valuables in a hotel room.  This video is guaranteed to make you laugh (if you're a 7 year old boy).
Runner up #1: Carrie's Allergic Face
Carrie's Travel Lifehack video shows a simple way to ensure that you're always prepared for an allergic reaction.  The video also shows what happens to Carrie's face when unprepared.  You've been warned.
Runner up #2: Stephen's Heart-Attack Burger
Stephen's Full English Breakfast Donut Burger arguably should be referred to as a heart-attack burger.  My wife thought it was gross.  I thought it looked fantastic… except for the donut bun.  Watch the video and then read the post to learn about places you can get your own donut burger if you're into eating unhealthy, but not into cooking.
Most Gratuitous Use of Family Members
Winner: Reyes University
Nick's Travel Lifehack video shows how to protect yourself when traveling. The first half of the video, though, is a mostly unrelated (but fun to watch) investigation into "Reyes University."  Here, Nick took full advantage of his adorable family to earn a few likes.  Yes, it's a blatant gratuitous use of family members, but it works.  Nick gets extra credit for creating a Frequent Miler branded microphone.
Runner up #1: Stephen's Talking Dog
Truffles steals the show as "Barky McFly" in Stephen's Imitation Travel video.
Runner up #2: Carrie's Baking Sister
In Carrie's Destination Cooking video, she brought her sister into the act to help her prepare three different Mochi ice cream recipes.  They nailed it.
Runner up #3: Greg's Branson Son
In Greg's Imitation Travel Video (Return to Necker Island!), his son was made up to look  like Richard Branson.  See if you can tell the difference.
Most Cringeworthy Moment
Winner: Stephen's Elephant Monkey
Elephant.  That's what Stephen said when he saw this monkey on Nick's wife's head.  Elephant.
I get it.  Improv is really hard to do.  We all make silly mistakes, especially under time pressure (as was required in the Improv Travel challenge).  But.. elephant?
Think I'm being too harsh?  Watch the video and give Stephen a thumbs up to make him feel better about his boss teasing him.
Runner up #1: Greg's Underwear
My gross underwear in my Travel Lifehack video already won the Most Disgusting award, so I couldn't really give myself a second win here.  But don't doubt the moment's cringeworthy-ness.  Oh, it's cringeworthy for sure.
Runner up #2: Nick's Ruined Table
Nick proves that his self-defense Travel Lifehack really works.  His nice wooden table will never attack anyone again.  Don't tell his wife.
Parental Guidance Most Needed (PG Award)
Winner: Stephen's Burger
All but two of the videos in the StayCayToFarAway series are perfectly fine for kids to watch. The parental problem with Stephen's Destination Cooking video isn't the worry that kids might try to eat something like this (but I'd understand that concern), but rather something Stephen's wife said in response to Stephen wondering if he'd be able to get the whole thing into his mouth.
Runner up #1: Branson's Middle Finger
If you don't want to have to explain the middle finger gesture to your kids, then keep them away from both my Imitation Travel video and Post.  Both show Richard Branson giving me the middle finger, and both show my son (made up to look like Richard Branson) giving me the middle finger.  What better way was there to recreate the trip of a lifetime other than to recreate that wonderful moment?
Most Underrated Video
Winner: Carrie's Improv Travel
For the most part, I wasn't a fan of Improv Travel Challenge.  In my opinion, most of us did just OK.  I was hoping for funnier results.  But Carrie's Improv Travel Video was great.  I laughed out loud many times.  Somehow, though, Carrie's video has earned fewer "likes" than any of the other Improv Videos in this challenge (at least at the time of my writing this).  How can that be?
Help fix this grave error.  Watch the video and give it a thumbs-up.  Then go watch some of Stephen's videos and give them thumbs-ups because he created the background that made Carrie's video so good.
Here are the Improv Travel Tallies at the time of this writing:
Greg's Research Notes
Last week, I re-watched all 16 videos and re-read all 16 accompanying posts and I took notes along the way.  Here's what I thought about each and every video…
Cooking video notes
Greg's Everything Bagel!

Carrie's Mochi…Nailed It!
Stephen's Full English Breakfast Donut Burger

Video: I was actually salivating at how delicious the burger looked. Stephen looked very comfortable in front of the camera. Delicious and disgusting all in one!  Fun scene with Stephen eating with giant serving utensils.
Post: Strangely fascinating. It's interesting to read a Britt's view of what makes for good food.  And I really liked his bean confession!

Nick's Homemade Pasta + Orange Cream Sauce
Travel Lifehack Notes
Nick's Welcome to Reyes University (Travel Self-Defense)
Greg's Hotel Survival Hacks (Cut the Cheese)
Carrie's Never be unprepared for an allergic reaction again… 
Stephen's Portable Kitchen
Imitation Travel Notes
Stephen's Imitation (Time) Travel With Barky McFly
Nick's Big Island or Big Fail?
Greg's Return to Necker Island!
Carrie's Gator-Ade Art Project
Improv Travel Notes
Carrie's Dream-like Wedding
Stephen's Soapbox Derby
Nick's skating through Iceland
Greg's smoking coconuts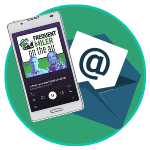 Want to learn more about miles and points?
Subscribe to email updates
 or check out 
our podcast
 on your favorite podcast platform.