We are officially in the home stretch: the fourth and final week of #StayCaytoFarAway entries are in, and we once again have a week that's too close to call on our hands. As of the time of writing, my life hack showing how you can fend off an attacker with just a newspaper is in the lead, but Barkly McFly is hunting me down just a few thumbs behind. Greg's video and a fortuitous find of currently-elusive yeast at the grocery store has me poised to make my own bagels this weekend (once I get my hands on the bread flour a family member picked up for me) and my wife and I talked about all of the new places we now have on our post-COVID-domestic-travel list thanks to the slideshow Stephen made for Carrie's imitation travel. The videos in this post are 12 or 14 cumulative minutes that you don't want to miss.
Keep in mind that after this week's weekly winners are announced, we will also be announcing the individual category winners for each category based on Youtube likes and we will then give you a chance to chime in and vote for the overall StayCay to Far Away champion. Make sure your favorites are in the running! If you've missed any of the videos so far, here is a link to the entire StayCay Youtube playlist.
Weekly Winner: Most YouTube "Likes"
That's it.  The title says it all.  We're going to count up each video's "likes" (thumbs ups).
When you're viewing a video embedded in a blog post, it's a little tricky to give it a thumbs up.  Here's how: Hover your mouse over the video (or click the video if viewing on your phone) and then click the video title to go to YouTube.  Once there, click the thumbs up icon to "like" the video.
The weekly winner will be announced on Saturday at noon Eastern time, so "like" these videos today and keep an eye out for the announcement on Saturday.
Link to Greg's post about this video
Breakfast is my favorite meal of the day, but here's a surprising follow up to that sentiment: I don't like eggs. For me, it's all about the carbs. Give me pancakes, waffles, a Texas Melt sausage-and-cheese breakfast sandwich with a side of smothered, covered, and diced hash browns at Waffle House, a bowl of muesli, etc. But whatever you do, give me a bagel and cream cheese to go with it. Seriously. As I type this, I am eating a store-bought bagel that I wish were homemade. And so ever since I saw Greg's video on making Everything Bagels on Sunday, I have been focused on making this happen at home. I was hoping to have given this a go yesterday, but it looks like it'll have to be this weekend. And you've got to love how Greg flipped the script here by taking Destination cooking and turning it into Origination cooking. Read Greg's full post here.
If I told you that you could incapacitate an attacker with a newspaper, would you believe me? After you've watched this video, you still may not believe me — until you inevitably try it out for yourself. When you do, I'm confident that you'll think about this again sometime in your travels. Hopefully you'll never need to use it, but it'll be easy to be smart while you look smart thanks to your newspaper in hand. Read Nick's full post here.
I feel like Stephen took Imitation Travel to a whole new level. Before you see a picture of a dog and think that Stephen took this as a photo-only challenge, let me tell you that Barky McFly does indeed narrate the story of several trips that were re-created masterfully. I actually had a plan to re-create the same activity in the final sequence from a trip of my own during my video, but my idea to do so was far less creative, so I'm glad I didn't. It's hard to watch this video and not have fun. Read Stephen's full post here.
Having such a wide assortment of travel photos on hand given Stephen's full-time travel status for the past couple of years, I wondered what he would put together for Carrie's Improv Travel challenge. He didn't disappoint when he provided her with a hodge-podge of pictures that clearly kept Carrie on her toes. What impressed me the most was Carrie's ability to stick to the theme spontaneously inspired at the beginning and weave the rest of the ridiculousness into a story (most hilariously the wedding guests she hadn't seen in….well, a while). In addition to enjoying Carrie's live reactions to Stephen's very random roadside attractions, you may find some inspiration for your own staycation (or drivable destination). Read Carrie's full post here.
Bottom line
Greg, Stephen, Carrie and I have enjoyed the challenge of producing some Youtube videos that step a bit away from the usual miles-and-points analysis to have some fun and provide some light-hearted content that we hope you've found useful either in the tips we've shared or in a momentary and entertaining escape from the new normal that has befallen us over these past couple of months. Hopefully you've found a little of both. It's been fun engaging readers in a different platform and we appreciate those who have subscribed and been joining us for our weekly Youtube live discussions [reminder: that's today (Thursday, May 14th) at 4pm]. Check out the videos above and don't forget to click the titles to go through to Youtube and give our videos a like. Please also consider subscribing to our Youtube channel as we unlock additional Youtube features as we build our subscriber base. Thanks for your continued support and keep an eye out for this Saturday's results post and your chance to vote for the StayCay to Far Away champ.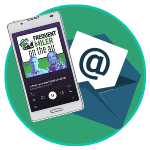 Want to learn more about miles and points?
Subscribe to email updates
 or check out 
our podcast
 on your favorite podcast platform.