Note: Frequent Miler has a business relationship with Bilt.
Card Details and Application Link
Bilt Mastercard

FM Mini Review: If you pay rent and haven't been earning rewards, this card is a no-brainer as you can pay your rent and earn rewards with no fee. A surprisingly good set of transfer partners makes the rewards for using this for rent worth getting the card for that main purpose alone (as long as you remember to use the card 5 times per month).

---
Card Type: Mastercard World Elite
<!–– qBaseq -->
<!–– qTravelq -->
<!–– qDineq -->
<!–– qOtherq -->
Earning rate: Must use your card for 5 purchases per month, then: 3x Dining ⚬ 3x Lyft ⚬ 2x Travel ⚬ 1x rent (one payment per month, up to 100,000 points per year) ⚬ 1x everywhere else
Noteworthy perks: Transfer points 1 to 1 to airline and hotel programs (including American Airlines, United, Hyatt, Aeroplan, and more) ⚬ Redeem points for 1.25 cents each towards travel booked through Bilt's travel portal ⚬ Cell phone insurance ⚬ Primary rental car insurance ⚬ Purchase protection ($10K/item, $50K/year) ⚬ Travel insurance ⚬ No fee to pay rent and earn rewards
Bilt Rewards is the core program in which you can earn points by paying your rent and/or using the Bilt Mastercard. It's a program that's designed to enable those who rent their homes to earn points on the rent. This makes the program and associated card unique in offering an easy way to earn points on what is the probably the largest monthly expenditure for those living in many markets.
There are several ways to earn and redeem Bilt Rewards points as a Mastercard-holder, each is covered below.
How to earn Bilt Rewards points
Paying Rent: Pay by card, check, or ACH transfer.
Even if your landlord doesn't accept a credit card, Bilt Mastercard cardholders can pay rent via check or ACH and still earn 1x points on rent (1 rent payment per month, up to 100,000 points max per year). Whether you pay by check, ACH, or with your Bilt Mastercard, you'll pay your rent through the Bilt app (or use the app to generate ACH account information that can be copied into your online rent payment portal). This makes it very easy for most people to earn 1 point per dollar spent on rent (up to 100,000 points per year). Keep in mind that you'll need to make 5 total transactions per month with the Bilt Mastercard in order to earn points, so be sure to use it for more than just the rent.
In the Bilt Rewards app, cardholders have the option to send a rent payment by mailing a check or by ACH transfer using ClickPay, RentCafe, or other online payment portals.
Linking Rewards Programs to Bilt
Bilt Rewards offers 100 points for every loyalty program you link to your Bilt Rewards account. This represents very low-hanging fruit for most members.
Note that Bilt has occasionally run promotions with increased incentives for linking specific programs. For instance, in April 2022, Bilt offered 500 points for linking an American Airlines AAdvantage account and in May 2022 Bilt offered 500 points for linking a World of Hyatt account. Both of those promotions have since expired, but it is worth keeping your eye out for future promotions if you have not yet linked all of your loyalty accounts.
Using the Bilt Mastercard
Card Name w Details & Review (no offer)
The Bilt Mastercard offers rewards in the form of Bilt Rewards points as shown above so long as you use your card for at least 5 transactions per month. If you do not use your card for at least 5 transactions per month, you will not earn points based on your card activity.
2x travel, 3x dining
The Bilt Mastercard offers two bonus categories: 2x travel and 3x dining. While those multipliers do not put it at the top of our list of best category bonuses, they represent good return for a no annual fee card that earns points that can be directly transferred to partners.
Assuming you can meet the minimum transaction requirements, the return on dining and travel spend is respectable for a card with no annual fee given Bilt's very strong set of transfer partners and even more so when you consider that points can be used not only to transfer to partners but also to book travel at a value of 1.25c per point through Bilt's portal. While booking through a travel portal won't always make sense (you need to shop rates), the added flexibility is nice for times when the portal is price-competitive.
1x everywhere else
Unfortunately, the Bilt mastercard does not offer a strong earning rate on everyday spend at just 1x for most purchases, nor does it offer a public introductory bonus. We recently saw a targeted offer where some were targeted for 10,000 points after $1,000 in purchases. In the first 90 days. Those targeted received an email with a personalized link.
Where the card really shines is in offering 1x on rent payments — even if your landlord does not accept a credit card. That's because cardholders gain the ability to pay not only landlords in the Bilt alliance but any landlord by sending a check or by ACH transfer as outlined above in this guide.
Earning 1 point per dollar on most purchases is not a good return on spend. That said, if you would not otherwise earn points for paying your rent, the overall math may work out well for those looking for a single long-term card. For instance, if you generally have $1500 per month in expenses paid by credit card and you also pay $2,000 per month in rent, you would earn at least 3,500 points per month with the Bilt Mastercard and possibly more if any of those purchases are in bonus categories (assuming you make at least 5 transactions). If you would have alternatively put those $1500 in monthly purchases on a card that earns 2x everywhere and not earned points on rent, you would only earn 3,000 points per month. You could earn far more points by focusing your spend toward excellent credit card welcome bonuses, but the Bilt Mastercard can be a reasonable choice for someone who rents and is looking for a single no-annual-fee credit card.
Bilt has run some spending promotions like 5x everywhere for Black Friday with Bilt Rewards card last year. It's worth keeping an eye out for similar promotions.
Bilt "Rent Day" 
For a 24-hour period on the 1st of each calendar month, Bilt offers a promotion called "Rent Day" where members with the Bilt Mastercard earn double points on all non-rent purchases. Not only does this make the base earning rate 2x, it also doubles existing bonus categories, meaning that cardholders earn 6x dining and 4x travel. (but for one day only). That makes the first of the month a great day to buy a gift card at your favorite restaurant or to book pending travel (though it would likely be harder to plan that specifically for the first of the month given the fluidity of pricing).
Your earnings potential on Rent Day isn't infinite: you can earn up to 10,000 maximum bonus points on rent day. Still, that's a fairly high ceiling given that it would take $3,333.34 or more in dining purchases to exceed the 10K bonus point cap (or $10K in non-bonused purchases).
It's also worth pointing out that you still only earn 1x on rent. The double rewards is for non-rent purchases only. In that regard, remember that you need to make 5 non-rent purchases per month in order to earn 1x on the rent. This double rewards deal on the first of the month should make it increasingly easy for cardholders to meet that threshold.
Bilt also runs additional promotions on Rent Day, in addition to the increased earnings. So far, offers that we've seen have included a transfer bonus to IHG One Rewards, a monthly rent giveaway, free SoulCycle classes and even a "Points Quest" trivia contest.
Referring friends to Bilt Mastercard
Bilt offers a referral program for the Mastercard, but the normal rates aren't stellar. For each person you successfully refer, you get 2,500 points. Every 5th successful referral gets you an additional 10,000 points – up to 2 million bonus points. You can find your referral code by tapping the invite button in the app.
Note that you do not need to be a card holder in order to refer friends to the Bilt MasterCard.
Additional Bilt Mastercard perks 
Primary Rental Car Insurance
Cellphone Protection – Applicable when paying you cellphone bill with the card. $25 deductable per claim, 2 claim max per year ($800 max per claim, $1600 max/year)
Purchase Protection – 90 days from purchase date, $10,000 max per item, $50,000 max. See exclusions here.
Trip Cancellation/Interruption Protection – $5,000 max per covered traveler per trip. See what's covered here.
Trip Delay Reimbursement – $200 per covered traveler per day for up to 3 days total, beginning upon 6 hour initial delay. See what's covered here.
How to use Bilt Rewards points
Transfer Bilt Rewards points to airline and hotel partners
Bilt has a very unique set of transfer partner that make the program surprisingly strong. Points transfer 1:1 to partners, with most transfers occurring near instantly for all partners but American Airlines AAdvantage (which transfer once per day). Partner programs can provide opportunities for far outsized value. See our Bilt Rewards sweet spots post for full details on the best redemption opportunities.
Partners include:
Hotels
Rewards Program
Best Uses
Bilt Transfer Ratio
(and transfer time)
Hyatt
Use for Hyatt free nights, free suite nights, lounge upgrades, or suite upgrades. Hyatt points are often worth at least 2 cents each, but they're sometimes worth far more. Bonus: award nights are not subject to resort fees.
1 to 1 (~1 Minute)
IHG
IHG dynamically prices their awards and sometimes offer very good value. IHG Premier and IHG Premier Business cards offer the fourth night free on award stays.
1 to 1 (~1 Minute)
Rewards Program
Best Uses
Bilt Transfer Ratio
(and transfer time)
Aer Lingus Avios
Fuel surcharges are sometimes lower when booking with Aer Lingus (Avios.com) rather than British Airways, Qatar, or Iberia. It's possible to move points (Avios) between Iberia, British Airways, Aer Lingus, and Qatar.  See also: Avios Sweet Spots for Award Tickets.
1 to 1 (~1 Minute)
Air Canada Aeroplan
Redeem for Star Alliance flights and/or flights with Air Canada partners (such as Etihad). No fuel surcharges; $39 CAD award booking fee; 5,000 points to add stopover on one-way award. See: Air Canada Aeroplan: Everything you need to know.
1 to 1 (~1 Minute)
Air France KLM Flying Blue
Monthly Air France Promo Awards often represent very good value. Air France miles can be used to book Sky Team awards, including Delta awards. Air France often offers very good business class award pricing between the US and Europe & Israel.
1 to 1 (~5 Minutes)
American AAdvantage
Best for AA's web special awards or for partner awards such as Cathay Pacific business class, Qatar business class, Etihad first class, etc. AA no longer charges change or cancellation fees on awards.
1 to 1 (1 Day)
British Airways Avios
While flights on British Airways itself often incur outrageously high fuel surcharges, many BA partners charge low or no fuel surcharges. Excellent value can be had in redeeming BA points for short distance flights. It's possible to move points (Avios) between Iberia, British Airways, Aer Lingus, and Qatar. See also: Avios Sweet Spots for Award Tickets.
1 to 1 (~1 Minute)
Cathay Pacific Asia Miles
Cathay Pacific has a decent distance based award chart, but they no longer allow stopovers longer than 24 hours. Cathay Pacific Asia Miles can be a good option for booking American Airlines flights with a distance based award chart, especially if other OneWorld Alliance miles aren't available. For long distance flights, it is possible to reduce the cost of a premium cabin award by adding on a lower cabin segment. See this post for details.
1 to 1 (~1 Minute)
Emirates Skywards
The best use of Emirates miles has been to fly Emirates itself. Unfortunately fuel surcharges can be steep. See: Emirates Sweet Spot Awards - First class from 30K miles round trip.
1 to 1 (~1 Minute)
Hawaiian Miles
Hawaiian Airlines' award prices tend to be quite high, but there are some not-terrible uses: fly to neighboring islands for 7.5K miles, fly first class round-trip from Hawaii to South Pacific islands for as few as 95K miles, fly first class round-trip from Hawaii to Australia for as few as 130K miles, or use miles to upgrade paid flights.
1 to 1 (~1 Minute)
Iberia Avios
Iberia offers very low award prices on their own flights and a very reasonable 25 Euro cancellation fee. Partner awards can offer good value under some circumstances as well, but these are usually nonrefundable. Fuel surcharges are sometimes lower when booking with Iberia rather than British Airways, Aer Lingus, or Qatar. It's possible to move points (Avios) between Iberia, British Airways, Aer Lingus, and Qatar. See also: Avios Sweet Spots for Award Tickets.
1 to 1 (~1 Minute)
Qatar Privilege Club Avios
Qatar has reasonable award prices for flying Qatar itself. Points are now transferable 1 to 1 to British Airways (and from there to Aer Lingus or Iberia)
1 to 1 via BA (~1 Minute)
Turkish Airlines Miles & Smiles
Miles & Smiles offers a number of awesome sweet-spot awards including 7.5K one-way anywhere within the US, even to Hawaii. Many awards cannot be booked online but can be booked via phone or email. See: Turkish Miles & Smiles Complete Guide and Turkish business class sweet spots from the US.
1 to 1 (~1 Minute)
United MileagePlus
United offers free award changes and free cancelations. Like Avianca and Aeroplan, United never charges fuel surcharges for awards. Unfortunately, United charges many more miles for international first class awards. Good uses of miles include United's Excursionist Perk awards and (sometimes) dynamically priced United economy awards.
1 to 1 (~1 Minute)
Virgin Atlantic Flying Club
Virgin Atlantic offers a few great sweet spot awards including US to Europe on Delta One business class for 50K points one-way. See: Best uses for Virgin Atlantic points (Sweet Spot Spotlight).
1 to 1 (~1 Minute)
Current Transfer Bonuses
If Bilt Rewards is running any transfer bonuses, details will appear here:
| | |
| --- | --- |
| Transfer Bonus Details | End Date |
Use Bilt Points to pay for travel at 1.25c per point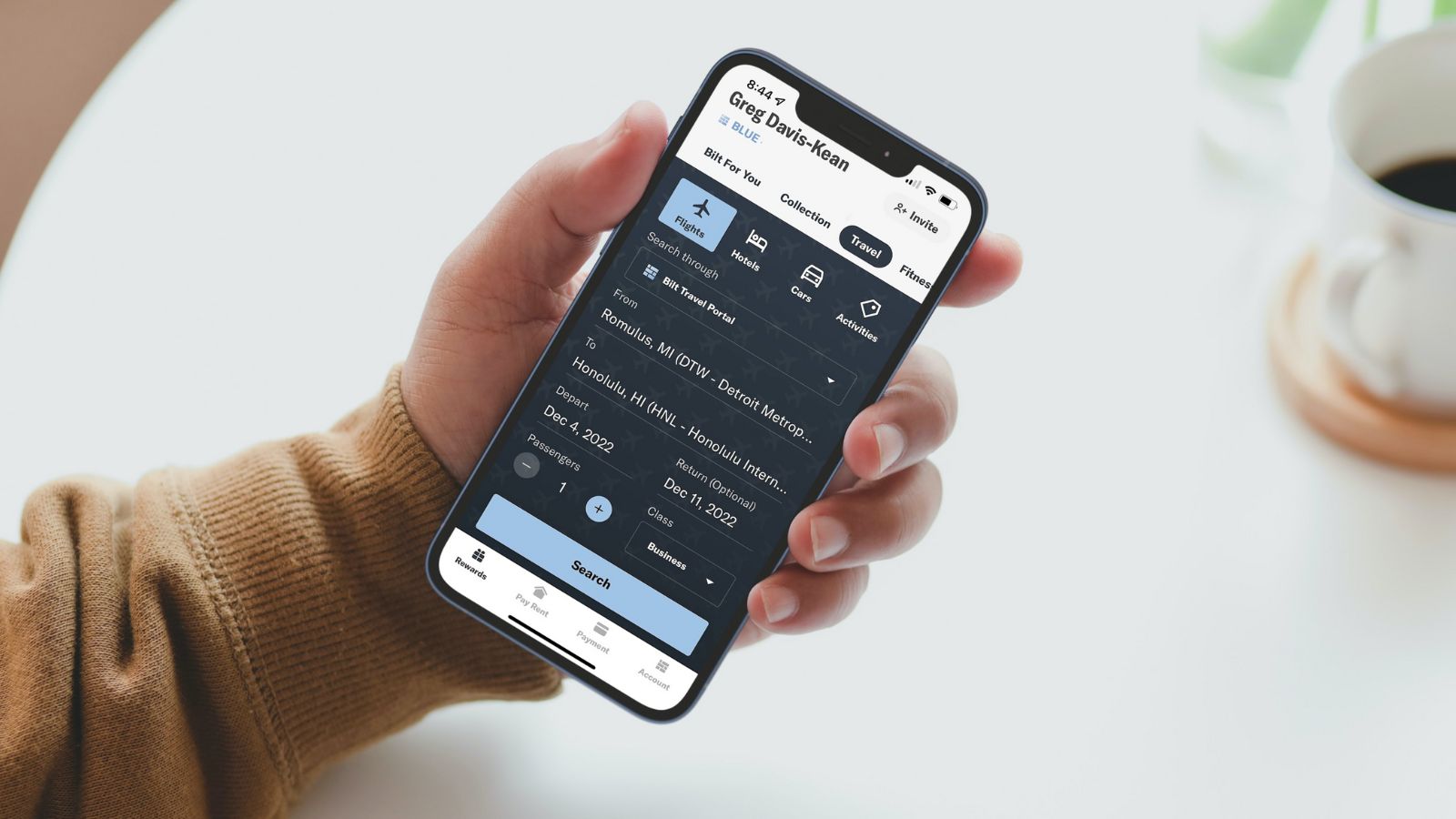 Bilt now offers the ability to use points at a value of 1.25 cents per point when booking travel through their new travel portal. The portal is baked into the Bilt app (simply select the "Travel" tab) or members can browse to: travel.biltrewards.com.
Like many other travel portals, Bilt's portal is powered by Expedia. This means that most flights will probably be the same price that you can find elsewhere, but rental cars, hotels, and activities may cost a bit more. Still, this can be a good way to get decent value for points when booking hotels or certain experiences (like tickets for Disney World).
One really cool feature is only available through the Bilt app. When searching for flights, you can choose to search through the Bilt Portal for cash rates or through a selection of their airline partners to see award rates for the same dates and destination. This should make it easier for people to decide whether to use their points through the portal or by transferring to partners. At the moment, only American Airlines AAdvantage, Air Canada Aeroplan, and United MileagePlus are supported, but I'm guessing that Bilt will add more partners soon.
If you don't have enough points to cover an entire charge, you can pay in part with points and the remainder in cash.
While you can often get far more value by transferring points to airline and hotel programs, the ability to alternatively get decent value when redeeming for travel directly is a strength for those who don't intend to learn the intricacies of booking award flights using airline miles.
Redeem points for rent
Bilt allows you to redeem points for rent. The value here is very poor as you will get less than 1c per point. If you intend to use credit card rewards to pay for rent, you would likely be better off with a credit card that earns 2% cash back everywhere and using that cash back toward your rent.
Redeem points for fitness classes
Bilt has partnerships with several popular exercise class brands, so you can redeem your points for popular classes like Soul Cycle, Rumble boxing, Solidcore, and Y7. These redemptions generally don't provide maximum value.
Redeem points for art, home décor and more
Bilt offers the Bilt Collection, a curated selection of limited-edition art and home décor. Redemptions start at 5,000 points. Whether or not these redemptions make sense is a matter of personal taste.
Use points to cover Amazon purchases
You can use Bilt Rewards points at checkout to cover purchases at Amazon.com. This yields very poor value for points at 0.7c per point and should be avoided.
Bilt Rewards elite status
Bilt Rewards offers an elite status program that offers the chance to earn interest on rewards points among other benefits.
The ability to earn interest based on your points balance is available to those with Silver status or higher. Status is earned based on total points earned over a calendar year as follows:
Blue – anyone enrolled in Bilt Rewards with under 25,000 points
Silver – 25,000 points earned
Gold – 50,000 points earned
Platinum – 100,000 points earned
You will need to have earned 25K points in a calendar year (Silver status) to earn interest on your points balance. Those 25K points can come from any type of spend — meaning that in addition to the points you earn for paying your rent, dining and travel spend will accelerate your pace up the status tiers.
Benefits as you move up status tiers include:
Silver and higher

Earn interest in the form of points to a member's Bilt Rewards account every month based on average daily points balance for each 30-day period (rate is based on the FDIC published national savings rate)
Bilt will deposit up to 50% bonus points on top of points issued by landlords to
members for signing for new tenant leases and lease renewal., depending on
member status.

Gold and higher

Bilt Homeownership Concierge: Members who redeem Bilt Points toward a home down payment can get help from a dedicated concierge who will walk the member through the home buying process

Platinum

Members will receive a complimentary gift from the Bilt Collection (apparently some type of home decor / art)