Update 12/4/20: The Work from Hyatt promo now runs through September 12, 2021.
Update 9/29/20: The Work from Hyatt rate is now available at many more hotels including some very popular Hyatt's such as Ventana Big Sur, Carmel Valley Ranch, and Grand Hyatt Kauai. H/T Point Me to the Plane.  I looked at what was included at Carmel Valley Ranch and found the following description of the Work from Hyatt rate:
Enjoy a separate, private workspace and complimentary High Speed Internet. Along with: breakfast for Two, personalized activities and educational experiences for children, Chef Curated Picnic Basket Lunch for Two, 25% Discounted Laundry Service,Complimentary Self or Valet Parking, and waived Pet and Resort Fees. Housekeeping Services – You choose the frequency and time of day that works best for you. Waived Resort Fee
Our original post follows…
A few weeks ago, Hyatt launched Work From Hyatt. This is a special program that – I thought – charged higher rates for stays of at least seven nights which, on the face of it, doesn't sound like a deal at all.
However, the packages include several additional perks and benefits which might make it worth the additional investment, especially now that Hyatt has launched new promotions offering at least triple points on paid stays and double elite nights.
Even better, it turns out that the Work From Hyatt program doesn't necessarily cost more. In fact, you could potentially save hundreds of dollars by booking this special rate even before taking into account the value you receive from the package benefits.
Here's more about how the Work From Hyatt program works.
The Deal
Book a stay of 7+ nights at participating properties using rate code WFHYAT to access Work From Hyatt rates and benefits.
Key Terms
Hyatt – Work from Hyatt Packages
Reservations must be made in advance directly with Hyatt by using Special Offer Code WFHYAT. When calling, please use 866-886-5053.
Work from Hyatt packages are subject to availability and inclusions may vary by property. Please check each property's inclusions.
These packages require a 7-night minimum stay.
Packages must be booked by 12/31/2020 for stays completed by 3/31/2021 9/12/2021.
World of Hyatt members are eligible to earn World of Hyatt points and tier night credits for these packages.
To redeem World of Hyatt points for these packages, members must call 1-866-886-5053.
Packages not valid with previously booked or completed stays or with groups, conventions, other promotional offers (unless noted), tour packages or special rate programs.
No refunds for unused portions of these packages.
Promotional blackout periods may apply due to seasonal periods or special events, and normal arrival/departure restrictions apply (unless otherwise noted).
Hyatt reserves the right to alter or withdraw these packages at any time.
Hyatt Ziva and Hyatt Zilara – Work & Learn from Paradise Packages
Work & Learn from Paradise offer applies to eligible new bookings for travel to a participating Hyatt Ziva or Hyatt Zilara resort made through December 8, 2020 for travel from August 6, 2020 through December 22, 2020.
Any bookings made under this Work & Learn from Paradise offer may be cancelled at no charge up to twenty-four (24) hours prior to arrival (12:01am of scheduled arrival date).
A 14-NIGHT MINIMUM STAY IS REQUIRED.
Rate displayed is per person, per night, based on double occupancy. A limited number of rooms are allocated to this offer and therefore bookings are subject to availability.
No shows, late cancellations or early departures will be charged 100% of the booking and no refunds will apply.
Offer not valid with groups, conventions, other promotional offers, tour packages or special rate programs.
Additional charges may apply for additional guests or room type upgrades.
Blackout dates may apply due to seasonal periods or special events, and normal arrival/departure restrictions apply.
Offer not valid in conjunction with previously booked or held stays and may not be combined with other offers.
Standard booking terms and conditions apply.
Quick Thoughts
The value you can get with these Work From Hyatt packages can vary greatly by property. That's because not only will the rates vary, but the package of benefits and perks is different from property to property too.
When Greg had looked at a couple of eligible hotels in the past with this rate, he hadn't seen anything particularly noteworthy. That might well have been due to the particular properties he'd checked though because there's definitely some value to be had out there.
Reader Mark put these rates back on our radar after emailing us with the following details of a reservation he'd made:
I enjoyed the Hyatt discussion on the latest podcast and wanted to share a few thoughts:

The Work from Hyatt rate has some really good opportunities…I think you undersold the advantages. I just booked 10 days down in Miami(at the Confidante) during November and got an extra room, waived resort fees, waived parking fees and $25 per night in food and beverage. The value of the resort fees and parking is almost $85 per night(as I do not have high status) and I am paying $180 per night(for 2 rooms). When you add the newest promotion this is going to be a big win!
The Confidante isn't the only property offering some value though. When checking the options for the Hyatt Regency Chesapeake Bay Golf Resort, Spa and Marina in Maryland, I was surprised by how low the Work From Hyatt rate was compared to other rates.
As you can see, the Work From Hyatt rate is the cheapest of all the Hyatt-specific rates by at least $19 per night. You can get the same rate if you have AAA membership, but that's not something everyone has, plus the AAA rate doesn't include the additional benefits and perks that are part of the property's Work From Hyatt package.
Speaking of those perks, here's what you can expect at this particular property:
Separate private workspace
Complimentary high speed internet
Complimentary daily breakfast for 2 adults
Complimentary washer and dryer on property
Complimentary self parking
Housekeeping services – you choose the frequency and time of day that works best for you
Complimentary s'mores kit to be used at the Grand Fireplace
Waived Resort Fee.
Some of those benefits are better than others. For example, complimentary self parking is a little misleading as that's included for all guests at this property regardless of what rate they pay. In fact, it's free for everyone at every property right now due to this separate Hyatt promotion.
If you have Globalist status with World of Hyatt, some of these benefits will hold no value either because you'd already be getting complimentary daily breakfast and waived resort fees thanks to your status.
For those without Globalist status though, that could save you a significant chunk of money seeing as you'd be staying at least seven nights when booking one of these rates. Resort fees are $26.50 per night, so you'd presumably be saving at least $50 per night overall if you'd also be paying for breakfast each morning.
The great thing is that you're not actually paying more for these benefits in the first place (in this particular scenario anyway) because the Work From Hyatt rate is cheaper than other rates, so you're getting extra benefits at a lower cost which truly is a win-win.
With regards to the Hyatt Regency Chesapeake Bay Golf Resort, Spa and Marina in particular, it's not clear exactly what constitutes a "separate private workspace" as one of the benefits. I called Hyatt to check and they advised that it might be that you get an automatic upgrade to a suite which has a separate private workspace, or they might have small meeting rooms which guests booking the Work From Hyatt rate get access to seeing as companies likely aren't making use of those facilities right now.
If you have suite upgrades earned from Milestone Rewards, you could use those to upgrade to a standard suite at properties with that room type available. Alternatively, you could use points to upgrade to a standard or premium suite regardless of whether you have status or not. For example, here are the suite types available at the Hyatt Regency Chesapeake Bay Golf Resort, Spa and Marina.
Booking Work From Hyatt Stays With Points
Something else that caught my eye when writing this post is something I'd missed when Hyatt first announced this new program:
To redeem World of Hyatt points for these packages, members must call 1-866-886-5053.
Seeing as you have to enter a special rate code to book Work From Hyatt stays, I'd previously assumed the benefits were only available on paid stays, but it turns out you can use points too.
The Hyatt Regency Chesapeake Bay Golf Resort, Spa and Marina is a category 4 property and so costs 15,000 points per night for a standard room. I was curious whether the Work From Hyatt rate would be bookable at that standard rate, or if the rate involved some kind of upcharge, similar to how you can redeem a higher number of points for a suite upgrade.
I therefore called the number listed above to find out. The agent I spoke to was very quick and comprehensive with the information provided, so despite having a few additional questions for her, the call only took a few minutes.
If you wanted to book a standard room using points but with the Work From Hyatt benefits, it would cost you 21,000 points per night, so 6,000 points on top of the standard rate.
Alternatively, you could redeem 30,000 points per night for a premium suite. She mentioned a petite suite which ordinarily costs 30,000 points per night, so there's seemingly no additional charge for the Work From Hyatt rate when using points for a premium suite.
Interestingly, she also mentioned the Chesapeake Suite which wasn't showing online as being an available room type for the dates I'd been searching for (which were the same dates I gave the agent). She advised that this is an ~800 sq ft suite with two bathrooms, separate bedroom and more which is also available for 30,000 points per night. That could certainly make for a comfortable stay if you have the points to spare, although it would make more sense to pay cash for a standard room if rates are as low for the dates you want as I was seeing and upgrade to a premium suite using points.
Stack With Other Hyatt Promotions
What can enhance the Work From Hyatt program is that it stacks with Hyatt's other promotions where the promotion dates overlap.
For example, if you wanted to book the Chesapeake Suite for 30,000 points per night, you'd get back 7,500 points per night thanks to Hyatt's points rebate for credit cardholders. If you're not a cardholder, you'll get back 4,500 points per night as non-cardholders only get a 15% rebate versus 25% for cardholders.
If you're booking a paid stay, you'll earn at least 3x points when registering for this upcoming promotion (registration isn't open at the time of writing this post). That promotion also offers 4x points rather than 3x points for certain properties. We don't have a list of participating properties yet, but it sounds like most (or all) resorts will earn 4x which will overlap with a lot of the hotels participating in this Work From Hyatt program. That means you could potentially book a cheaper rate with Work From Hyatt, get a bunch of additional benefits while simultaneously earning quadruple base points when paying for the stay, along with bonus points if you have World of Hyatt status and/or pay with a Hyatt credit card.
If you were targeted for an additional promotion, you'd also earn 3x American Airlines AAdvantage miles, making this an even better deal.
To summarize, if you'll be booking a stay of 7+ nights at a Hyatt property, it's definitely worth checking if the WFHYAT rate code can save you money and/or provide some great additional benefits during your stay.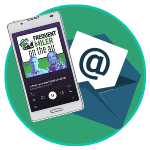 Want to learn more about miles and points?
Subscribe to email updates
 or check out 
our podcast
 on your favorite podcast platform.