Given that the best ever 90K offers for the fee-free Ink Cash and Ink Unlimited cards are ending soon, I decided that it was time for my household to jump in.  The results were surprising and awesome.  Despite my being over 5/24 and despite having an open Ink Cash card, I applied for another one under the same business and I was instantly approved.  Despite my son having opened an Ink Cash card in November, he applied for another Ink Cash with the same business and was instantly approved.  And, despite my wife having had another Ink Cash card for years, she applied for another one under the same business and she was instantly approved.
Once we meet the minimum spend on all three cards, the welcome bonuses will add up to 270,000 super-valuable Chase Ultimate Rewards points.  And if we complete all of that spend entirely through 5x categories, we'll earn another 90,000 points for a grand total of 360,000 points!
More than cash back
Chase advertises the Ink Cash card as a cash back card, but it actually earns Ultimate Rewards points.  For example, the card's welcome offer (at the time of writing) is advertised as "$900," but it is actually delivered as 90,000 Ultimate Rewards points.  If this card is the only Ultimate Rewards card in your household, then the best use of points is to cash them out.  If you have a Sapphire Preferred, Sapphire Reserve, or Ink Business Preferred card in the household, however, you can then move your Chase Ink points to that card so that you can then transfer points to airline and hotel partners (like Hyatt!) or use points to pay for travel through the Chase portal for better than 1 cent per point value.
The best card for the points & miles game
If you're serious about earning points and miles, then you need an Ink Cash card.  The card earns 5 points per dollar at office supply stores and on internet, cable and phone services on up to $25K spend per cardmember year.  It is the office supply store category that's particularly interesting.  You can walk into any Staples or OfficeMax / Office Depot store and buy 3rd party gift cards and earn 5 points per dollar in the process.  Or, better yet, Staples and Office Depot have been offering fee-free (or better) Visa and Mastercard deals nearly every week (for details and current deals, see: Best options for buying Visa and MasterCard gift cards).  During those deals, you can earn 5x buying these gift cards and then use them to pay just about any bill where credit or debit cards are accepted.  If you max out your card's $25K per membership year 5x limit, you'll earn 125,000 points each year.
My plan for 3 Ink Cash cards
My plan is to (hopefully) spend all of the required $6,000 at office supply stores in order to earn a total of 30,000 points for the required $6K spend.  After earning the 90,000 point bonus, this would mean earning a total of 120,000 points with each of the three cards.  This approach worked out great with my son's Ink Cash card that he picked up in November:
How we'll use the gift cards
If we complete all three $6K minimum spends by buying Visa/Mastercard gift cards at office supply stores, we'll have to figure out what to do with $18,000 worth of gift cards.  Here are some approaches I have in mind:
Prepay bills where credit cards are accepted (utilities, insurance, etc.)
Use a Buyers Club.
Lend money through Kiva.
Why were our applications approved?
First lets talk about 5/24…
Chase's 5/24 Rule
: With most Chase credit cards, Chase will not approve your application if you have opened 5 or more cards with any bank in the past 24 months.  This is true for Chase business cards too: you won't be approved if you are over 5/24. That said, if you are under 5/24 and get approved for a Chase business card, that card won't add to your 5/24 count.
---
To determine your 5/24 status, see:
Easy Ways to Count Your 5/24 Status
. The easiest option is to track all of your cards for free with
Travel Freely
.
---
I'm currently over 5/24, but my application was instantly approved.  It happens.  In the past this has been common with cobranded cards such as Southwest or IHG, but for the moment, Chase seems to be allowing at least some people to bypass 5/24 when signing up for the Ink Cash card (and probably the Ink Business Unlimited as well).  I've seen similar reports in our Frequent Miler Insiders Facebook Group, so I know that this isn't unique to me.  That said, I'm confident that this situation is temporary given that they also apparently suspended 5/24 for these cards, at least for some people, in December.
About getting a second Ink Cash card…
All three of us successfully opened a new Ink Cash card despite already having one open.  And my son was approved despite having earned a welcome bonus a couple of months ago.  With most Chase cards, there are rules against both of these things.  Usually you can't get a card that you currently have open, and you usually can't qualify if you've earned a welcome bonus in the last 24 months.  Fortunately, these rules don't apply to Chase Ink cards!
See also: How to sign up for Chase Ink cards.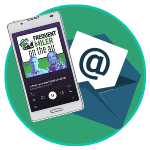 Want to learn more about miles and points?
Subscribe to email updates
 or check out 
our podcast
 on your favorite podcast platform.