I recently took my third cruise of the past 4.5 months. We've got several non-cruise trips planned this year, but I often say that you have to strike while the iron is hot….and it has been on fire in Atlantic City as of late, so I had to take an unplanned trip to Atlantic City, NJ last weekend in order to match my way around for yet another "free" cruise (which would be a bit closer to free this time if you're working with double occupancy). Here's my story….
Dave Grossman at MilesTalk has a very comprehensive guide to the status match merry go round that starts with Wyndham and ends with a bunch of casino statuses that may be of good use even for non-gamblers. I used his guide as a blueprint to make all of this work.
We've long written about the status match-go-round between Wyndham and Caesars and years ago I wrote about leveraging benefits like the Caesars Diamond celebration dinner in Las Vegas and the free show tickets (which I think aren't really much of a thing anymore). Almost five years ago, I wrote about why it might be worthwhile to take a road trip to Atlantic City for some status matching shenanigans, which was related to a post from Angelina Travels about getting up to 7 free nights in Atlantic City from status matches. While I wrote about those Atlantic City matching opportunities years ago, I didn't jump on them because I'm just not very into Atlantic City. Free nights there didn't really excite me.
However, Dave's guide caught my eye because of stuff I kept catching in his MilesTalk Facebook group about a free MSC cruise where you don't even pay the port taxes. While my cruise newbie impression of MSC is that they tend to be more of a "value-priced" cruise line than a luxury one, I saw reports of people sailing on the newest MSC ships — and since I was pleasantly surprised by my European Carnival cruise, I figured that there would be no harm in giving MSC a try. One of the things I love about all of these matching games is that it makes a type of vacation that never really interested me (cruising) a no-risk (or very low-risk) option to try out. What I mean there is that if I had decided to pay for a cruise, it probably wouldn't have been on Carnival since my impression of Carnival wasn't great. But since I got to cruise with them for next-to-nothing, I got to find out that I was perfectly happy with that European cruise. The same could be true with MSC.
The wrinkle in my plan is that a key component in getting the free cruise relies on being able to match to high-level tier status with Hard Rock Atlantic City and that property has announced that they are replacing their current loyalty program with the same program currently used at Hard Rock in Las Vegas. It was expected that the "new" program (called Unity) might launch on March 1st and then we didn't know whether or not they would continue offering matches and how that might affect the rest of the game.
I'm happy to report that as of this past weekend, Hard Rock has not yet launched the Unity program and I was told that won't happen until "sometime in the spring".
But I'm getting ahead of myself. Let me back up to the beginning and lay out the steps for matching your way to a free cruise in Atlantic City.
Start with Caesars Diamond or MGM Gold
To kick off this little match merry-go-round, you'll need either Caesars Diamond or MGM Gold status.
Getting MGM Gold status
The easiest way to get MGM Gold status is to match from Hyatt Explorist or Globalist (either will match instantly to MGM Gold). You can connect your accounts and match here.
If you have MGM Gold, head to Borgata in Atlantic City to pick up your MGM Gold card. Notice that there is a shorter priority line for Gold members (there is also another line for Platinum and higher, so you'll have to wait while those with higher status get served first, but it was still shorter than standing in the general line). MGM Gold provides free parking, which is charged on the way out of the garage at Borgata. You'll just need to show your MGM Gold card and your ID as you exit.
If you don't have Hyatt Explorist or Globalist, you're very likely to be working on the Caesars Diamond path. I guess you might be able to get a status fast track with Hyatt based on your employer, but otherwise there isn't really a way to match to MGM Gold.
Getting Caesars Diamond status
There are two distinct paths to Caesars Diamond depending on whether or not you want a business credit card.
The easiest and cheapest path is via the Wyndham Earner Business credit card. This card offers automatic Wyndham Diamond status. It's also just a great card to have because the annual fee is only $95 and the card comes with 15,000 Wyndham Rewards points at each anniversary (which can easily be worth more than $95), bonus categories like 8x on gas and 5x on utilities, a 10% discount on free night awards with Wyndham (including Vacasa rentals).
Wyndham and Caesars have a partnership whereby those with Wyndham Diamond status can match to Caesars Diamond status (which you can do at this page). Note that match usually takes about a week, though some people have reported trouble with the match not going through and needing to follow up with Wyndham Rewards or with Caesars via Twitter.
Once you have Caesars Diamond status, you'll move on to the next section of the post.
An alternate path to Caesars Diamond status (for those who don't want or can't get the Wyndham business card) is to sign up for FoundersCard. FoundersCard is not a credit card but rather a membership card that offers discounts with many different merchants and travel providers. It also offers some fast tracks to elite status and in a few cases automatic elite status. One complimentary status you can get with FoundersCard is Caesars Diamond.
I've written about FoundersCard before. It's an expensive membership, so making the membership make sense long-term would require heavily using the benefits. That said, in this case, it would provide a way to effectively "buy" Caesars Diamond status to get on the status match-go-round. We don't know that matching back and forth with Wyndham will continue to be possible in the future, but in my case I have been able to continue to match back and forth from Caesars Diamond to Wyndham Diamond and then from Wyndham back to Caesars each year.
That's because Wyndham and Caesars run on slightly different membership years: Wyndham status ends on 12/31 and Caesars ends on 1/31. I had matched Wyndham Diamond to Caesars Diamond last year. When my Wyndham status dropped back down to nothing on 1/1/23, I was able to match Caesars Diamond back to Wyndham Diamond (now good through 12/31/23). Then, when my Caesars Diamond dropped off on 2/1/23, I was able to match from Wyndham Diamond back to Caesars Diamond (now good through 1/31/24). On 1/1/24, I'll lose Wyndham Diamond status and hopefully I'll continue to be able to match back and forth (Caesars indicated last year that it might end this, but it hasn't yet).
I should note that FoundersCard is a membership aimed at "entrepreneurs and business executives", but all it asks for is a company name and title and it doesn't seem to explicitly require owning a business.  Again, this isn't a credit card but rather a membership card.
I believe that you can currently get a free 3-month trial to FoundersCard through a referral (perhaps only from select people?), but automatic Caesars Diamond status was not a perk that was available for free trial members when I had previously done a free trial. The cheapest I've seen lately is $295 per year with when you prepay two years or $395 per year when you sign up through a referral, so FoundersCard is a much more expensive path to Caesars Diamond status. I'd certainly recommend going with the Wyndham Business Earner card if the only FoundersCard benefit you would use is Caesars Diamond status. But if you can use things like the United discount or select hotel discounts, etc, then it could be worthwhile.
Picking up your Caesars Diamond Card
Once you have your Caesars Diamond status, you'll need your Caesars Diamond physical card. That part is very easy: Caesars Atlantic City has an automated kiosk right in front of the player's club desk (and I saw at least one other such machine in the casino). It's a tall machine and you just pop in your license and it spits out your Caesars Diamond card. That's all you need to do at Caesars for this match.
In my case, I still went to the players club desk to verify that I had the Diamond Celebration dinner loaded to my account (note that there is a priority line for those with Diamond status). One of the benefits of Caesars Diamond is an annual $100 Celebration dinner, but there have been rumblings that Caesars is only allowing this benefit for those who have earned a minimum of 100 Tier Credits (the elite status metric that comes from gambling with Caesars). I haven't earned 100 Tier Credits this year and the $100 Celebration dinner was indeed loaded to my account. I did earn more than 100 Tier Credits last year, though not enough for Caesars Diamond status. Maybe those tier credits still counted for unlocking the celebration dinner, I don't know. If you're in town for this match and you want to quickly earn some Tier Credits, you might consider their sportsbook app.
At any rate, once you have your Caesars Diamond card, head over to Hard Rock Atlantic City.
I should note that Caesars Diamond members get free parking. Caesars charges for that on the way out of the parking garage, so you'll just need to show your Diamond card and ID when you're exiting to avoid the fee.
Match to Hard Rock Atlantic City Rock Royalty
This was the part of the match that was up in the air as to whether or not it would work, so my wife wasn't thrilled when we arrived and had to pay the $25 parking fee at the entrance to the parking garage, not yet sure that the match would even work (but it did work out in the long run).
Hard Rock was still widely advertising their tier match on signs throughout the casino.
As you can see on the sign, it notes that "coming soon" is "Unity by Hard Rock". Unity is the program offered at Hard Rock Las Vegas. It was expected that Hard Rock Atlantic City might change to Unity on March 1st and it was unknown whether they would continue to tier match and map to such a high level.
However, I am happy to report that they have not yet switched to Unity (at least not as of 3/4/23). When I asked the agent at the Players Club desk about when they will switch, she said "sometime in the Spring". I think Spring officially begins on March 22nd, so if we are to take a single customer service agent's word as truth (which is something I always caution against doing), there are probably at least a couple of weeks to go. And I've heard that Hard Rock Las Vegas is still matching to a tier that should work for the next step of the match.
At the time being, Hard Rock matches Caesars Diamond or MGM Gold to their Wild Card program's Rock Royalty. That's the top tier with a published requirement (there is also an invite-only "X" status that would require being a high roller). I went to the desk and told them that I had both Caesars Diamond and MGM Gold and asked whether there would be any difference matching one or the other and the agent said that it was the same either way. I therefore handed over my Caesars Diamond card and they immediately matched me to Hard Rock Rock Royalty.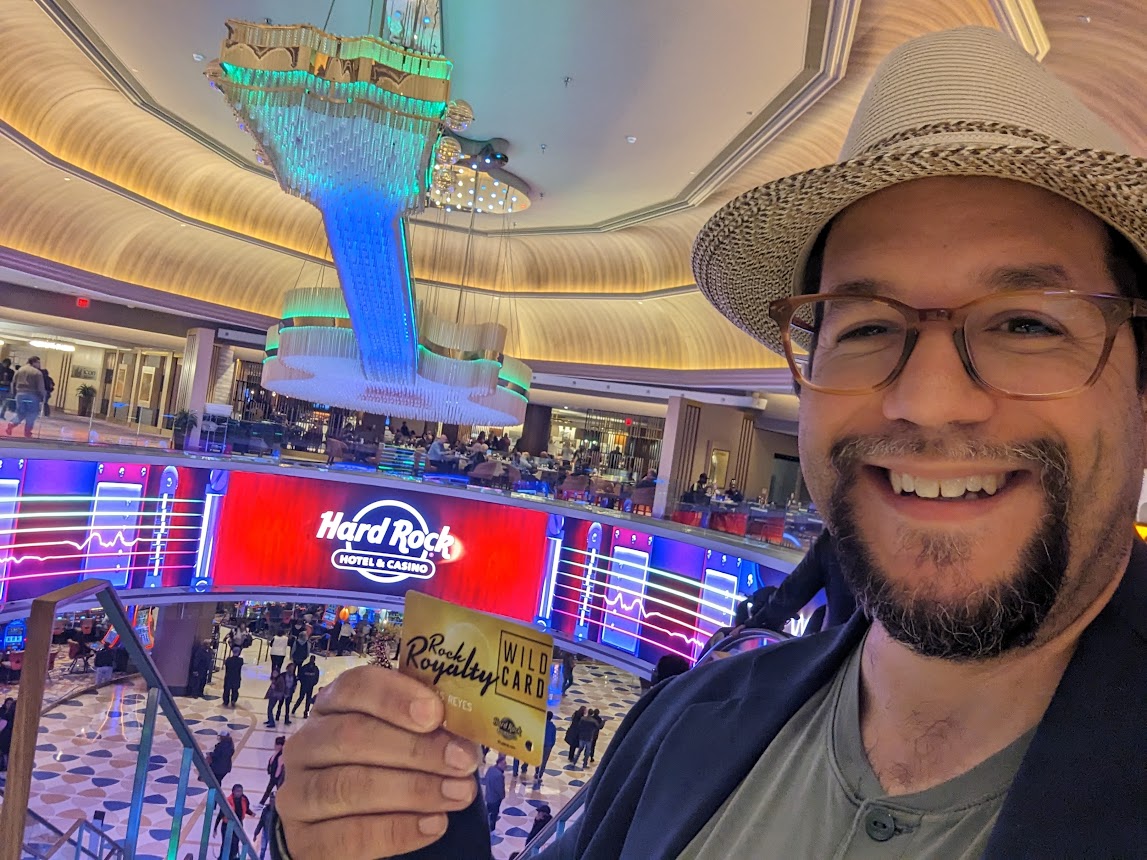 There are a few benefits that may be of interest with this match:
A free two-night stay at Hard Rock Atlantic City (the agent said this would be bookable 24 hours after matching)
A $50 free play (this gets loaded to your card automatically)
Free parking at Hard Rock Atlantic City
A free monthly car wash
The free play was easy to use — you just pop your card into a machine and enter the PIN and you can load the promotional balance to the machine. For those unfamiliar with Free Play, you have to play through the "free" money and then you get to keep your winnings. In other words, I had to make $50 worth of spins on a slot machine and then I could keep anything left after that. I went to video poker and played $1 a hand (because it was easier for me to keep track of the 50 spins). I cashed out $32 after my 50 spins, effectively taking care of the parking fee I had paid on the way in. May the odds be ever in your favor.
Match to Ocean Prime
The final step in Atlantic City is to march your Hard Rock Rock Royalty status over to Ocean Casino Resort. If you're doing this during the daytime, I imagine you could walk right down the boardwalk as Hard Rock and Ocean are fairly close. I drove to Ocean and pulled into the garage — thankfully, Ocean's parking works like Caesars rather than like Hard Rock. That is to say that you pay the parking fee on the way out — and by then, you'll have Ocean Prime and won't need to pay for it.
At Ocean, I headed directly to the Rewards Club desk with my Hard Rock Rock Royalty card and said that I wanted to sign up for a card and that I had Hard Rock Rock Royalty status, showing my card. The agent right away said that they match that status and took my Hard Rock card and ID and got me signed up for Ocean Rewards with Prime status.
This match comes with several key benefits:
1 complimentary entry to the Avila Lounge for member + 1 guest (only valid for 72 hours)
A complimentary 2-night stay at Ocean (valid Sunday through Thursday)
A complimentary 2-night stay at Wynn Las Vegas
A complimentary Caribbean cruise on MSC in an ocean view cabin for up to 7 nights
Complimentary parking at Ocean Casino
These benefits are solid. First of all, the Avila Lounge was essentially a buffet dinner with a full bar, so it's worth showing up hungry. The food was decent and service was speedy.
But I was most excited about the free cruise (and the free Wynn stay, which could come in handy).
The agent at Ocean told me that the free MSC cruise could be booked 72hrs after matching, but I think he misspoke and was probably talking about the free nights at Ocean. I think that because the literature (that he forgot to give me, but that Dave at Miles Talk pictures here) mentions that the travel benefits (which are considered to be the Wynn stay and the MSC cruise) are available on the 15th of the month following the month in which you reach status. That means that since I matched in March 2023, I theoretically would not be able to book either benefit until April 15th.
I hadn't realized that part before matching and it's a key detail because the Ocean status is only valid until June 30, 2023 (the end of their current membership year). I would need to cruise by June 30th, so I'm not going to have a lot of time to use that benefit. The Wynn stay needs to be booked at least 30 days in advance. I think it might be possible to book the Wynn stay for a check-in date after your Ocean status ends (provided you make the booking while you still have Ocean status), but not the MSC cruise.
All that said, I called MSC yesterday and they said that I could book the cruise right away. I'm only about 30% confident in what the agent told me and I didn't book it because there wasn't availability on the dates I wanted. Key things to know about the MSC cruise:
You don't pay port taxes or any fees for the free cruise
You do pay a $400 deposit that you get as an onboard credit
The free cruise is based on double occupancy. I asked about bringing my kids and they would be $359 each.
Thanks to a tip from a reader named Mira, who was very helpful in explaining how all of the MSC stuff works, I matched Hyatt Globalist to MSC Diamond before my Hyatt Globalist status expired last week. I understand that would get me complimentary dinner at a specialty restaurant one time during my cruise, a free cocktail reception, and some other onboard benefits (which makes for a great stack). It may also make it possible to negotiate a better rate for an upgrade to a balcony (or maybe the cost of the kids?). I didn't actually book, so I didn't try hard to see what I could get with my MSC status.
The complimentary cruise would be a great deal here for two passengers, particularly those who would ordinarily spend on drinks and specialty restaurants and/or excursions onboard. My wife and I probably wouldn't ordinarily spend $400 onboard, so the effective requirement to do so turned me off a little bit. That wouldn't stop us from booking, but also having to pay $720 combined for our kids makes me less sure that I'll use the cruise benefit. Still, at $1120 for a 7-night cruise for 4 people with $400 in onboard credit, it's still a terrific deal — and at $400 for two people with $400 in onboard credit it seems like it would be well worth a ride to Atlantic City if you're within driving distance.
Other matches?
I had read in the Miles Talk guide about some people having success getting something from Bally's when showing their Caesars Diamond celebration dinner. I went to Bally's as soon as I mentioned having status at another casino at the players club desk, the guy started waiving me off before I got any farther, saying that they don't offer any sort of match or benefits. Silly me, I said that I'd just hold off on signing up for a players club card then. That was silly because with a players club card, I'd have only paid $10 for parking — but because I didn't even sign up for one, they got me for $25 on the way out of the parking garage. Argh.
If you're also heading to Philadelphia (which is only about an hour away from Atlantic City), there is a casino there called Philadelphia Live. I've heard that they were matching to one of the Atlantic City statuses and until February 28th that level of status came with a free three-night stay at Baha Mar. We didn't head back toward Philadelphia, so I'm not sure whether they are still offering anything (the word on the street was that they would probably offer something, but that it wouldn't be as good). If you match in Philadelphia after 2/28/23, let me know what you get.
[Update] You may want to hold off on this status match go round
Update: Thanks to reader Martin who chimed in with a link to the Ocean Prime match explaining that members who match after March 1, 2023 will automatically have Prime status expended through June 30, 2024. That's great because it makes the rest of the strategy in this section irrelevant — there's no reason to wait to match. In fact, it ight make more sense to do it sooner rather than later to start the clock on a potential re-match.
If you're a gambler, it might make sense on holding off on this match until after July 1st. That's because the Ocean Rewards Club membership year runs from July 1st – June 30th. The free MSC cruise benefit is once per calendar year. If it were possible to match from Hard Rock to Ocean Prime after July 1st, you could presumably get a "free" MSC cruise during 2023 and another during 2024 (before your Ocean Prime status runs out on June 30, 2024).
The problem is that we don't know for sure that Hard Rock Atlantic City will continue matching Caesars Diamond or MGM Gold to its new top-tier equivalent when they launch the Unity program. Furthermore, we don't know that Ocean will continue matching high-level Hard Rock status to Ocean Prime.
We know it's possible to match now — so if you could use the cruise before June 30th, it's probably worth taking advantage of this now. In my case, I'm not sure we're actually going to be able to use my free cruise. Something went awry with my wife's match from Wydham Diamond to Caesars Diamond, so she didn't have a status that could work for this status match go round last weekend. Once she gets her Caesars Diamond status resolved, I think we'll hold off and consider heading to Atlantic City in July to see if she can match then if we decide that we do want to spend the $400 deposit and $359 per kid since we'd have more opportunity to fit a cruise in later this year or next year.
Look around for similar opportunities
I should note that while this post is about Atlantic City, I have heard of deals like the free MSC cruise with matches in other parts of the country. If you live in or are traveling to an area with casinos, it is worth looking into whether they have any tier matching opportunities and what benefits accompany the matched tiers. Matches often won't be worthwhile, but as evidenced here the value can sometimes be pretty extraordinary.
On a smaller scale, a couple of years ago, I matched around at casinos in South Florida one night and made a few hundred bucks. Plenty of other states have clusters of casinos where I imagine that you may be able to put together a nice collection of benefits.
And if you ever do get to Las Vegas, keep in mind that Caesars Diamond status means no resort fee and no parking fees at their properties. As a Diamond member, I sometimes see rooms from $10 per night (others report seeing complimentary rooms). MGM frequently sends me free room offers of 1-4 nights depending on the casino — and MGM Gold comes with no resort fees and free parking also. Leveraging matches can make for a cheap trip to Vegas and/or outsized benefits in other places like these Atlantic City matches.
Bottom line
If you have either MGM Gold or Caesars Diamond (which is pretty easy to get for those in this game), you can parlay that into yet another "free" cruise offer (this time with a small deposit that you get back as an onboard credit, but no port taxes) — but the catch is that this can only be done in-person in Atlantic City, NJ. There are a few steps / stops to make, but it's probably worth the time if you're within a drivable distance of Atlantic City. Some free play money to try to win big on the house's dime, some free nights if you want to return to Atlantic City (from Hard Rock and Ocean) and a darn near free 7-night Caribbean cruise is a pretty solid deal for starting with a $95-fee-Wyndham Earner Business card. It'll take a little time to ride around and do the matches, but the return on time investment here is pretty good.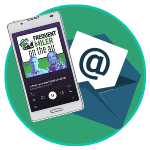 Want to learn more about miles and points?
Subscribe to email updates
 or check out 
our podcast
 on your favorite podcast platform.