American Express is offering consumer cardmembers an incredible bonus for referring friends.  In addition to earning points or cash back when a friend signs up with your referral, you'll also earn an additional 3 points per dollar for all of your spend for 3 months.  This can be absolutely huge for big spenders!
The Deal
Offer Link: americanexpress.com/refer
Available for select consumer cards (business cards aren't eligible)
For each of your Amex cards, check the refer-a-friend page and look for the words "Amex Refer A Friend Three For All" at the top (see image above as an example).
For qualifying cards, use your referral link to refer friends until 10/28/2020.
Once a friend has been approved, you should earn 3 additional points per dollar on that card for three months.  This includes bonus categories.  For example, if you refer a friend from the Amex Gold Card, you'll earn 7X at restaurants rather than the usual 4X and you'll earn 4X for unbonused spend instead of 1X.
Offer expires 10/28/2020
Terms
+3 Rewards Referral Offer

Eligibility and Qualifying for the Offer

Must refer a new American Express U.S. Consumer Card application between 10/1/2020 and 10/28/2020, and that application must result in an approved account. The referred individual(s) must apply online through the eligible Card Member's personalized referral link provided by American Express. Eligible Card Members must refer their Consumer Card(s), but may still qualify for this Offer should the referred individual(s) apply for another Card through the personalized referral link and that application results in an approved account. This Offer is not available to all Card Members and is non-transferable. Business Cards, Corporate Cards, Prepaid Cards, American Express Cards issued by other financial institutions, and/or older versions of current U.S. Consumer Cards are not eligible to be referred, and Card Members logging into a Card account for one of these ineligible Cards will not see this Offer because it is not available.

Due to the confidential nature of the credit card approval process, Card Members will not be notified of whether we approve or decline any application(s) from referred individuals. If you qualify for this offer, you will receive an email notification. If you do not have an email address on your account, you can add one at americanexpress.com.

Additional +3 Rewards

Qualifying Card Members will receive an additional three (3) rewards per eligible dollar spent on their Card account (for the Card referred) for three (3) months, starting from the date the referral results in an approved account. The additional three (3) rewards will be applied to rewards categories for which eligible purchases are rewarded with cash back, Membership Rewards® Points, Delta Bonus Miles®, Hilton Honors Bonus Points or Marriott Bonvoy Points. The following are some examples of how qualifying Card Members will earn additional rewards during the 3-month offer period:

A Blue Cash Everyday® Card Member who typically earns, among other rewards, 2% cash back at U.S. Gas Stations and 1% cash back on other purchases will earn 5% cash back at U.S. Gas Stations (2% + additional 3%) and 4% cash back on other purchases (1% + additional 3%) during the 3-month offer period.

A Green Card Member who typically earns, among other rewards, 3X Membership Rewards® Points on Restaurants will earn 6X (3X + additional 3 Points) during the 3-month offer period

For qualifying Amex EveryDay® Card Members, points awarded under this offer will not be included when we calculate Extra Points.

Please refer to your Card account for an overview of your benefits and rewards. As a reminder, you will receive cash back in the form of Reward Dollars, which can be redeemed for statement credits. The value of Membership Rewards points varies according to how you choose to use them. To learn more, go to www.membershiprewards.com/pointsinfo.

Purchases may fall outside of the offer period in some cases (and therefore not qualify for the offer), such as a delay in merchants submitting transactions to us or if the official purchase date differs from the date you made the purchase. (For example, if you buy goods online, the official purchase date may be the date the goods are shipped.) Additional Card Members on your account are not eligible to participate in this offer, but you will earn 3 additional rewards per dollar on qualifying purchases made by any Additional Card Members on your account. The following do NOT count as purchases and will not qualify for this offer: fees or interest charges, balance transfers, cash advances, purchases of traveler's checks, purchases or reloading of prepaid cards, or purchases of any cash equivalents.

Fulfillment

To earn rewards in connection with this offer, your Card Account must be active, in good standing, and not in default at the time of fulfillment. What you earn with this offer: (i) is in addition to any other rewards you may get from using your Card Account; (ii) will be credited to your account 8-12 weeks after you make a qualifying purchase; and (iii) may be reversed if a qualifying purchase is returned or cancelled.
Quick Thoughts
This is a phenomenal offer.  It shouldn't be too hard for most people to find a friend or family member willing to sign up for at least one card.  For example, I might encourage my son to sign up for a new Amex card using one of my referral links.  And since Amex lets you use your referral to refer to other cards (not just the card you have), you can refer friends to the best offers out there (like the Gold Card 60K offer, for example) even if you don't have that card.
Once your three months starts, you'll want to use your qualifying Amex card for virtually all spend, including things like Plastiq bill payments (a 2.85% fee is nothing compared to earning an extra 3X), tax payments, etc.  I'd avoid buying gift cards, though, since Amex has been fighting back against that type of manufactured spending.
This deal ought to stack perfectly with other big spend opportunities.  For example, Delta Platinum and Reserve cardholders earn status boosts with big spend plus they may be getting 500 bonus MQMs per $1,000 of spend thanks to a current Amex Offer.  If you can rig things to also get an additional 3 miles per dollar on top, that would be sweet.  Plus, if you refer a friend in mid October, the bonus miles will continue until mid January and so you can get a start on earning new status boosts at the beginning of next year.
Hat Tip: Milenomics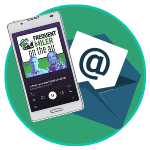 Want to learn more about miles and points?
Subscribe to email updates
 or check out 
our podcast
 on your favorite podcast platform.