Last year, Capital One dumped me.  But now, with only a few days left to go on the Venture X card's huge 100K welcome offer (expires March 14th), I stepped up to kick the football again.  Or, rather, my wife did.  She applied for the Venture X and was instantly approved.
A year ago, I was excited when I was approved for the Capital One Venture card.  I had never been approved for a card by Capital One before and so I was happy to finally be able to dive into the Capital One ecosystem.  After all, Capital One keeps making their "Miles" better and better.  First, they introduced the ability to transfer to airline and hotel partners, and later made most of those transfers one to one.  This made the Venture card (which earns 2x everywhere) one of the best around for unbonused spend.  Then, they cancelled me.  I hadn't done anything unusual with the account.  I hadn't manufactured spend or purchased anything questionable with the card.  But they decided for some reason that they didn't like me.  They shut down my account with no real explanation.  Worse, they gave me only half a cent per Capital One Mile earned.
Why I wanted back in (for love of the Game)
Frequent Miler (both the blog and podcast) is all about travel rewards, and Capital One is a significant player in that space.  Yes, I could leave it to others on the Frequent Miler team to cover Capital One stuff, but I want to play too!  To me, travel rewards is a great game where "winning" means travelling the world in luxury.  I started this blog more than 10 years ago because I love this game and wanted to share it with others.  I still love the game today and it irks me that Capital One has banned me from a growing segment of the game.
Why Venture X
The fact that the big 100K welcome offer was coming to an end was the reason to sign up now, but the reason for picking the card at all had more to do with its ongoing benefits:
Venture X pays for itself: The card has a $395 annual fee, but it includes $300 in statement credits annually for bookings made through Capital One Travel, and 10,000 bonus miles each year upon renewal.  That combination means that we can easily get $400 in value per year to justify the card's $395 annual fee even if we don't use the card in any other way.
Free authorized users: My wife can add me as an authorized user for free.  Hopefully that won't encourage Capital One to shut her down!
Capital One Lounges: Once I get an authorized user card in my name, I'll have access to Capital One's airport lounges.  So far there's only one, at Dallas Fort-Worth airport, but it gets great reviews and more are coming (lounges at Dulles and Denver airports are expected to open this year).
10x rewards for hotel bookings: Both the Chase Sapphire Reserve and the Capital One Venture X offer 10x for hotels and car rentals booked through their portals.  I don't like to book chain hotels this way because it means not earning hotel points or elite credits on those stays.  But I often book independent hotels and I'm happy to earn 10x then.  The problem I have with the Sapphire Reserve is that Chase's portal never seems to have the hotels I'm looking for!  I usually then end up booking through Hotels.com instead (they have their own "buy 10, get 1" rewards program, but I'd rather earn 10x transferable points).  I expect that Capital One's portal will offer better coverage than Chase's.  Plus, Nick has found that Capital One's portal often has better prices (see: Capital One Travel vs Chase Ultimate Rewards Travel, head-to-head).
I would have included other features on this list too, such as Priority Pass and cell phone protection, but I get these benefits with other cards already.  They are reasons for me to consider cancelling other cards in the future, but they're not currently a concern for me.
Will they cancel us again?
I don't know why Capital One hates me, but it probably has to do with a bank account of mine that they shut down in 2015 (see my Capital One shut down post for details about that).  If that's the case, then they should be OK with my wife.  I don't think she was named on that old bank account (but, honestly, that was so long ago that I don't remember for sure).  Of course, they could match us up by name and address, but I don't know why living with a persona non grata (i.e. me) would rub off on my wife.
The real risk, I think, happens if/when she adds me as an authorized user.  I need her to do that to gain entrance to Capital One lounges if she's not travelling with me.  So, I'll wait until that seems eminent before asking her to add me as an authorized user.  But once that happens, I wonder if Capital One will see my name and take action against us.  I imagine an employee furtively dialing "the number" reserved for "situations," and somewhere an old-style analog phone will ring and a shadowy figure wearing gloves will pick up the phone, listen a moment, and say "I'll take care of it," before hanging up.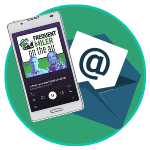 Want to learn more about miles and points?
Subscribe to email updates
 or check out 
our podcast
 on your favorite podcast platform.