AwardWallet has sent an email to members today advising them that American Airlines has forced AwardWallet to Stop Tracking AAdvantage accounts. Unfortunately, there isn't even a work-around: AwardWallet is being forced to remove AAdvantage accounts entirely from the platform.
The email from AwardWallet indicates that American Airlines demanded this change. "AwardWallet believes that you own your loyalty and travel data and that you have the right to control and share that data as you see fit." Unfortunately, whatever demand is being made by American clearly required AwardWallet to remove AAdvantage data altogether.
Regular uses know that other airlines that block direct AwardWallet functionality (like Delta, United, and Southwest) can still be tracked by forwarding monthly mileage statements. While an unideal solution, that's still better than nothing for tracking mileage balances to be sure that your account hasn't been hacked and in situations where points may expire. I have also found Award Wallet incredibly useful for tracking reservations. I have been saved more than once by a reminder about my upcoming trip from Award Wallet in situations where I had intended to cancel said trip.
Unfortunately, that's not going to happen here. AAdvantage accounts have been completely removed from AwardWallet in this case. That is a huge disappointment. At a base level, it is helpful to me to have loyalty account numbers handy when making travel reservations. It's a shame that American is blocking that here. There is a change.com petition urging American to reconsider this decision.
It is interesting to note that it seems to only be US-based airlines that actively block AwardWallet functionality.
Perhaps more interesting here, at least in terms of appearance, is the timing. I'm sure that I am not the only person who chuckled at the timing of blocking AwardWallet in the days following the incredible SimpyMiles bonanza. I couldn't help but think to myself, "I guess American doesn't want anyone to know exactly how many miles they awarded in that promo!". Realistically, I doubt there is any connection at all. It takes time for lawyers to draw up demands and I have to think that whatever this is was in progress before the SimplyMiles promo. Probably.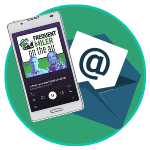 Want to learn more about miles and points?
Subscribe to email updates
 or check out 
our podcast
 on your favorite podcast platform.