I ain't going lie, folks. Greg wanted to break this big news to all of you himself and he won't realize I've used my Friday "Bet You Didn't Know" perch to beat him to it until it's too late. Yep, I'm going rogue. But you'll understand why in a moment.
A few months ago it became clear to both myself and Senior Editor Shawn Coomer that Greg's tenure at Frequent Miler had basically run its course. Greg's a nice guy and all and he's been great in the past at finding new opportunities to build up tons of loyalty points and miles. But it's been forever since he broke any news about a new method of manufacturing spend.  I mean, how long ago was Redbird? Like a year or something? Seriously, where's the beef, Greg?
During one of our thrice-daily Periscope chats, Shawn and I agreed it was time to put the old man out to pasture and set about on a plan to push Greg out of Frequent Miler, a plan that came to final fruition just in the last 24 hours. So it is my immensely sad duty (/sarcasm) to announce that Greg has "decided" the time has come for him to move on to other opportunities.
I'm sure Greg will drone on endlessly about this change in the coming days, but the reason I'm making this announcement before him is because the new ownership of Frequent Miler has promoted myself and Shawn to be the new co-Editors in Chief.
The new Frequent Miler ownership.
When we decided it was time to nudge Greg out, we considered who might have the resources to pull off this coup. As it happens, around that same time a bidding war began between Marriott and a Chinese company called Anbang for control of Starwood Hotels. We knew Anbang has been eager to expand not just into hotels and real estate but other travel-related areas as well.
A chance late night encounter between Shawn and a Goldman Sachs SVP in the lobby bar of the Hyatt Regency Kinabalu turned into a discussion of what Anbang could do to take the Frequent Miler website to new heights, and eventually led to yesterday's late night signing of the papers officially making Frequent Miler (or 频繁的英里赛跑运动员 as our new Chinese partners call us) a property of the Anbang Insurance Group Holding Company.
Rest assured that yesterday's news about Anbang withdrawing their bid for Starwood won't have any effect on this Frequent Miler transaction. In fact, that development increases the value of Frequent Miler to Anbang, which leads me to…
New policies and new staff additions.
With our new owner comes some new policies. Greg was content to basically give away content for free, and yeah, we'll throw you a few tidbits here and there. But Anbang didn't become a $123 billion company by giving stuff away. They want to see results and they want to see them pretty quick.
So as of this upcoming Monday, Shawn and I will be implementing the following changes:
The "Best Credit Card Offers" will be the ones that are best for the Anbang Insurance Group Holding Company. They might turn out to be the best offers for you too, but hey, no guarantees.
The "Free Tips & Tricks Newsletter" will become a monthly subscription service.
Anbang has trademarked the letters "M" and "S" – use of them together outside of this website is prohibited.
For a nominal fee we will add your personal home to the "Frequent Miler Event Schedule."
Access to the "Frequent Miler Laboratory" will require payment of a new course fee of $55.
Of course, we will be bringing on several new writers as well. While most of those hirings have yet to be made, we're happy to announce one that is already finalized. Some of you may be familiar with George as the writer of Travel Blogger Buzz, an eclectic blog reviewing other travel miles and points blogs (including this one). After some lengthy negotiations, George has agreed to join Frequent Miler as our resident expert on reviewing blogs that cover the small but growing Greek points and miles community. He will also handle promotion of our Amazon link.
Also, while in the past I have written under the name "Devil's Advocate," I have decided that assuming this new role means it's time to leave the old nickname behind. Neither Shawn nor I would bother to declare ourselves the new "Frequent Miler" but we have each picked new nicknames to accompany our new roles. Shawn has chosen to adapt "The Elite Status Swami" as his nickname while I will be known as the "Periodic Pointer."
The all-important path forward (a MUST READ!)
Shawn and I are very excited to be newly in charge of Frequent Miler and we're sure you are too. While this post has gone on long enough, we've put together a extensive list of changes for the future of the site and we are happy to present it to you all here and now at this separate link.
We understand some folks will be upset and disappointed with this change. But trust us, before you comment on this post or spread the news, click here and read our plan for the future. We think you'll like what you find.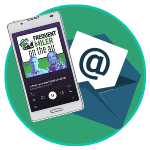 Want to learn more about miles and points?
Subscribe to email updates
 or check out 
our podcast
 on your favorite podcast platform.