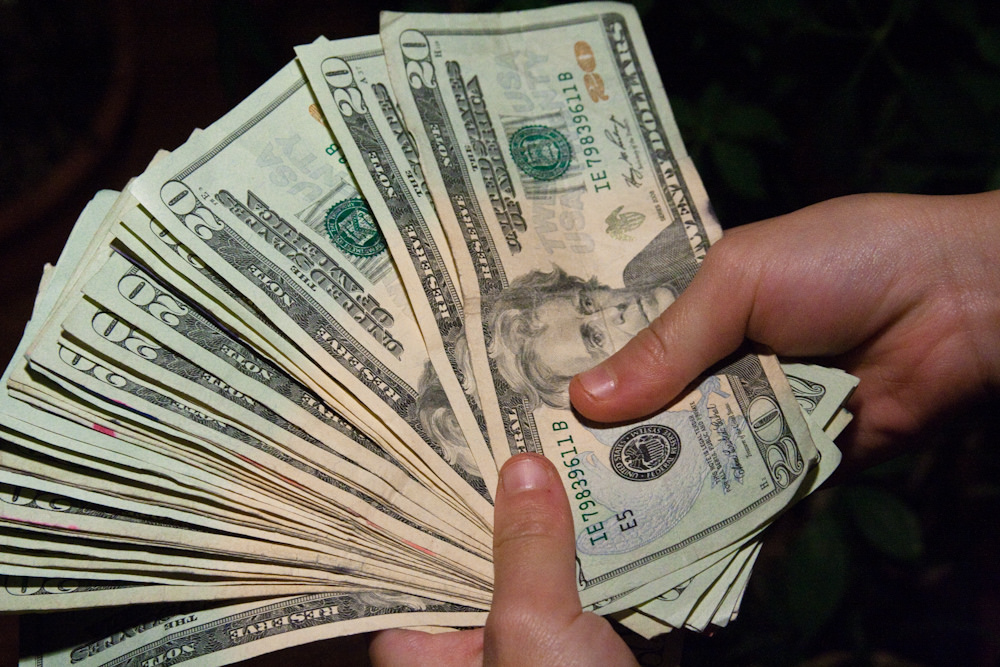 Our government recently approved an economic stimulus bill to fight the Coronavirus caused recession.  Among its provisions are cash payments to be sent directly to individuals.  Most adults earning less than $75,000 can expect $1,200 plus $500 per child.
This post is for those who don't qualify for a stimulus check or simply would like even more money.  The stimulus check I'm proposing here is funded by big banks rather than the federal government…
Regular readers of this blog already know how this works.  The basic idea is simple: sign up for credit cards that offer huge welcome bonuses, meet minimum spend requirements, and then cash in your rewards.  Next year, when annual fees come due, you can cancel or downgrade to avoid new annual fees.  In this post I'll guide you step by step through this process…
Do you have a business? (Yes!)
Please don't brush past this section assuming that the answer is "no".  The best credit card offers are almost always for business cards.  And yes, in order to sign up for a business credit card, you must have a business. That said, it's common for people to have businesses without realizing it.
If you sell items (or plan to sell items) at a yard sale, or on eBay, for example, then you have a business.  If you make music, art, or poetry and hope to profit from your work, you have a business.  Similar examples include: consulting, writing (e.g. blog authorship, planning your first novel, etc.), handyman services, owning rental property, renting on airbnb, driving for Uber or Lyft, etc.
Select the best offers
Credit card offers change all the time.  You can always find the latest and greatest offers on our Best Credit Card Offers page.  Or, if you're only interested in cash back, check here: Best cash back credit card offers.  Note that we always publish the best public offers even if that means that we lose out on earning referral revenue.  We firmly believe in publishing what's best for our readers even if it means less revenue for this business.
Best business cash back offers
As I write this, the overall best credit card offer is for the Chase Ink Business Preferred Card.  The current offer is for 100,000 points (worth at least $1,000), but it requires massive spend: $15,000 in 3 months.  Fortunately, we currently list an alternate offer for 80,000 points (worth at least $800) after $5,000 spend.
Another fantastic offer is for the U.S. Bank Business Leverage® Visa Signature® Card.  Currently, US Bank is offering $750 after $7,500 spend in 4 months.  That's a lot of spend, but stick with me as I'll show you later in this post how to achieve it.
Other current business card offers worth considering include two other Chase Ink cards: Ink Business Unlimited and Ink Business Cash.  Each offers 50,000 points (worth at least $500) after $3,000 spend:
And here are a few business card offers which, at the time of this writing, offer $500 cash back for approximately $5,000 of spend:
Best consumer cash back offers
As I write this, the best consumer cash back offer is for the Chase Sapphire Preferred Card.  The current offer is for 60,000 points (worth at least $600) after $4,000 spend in 3 months.
Another terrific offer is for the Bank of America Premium Rewards Card.  The current offer is for 50,000 points (worth $500) after $3,000 spend in 90 days.  This also happens to be one of my favorite "everywhere else" cards (see: What's in Greg's wallet?)
Sign up for two cards
Business card applications
For the rest of this post, for demonstration purposes, I will assume that the reader selected the 80K Chase Ink Business Plus offer, and the $750 US Bank Leverage card offer.
Below are details about applying for a Chase Ink card.  Applying for business cards from other banks should be similar.
The first part of the application asks for personal info. Fill this out the same way you would fill out a consumer credit card application with your own name and home address, your income (not just your business income), etc.  For the question about your business title, answer "
owner
."  Next up is the business info section.  If you already have a well established business, then the answers should be straightforward. If you are just getting started with your business, below are examples of how to fill this out. These answers assume that you do not have any employees and you operate as a sole proprietorship (which is the most basic form of a business). Use your judgment to answer differently if the examples given don't match your circumstances:
Here are example answers for the business part of the application:
Legal business structure: Sole Proprietor
Business legal name: If you don't already have a business name, I recommend using your own name as the business name.
Desired business name on card: Again, this can be your own name if you don't have a business name to use.
Does your business use another name? No
Tax ID type: EIN (you can get an EIN quickly and for free from the IRS here) If you'd prefer to use your social security number as your tax ID, select SSN rather than EIN.
Is your business's physical address the same as your personal address? Yes
Number of employees: 1 (you)
Business phone number: Your phone number
Business established date: When did your business start? If you've been doing your business for years (selling stuff at yard sales, for example), it's fine to estimate the starting date.
Annual business revenue: $0 (or project an amount based on expected revenue)
Business category, Business type, Business sub-type: Pick whichever categories are closest to your business. For example, an aspiring author, artist, or musician might choose: "Arts, Entertainment, and Recreation" and "Independent Artists, Writers, Performers."
Estimated monthly spend: $3,000 (Use your judgement here. A higher number might lead to a larger credit line, but if it's too high it might negatively affect approval).
Keep records of your answers
In some cases Chase will ask to speak with you before approving your application. In those cases, they are likely to ask some of the same questions (annual business revenue, number of years in business, total gross income, etc.). Ideally you'll answer the same as you did on the application.
Check Application Status
After submitting your application, you can check status by calling the automated status line: (888) 338-2586
If your Chase Ink application is denied, I recommend calling for reconsideration (1-888-270-2127). It's surprising how often denials can be changed to approvals just by asking.
Consumer card applications
Click through below to find more information and signup links for each card:
Track card applications
When signing up for new cards, it's very important to keep track of the basic details: which card did you sign up for and on what date?  This information will come in handy in the future when you consider signing up for new cards.  In many cases, you can sign up for the same cards again, but there are often restrictions.  For example, with the Sapphire Preferred card, you can sign up again but only if you no longer have the card and 48 months have elapsed since you last received a welcome bonus.
To simplify this kind of thing, I highly recommend signing up for the free tool: Travel Freely.  Travel Freely helps with the whole process.  It will remind you when time is running out to meet spend requirements.  It will notify you when a card's annual fee is about to come due (in case you want to cancel or downgrade to no-fee card).  And its Card Genie feature will let you know which offers you qualify for based on previous card applications.  Note that Frequent Miler has a financial relationship with Travel Freely.
Meet spend requirements
Meeting spend requirements can be a challenge at any time, but these days when many are stuck at home it can be much harder.  Fortunately, there are a number of relatively easy tricks to help get it done.  Please see this post for details: 7 ways to increase credit card spend from home.
For this post, I'll highlight one timely trick: Pay Federal Taxes.
There are several payment services that work with the IRS to let you pay your taxes by credit card.  At the time of this writing, the cheapest option is Pay1040 which charges only 1.87% in fees.  The other two options are barely more expensive at 1.96% and 1.99%.  For each type of tax payment, you can make 2 payments per processor, so you can make 6 separate payments towards your year-end taxes (more can be done towards quarterly estimated taxes).
Here's why this option is particularly timely:
The IRS doesn't mind people overpaying taxes and will refund the extra to you after you file annual taxes.
If you pay (or overpay) taxes immediately before filing, you may be able to get your refund before your credit card bill is due.
End of year taxes are usually due by April 15, but this year the deadline has been extended until July 15.  As a result, there's plenty of time to sign up for cards before filing your taxes.
Keep in mind that both the payment and the fee count towards your credit card's minimum spend requirements.  If you want to meet minimum spend all in one shot without going much over, here's how much to pay in taxes (this is based on paying 1.87% in fees):
$3,000 spend requirement: Pay $2,945 in taxes + ~$55 in fees.
$4,000 spend requirement: Pay $3,927 in taxes + ~$73 in fees14725*
$5,000 spend requirement: Pay $4,909 in taxes + ~$92 in fees
$7,500 spend requirement: Pay $7,363 in taxes + ~$138 in fees
$15,000 spend requirement: Pay $14,725 in taxes + ~$275 in fees
Full details about paying taxes with your credit card can be found here: Complete guide to paying taxes via credit card, debit card, or gift card.
Cash out rewards (or not)
Once you meet your minimum spend requirements, your promised welcome bonus should be applied to your account soon after the current credit card statement closes.  At that point, you can withdraw those rewards as cash or a statement credit towards your account.
If you think you may travel within the next year, though, you might not want to withdraw your Chase points yet.  With the Chase Sapphire Preferred or Ink Business Preferred card, points are worth 25% more when used to book travel through Chase.  Or, if someone in your household has the Chase Sapphire Reserve card, points can be moved to that account and are then worth 50% more towards travel.  With either Preferred card (or the Reserve card) you can also transfer points to a number of airline and hotel partners.  In that way it is sometimes possible to get far more value for your points when you find particularly valuable awards.
Add it all up
The following calculations assume that all minimum spend requirements were achieved through paying (or overpaying) taxes at 1.87%.  Additionally, I've made assumptions about which cards you signed up for…
Business Card Total: $1,350
Assuming you signed up for the Ink Business Preferred 80K after $5K spend offer and the US Bank Leverage $750 after $7,500 spend offer, then you'll have incurred the following costs:
Annual fees: $95 (the Ink Business Preferred card has a first year annual fee, but the US Bank card does not)
Tax payment fees: $92 (Ink card) + $138 (US Bank card) = $230
Total fees: $325
You'll also have received the following rewards:
Ink Business Preferred welcome bonus: 80,000 points = $800
Ink Business Preferred rewards earned on $5,000 spend = 5,000 points = $50
US Bank Leverage card welcome bonus: $750
US Bank Leverage card rewards earned on $7,500 spend: $75
Total rewards: $1,675
Net gain: $1,675 – $325 = $1,350
Consumer card total: $877
Assuming you signed up for the Sapphire Preferred 60K after $4K spend offer and the Bank of America Premium Rewards $50K after $3K spend offer, then you'll have incurred the following costs:
Annual fees: $95 x 2 = $180
Tax payment fees: $73 + $55 = $128
Total fees: $308
You'll also have received the following rewards:
Chase Sapphire Preferred welcome bonus: 60,000 points = $600
Chase Sapphire Preferred rewards earned on $4K spend = 4,000 points = $40
Bank of America Premium Rewards welcome bonus: 50,000 points = $500
Bank of America Premium Rewards rewards earned on $3K spend = 4,500 points = $45
Total rewards: $1,185
Net gain: $1,185 – $308 = $877
Q & A
How does this affect my credit score?
In most cases, signing up for credit cards causes credit scores to temporarily dip a small amount, but that effect usually only lasts for a few months.  In the long term, scores tend to increase.  This happens because a large part of your credit score is your utilization ratio.  The more credit that is available to you, the better your utilization looks on your credit report.
Can I charge non-business expenses?
Anecdotally, almost everyone I know uses business cards for personal expenses. That said, the terms in most business card applications state that you should use the card only for business use. Also, some consumer credit card protections do not apply to business cards. My advice: use the card for personal expenses only if you're comfortable doing so. Tax payments can be a combination of personal taxes and business taxes and so should be considered legitimate business spend.
Can my significant-other and I both do this?
Yes!  A couple can easily double rewards by signing up for the same cards.  In fact, it's often possible to do even better by referring each other.  For example, the Ink Business Preferred currently has a 20,000 point ($200) refer-a-friend offer.  So it may be possible, for example, for you to sign up for the card for the welcome bonus and then for you to get 20,000 more points by referring your significant other.
I have a Chase Ink card already, can I get another?
Yes.  Unlike Chase Sapphire consumer cards, Chase Ink Business cards do not have rules barring you from getting the bonus if you've had this or another Ink card in the past 48 months.  Further, it's possible to get the same Chase Ink card and welcome bonus for each business you own (if you have more than one business).  Similarly, it's possible to get all three Ink Business cards (and the welcome bonuses) for each business you own.
Isn't this too good to be true?
It does seem that way!  But it really works.  The reason that banks offer huge welcome bonuses like the ones described here is because they believe that it's worth it to get your business.  They are counting on eventually getting back their money plus much more through fees and interest payments.  The way to avoid that is to be smart and organized.  Be careful to pay your credit card bills on time and in full, every month.  And when the second year annual fee comes due, cancel or product change to a fee-free card.