I've written a fair bit recently about applying for rewards credit cards.  The general idea has been that while this is a bad time for traveling, it's a great time for earning points, miles, and cash back from home.  But, is that really true?
Arguments for applying now…
A number of blogs have argued "yes" — now is the time to apply.  One Mile at a Time wrote:
If you're going to apply for credit cards soon, personally I think it makes sense to act sooner rather than later in applying for cards. I don't have any inside knowledge here, though in general my expectations would be that we'll see at least one of the following with one or more card issuers as we approach Q2:

We might see less generous welcome bonuses on some cards
We might see some card issuers stop accepting applications for some cards altogether
Then View from the Wing followed up with this:
…it's not just that we could see less attractive bonuses – that's not a foregone conclusion, but there may be a pause in big bonuses for travel companies while travel is so limited – but we may see tightened approval standards. In other words it may become more difficult to get approved for cards.
So, the arguments for applying right away are that for the next few months we may see reduced welcome offers, fewer cards available, and tougher approvals.
The idea is to grab what you can now before it's too late.
Arguments against applying now…
Last week I published an easy way to earn $1,100 by signing up for two credit cards.  I even included an easy way to meet minimum spend requirements from home.  See: Build your own $1,100 bank-funded stimulus check.
In response to that post, a few readers correctly pointed out that this kind of advice could hurt the same people it was meant to help.  The only way to win the credit card game is to pay your balance in full every month in order to avoid fees.  But those who are out of work may find it difficult or impossible to do so.  And when that happens, they risk spiraling into unending debt.  That's obviously really, really bad.
Another argument against applying now is that you might get locked out of even better offers later.  Many banks have time limits on how often you can apply for the same card or same family of cards.  For example, with Chase, you have to wait 48 months from the date that you received a welcome bonus on either the Sapphire Preferred or Sapphire Reserve in order to sign up for either card again.  So, if you sign up now for the Sapphire Preferred 60K offer, you'll be out of luck if Chase later reintroduces their 100K offer for the Sapphire Reserve (the current offer is only 50K).
View from the Wing thinks that better offers may indeed be coming… eventually.  He says: "Remember that it was during the Great Recession that we saw the first 100,000 mile initial card bonus."
So, the arguments against applying right now are twofold:
Applying for cards during financially unstable times may encourage you to spiral into debt
Applying now may mean missing out on future better offers
My take: Apply for some now, most later
The question of whether you can responsibly handle new credit is a personal one. If you're unsure of your ability to do so, then applying for credit cards is a bad idea at any time.  So, the rest of this discussion is for those who can confidently answer that they have both the resources and discipline to pay off their credit card bills in full every month…
It's a gamble
I agree 100% with One Mile at a Time that we're likely to see worse offers in the short run.  Over the next couple of months I think that banks would be very unlikely to roll out big new promotions and some may stop offering their travel cards altogether (for now).  Everyone is waiting to see what happens with the Coronavirus.  Will we be trapped in our homes for weeks or for months?  If the answer is "months", I'd bet that only a few credit cards have a chance of gaining traction.  Cards that offer better rewards for online purchases, food delivery, internet, etc. may do well.  Travel cards obviously stand little chance.
The real question, I think, is what happens after the next few months?  Will card issuers radically increase their offers in a desperate attempt to acquire new customers?  Or will they be in cost cutting mode?  If the latter, we'll be lucky if offers stay where they are now.  In a cost-cutting scenario, credit card offers will get worse, not better.
My guess is that banks will be in cost cutting mode for quite a while.  That would likely lead to lower offers.  On the other hand, travel providers will be anxious to reclaim our business and so some travel cards may offer unprecedented welcome bonuses.
In other words, I don't know what will happen and neither does anyone else.
One solution is to apply now for some offers, but wait for others.
Apply for some now…
Chase Ink business cards have fantastic welcome offers: 50K for the fee-free cards (Ink Business Cash and Ink Business Unlimited) and 80K or 100K for the $95 Ink Business Preferred.  Here are the reasons I think it makes sense to apply for one or more of these cards now:
The standard offer for the Ink Business Preferred is now 100K points after $15K spend.  That's a huge spend requirement.  Many would prefer the old 80K after $5K spend offer.  And fortunately, the 80K offer is still available via referral (we link to the referral offer as an alternate offer on our card page).  That said, I think the alternate offer is very unlikely to stick around for long.  So, if you want the 80K after $5K spend offer, go for it now.
Points earned from Ink cards can be cashed out for a penny each.  That's far from the best use of points, but even at a penny per point the Ink welcome offers are huge: $500 for the fee free cards and $800 or $1000 for the Ink Business Preferred.
Chase Ink Cards do not have time limits for applying again.  Unlike Chase Sapphire consumer cards, Chase Ink Business cards do not have rules barring you from getting the bonus if you've had this or another Ink card in the past 48 months.  So, in the unlikely case that Chase introduces better offers for these cards, applying now won't necessarily lock you out of those offers.
Chase Ink cards don't add to your 5/24 count.  Chase has the infamous 5/24 rule in which they won't approve your application if you've signed up for 5 or more cards, from any bank, within the past 24 months.  Fortunately most business cards, including Chase business cards, don't get counted towards this.  To be clear, you still must be under 5/24 to get approved for an Ink card, but once approved, that card won't increase your 5/24 count.
Others cards to consider now:  If you need cash in the short term, the Chase Ink cards are good choices, but you can find many more options here: Best cash back credit card offers.  Also see this post for ideas for how to meet minimum spend requirements: 7 ways to increase credit card spend from home.
Wait for the others…
While it makes sense today to apply for cards that earn cash back or points that are easily converted to cash, I don't think now is the time to apply for travel credit cards, especially those co-branded with airlines, hotels, or other travel providers (Amtrak, cruise lines, etc.).  Most of the benefits of such cards would be unusable until we can travel again.  Plus, once we can travel again, travel providers will be desperate for our business.  At that point we may very well see incredible new welcome bonuses.
What do you think?
Seriously, your guess is as good as mine here.  Will we see incredible new credit card welcome offers?  Or will the credit card game go into hiatus for months or even years?  Comment below to let us know what you think.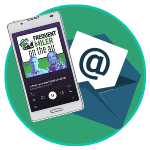 Want to learn more about miles and points?
Subscribe to email updates
 or check out 
our podcast
 on your favorite podcast platform.