Capital One is crushing it lately. While I have long been a big fan of transferable currencies from other major issuers — like Chase Ultimate Rewards, Amex Membership Rewards, and Citi Thank You points — Capital One has been pouring it on over the past few years. Today, they add grocery and streaming bonus categories on the Capital One Savor Cash Rewards card and the Capital One SavorOne Cash Rewards Credit Card. The small bump in earnings here may have catapulted Capital One to the top spot for a newbie starting out or someone looking to earn maximum rewards for popular spending categories with minimal annual fees.
New grocery and streaming bonus categories
Today both the Savor and its fee-free little sibling the SavorOne gain 3% back at grocery stores. That positions the SavorOne as what may be the best no annual fee card with an uncapped grocery bonus category. While a number of cards offer better rewards on some grocery spend, those that offer more return for grocery spend typically have higher annual fees and in most cases have limits on rewards earned for grocery spend each quarter or each year. The Savor and SavorOne cards appear to have no limit on rewards earned from grocery spend. That's awesome. Though an additional 1% over what these cards earned previously may not seem massive on the surface, it represents a really nice ongoing return on grocery spend. Here is full card info for both the Savor and SavorOne cards (click the card names to go to our dedicated card pages for more info):
Card Offer and Details

Earn a one time bonus: $300 after $3K spend in 3 months from account opening$0 introductory annual fee for the first year, then $95
Information about this card has been collected independently by Frequent Miler. The issuer did not provide the details, nor is it responsible for their accuracy.
FM Mini Review: Excellent cash back card for dining and entertainment spend.
Earning rate: 4% cash back on dining, entertainment, and popular streaming services ✦ 3% at grocery stores ✦ 1% everywhere else ✦ 8% cash back on Capital One Entertainment purchases ✦ 5% on hotels and rental cars booked via Capital One Travel
<!–– qBaseq -->Base: 1%
<!–– qTravelq -->Travel: 5%
<!–– qDineq -->Dine: 4%
<!–– qGroceryq -->Grocery: 3%
<!–– qOtherq -->Other: 4%
Card Info: Mastercard issued by CapOne. This card has no foreign transaction fees.
Noteworthy perks: No foreign transaction fees
Card Offer and Details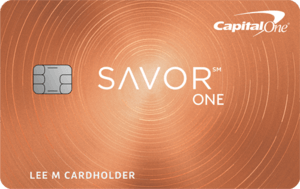 One time bonus: $200 after $500 spend in 3 months from account opening. (
Rates & Fees
)
No Annual Fee
Earning rate: 3% on dining, entertainment, select streaming services, and purchases at grocery stores (excluding superstores like Walmart® and Target®) ✦ 8% cash back on Capital One Entertainment purchases ✦ 5% on hotels and rental cars booked via Capital One Travel (terms apply) ✦ 1% everywhere else
<!–– qBaseq -->Base: 1%
<!–– qTravelq -->Travel: 5%
<!–– qDineq -->Dine: 3%
<!–– qGroceryq -->Grocery: 3%
<!–– qOtherq -->Other: 3%
Card Info: Mastercard issued by CapOne. This card has no foreign transaction fees.
Noteworthy perks: Complimentary Uber One membership statement credits through 11/14/2024 ✦ No foreign transaction fees
Both the Savor and SavorOne cards also pick up streaming services as a bonus category, with the Savor card offering 4% back on popular streaming services and the SavorOne offering 3% on those same services. Streaming transactions are identified by Merchant Category Code (MCC). Paying via Apple Pay or Google Pay may not pass along the MCC properly, but if you're paying directly with the service the following streaming services should earn the bonus according to Capital One:
Apple.com/iTunes/Apple Music
Bandcamp
DirecTV
Disney+
ESPN+
FuboTV
HBO Now
Hulu
Netflix
Peacock
Sirius XM
Sling TV
Spotify
Starz Entertainment
Tidal
YouTubeTV
Personally, I have a hard time getting excited about a streaming bonus category. Like many people, I pay for a couple of those services, but streaming services make up such a small percentage of my overall spend that the bonus category would make a negligible difference – and I think that's true for most people. For example, if you spend $50 per month on streaming services, using a Savor card for your streaming services instead of using a basic 2% cash back credit card will net you an extra $12 in rewards per year. If you only subscribe to one streaming service that costs about $10 per month, the annual difference is just $2.40 in extra rewards. Capital One is not the only issuer to try to capitalize on the popularity of streaming services by offering a bonus category on them. Maybe issuers think this makes a card more relatable, but given the small percentage of my spend that goes toward streaming services I just can't get very excited about a streaming services bonus category.
However, adding 3% back at grocery stores on top of existing bonuses for dining and entertainment makes the Savor and SavorOne cards very interesting despite my disinterest in the streaming bonus.
Is Capital One now the ultimate choice for a newbie or the fee-averse?
I recently wrote about the best wallet that a Benjamin can buy looking at complete wallet setups for $100 or less in total annual fees. Today Capital One really makes a case for topping that list.
In fact, a Capital One wallet could be simplified to just two cards and earn an excellen return on most purchases. Combining a Capital One Venture or Capital One Spark Miles card with a Savor or SavorOne card gives you very strong all-around earning. With a Venture and a SavorOne card in your wallet, for $95 per year you would earn:
2x on unbonused purchases (with the Venture card)
3x dining, grocery stores, and entertainment (3% cash back via the SavorOne card)
3x on popular streaming services (3% cash back via the SavorOne card).
If you spend more than $9,500 per year on dining, entertainment, and streaming services, you'd come out ahead with the Savor card by earning 4% back in those categories (since the Savor card has a $95 annual fee). I think that most people will actually be better off with the no-fee SavorOne card.
Given that you can combine Capital One rewards — even from cash back cards like the Savor to miles cards like the Venture — the new grocery category is an effective 3 miles per dollar category for anyone with a Venture or VentureOne card. Being able to earn 3x airline miles at grocery stores with no annual fee is awesome. Sure, you could earn 4x Membership Rewards points with the Amex Gold card — but it'll cost you a $250 annual fee. In terms of uncapped grocery earn with no annual fee, the SavorOne is a terrific option. I like that it offers cash back natively for the ultimate flexibility but then also gives access to a transferable currency if you also have a Venture card (or know someone who does).
Given that Capital One rewards now transfer to a number of partners 1:1, the rewards here are an effective 3 airline miles per dollar in some very useful programs. Consider 3x grocery earning for some of Capital One's 1:1 partners:
Avianca LifeMiles: Book one-way flights on United within your US zone for 7,500 miles each way or just 10K each way between the east coast and most of the middle of the country. That's a one-way ticket with $2500 or $3,333.33 in grocery spend (assuming award availability). See Avianca LifeMiles sweet spots for more on this and other great deals.
Etihad Guest: Book one-way to Japan on American Airlines for 25K miles during off-peak times (which includes Cherry Blossom Festival dates). That's a one-way ticket with about $8,333.33 in grocery spend assuming award availability. See Etihad Guest Sweet Spots for more.
Wyndham Rewards: Book 1-bedroom vacation houses via Vacasa for 15,000 points per night. That's a free night with $5K grocery spend, which could be a huge value. See: Vacasa success: Entire cabin booked fror 15K Wyndam Rewards points per night (Transferred from Capital One).
And those are just a few examples – there are other useful 1:1 partners as well.
Even for Capital One's 2:1.5 transfer partners, 3x at the grocery store will be like 2.25 miles per dollar. Consider some of these situations where 2.25x miles per dollar spent on groceries with no annual fee would sound pretty good:
Air Canada Aeroplan: While many awards in the "new" Air Canada program have increased a bit in price, the ability to add a stopover for 5,000 miles means that those who are time-flexible can build some very interesting trips. And with a lap infant ticket being only 2,500 miles, you'll earn enough miles for the baby's ticket with $1.111.12 in spend. Considering that some programs will charge you upwards of $1K for the lap infant ticket in business or first class (10% of the adult revenue fare is common), getting that ticket and $1100 in groceries is a much better deal.
Turkish Miles & Smiles: One-way within the USA on United, including to Hawaii and Alaska, for 7,500 miles in economy or 12,500 miles in business class means $3,333.34 in grocery spend yields an economy class award or spend $5,555.56 on groceries for a business class award. See Turkish Miles & Smiles complete guide for more.
British Airways Avios: Move your British Airways Avios to Iberia and book one-way business class from New York or Boston to Madrid for just 34,000 Avios one-way ($15,111.12 in grocery spend). See Avios sweet spots for more.
To be clear, none of the above are your best return on grocery spend for these partners. You could earn 4x Aeroplan miles or 4x Avios with the Amex Gold Card at US Supermarkets on up to $25K in eligible purchases annually (then 1x). But considering the difference in annual fee and the flexibility to easily cash in the Savor One card's rewards when one prefers cash, I could see some preferring the Savor One approach. Again, for an option with no annual fee, the SavorOne paired with a Venture (or Spark Miles) card is strong.
Unfortunately, Capital One is known to be difficult on approvals for those who have opened many cards with other issuers. Greg recently had success with the Venture card and some readers also reported success since, but others were still denied. That means that this combination is likely to be most useful for those who are new enough to the game to have not collected many other credit cards yet.
To be clear, the fastest way to earn miles will always be through big welcome bonuses. Those willing to open a few new credit cards each year can earn far more miles than most will earn from normal spend. However, for those who don't want to continuously open new cards or who want solid return on spend in between welcome bonuses, the Venture / SavorOne combination looks like a strong contender.
Is the Citi Premier / Double Cash combo better?
A reasonable comparison point to the Venture-SavorOne combo would be the Citi Premier and Double Cash since that combination offers a base 2% back everywhere and also offers 3x dining and grocery with a total of $95 spent in annual fee money.
A couple of key differences here:
The Citi Double Cash charges a foreign transaction fee, whereas the SavorOne and Venture cards do not.
While the Capital One SavorOne card has an entertainment bonus category that the Citi combo is lacking, the Citi Premier adds 3x gas and 3x on flights, hotels, and travel agencies. I bet that for most people, Citi's additional bonus categories more than make up for not having a bonus on entertainment or streaming.
Capital One has more and better transfer partners. While Citi has 12 airline transfer partners, Capital One has 16 airline transfer partners (including most of Citi's best partners) and 3 hotel partners (to zero hotel partners for Citi).
Citi offers 1:1 transfers to all of its partners, so grocery spend returns 3x miles with all partners rather than 3x at some and 2.25x miles with others as is the case with Capital One.
Depending on which transfer partners you anticipate using, the Citi combo could certainly be better for some. However, Capital One's broad partnerships keep it in the conversation. I don't think there is a one-size-fits-all answer to which is better.
Will Capital One offer product changes?
A key point of disappointment with today's announcement for those of us with Capital One cards already is that Capital One does not seem to readily offer product changes. While I've written before about the ability for some to "upgrade" cards online (I was able to product change an old nondescript card to a Venture card online), there isn't a widespread ability to product change. My wife has an old VentureOne card that never gets used and she would love to be able to switch that to a SavorOne card now, but I don't expect that it will be possible (to be clear, it might be possible, but it's not like with most issuers where you can be reasonably confident that a product change will be no big deal). With Capital One, product changes seem to be possible for some but not most. That's too bad. I've love to see the ability to easily product change an existing Capital One card to the Savor or SavorOne card now that those cards feature these new bonuses.
In short, I don't expect to see a change here, but I'd love to be wrong.
Bottom line
Capital One has come out swinging again. Just a few years ago, they weren't more than an afterthought in the credit card rewards universe. They have rapidly worked to change that position, first with the addition of transfer partners, then with new partner additions, and recently with 1:1 transfers added to key partners. Now with the Savor and SavorOne cards offering solid return on grocery spend, no foreign transaction fees, and the ability to combine rewards across your cards and with other cardholders, Capital One continues making a case for being considered as a major player in the rewards realm. It is unfortunate that more people haven't been successful in getting approved for Capital One cards because I think that Capital One has a lot to offer and could be a primary rewards program if their cards were more accessible to those people who are most enthusiastic about credit card rewards. Indeed, I think those folks could be better ambassadors of their products than TV celebrities — particularly in an era where so many are cutting the cord as for issuers to be debuting streaming bonuses with fanfare.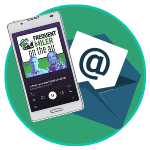 Want to learn more about miles and points?
Subscribe to email updates
 or check out 
our podcast
 on your favorite podcast platform.