Yesterday, I published a post about the easy foreign partner programs that you shouldn't be ignoring. That post was about several of the very easiest-to-use foreign frequent flyer programs. Today, I propose a few ever-so-slightly more challenging foreign programs that can be worth your while. Yes, each of them has its own set of annoyances — but if you can put up with a little inconvenience, the payoff can be pretty big.
Singapore KrisFlyer
Pros & Cons
Pros:

Better availability for business and first class for their own members
Well known for a great in-flight experience (though YMMV as Stephen didn't have a great experience)
Can waitlist many awards
Can add a stopover on a one-way award on Singapore flights (Only on Advantage awards)

Cons

Transfers are not instant from some bank point programs
Awards are pricey in terms of mileage required
Must have miles in your account to waitlist and waitlist ends 14 days before departure
Miles expire 3 years from when you earn them regardless of activity.
The two biggest pain points of Singapore Krisflyer are that transfers to the program aren't always instant (and can sometimes take 12-24 hours) and that you can only book for yourself and up to 5 "nominees" (people you name for whom you will sometimes book awards). If you book for a number of others, this can be a pain because once you hit the maximum number of nominees, Singapore starts charging $30 or 3,000 miles to change your nominees (and once you've added someone, they can not be removed for six months). In my case, I booked flights to Hawaii in 2015 for my wife, her parents, and her sister and sister's husband, so I was already at my 5-nominee-maximum several years before my kids were born. If I ever want to book an award with my kids, I'll need to pay $30 per person to change out from existing nominees.
Redemption Nominees
To set your nominees, log in to your account, find "Profile" and click "Redemption nominees". From there, you should be able to figure out adding information for your nominees.
Sweet Suites and business class
That's kind of annoying, but if you can put up with Singapore's minor quirks like that one, the payoff can be sweet: this is probably your only chance to book Singapore Suites. Here's me in the old Singapore Suites — the one they felt the need to improve upon.
Singapore Suites Bed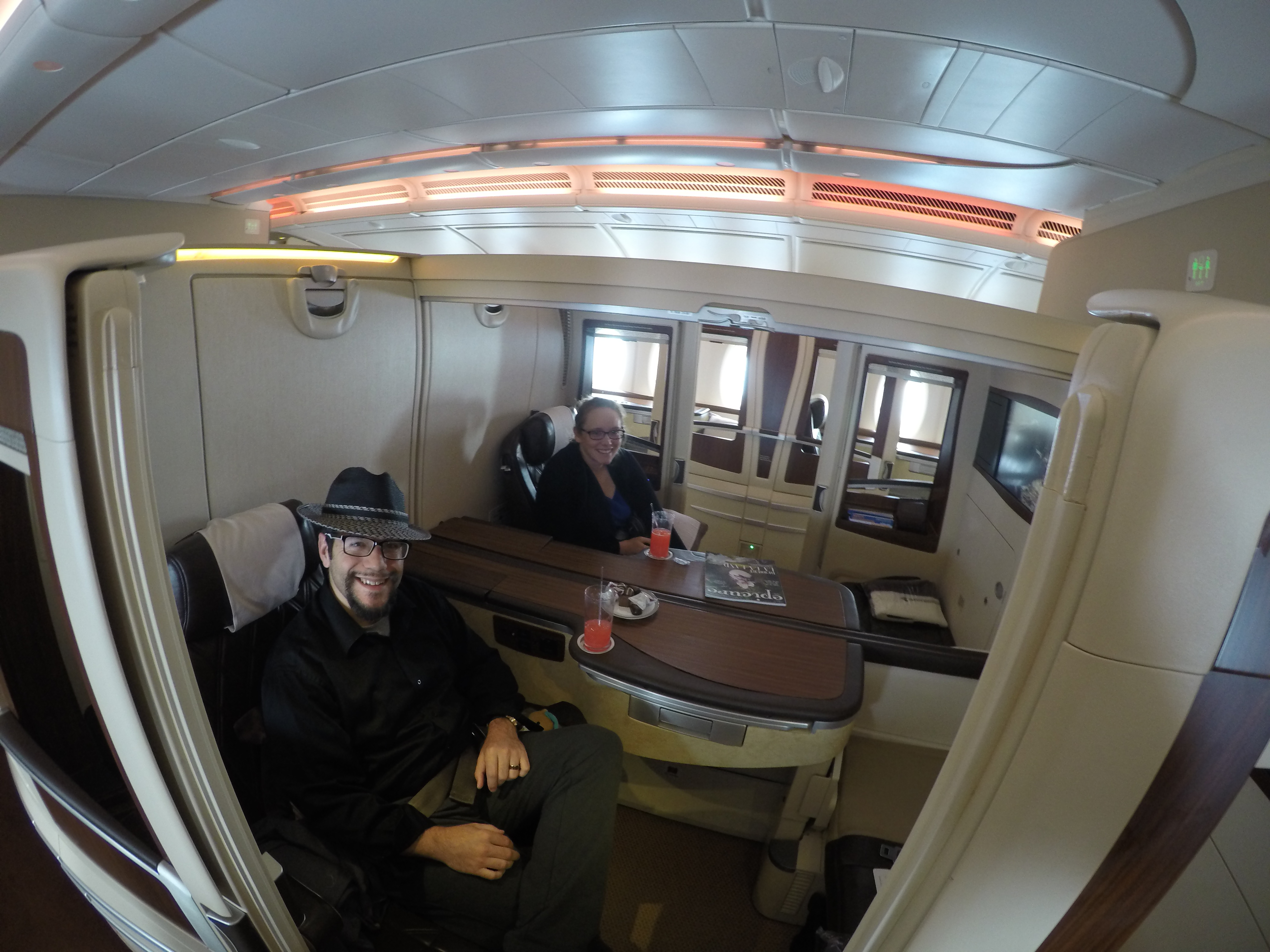 I know what you're thinking: Thank goodness they've given that old, tired product a refresh, right? I haven't yet had the chance to fly the new Singapore Suites, but it looks…..pretty sweet indeed.
And truth be told, Singapore's business class is no slouch either. I've flown regional business class a few times on Singapore. Here was A350 regional business class.
I even flew Singapore business on a 737-Max last year and, well, it felt a bit different than the last 737-MAX that I flew in the United States.
And the thing about Singapore premium cabin space is that they make much more available to their own members. We have seen Alaska Airlines and Aeroplan have more access to business class than other Singapore Airlines partners, but still less than what is available to KrisFlyer members. And if you want to fly First Class, you'll need Singapore miles. The mileage prices aren't great, but you're much more likely to find enough space for multiple passengers through Singapore's program and the experience is generally likely to be better than with most other airlines.
Searching for Singapore award tickets
Searching for Singapore Airlines award availability is pretty easy and intuitive. You need to go to Singaporeair.com and click the "redeem flights" button to log in.
After you log in, you'll be brought back to the home screen and you need to hit that "redeem flights" button again. Then simply enter your search criteria and go.
Singapore allows waitlisting, so you may see search results like this:
By default, the tool looks at Singapore Airlines availability, but you can select "Star Alliance" or "other partner airlines" in the top row of that screen shot above if you want to see other availability. However, I usually stick with searching for flights on Singapore metal since Singapore usually isn't the best option for booking Star Alliance flights.
The dates above that say "Waitlist" only have waitlist availability — in other words, none of them have seats that can be booked right now. However, the date to the far right in the screen shot above (February 9) has a saver award available.
As you can see, award pricing isn't great, but you usually have access to greater availability through Singapore. There are no surcharges — that flight from San Francisco to Singapore would be 107K + $5.60 one-way. Again, that is not a particularly good price to Asia, but Singapore is generally thought to provide a particularly good experience.
Waitlisting Singapore KrisFlyer awards
You can waitlist for Singapore awards, but you must have enough miles in your account to pay for the flight you want to waitlist. The miles aren't actually deducted when you waitlist, you just need to have enough miles to have booked it at the moment when you waitlisted it. For instance, if you wanted to waitlist for a Saver award on the earlier of the two flights above, you would need to have 107,000 miles in your Singapore KrisFlyer account before you could waitlist it. If you wanted to waitlist an "Advantage" award, you would need 128,500 miles.
When it comes to waitlisting, the best practice is to find an award that is good enough — like the 20:10 departure above that is available to be booked for 107K miles. Transfer points from your transferable currency(ies). Then, once you have 107K miles in your Singapore account, before booking that saver award on the 20:10 departure, you can waitlist as many awards as you want at 107K miles. You don't need to have 107K per waitlisted flight — you can waitlist an unlimited number of awards that cost up to however many miles are in your account. In the past, I would waitlist multiple flights over multiple days.
You don't need to keep the miles in your account after waitlisting. In other words, you could waitlist all of the other flights you want that week and then go ahead and book a seat on the flight that is actually available. If your waitlisted seats on other flights become available, you'll get a notification from Singapore and be able to cancel the flight you have booked to switch to your waitlisted option if you want (but you don't have to book the waitlisted flight if you decide to keep what you've got).
Singapore kills the waitlist 14 days before departure — meaning that if your waitlisted award hasn't cleared by 14 days before departure, it won't.
Add a stopover on a Singapore award ticket
Note that you can also add a free stopover on a one-way award. The search tool prompts you for this option if you're searching a  qualifying connecting itinerary. In this case, I searched San Francisco to Cebu, Philippines and you can see the "Add stopovers" button at the top.
If you select that, the search tool will let you know your options for a stopover city. You just need to select the stopover city you want (if there are multiple options) and the date you'd like to depart from the stopover city.
Singapore allows a free stopover or a paid option depending on what you're booking. You can have:
One complimentary stopover on a one-way Advantage award
One complimentary stopover on a round-trip Saver award
Two complimentary stopovers on a round trip Advantage award
A stopover on a one-way Saver award for $100 (this must be booked over the phone) Update: This is no longer allowed. H/T JohnSF
If you're booking one of the first three options above, you should be able to do it online, though note that "Advantage" awards (Singapore's equivalent to "anytime" pricing) are quite expensive. I'd personally only be interested in a Saver award, which would mean booking round trip. When I need to call Singapore Airlines, I usually use Google Voice and call the Singapore number. English is an official language in Singapore and I've generally had great luck with their phone agents being highly competent.
Singapore bottom line
Despite the length of this section, booking Singapore awards really isn't difficult at all. The entire process can be completed online as long as you're not looking to book a one-way Saver award with a stopover. The key pain point really is the waiting: transfer times to Singapore vary from one transferable currency to the next. We've had recent reports of instant transfers from Amex, but from Citi, Chase, or Capital One you're probably looking at a day or maybe even longer. Since award availability can change at any time, the wait can be a pain. But if you successfully grab Singapore suites, it can be well worth the wait and a really fun splurge.
ANA Mileage Club
Pros & Cons
Pros:

Amazing award rates like 75K miles round trip in business class between the US and Japan at off-peak times (or 90K peak!) or 88K miles round trip in business class between the US and Europe.
Greater award availability to their own members
Free stopover on a round trip award
Incredible round-the-world award chart

Cons

High surcharges (this can very by destination and sometimes from year to year, but currently they are high)
Must book awards round trip (which requires finding availability both ways)
Can only book for family members (loosely enforced)
Miles expire after 36 months regardless of activity
The website looks really, really outdated
Overview
ANA offers some of the most incredible deals in award travel. See that sweet spots post linked above, but here are some quick hits:
75K round trip ANA business class to Japan in low season (or 85K regular season or 90K peak season / Star Alliance)
88K round trip Star Alliance business class to Europe
104K round trip Star Alliance business class to Africa
105K round trip ANA business class to Australia or 120K Star Alliance
A round-the-world award chart that can get you to 8 cities over up to 12 business class segments for somewhere between 115K-165K miles (give or take depending on distance)
Those are the hands-down best deals you'll find in any of those situations (except for maybe Europe if you live in an East Coast city served by Iberia). Economy class redemptions are obviously even cheaper. If the prices above don't convince you that ANA is worth some time and effort, nothing else I have to say is going to.
Experience
As is the case with Singapore, my experiences flying ANA have been with their old product, which has been refreshed (on some routes) with a far nicer product. That said, I loved ANA business class.
Food is good, service is excellent, and I liked the old seats. The new "The Room" class looks like a terrific upgrade and this is available on at least some routes out of the US.
Searching for awards
Once you have created an ANA Mileage Club account, you'll need to find "Flight Awards" and then the link that says "Award Reservation", which will prompt you to log in.
Then you'll have to search round trip. Ideally, you'll find availability using some other tool like United.com or Air Canada.com. That's because your ANA search is going to return no results if you can't find availability both ways, so I find it easier to use some other tool to find an option in both directions.
To create an example for this post, I used SeatSpy to find United availability since you can see a year of availability in both directions with a single click (but only on United). Then I knew which dates to pop into ANA to find the results I wanted.
Stopover and open jaw are allowed
Note that you can also choose to search open jaw (where you fly in to one city in your destination region and out of another or you depart your origin region from one city and return to another).
For instance, I searched Newark to London and then Brussels to Newark on the same dates as above and the award cost was almost the same.
'
In that example, you'd be on your own to find a way from London to Brussels. Of course, you could include that leg on your booking since ANA allows a stopover on a round trip award.
Instead of round trip, select Multiple Cities/Classes and enter your dates and cities as seen below:
On the next page, you'll select the segments you want.
This is a poor example because you'll be on the hook for the UK Air Passenger Duty, which increases the fees you'll pay, but this is just meant to be an example to illustrate that you could book with a stopover for 88K miles. The taxes and fees on this itinerary jump up by $150 because of the extra London taxes.
Savings over United
As you can see, the tool can't be described as "pretty" or "sleek" or "modern". but the results can be described as cheap. Most airline programs charge 50-60K miles round trip for economy awards and neither American nor Delta allows a stopover. United effectively allows a stopover with its Excursionist Perk. Here's what they charge for the same itinerary for one passenger:
That's about $92 less in fees, but 34,600 more miles per passenger. And that's because this itinerary is entirely on United — if these flights had been on partners, United would charge more than 50,000 miles more than ANA. And that's why I just can't get very excited about United MileagePlus.
Surcharges are passed on
A key problem is that ANA passes along carrier-imposed surcharges and Lufthansa Group Airlines have notoriously high surcharges (Lufthansa, SWISS, Austrian). Turkish surcharges have been creeping up some. You'll want to focus on United, TAP Air Portugal, SAS, and LOT Polish (which has low surcharges). I can't recall whether Brussels also has high surcharges, but I suspect they do since that must be making up the $92 difference in fees here. Still, if you find availability on United metal, which isn't actually all that difficult on some routes to Europe (Seatspy is your friend here), you can save a lot of miles with ANA.
ANA also has surcharges on its own flights that can get pretty steep. For instance, see this multi-city itinerary from New York (Newark) to San Francisco to Tokyo, with a stopover before continuing on to Taipei (destination) and returning to San Francisco (open jaw returning to a different US city). The transpacific flights in this itinerary are on ANA, so the taxes and fees came out to $461.75 round trip. Still, considering you'll only pay 95,000 miles round trip, that's not bad. Think of it as 47,500 miles and about $230 in taxes and fees each way (but you must book round trip).
Date changes are free with ANA. Cancellation costs 3,000 miles — so while that's not quite free, it is quite reasonable.
Search tip
Note that the ANA search tool isn't great. I played around with a bunch of routes with stopovers to use as examples, using United first to find availability. On one example itinerary I worked with, I was looking to get from Tokyo to Bangkok and United returned some availability like this:
ANA did not show that option as part of the larger multi-segment search when I used Tokyo to Bangkok as the city pair for that segment. Instead, I had to manually input Tokyo to Singapore on one calendar day and Singapore to Bangkok on the next calendar day as parts of the multi-city search. Then, ANA saw those legs available. Nuances like that make ANA more of a pain to use than, say, Aeroplan or the other "easy" partners in yesterday's post. But at 95K round trip (and far less in surcharges if you find availability on United or maybe EVA or Asiana), the juice can be worth the squeeze.
Family restriction
Technically, ANA only allows you to book travel for your spouse and relatives within two degrees of kinship — your parents, grandparents, cousins, siblings, aunts and uncles would be included. In practice, I don't think ANA regularly checks that your brother-in-law is really married to your sibling, etc. Do with that what you will. Technically, you can't book for friends or more distant relatives. That could certainly make this an annoying limitation for those who, for example, would want to book for a girlfriend or boyfriend.
Turkish Miles & Smiles
Pros and Cons
Pros:

Incredible Star Alliance domestic award sweet spot: 7.5K each way in economy, 12.5K each way in business
Very low mileage rates to Europe, the Middle East, and Central Asia
Low cancellation fees According to this page, Turkish quietly increased their cancellation fee from $25 to $70 in late October 2022.
Many awards can be booked online

Cons:

Very frustrating if you need to call
Very frustrating if you run into flight delays / cancellations
Many awards need to be booked via email, which is slow / unreliable
Miles expire after 3 years
Can be hard (though not impossible) to book for others

More information:
Turkish Miles & Smiles offers some incredible sweet spots. They also offer endless frustration if you're unlucky. When it works, especially when the flights you want can be booked online, it is almost as easy as any award program out there. When it doesn't work, well, this is the reason why people shy away from foreign award programs. Like ANA, I think the juice is worth the squeeze here as there have been plenty of readers who have redeemed with Turkish successfully, but if you will get frustrated and stressed easily, this is a program to skip.
Booking online
We've got an entire guide to booking United flights with Turkish Miles & Smiles linked above, but I'll give you a slightly condensed version of it in this section. If you are lucky, your award will be easily bookable online. I crossed out "easily" in that sentence because it won't be easy — or at least not intuitive.
When you go to the Turkish home page, you'll see the usual flight search box and a place to click to book an award ticket. This is not where you want to start if you want a Star Alliance award.
That search tool only searches for awards on Turkish's own flights. If you want to search for flights on Star Alliance partners like United, you need to log into your account, click your name to expand a drop-down menu, and click on Miles Transactions.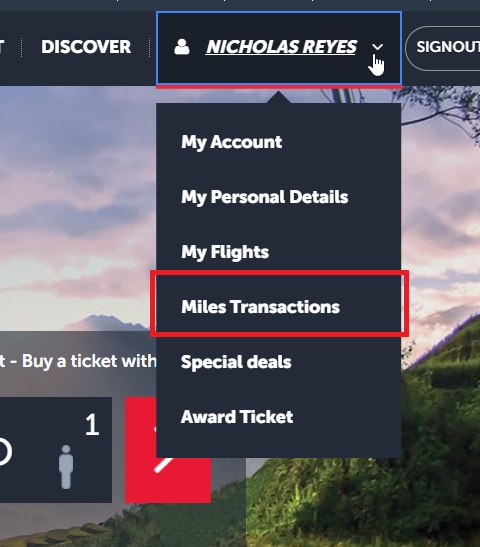 Then find the Star Alliance award ticket section (on the right below) and click "book now".
That brings you to a Star Alliance award search tool. If you're lucky, you'll find the domestic award you want to book on the first search.
At just 7,500 miles one-way domestically, including to Alaska and Hawaii (as shown above), it is one of the best deals in domestic travel when you can find availability.
Key frustration: unpredictable availability
The frustrating thing is that flights that should be available (which we know since they are available to other Star Alliance partners) don't show up as available. For instance, the nonstop from Newark to Honolulu on the same date shown above should be available in economy class — Aeroplan sees that flight available.
But if you're happy with the layover in San Francisco, Turkish offers a huge savings over the next best deal. And if you're not happy with the layover, it isn't impossible to snag that nonstop to Hawaii.
Booking options: Email is best
That requires either calling (with about a 9% likelihood of finding an agent who sees the flight you want available) or emailing (with about a 16% likelihood of any one ticket office returning your email). Since copy-and-paste is quick and postage isn't a thing for email, I just send the same email to a bunch of ticket offices and hope that one of them gets back to me and puts the itinerary I want on hold (a 16% chance repeated over enough iterations usually gets the job done). It isn't really any harder to email 10 ticket offices than 1 ticket office, so I'll just pop off the 10 emails. The worst case scenario is that multiple offices put awards on hold on the same flight, but then I only go forward with ticketing one.
Speaking of ticketing, if you get an award on hold via email, they will ask you to email back with things like pictures of your ID and the front and back of your credit card. No thanks. Instead, once they put an itinerary on hold, you'll have a PNR for that itinerary. Then just call the 800# and say that you have an itinerary on hold and you'd like to ticket it. You can pay over the phone.
Note that there are still some pain points here: the phone agent is going to phonetically spell the full name of each passenger on your itinerary one by one. The phone system for paying the taxes almost always fails on me the first two times I try to pay….sometimes for each passenger (since you pay the taxes separately). You might even get an agent who says that they can't ticket an award over the phone (just hang up and call back). This can feel a bit daunting for a newbie and could certainly be frustrating for one who is easily frustrated. I find that I am familiar with the process and potential hang-ups, so I go in prepared and it's fine.
Difficulty over changes and booking for others
But the biggest problem is going to be that if United significantly changes or cancels your flight, Turkish is not going to be easily accessible to fix it.
There's also the fact that Turkish doesn't make it easy for some people to book awards for others. My understanding is that the account holder must first book a flight for themselves and then they can book for others. In my case, when I first booked a Turkish award in 2019, I booked a trip to Hawaii for just me and then a few days or weeks later I booked my wife and son and a couple of family members on a flight to Hawaii that took off a few days before mine. I had booked via email — I don't know whether that made a difference.
Turkish has a section in your online account for "Companions" similar to Singapore's "Redemption Nominees".
I am able to add and subtract companions there and I recently booked an award trip for two friends on a trip I wasn't taking, first adding them as companions and then searching and booking it. I know many readers who have booked trips to Hawaii with their whole family, but then other readers tell me that they always have trouble booking for a single companion traveling with them. Turkish is not for the faint of heart.
But if you can accept its quirks, the rewards are things like business class to Europe for 45,000 miles and $5.60 on United.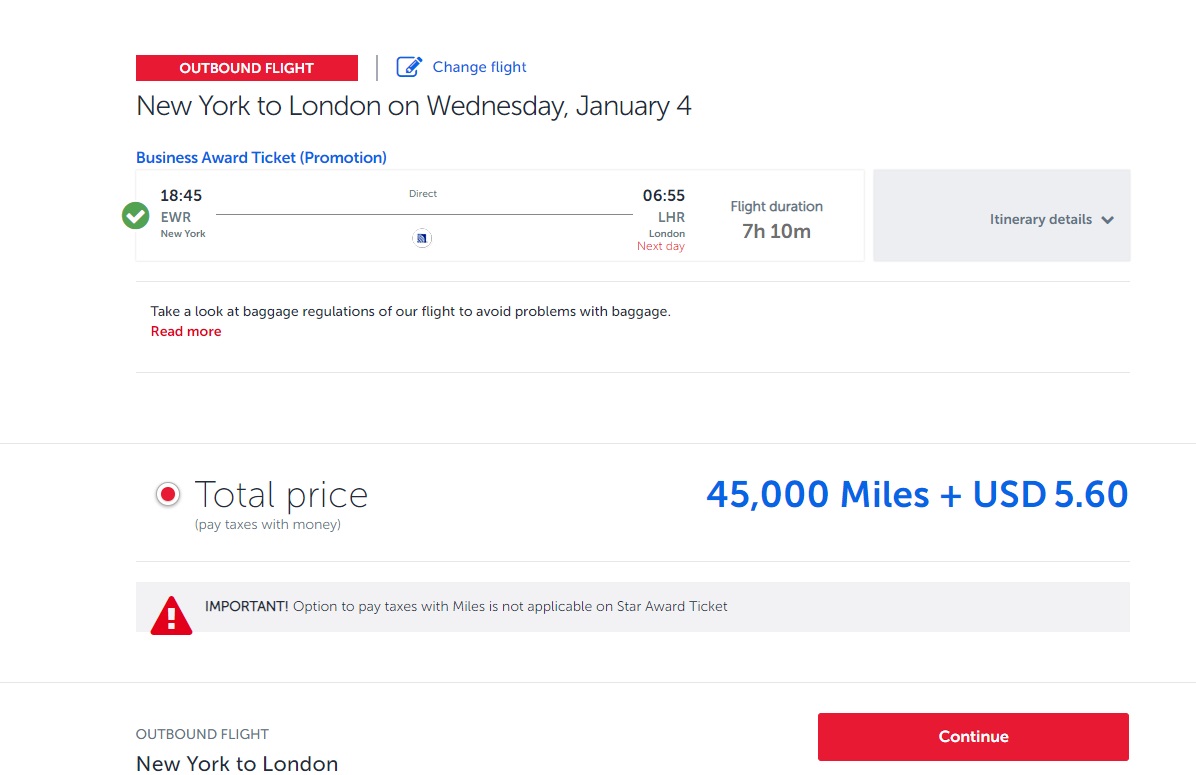 Or New York / Newark to Tel Aviv for 47,000 miles in business class.
Or the occasional award sale like Dallas to Istanbul for 33,750 miles (though I believe this came with about $300 worth of surcharges).
Or if the stars align, you might even find domestic business class on United for 12,500 miles one-way.
Again, Turkish isn't for the faint of heart. But I've booked Turkish awards a number of times and lived to tell the tale, so it's possible. Be prepared with a backup plan if things go sideways, because if your flight gets cancelled at the airport, you are probably in for quite a headache. On the flip side, over the past ~15 years that I've been traveling by plane, this holiday season was the first time I've ever had a flight cancelled. YMMV.
Bottom line
These are not the only foreign programs worth your time. You'll find people who love EVA for expanded award availability and there are times when programs like Etihad can shine. I should have included Asia Miles in the "easy to use" guide yesterday — I'll eventually update that guide and add them. But the key here is that even these "difficult" foreign programs aren't impossible. They may not be quite as easy as going to United or American Airlines, but if your award requirements are relatively simple, even these "complicated" programs aren't necessarily much harder.
And the mileage savings can be tremendous, particularly when you're flying with multiple passengers. That's what really makes these programs stand out to me: yes, I might have to take some time learning how to use ANA Mileage Plan, but if I save 35,000 miles round trip per passenger x 4 people in family, that's a mileage savings of 140,000 miles on a single round trip. Investing a little time in learning how to use ANA now could save you a lot of miles in the long-run.
And as I've said many times before, piecing together an interesting award can be like a puzzle. Some will read this post and have a headache before they even get to the section on Turkish, but others will see the challenge of piecing together the perfect award as being part of the fun. For me, it's a mix. I enjoy the puzzle to an extent, though not so much that I'd want to be an award booker for others. I think what I enjoy about the puzzle is finding that great redemption that saves us a ton of miles over the "easy" option. Yeah, it takes some effort — but if it means we'll save six figures in miles each year, it will be effort well spent.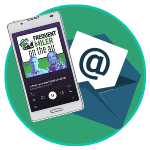 Want to learn more about miles and points?
Subscribe to email updates
 or check out 
our podcast
 on your favorite podcast platform.