The Citi ThankYou program gets less attention than its transferable points program brethren. Does Citi have a sleeper cell of cards that can provide great rewards for a very low cost? Greg tries to wake Nick up to see all that Citi has to offer.
Elsewhere this week on the blog, we share tips for booking free MSC cruises, where you can find the long-awaited Hyatt award availability calendar (hint: it's not Hyatt.com), the impact of new credit cards on your credit score and a lot more. Watch, listen, or read on for more from this week at Frequent Miler.
Podcast
We publish Frequent Miler on the Air each week in both video form (above) and as an audio podcast. People love listening to the podcast while driving, working-out, etc. Please check it out and subscribe. Our podcast is available on all popular podcast platforms, including Apple Podcasts, Spotify, and many more.
Alternatively, you can listen to the podcast online here.
This week on the Frequent Miler blog…
My wife and I each had a free MSC cruise offer thanks to Atlantic City status matching, so we recently booked two more "free" MSC cruises. In the process, we picked up some tips regarding availability and the flexibility of blackout date fees. If you've done the Ocean Prime match or intend to do so for the free 10-night MSC cruise anywhere in the world, it would behoove you to read this post before you call to book.
Rooms.aero may arguably be an even more useful tool than the already wonderfully-nerdy Seats.aero. That's because Rooms.aero brings us the long-awaited Hyatt availability calendar where we can easily see available nights at the most desirable Hyatt properties and plan accordingly. This is going to save me so much time. For instance, if I wanted to return to the Grand Hotel Victoria on Lake Como, I wouldn't need to incessantly hunt for availability during each of the months when I would consider a trip but rather with a few clicks I could see that there are some available nights this September and October and there are none at all available yet for next year. It is also sweet that you can search for Hyatt suites — this might be my new favorite award search tool even though it only supports a few programs so far.
Whenever someone new asks me about the games we play, one of their first questions is about the impact of opening and closing credit cards on one's credit score. Oftentimes, newcomers have been indoctrinated to think that opening or closing cards will hurt their credit scores. Common misconceptions like those are often the result of short news reports that leave out the nuance and detail that make all the difference. In this post, I explain the complex ways that credit cards can affect your score and how you can reduce negative impact and accentuate positive impact. This is a post I wrote to send to friends when they inevitably ask, "But doesn't that ruin your credit?".
Delta is rumored to be announcing major changes to the SkyMiles program in just a few days. In this post, Greg predicts what he thinks those changes might look like and I have to say that I agree a little bit but disagree to a large extent as well. I think Greg is right that Delta is likely to move to a single elite status metric and I'll even give him the fact that internally Delta is looking at it from an MQD perspective (in terms of how many "dollars" a member should generate for Delta in order to get Diamond status), but I think that calling them qualifying dollars and showing high spend amounts focuses on what members are losing (money spent), so I instead expect that they will keep something closer to Medallion Qualifying Miles and roll in earnings from the SkyMiles shopping portal and other sources in much the same way that American has. I expect the requirements to increase but for the metric to highlight the miles you earn rather than the dollars you spend.
Greg's bad luck in Santiago has turned around at least a bit in the sense that he has replaced a lot of what he could without spending wildly beyond the insurance payout he received. While I'm sure it doesn't really feel like he is ahead or even even given all that he lost, I'm glad to see that this has worked out better than a total loss for Greg. Funny enough, I also recently acquired the same Tumi bag that he did for his replacement….and I don't like it more than he does (though in my case a large part of the program is that I'm coming from a larger version of the bag and don't think I can deal with less space). I'm actually leaning toward selling mine unused and trying something else.
The Sheraton Grand is an odd brand, sitting somewhere above a Sheraton, which leaves a lot of room between being just OK and being great, but this property in Salzburg looks like it made for an excellent stay for Tim. If I had Salzburg in my near-term travel plans, I'd definitely be considering the Sheraton Grand.
Deal of the Week
While we mostly highly longer form posts in our week-in-review post, but this week I wanted to highlight two great deals that may be of high interest.
I've fallen out of the habit of writing about new checking account bonuses, but this new bonus from Chime is such an easy one that it brought me back into the fold since a couple playing in two-player mode could easily make $500 with a few clicks of the mouse (and maybe more with a complex stack). What I found even more interesting than the easy money bonuses is the way that the new account bonus can vary based on the browser you use to open it. That type of "targeting" is something I've seen plenty of times with credit cards, but this is the first time I can recall seeing it with a bank account bonus. Be sure you know how to populate the $200 offer before you open your account.
Amex Platinum Card: 150k referral offer is back again (and we need your links!)
Amex has once again released a 150K bonus on the consumer Platinum card, and once again only some cardholders have the ability to generate a 150K link. I wanted to highlight this opportunity for people who haven't had the Platinum card before and to alert readers to the fact that we need more links to this offer — but only if you see within your Amex login that your friend will get 150K points on the consumer Platinum card. We only take link submissions in our Frequent Miler Insiders Facebook group (and then only in the proper place). See this post for more detail.
---
That's it for this week at Frequent Miler. Don't forget to set your reminders for this week's last chance deals.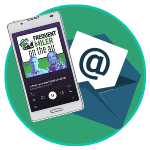 Want to learn more about miles and points?
Subscribe to email updates
 or check out 
our podcast
 on your favorite podcast platform.