Everything Bagels!  Gotta love 'em!  And now, for my Destination Cooking Challenge, I not only loved 'em, but I baked them too!
I got the idea of baking bagels for this challenge when my AncestryDNA® results arrived. I was sure that I would find a fascinating history with a mix of ancient kings, conquerors, and philosophers.  All that might be there, but it wasn't obvious from the results.  According to AncestryDNA® I'm 100% central and eastern European Jewish.  I previously didn't think anyone was 100% of anything.  But there you go!  Apparently all of my lineage traces back to Poland, Lithuania, and the surrounding area.
What better way to tackle the Destination Cooking challenge but to prepare a typical European Jewish dish?  The one problem is that I'm not a big fan of most of that stuff.  The one exception?  Bagels.  I especially love everything bagels.
Check out the video to see how I did.  Hint: Nailed it!  Help me win by clicking through to YouTube (here) and clicking the "like" button (it looks like a thumbs-up).
References
Bagel Recipe: I used this recipe by Sally's Baking Addiction.  Thanks Sally, it was awesome! Important Note: Sally's recipe stresses the importance of using bread flour, but I used all-purpose flour and it still turned out great.
Bagel History: I summarized the history described in this article by The Atlantic: The Secret History of Bagels.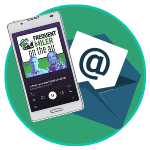 Want to learn more about miles and points?
Subscribe to email updates
 or check out 
our podcast
 on your favorite podcast platform.