In 2020, I posted a series detailing how the Frequent Miler business was coping with COVID.  In the first post, at the start of COVID lock-downs, I predicted that revenue would likely drop to near zero for about 6 months but that I was committed to keeping the team going.  I had full faith in the business long-term.  In the second post, I showed the steep drop in revenue that happened, as predicted.  And in the third post, I showed that the worst was over: revenue was picking up and my 6 month prediction was spot-on.
Readers seemed to appreciate the peek behind the curtain and so we decided that it would make sense to publish an annual "state of the business" post.  This is that…
Overview
In brief, the business is doing great.  Our team has grown and yet is more cohesive, and having more fun, than ever.  Blog readership is up.  Our podcast audience has grown.  And revenue is up.
Some of our recent success is probably due to an ever-swelling demand for leisure travel.  Mix that with higher travel prices and you end up with more interest than ever before in how to play the points & miles game.
I believe that our long term success, though, is a result of always putting the audience first.  Every decision we make is driven first by what we think is best for our audience regardless of revenue consequences.  The most obvious result of this is the way we only publish the credit card offers that are best for our readers.  That often means that affiliate links, and associated revenue, are left on the cutting room floor.  But our audience-first mentality also shows in many less obvious ways.  For example, many blogs have pop-ups that beg you to sign up for their newsletter, or video ads that slow down the page load.  I hate both of those things and so we don't do them even though they would likely lead to more money for the business.  Similarly, we've often been asked to create a paid membership to give select people more access to our time and/or to secrets.  I've always said no to that because our time then would be taken away from doing what's best for our overall audience.  I want us to be spending our time creating great content that is accessible by everyone.
The Team
Our team grew 25% larger when Tim joined us in January.  Actually, when measured by height, the team grew by even more than that (see photo, above).  Only Nick and I work full time on Frequent Miler, but I consider everyone to be equally part of what "Frequent Miler" is.  I absolutely love this team.  We're all committed to making Frequent Miler great, and we have lots of fun.  Podcast followers already know how much fun Nick and I have bantering together.  Now, with our monthly Ask Us Anything series, you can get to know the whole team.
Audience Stats
We don't do any advertising to try to increase our audience.  Instead, we just keep publishing informative and (hopefully) entertaining content.  And, as you'll see below, people are discovering Frequent Miler in bigger numbers than ever before…
Blog
For a long time, our blog readership has hovered around 7 to 8 million page views per year.  That was great, but this year was significantly better with over 10.5 million page views!
Podcast
Our Frequent Miler on the Air podcast audience has been steadily growing over time.  I don't look at download stats often, but when I last looked I think we were hovering around 5,000 downloads per week.  Now we're at around 10,000!
A free service called Chartable shows us our recent position on the Apple podcast charts.  The chart above shows the position of our podcast within the "Places and Travel" category in the United States.  As you can see, our show often comes close to being in the top 10.  But that's the show overall.  If we look instead at specific episodes, every recent episode has placed within the top 10 in this category shortly after publication.  Unfortunately, I haven't found a good way to make Chartable show this in a chart (it doesn't seem to be chart-able, LOL).
Youtube
While our Youtube numbers are tiny compared to our blog readership, video views are way up.  Overall our video audience appears to be about half the size of our podcast audience.
Finances
Revenue is way up!  2019 was a decent year.  Thanks to the pandemic, 2020 wasn't as good, but when you consider that nearly all revenue was from the first three and final three months of the year, it was actually pretty amazing.  Then 2021 was our best revenue year ever, and 2022 was even better than that!
Except for a few hundred dollars from video ads, all of our revenue to-date comes from the blog.  The podcast, Youtube, and social media postings contribute indirectly by leading people to discover the blog for its content or for our list of unbiased best credit card offers.
Within the blog, ads account for 13% of our revenue.  The rest of our revenue is from affiliate links, and the vast majority of that is from credit card affiliate links.  When a reader clicks through to sign up for a credit card on an offer with which we have an affiliate link, we earn a commission if that reader is approved.  Keep in mind, though, that we often do not publish our affiliate links because there are often better public offers available for which we do not get paid.  And we always show the best public offer.  Still, despite this policy, our credit card affiliate commission is our biggest source of revenue, by far.
Thank You!
We wouldn't be able to do what we do without you.  Thank you for reading, listening, and watching.  Thank you for recommending Frequent Miler to family and friends.  Thank you for your comments, emails, and Facebook group posts.  Without you, we would not have been able to reach this level of success.  We appreciate your continued engagement and thank you for being part of our journey!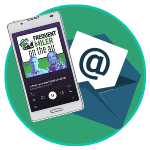 Want to learn more about miles and points?
Subscribe to email updates
 or check out 
our podcast
 on your favorite podcast platform.