We recently wrapped up our 3 Cards, 3 Continents challenge where three of us competed to see who could build the most awesome 3-continent trip with the welcome bonuses from 3 cards.  That was just the latest of our Frequent Miler challenges.  In 2021, I gave Nick my Delta Global Upgrade Certificates (GUCs) with the condition that he bring me along and complete a series of individual challenges (earn elite status from the trip, collect KLM Delft Blue houses, get far outsized point value for stays, etc.).  In 2019 we competed to see who could go farthest with 40K points and $400.  Years earlier I challenged myself to earn enough points to stay on Richard Branson's Necker Island.  Before that, I challenged myself to earn 1 million miles in 1 month.  And finally, in 2012, I challenged myself to visit New York City on $19 per day.
Now, the question is… what's next?
Challenge Goals
The purpose for these challenges is to push the envelope of what can be done with points and miles.  By igniting our competitive spirits and constraining us to strict limits, we're forced to innovate new techniques or test the limits of known ones.  The best example of this so far is when Nick was constrained to using Citi ThankYou Points for 40K to Far Away. This, led him to discover one of the best redemption opportunities in existence: US mainland to Hawaii for only 7,500 points.  In most cases, though, we learn (and share) by taking advantage of known award sweet-spots and push those to the limit.  That experience provides great insights for us so that we can better inform our audience about these opportunities.  My recent use of ANA's Round the World Award is a great example.  This was already a well known fantastic sweet spot award, but none of us had ever previously booked it.  Now that I have, I understand its pros and cons better than I ever did before and so I'm in a great position to help others decide whether is is right for them, and to learn how to book it (expect a tutorial soon-ish, but for now see this post).
Challenge Parameters
We'd love to hear new ideas for challenges from you.  Ultimately we want to do something that ticks these boxes:
The challenge must be possible and practical.  We won't challenge to see who can circumnavigate the world with 5K points – that's not possible.
The challenge must encourage rewards innovation.  The idea should be to push us to figure out new and better ways to earn or use rewards, elite status, credit card perks, etc.
The challenge should be entertaining.
My Thoughts
The following thoughts are not requirements for the next challenge, but rather are my current preferences.  I'm sure I can be swayed to do other things if great ideas are suggested that don't include what follows.
Repeat the Card Draft (or Something Similar)
The 3 Cards, 3 Continents Credit Card Draft was awesome.  I loved everything about it.  The idea for it originally came from a reader in response to a post like this one.  And I'd love to do it or something similar again.  Here was my original write-up about the concept:
We loved Jarrod's idea of a fantasy draft for selecting who gets which points and we've taken it a step further: we'll be picking from real current welcome bonuses.  Whatever welcome bonuses are on our Best Offers page when the draft begins will be fair game.  Once a card bonus is selected, it's gone.  The next players cannot pick it.  We won't really be signing up for cards.  Instead, the cards we pick will define our points & miles budget for the challenge.

Our budget begins at draft time.  We each have a $1,000 budget for our travels, including first year annual fees.  So when the first player picks the Platinum 150,000 point offer, for example, that card's $695 annual fee will count against the player's $1,000 budget and leave him with only $305 left.  He'll have to pick the next two cards very carefully!

We will also be limited to $15,000 credit card spend.  Most credit card welcome bonuses require lots of spend in order to earn the bonus.  In our made-up scenario, we have exactly $15,000 of unbonused spend available.  We can't go above that.  So, for example, if someone picks the Chase Ink Business Preferred 100K offer which requires $15K spend, their next two picks will have to offer bonuses with no spend requirement (a bonus after first purchase is allowed) since the spend budget will be gone.

Using the leftover spend:  There's a good chance that some contestants will spend less than $15,000 towards minimum spend requirements.  In that case, they can virtually spend the rest on whichever of the 3 cards they chose in the draft.  None of that spend will be in bonus categories, though.  For example, if I had $3,000 spend leftover and I had chosen the Capital One Venture card, that would be a good choice for my final $3K spend since it earns 2X everywhere and I'd end up with 6,000 additional points.
Explore South America
Our challenges to-date have taken us to Europe, Africa, the Middle East, Asia, and Oceana.  A big hole both in our challenges is with points & miles travel to and around South America.
Interact with Each Other
The GUC trip was particularly fun because Nick and I travelled together.  Can the next challenge include more interaction?  For example, maybe we compete in teams (e.g. Nick and Stephen vs. Greg and Tim).  Or maybe we could do challenges that require competitors to meet up in various cities?  Or maybe we do something that includes some readers?
Reader Participation
We've often discussed the idea of including readers in the challenge in some way, but we've never figured out a practical way to make that happen.  If you have ideas for this, please let us know!
Comment Below
If you have ideas for the next challenge, please post your ideas to the comments section below!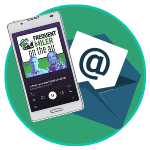 Want to learn more about miles and points?
Subscribe to email updates
 or check out 
our podcast
 on your favorite podcast platform.