Hidden city ticketing is a technique for saving a bundle of miles or money on flights, but how do you do it? What do you need to watch out for? Is it even ethical? We discuss the details on this week's Frequent Miler on the Air.
Elsewhere on the blog this week, we cover ways to still get outsized value out of Delta SkyMiles, updated guides to using miles to visit Asia or Africa, a useful tool for snagging hard-to-find hotel awards, Bilt's awesome new integration, and a lot more. Watch, listen, or read on for more from this week at Frequent Miler.

00:00 Introduction
00:42 Giant Mailbag
05:19 Mattress running the numbers: Now exchange points between Choice and Radisson
13:04 The News: Delta 15% discount on awards for cardholders
18:25 Awards we booked this week: JAL business class for 5
26:00 Main Event: Hidden city ticketing: techniques, challenges, and ethics What is it?
30:25 Drawbacks / warnings
30:36 You can never skip anything but the final segment
33:01 Keep it simple: don't check bags
36:40 Irregular Operations (IRROPS)
39:39 Make sure you qualify for entry to the destination of your ticket
40:40 Techniques to find hidden city ticket opportunities
41:05 Skiplagged
42:36 One more warning: Airlines don't like this practice
45:39 Google Flights
49:17 Use cheap prices as a starting point for looking at awards
52:30 Look at flying to Mexico or maybe Canada
53:04 Look where regions meet
56:01 Mixed-cabin award pricing (Avianca LifeMiles, Cathay Pacific Asia Miles, and Virgin Atlantic for Air France or KLM)
1:00:13 Downside of hidden city award tickets
1:01:32 Seats.aero for finding these opportunities
1:03:50 Ethics: Is this practice unethical?
1:18:55 Question of the Week: Is relying on close-in award availability a viable travel strategy, or am I setting myself up for a world of pain?
Subscribe to our podcast
We publish Frequent Miler on the Air each week in both video form (above) and as an audio podcast. People love listening to the podcast while driving, working-out, etc. Please check it out and subscribe. Our podcast is available on all popular podcast platforms, including Apple Podcasts, Spotify, and many more.
Alternatively, you can listen to the podcast online here.
This week on the Frequent Miler blog…
This post from Greg's about great business class deals will give that a whole new perspective on Delta SkyMiles. Greg shows how to get good value from Delta SkyMiles for international travel — by not flying to or from the United States (directly).
In addition to the revelations in the post above, Delta announced a great enhancement this week: those who have one of the popular Delta SkyMiles credit cards can now get a 15% discount on awards flown entirely on Delta metal. That can certainly help make their cards more valuable for those with a lot of SkyMiles to redeem. Don't forget that you can even earn elite credit on award tickets! This post includes the now-updated list of the best uses of Delta SkyMiles.
I actually haven't yet played much with StayWithPoints, but Grreg's review has made me realize just how exciting this tool can be. For those with the flexibility to plan a trip around award availability at a particular property, this tool could be a great way to snag those hard-to-get awards. At this point, most of my 2023 travel is planned, but I'll probably still put this tool to use to search for a couple of places where I wouldn't mind planning a small side trip if certain hotels were available.
We've written quite a bit about Capital One Shopping in recent months. However, I recently ran into a problem where cash back from an order got unexpectedly clawed back. I was very pleasantly surprised when customer service credited my shopping portal account with more than $400 as a courtesy to fix the problem. We've had a similar data point from a reader that I include as well. The moral of the story? If you're missing cash back that you're due from Capital One, you should definitely follow up with them.
A standout value for travel to Africa is ANA's price of 104,000 miles round trip in business class, though it may be somewhat difficult to find without high surcharges. Virgin Atlantic can be a surprisingly good option for flying Air France or KLM (particularly if you hit a transfer bonus) and of course Air Canada's partners give you access to most of the continent with no fuel surcharges and a stopover for 5,000 additional miles on a one-way. This post includes more information about those sweet spots and plenty more.
ANA offers some of the best mileage rates to and from Asia, but the surcharges on ANA flights have climbed over the past couple of years. Alaska and American continue to offer excellent rates on some of the best airlines across the Pacific, but those who can put together mixed-cabin awards might stand to do even better with Avianca LifeMiles or Cathay Pacific Asia miles. For all of your best bets to and from Asia in premium cabins, see this post.
I love reading Carrie's thoughts about travel because I feel like so much of her energy was represented in the types of travels my wife and I were fortunate to enjoy years ago. Like Carrie, I would say that some of my best travel memories were totally unplanned and unscripted moments. But I particularly loved the section headlined "Cheap, on target, or timely: Pick 2". It's funny because it's true.
Bilt Rewards has made a fantastic improvement for members as you can now run award searches powered by Point.me right within the Bilt app. Since joining and engaging with Bilt Rewards is free, this could certainly prove to be a terrific value-add, particularly for those new to planning award travel (yet also for those just looking to save a ton of time over searching each resource).
Our Amex Platinum Complete Guide was updated this week as a reminder that Centurion Lounges are no longer admitting free guests.
---
That's it for this week at Frequent Miler. Keep your eye on this week's last chance deals to make sure that you don't miss those ending this week.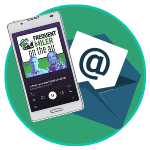 Want to learn more about miles and points?
Subscribe to email updates
 or check out 
our podcast
 on your favorite podcast platform.