Hyatt's Category 1-4 free night certificates can be earned in several ways, most commonly as an anniversary perk of the Chase World of Hyatt Card, as a 30-night Milestone perk or by spending $15,000/year on the Chase card. One of the easiest, and perhaps least-noticed, ways to earn Cat 1-4 certs is through World of Hyatt's Brand Explorer promotion. Brand Explorer allows WOH members to earn category 1-4 certs each time that they stay at five unique brands in WOH's portfolio.
Hyatt now has 26 brands, so for the first time it's possible to earn up to five free night certificates through Brand Explorer alone. The primary reason is that Hyatt's total number of brands recently increased by eight, thanks to the addition of new all-inclusive properties as well as the launch of the a new brand, Caption.
The Deal
World of Hyatt's Brand Explorer Program now has 26 total brands, allowing WOH members to receive up to five free category 1-4 certificates.
Terms and Conditions
This is not an annual benefit, each brand is once-in-a-lifetime.  For example, you can stay at 2 different brands in one year and then 3 additional brands in a later year in order to earn a free night.
No registration required. Any qualifying paid or award stay counts.
Free night award details:

Valid for one night at any category 1-4 Hyatt (including during peak rates). Not valid on all-inclusive properties.
Valid for 180 days from when it's issued. You must complete the stay by the expiration date.
Quick Thoughts
I've always enjoyed the Brand Explorer promotion and am surprised that it's not emulated by some of the other hotel chains. It provides a gamified incentive to try out brands that I might otherwise not prioritize…in fact, there are times that I've specifically chosen a hotel in a given city in order to add it to my BE count.
In case you've never seen it before, you can find your total Brand Explorer count under WOH account information, either in the app or on desktop:
As you can see, there's a lot of possibility here for me. Even though I'm a Globalist and have been staying at Hyatts for years, I only have nine total brands (although I'm about to stay at a Joie de Vivre hotel next month making it ten). It actually should be higher, but there's 3-4 brands that I stayed at years ago that aren't listed, perhaps before Brand Explorer was active. I never thought to look at it then and now no one can find the stays on my account.
There's a few brands that will be tricky:
All in all, its fun to have even more opportunities at a bite of the Brand Explorer apple. It's a fun and no-risk promotion that can, over time, lead to quite a few free nights with very little effort.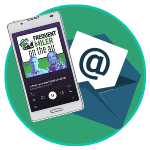 Want to learn more about miles and points?
Subscribe to email updates
 or check out 
our podcast
 on your favorite podcast platform.