Late last month, Staples offered fee-free $100 Mastercard Gift Cards online for a few hours before the deal sold out (we reported it here). I have not yet had any issues (I used one successfully so far), but many readers at Doctor of Credit have not been so lucky.
Activation & Registration successful, but cards declined
The issue here is that the cards are activating successfully and can be registered online (note that to register for online purchases, you'll need to go to mcgift.giftcardmall.com after activation). You'll see the expected $100 balance available online:
However, many people are reporting that even after activation and checking the balance online, the cards are being declined both online and in-person.
Personally, I didn't have that issue. At least, I don't think I did. I tried using one of mine to buy a $100 Amazon gift card and the purchase went through. I received the Amazon gift card and applied it to my account. However, I'm marginally concerned with the fact that the available balance still shows $100 online despite the pending transaction for $100.
While the balance in the transaction activity shows $0, I find it odd that the available balance farther up still shows $100.
I think the transaction must have been approved if Amazon sent the gift card. Still, many commenters at DoC are reporting an inability to use these online or in-store.
What to do if your cards don't work
If your cards don't work, you could try calling Gift Card Mall at 1-877-426-2551, hitting option 2, and asking for the technical support team. It sounds like this may end up leading to a lot of time on the phone, but if you bought the max of 10 cards, this may be the better method.
If you only have one or two cards, you might try calling the number on the back of the card (1-877-322-4710) and choosing the option for a replacement card. I imagine it's easy enough to explain that you need a replacement for one reason or another if it's one or two cards. If it's ten, I imagine they may want to send you through technical support.
Bottom line
It's disappointing to see yet another issue with Mastercard gift card. I was happy to pick up a cheap 5K Ultimate Rewards points, but if I end up being unable to use some of the cards and have to invest much time on the phone my enthusiasm will surely wane. Hopefully some of us are lucky and not many readers need replacement cards — and hopefully we'll see another fee-free Visa Gift Card deal soon.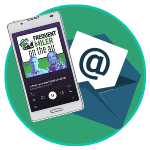 Want to learn more about miles and points?
Subscribe to email updates
 or check out 
our podcast
 on your favorite podcast platform.