Greg published a post yesterday about a "World's Best" round-the-world trip with points based on the latest Travel & Leisure 100 best hotels in the world list. I happen to have a subscription to Travel & Leisure magazine. When this month's issue arrived this past weekend, I was curious to check out the multitude of lists — from the best islands in the world to best cities in the US to best New England Resort hotels and more. One of the lists was the top 10 international airlines. Before I had even seen Greg's post draft, the idea dawned on me: What would a "World's Best round-the-world trip" look like? Then when I saw the title of his post I thought, "Oh no! Greg had the same idea!". When I read the contents, I realized that we had two very different takes on what a "World's best round-the-world trip" would look like: Greg focused on a trip to get to the best points-bookable hotels using his long-held ANA miles whereas I wondered if it might be possible to string together a round-the-world journey on the world's 10 best airlines in premium cabins using points. Once I realized how perfectly the airlines matched up, I wondered how to do it in reasonable luxury for as few points as possible. Here's what I came up with — can you do better?
The "World's Best" airlines (according to Travel & Leisure)
The following are Travel & Leisure's top 10 international airlines (note that I'm making no judgments here and just going with their list):
Singapore Airlines
Qatar Airways
Eva Air
Emirates
La Compagnie
Turkish Airlines
Japan Airlines
Virgin Atlantic
Korean Air
Air New Zealand
Using those airlines, I came up with a sample route to put together a near-perfect round-the-world trip where in almost all cases I could sample a flat-bed product that would provide a reasonable representation of that airline's premium cabin product. Note that just like with Greg's post, this is a thought exercise. I'm not suggesting that anyone should do this, nor do I have any plans to fly it. It just seemed like fun to daydream about this kind of thing. You might call this type of exercise "weird". I called it "Saturday afternoon" (and most of Monday evening, too!).
My only open-jaw in the route is from Paris to London (or Edinburgh) which can of course be booked on British Airways for a few thousand Avios (you can no longer book the Eurostar train with Avios). A couple of situations will require some explanation (found below), but in a nutshell I intentionally forced a couple of connections in this itinerary where there could have been nonstops in order to squeeze in a "better" premium cabin product and in a couple of places I connected on a non-top 10 airline when it was part of a single award. Here's my route — note that it isn't the most efficient round the world because I wanted to be sure to get a flat-bed product on each leg of the trip.
It is worth mentioning that all of this is of course theoretical. I have no idea if and when New Zealand and Australia will ever open to tourists. It is hard to know for sure which flights will operate where. I looked at paid and award tickets pretty far out in the schedule (May-June-July-August) to see what airlines have scheduled and based my list on today's schedules for those far-out dates.
Here's what the trip would look like and how much it would cost:
New York City to Auckland (AKL): 40K LifeMiles on Air New Zealand (the impossible leg)
This is the part of the trip that is nearly impossible. I originally thought to originate in Los Angeles or Houston as both have nonstop service on Air New Zealand. Unfortunately, I did not find Air New Zealand offering even economy class awards on nonstops from the US. That is no doubt in part because of the pandemic, but even before the pandemic Air New Zealand was known for almost never releasing any business class space — like on any routes anywhere). I am therefore making the assumption that this part of the trip happens in economy class. Pre-pandemic I've found nonstop economy class availability from the US to New Zealand. Avianca LifeMiles charges 40K miles to New Zealand in economy class and wouldn't charge more to originate in New York and connect (on United) to whichever gateway has availability, so I'm marking this one down as 40K.
In my test searches for this post, the only routes from the US that I found to New Zealand were flights to Tokyo on ANA that connected to Air New Zealand economy class from Tokyo to Auckland. I guess that would work if you're all-in on testing out Air New Zealand, but hopefully in a normal would you could reduce the flight time drastically with Air New Zealand availability on a nonstop from the US. Instead, for the map, I made the assumption of connecting to the nonstop from Houston to Auckland.
If you were absolutely committed to flying in business class, you could of course just bite the bullet and buy a ticket. Prices start around $3400 one-way from US gateways to Auckland on the nonstops or at $2295 if you want to originate in Honolulu. These could be purchased with Chase Ultimate Rewards points for 227K or 153K miles respectively (or even a bit fewer Amex Membership Rewards points if using the Business Platinum card's 35% pay-with-points rebate). Now on to "reality"….
Auckland (AKL) to Melbourne (MEL) to Tokyo (NRT): 40K American Airlines miles on Japan Airlines
Japan Airlines used to operate a nonstop flight from Auckland to Tokyo, but that stopped in light of the pandemic. In the meantime, you can still use just 40K American Airlines miles to fly from New Zealand to Japan. To get top-10 airline Japan Airlines in the mix, you'd need to connect in Australia. The only route I saw available was via Melbourne. In this case, you'd fly non-top-10 airline Qantas in business class from Auckland to Melbourne and then connect to Japan Airlines. The route from Melbourne to Tokyo is currently served by their 787 which features fully flat business class — I believe that should be in their well-loved Apex Suites.
Tokyo (NRT) to Seoul (ICN): 15K Delta Sky Miles miles + $33 on Korean
Delta charges surprisingly few SkyMiles for the short 2.5hr business class flight from Tokyo to Seoul. That means one could enjoy Korean's Prestige Suites on this route for just 15K SkyMiles (according to the dummy booking I tested on Korean, the A330 serving this route did indeed have Prestige Suites, not their lesser business class product).
Seoul (ICN) to Nagoya (NGO) to Taipei (TPE): 17K LifeMiles + $25 on Asiana/EVA
I found plenty of business class availability on EVA's nonstop flights from Seoul to Taipei, but they all featured an outdated regional A330 business class product. Since it doesn't cost any more miles to connect than it does to fly nonstop, you should be able to book an itinerary that puts you on non-top-10 airline Asiana for a flight from Seoul to Nagoya and connect to EVA's 787-9 from there to Taipei to enjoy a more representative sample of EVA's renowned business class product for just 17K Avianca LifeMiles one-way.
Taipei (TPE) to Singapore (SIN): 30.5K Singapore Miles + $18 on Singapore Airlines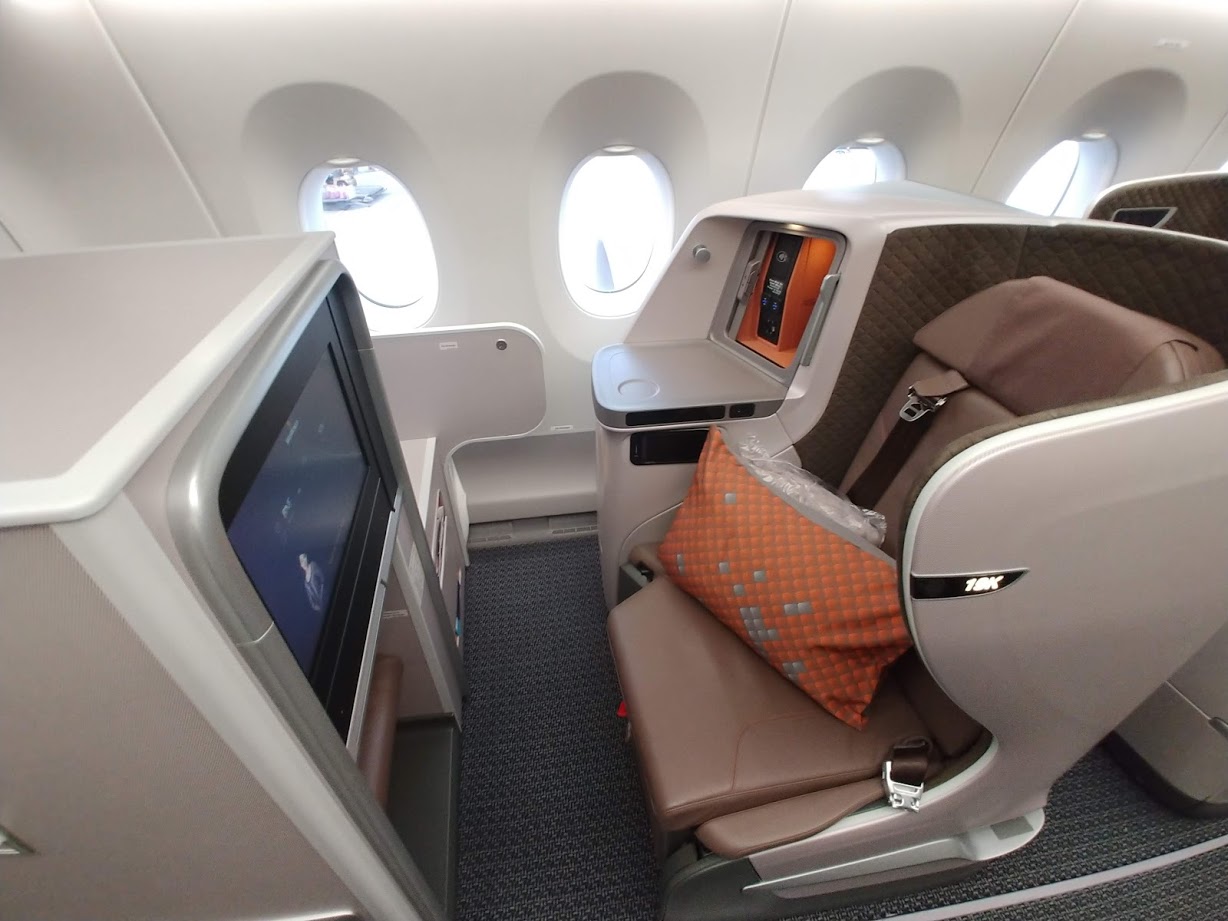 The best way to book Singapore Airlines business class is using Singapore KrisFlyer since Singapore is known to release far more business class space to their own members than to partners. I had no difficulty finding availability on Singapore flights from Taipei to Singapore for just 30.5K Singapore KrisFlyer miles. While this is technically a "regional" business class product, I've flown in the same regional business class seat (seen above on an A350) and I found it to be terrific.
Obviously the aspirational thing is to fly Singapore first class, particularly in their newer suites product. However, my understanding is that Singapore has mostly stopped selling first class tickets altogether during the pandemic because of ongoing questions about which aircraft will fly which routes, so I didn't try to include Singapore first class in this sample route since it is almost impossible to know which routes will have it (and in some cases even routes scheduled with planes that have first class cabins aren't selling first class seats).
Singapore (SIN) to Dubai (DXB): 98,750 Emirates Skywards miles + $119 on Emirates in First Class
This is the lone "first class" flight on the list since Emirates is still selling the cabin as normal. It isn't a small number of miles, but this is a decently long flight in first (about 7.5 hours) and it can be taken during the daytime to maximize the experience or overnight to maximize sleep. Some days of the week this is even scheduled with an A380, so you may still be able to snag that shower in the sky.
Dubai (DXB) to Doha (DOH): 12,500 British Airways Avios on Qatar Airways in QSuites
Unbelievably, Qatar Airways flies a Qsuites-equipped 777 on some of its flights from Dubai to Doha. While it surely seems like a shame to limit your Qsuites experience to the barely-one-hour flight from Dubai to Doha, part of my challenge was to try to put this trip together for as few miles as possible. It's hard to beat 12,500 British Airways Avios for Qsuites. Unfortunately I'm not seeing any award availability on this route right now (and Qatar is charging astronomical prices for paid tickets on this specific route), but I had originally booked Dubai to the Maldives via Doha for our trip last month (with both legs on Qsuites-equipped 777s), so I know it is possible to find availability on the Qsuites-equipped flights sometimes. I also know from experience that pre-pandemic Qatar served a full meal in business class on the 1hr flight from Dubai to Doha.
If you have Citi Thank You points, another option would be to transfer to Qatar's program since they only charge 14,000 miles on this route according to their award calculator and it may be easier to find availability.
Doha (DOH) to Istanbul (IST) to Tel Aviv (TLV): 33K United miles + $29 (or possibly fewer Avianca LifeMiles) on Turkish
The flight from Doha to Istanbul is surprisingly only available in regional recliner seats on Turkish, but one flight a day from Istanbul to Tel Aviv is served by a Turkish 777 which should give you the long-haul business class experience on a very short flight (~2hrs).
I found that United charges 33K miles on this route. Alternatively, if you really only care about getting the 777 business class experience, you could book via Avianca LifeMiles and take the Doha-to-Istanbul leg in economy class and the Istanbul-to-Tel Aviv leg in business class for 25,610 Avianca LifeMiles thanks to the way Avianca prices mixed-cabin awards. I'm not sure it's worth the mileage savings, but for it's a way to save a bit if you're committed to doing this as "cheaply" as possible.
Tel Aviv (TLV) to Paris (ORY): $1053 on La Compagnie. No points options.
While I noted above that Air New Zealand is stingy about releasing award space, there just isn't any way to book all-business-class airline La Compagnie directly with points (other than through their own frequent flyer program, which is not a transfer partner with any US credit card or loyalty programs). If you want to experience Top-10 airline La Compagnie, the only way to do it is to pay up. Their new route twice-a-week route from Tel Aviv to Paris is set to begin flying in December and it was available for $1053 on almost all of the dates I checked (keeping in mind that it only flies twice a week)
Unfortunately, La Compagnie isn't available via the Chase or Amex booking portals, so I don't believe you can use points for their flights (though Greg did prove during our 40K to Far Away challenge that Chase could actually book at least some airlines over the phone that weren't available online, so this may actually be possible for about 70,200 Ultimate Rewards points if you're persistent and lucky).
London (LHR) to New York (JFK): 57.5K Virgin Atlantic miles + $621 on Virgin Atlantic
The fuel surcharges and UK departure tax sting on this one, but if you only want to position from Paris to London for this last of the top-10 airlines, you've got to pay to play.
However, you could save just a bit here: We recently wrote about how flights from Scotland are not levied with the UK premium cabin tax. I actually found that flights from Edinburgh to New York's JFK were also 57,500 miles but just $454. You should be able to get from Paris to Edinburgh for less than the ~$165 difference.
Adding it all up
To recap the costs, this round-the-world on the world's 10 best international airlines in premium cabins would cost:
NYC-AKL: 40K Avianca LifeMiles + $30
AKL-MEL-NRT: 40K American Airlines miles + $126
NRT-ICN: 15K Delta SkyMiles + $34
ICN-NGO-TPE: 17K Avianca LifeMiles + $25
TPE-SIN: 30.5K Singapore miles + $18
SIN-DXB: 98,750 Emirates miles + $119
DXB-DOH: 12,500 British Airways Avios + ? (not sure on fees here)
DOH-IST-TLV: 33K United Miles (or ~26K LifeMiles mixed-cabin) + $29
TLV-ORY: $1,053
LHR-JFK: 57.5K Virgin Atlantic points + $621
Total miles: 344,250
Total money: $2,055
Neither of those amounts are small, but then nobody said that flying the top 10 airlines in the world in premium cabins would be cheap.
How many credit cards would you need to open?
The totals of course made me wonder how many credit cards one would have to open to make a trip like this happen.
Surprisingly, you could book almost the entire trip on a single new credit card bonus if you can maximize it.
As we have noted before, the Resy Amex Platinum card offer could be worth up to 500,000 Membership Rewards points — that's 125,000 points after meeting the minimum spending requirements and you also get 15x on restaurants and US Shop Small (small businesses) for the first 6 months on up to $25,000 in spend. While some people understandably wouldn't be able to meet $25K in small business purchases, I've noted situations where it might not be hard at all. You may be able to max this out if you are:
Planning a wedding (most wedding vendors are likely coded as small businesses)
Getting divorced (lawyers may code as small businesses)
Remodeling a home (contractors and local hardware stores may code as small businesses)
Buying a new car (while many dealerships will only accept a small amount on a card, I've found some in the past that would take the entire purchase price on a credit card and I would think that many dealerships might code as a small business)
I'm sure there are plenty of other examples. Again, that won't be universally applicable any more than this imaginary round-the-world trip will be, but it is possible to score up to 500,000 points with one offer.
Interestingly, the majority of the flights noted above are booked with Amex transfer partners. The two exceptions in the examples above could alternatively be booked with Amex Membership Rewards points:
Auckland to Tokyo on Qantas and Japan Airlines is shown above with 40K American Airlines miles (not an Amex transfer partner) but could be booked with Amex transfer partner Cathay Pacific Asia miles. The award calculator shows 70K Asia Miles one-way, though I had difficulty getting their booking tool to show the same availability I'd found elsewhere (it wanted me to route through Hong Kong for 85K).
Doha to Istanbul to Tel Aviv on Turkish Airlines is shown above with 33K United Miles (not an Amex Transfer partner) but it could be booked with Amex transfer partner Avianca LifeMiles for 36K miles (or "hacked" for less than 26K LifeMiles as shown in the post).
In short, booking those flights in business class with Amex Membership Rewards points instead of using American Airlines and United miles would raise the trip total to 377,250 Membership Rewards points. That would require $16,817 in purchases at 15x on top of the 125K welcome bonus points. If instead you were able to max out that Platinum card offer with $25K spend in the temporary 15x categories for 500K total points, booking this ultimate round-the-world trip would leave you with 122,750 Membership Rewards points left over. Cashed out to Schwab at a value of 1.1c per point, those points would be worth $1,350.25, putting a large dent in the cash cost of the flights — but that would require opening a second Platinum card since the Resy offer is not available on the Schwab Platinum. There is also the problem of annual fees: if you don't place much value on the Platinum card's perks, it would probably be hard to justify two Platinum cards.
The cash portion of the trip could easily be covered with a few cash back bonuses or checking account bonuses. For instance, the 75,000-point bonuses on the Chase Ink Business Cash and Chase Ink Business Unlimited cards could provide $1,500 (and no annual fees) if you cashed out the points at 1c per point. One could then pick from a number of cards with $500 welcome bonuses to close the gap or even perhaps a checking account bonus. At most this trip would require three new credit card bonuses to cover all of the flights and taxes. We have occasionally seen Capital One offer a credit card bonus on the business side worth $2,000, so it wouldn't be impossible to cover the cash portion with one credit card bonus (though it would require a lot of spend).
Bottom line
This post isn't meant to be "realistic" in the sense that I don't expect anyone to actually book this, I just found it fun to daydream about what it would cost to book a round-the-world trip on the world's best airlines using miles and points. I was surprised to find that the trip can be almost entirely covered with a single credit card welcome bonus when I realized that all but one of the flights could be booked with Amex transfer partners at pretty good value. While I probably won't ever take a trip like this myself, I have enjoyed piecing together trips comprised of multiple sweet spots from different programs in the past. I look forward to connecting the dots on much smaller scale versions of this type of trip again someday when my kids are older. One thing is for sure: miles and points makes people like us look at those Travel & Leisure lists a lot differently than I ever would have before I knew how to book the best airlines in the world for a fraction of the cost. That's the fun of a thought exercise like this: it wouldn't be fun to add up the cash cost and think about how many months or years of work I'd need to trade to pay for it, but it sure is fun to think about trading all that work for one new credit card bonus that covers a dream trip.