Update 9/20/22 – The Platinum, Gold and Business Gold referral offers are all back, so I've added those and re-ranked accordingly.
Over the last couple of years, American Express has been barraging us with unprecedented welcome offers for both the personal and business versions of their Gold and Platinum charge cards.
For years, these cards all had a "once-in-a-lifetime rule," meaning that you were only eligible for the welcome offer for each card once per lifetime (in practice, this actually meant 5-7 years, then Amex would "forget" that you had the card). Occasionally, a link would come around without the lifetime language (NLL or "No Lifetime Language"), allowing those who'd already had the card to get another one. Historically, these were infrequent, coming around maybe once or twice per year.
That all changed in 2020.
Suddenly, people were getting targeted to "expand their membership" or "bundle their Gold/Platinum cards," Amex's spin on "we know that you already have this card, but we want you to sign-up again and we'll pay you for it." These were especially common with Business versions of these cards and some people were being targeted mere weeks after completing the spend on the same card. It was madness.
At the same time, Amex started drastically increasing the value of these targeted offers. We used to get excited about seeing 100,000 point offers but now we started seeing 150,000, 180,000…even 250,000 point offers. We developed back issues from constantly picking our jaws off the floor. We've unofficially branded it the "points parade," because these offers just keep on marching past with no end in sight.
But it can be confusing (and exhausting) as well. Keeping track of the offers and which ones have lifetime language while trying to sort through the best options has been difficult for many and we've had several folks reach out, asking us to compile them in one spot and give our impressions on which is best.
Here it is.
As an aside, none of the business card offers below are featured on our best offers page. That's because the offers on that page are the best publicly available ones that we know of. We don't put targeted offers there, as we want anyone to be able to look at the offers listed and be able to click through. The business offers below are all targeted. Some require trying different browsers and a couple even require calling-in to find out if you're eligible. Not everyone will be able to get them. That's why they're not on the best offers page.
The personal card links ARE on the best offers page, but that's because they are available via the reservations website Resy or via reader referral links that we collect and cycle through the application page. None of the consumer card offers below are affiliate links.
The Offers
NLL – "No Lifetime Language," TGT – "Targeted," Fresh Browser – in order to make the offer appear, it will probably be necessary to try different browser configurations.
If you see the message below or see a screen with no offer listed, it means you're not targeted. If you get a pop-up telling you that you are not eligible for the welcome offer, you aren't.
Key Card Details
Card Name w Details & Review (no offer)
Card Name w Details & Review (no offer)
Card Name w Details & Review (no offer)
Card Name w Details & Review (no offer)
Quick Thoughts
The top two positions are all lifetime language offers, meaning that they aren't available to folks who have had the card within the last 4-7 years. If that's NOT you, then these should be the place to start. The consumer Platinum offer is terrific and would qualify as the best offer available on a personal card right now.
The 150K referral offer is the current standard, in my opinion. Although it's a referral offer, this is what you'll find listed on the Best Offers page as we collect working reader referrals via our Frequent Miler Insiders Facebook page and cycle them through. Membership Rewards are valued at 1.55 cents per point in our most recent reasonable redemption values (RRV), making this welcome offer worth $2400, including the 6,000 points from the minimum spend. That's a whopping 40% return. If you haven't gotten this card and are eligible, why haven't you gotten this card?
The consumer Gold referral offer of 90,000 MR after $4K spend is another bell-ringer, yielding a minimum return of 94,000 MR. This would be valued at about ~$1500 according to RRV, a 38% return on spend. Wowza. This can go up even more though, as the Gold has the best spending categories of all these cards, with 4x on groceries and dining. If you can do even half of the spend in those two categories, you'll end up with 100,000 MR on only $4K spend. This is another instance where we curate working reader links, so you can find it on our Best Offers page.
After that, we head into the NLL business card offers, which are the wild west right now. My wife and I have been getting new cards every 1-2 months and just keep getting targeted for more. My favorite right now (and the one I used a couple of days ago) is the 155K offer. It's simple and it seems to be almost universally accessible with a great ratio of points/spend, at ~10.3/1, effectively giving you a 16% rate of return on $15,000.
Keep in mind that both the Business Platinum Dell and the various airline credits reset on the calendar year.  This means that in the first year of card membership, you can get at least 3x Dell credits and 2x airline incidentals, adding an additional ~$200-400 in first year value if you only pay the annual fee once and cancel after the first year. While the various perks and credits on Amex cards can feel a little "coupon booky," I find it pretty easy to get full advantage of these two without much effort.
Let us know if you see a better offer that's not included here, if you've signed-up for one (or more) of these offers and, most importantly, if you agree or disagree with the rankings!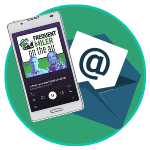 Want to learn more about miles and points?
Subscribe to email updates
 or check out 
our podcast
 on your favorite podcast platform.