Chase launched a new personal United credit card this week and increased the welcome offer on the business card. While the business card appears to be the best of the two options on the surface, the personal card could be a better choice in some circumstances despite having what seems to be a much lower welcome bonus but isn't necessarily the case.
The Basics
Are You Eligible?
Chase's 5/24 Rule: With most Chase credit cards, Chase will not approve your application if you have opened 5 or more cards with any bank in the past 24 months.

To determine your 5/24 status, see: 3 Easy Ways to Count Your 5/24 Status. The easiest option is to track all of your cards for free with Travel Freely.
Chase 5/24 semantics ("Subject to" vs. "Count towards"): Most Chase cards are subject to the 5/24 rule. That means the rule is enforced in making approval decisions. In other words, you probably won't get approved if your credit report shows that you opened 5 or more cards in the past 24 months. Meanwhile, most business cards (such as those from Chase, Amex, Barclaycard, BOA, Citi, US Bank, and Wells Fargo) are not reported on your personal credit report. These cards do not count towards 5/24.

Example: Chase Ink Business Preferred is subject to 5/24, so you likely won't get approved if over 5/24. If you do get approved, it won't count towards 5/24 since it won't appear as an account on your credit report.
Applying for Business Credit Cards

Yes, you have a business: In order to sign up for a business credit card, you must have a business. That said, it's common for people to have businesses without realizing it. If you sell items at a yard sale, or on eBay, for example, then you have a business. Similar examples include: consulting, writing (e.g. blog authorship, planning your first novel, etc.), handyman services, owning rental property, renting on airbnb, driving for Uber or Lyft, etc. In any of these cases, your business is considered a Sole Proprietorship unless you form a corporation of some sort.

When you apply for a business credit card as a sole proprietor, you can use your own name as your business name, use your own address and phone as the business' address and phone, and your social security number as the business' Tax ID / EIN. Alternatively, you can get a proper Tax ID / EIN from the IRS for free, in about a minute, through this website.

Is it OK to use business cards for personal expenses? Anecdotally, almost everyone I know uses business cards for personal expenses. That said, the terms in most business card applications state that you should use the card only for business use. Also, some consumer credit card protections do not apply to business cards. My advice: don't use the card for personal expenses if you're not comfortable doing so.
Quick Thoughts
Chase United Business Card
As mentioned above, the United Business card initially appears to be the most interesting of these two new offers due to the 75,000 bonus miles you'll receive after spending $5,000. Taking into account the miles earned from the $5,000 in spend, you'll end up with at least 80,000 MileagePlus miles which is a great bonus, especially considering the annual fee is waived in the first year.
The card also offers 2x miles at restaurants, office supply stores, gas and local transit and commuting. There are cards that offer better bonused spend in all those categories, so the United Business card isn't a great option for those categories on an ongoing basis, but it should mean that at least some of your initial $5,000 of spend will be bonused.
You'll earn 5,000 bonus miles at renewal each year if you also have a personal United card. That can include personal United cards that don't have an annual fee, so those 5,000 miles help offset the $99 annual fee. Depending on how you value them, the two United Club one-time passes you'll receive at renewal might help offset the rest of that fee.
The business card also comes with an interesting additional benefit – a $100 United travel credit when spending $100+ on 7 United flight purchases each cardmember year and putting the cost of those flights on your card. That's a bonus of up to 14.29%, so if you'll be booking that many United flights every year, the travel credit will pay for the annual fee, making this card a keeper.
Chase United Gateway Card
At first glance, the Gateway card didn't appear too interesting, especially seeing as it'll take up a 5/24 slot. Upon further investigation though, the card could be worth applying for in some circumstances for a few reasons.
First of all, the card has no annual fee but still gets access to expanded award availability, making it a long term keeper. While the business card can be a keeper beyond the first year depending on the value you assign to the 5,000 miles, two United Club one-time passes and the $100 travel credit, there's no downgrade option to a no fee business card. If the business card is your only United card, that means you're stuck paying the $99 annual fee year after year to retain access to the expanded award availability.
Second, the Gateway card offers 20,000 bonus miles when spending $1,000 in the first three months. That's not a stunning offer, but it's better than the 10,000 miles you'll receive on the American Airlines MileUp card which also carries no annual fee.
What can make the Gateway card worth considering more seriously is the fact that it's offering 3x miles on up to $1,500 of spend per month at grocery stores through September 30, 2021. If you received the card this month (October) and maxed that out each month, you'd earn 54,000 bonus miles in addition to the 20,000 miles from the welcome offer. That's a total of 74,000 miles with no annual fee which is almost identical to the increased business card offer. If you don't own a business or don't want to commit to having to pay an annual fee each year to retain access to the better award availability, the Gateway card can be a great solution.
One of the biggest downsides with the Gateway card is that it'll add to your 5/24 count whereas the United Business card won't, so that's definitely a factor you need to take into consideration.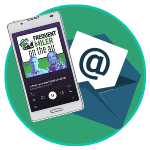 Want to learn more about miles and points?
Subscribe to email updates
 or check out 
our podcast
 on your favorite podcast platform.