What do you do when your positioning flight gets canceled hours before you are due to fly 15 hours away on an award ticket? Why are the changes to Amex airline fee reimbursements a total non-issue? Which niche credit card might Greg open thanks to Simon Malls? Should we increase the Reasonable Redemption Value of ThankYou points because of Turkish Miles & Smiles? Watch us debate those questions and more in this week's FM on the Air:
For those who would rather listen during the morning commute or while you're working, the audio of our weekly Facebook Live broadcast is also available for download as a podcast on all of your favorite services.
iTunes: https://podcasts.apple.com/us/podcast/frequent-miler-on-the-air/id1469319650
Web: https://directory.libsyn.com/shows/view/id/frequentmiler
Google Play: https://play.google.com/music/m/I7hoxlbdqhwybn4go3ik4y2bpcm?t=Frequent_Miler_on_the_Air
On to our weekend recap of the week's top stories:
In Deals not to miss:
All aboard! The gravy train has not yet ended. Here's hoping it keeps chugging its way down the tracks like this, but at the very least we know it'll be there through 8/31/19.
---
I get it, Avios are no longer everyone's favorite currency. But when you toss a 40% transfer bonus on Membership Rewards, they start to look a little more exciting. It's not common that we see a transfer bonus to airline miles this high, so it's definitely one to consider. Don't transfer without a use in mind — but do take the time to see if you may have a use in mind before this one is gone (and note that there's plenty of time to earn more points to take advantage of this, even if you're starting from zero).
In Award Hacks
Would you like to fly to Hawaii tomorrow for $386 round trip? You can. Thanks to Turkish Miles & Smiles, terrific United economy award availability, and a little-known trick that Greg highlights here, it's actually really easy. Enjoy this ride while it lasts and book your trip now.
---
A few weeks ago, we uncovered one of the sweetest spots in award travel: domestic United flights (whether to Huntsville or Honolulu) for 7,500 miles each way in economy class or 12,500 miles in business class. The catch? You had to book via email, which was a long process that required a bunch of steps. Forget all that: you can book over the phone. While some people are having problems that we haven't yet solved, awards are largely bookable and it's both faster and easier than email. This won't last forever, so get in on this while you can.
---
What's the cheapest business class award you can think of for a one-way flight to Europe? Maybe 45K? Now what's the cheapest business class award you know of to Asia? Maybe 50K? What if I told you that you can fly all the way around the world for fewer miles than those two flights combined? Sure, the title notes 115K, but there are so many possibilities. See the comments for a reader who shows a nice itinerary for 90K miles. This little chart is amazing.
Would you like to go on a safari for free? Spoiler alert: Unfortunately, this post doesn't have the secret for how to do it. But the fact that it was possible really makes one wonder what other things are out there hiding in plain sight. If you will have a long layover on a Kenya Airways ticket, the paid version of this might be fun (though readers in the comments note you may be able to do it cheaper on your own.
---
In Credit Cards
Have you cashed out Amex airline fee credits with gift card purchases in the past? You could have been doing better all along. In this post, Greg shows why the recent change regarding airline incidentals is a total non-event for him.
In #40KFaraway
Gentlemen, start your engines (seeing as how I'm the only one with an engine in the photo above, it looks like I win). We have a start date and location. Are you located in DC or passing through that day? Maybe you can help send us off. More details to come.
You can't win 'em all. At least, that's what I'm hoping Greg has accepted. His vagueness and subtle hints lead me to believe that he feels pretty confident about his plans despite an early slip-up. Could this be a costly mistake? Or is it just a bump in the road? We're nine weeks away from knowing.
---
That's it for this week at Frequent Miler. Check back soon for our week in review around the web and this week's last chance deals.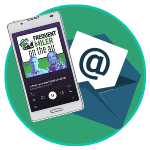 Want to learn more about miles and points?
Subscribe to email updates
 or check out 
our podcast
 on your favorite podcast platform.