This week, Greg and Nick discuss the multitude of ways to earn American Airlines miles without flying, which seems tough on the surface since AA is one of the few major airline programs not to partner with any of the bank transferable currencies. As always, there is plenty of banter that goes into regularly weekly segments like "Post Roast" and "What crazy thing did Citi do this week?". Follow on to watch, listen, and read about this week in the mind of Frequent Miler.
Subscribe to our podcast

We publish Frequent Miler on the Air each week in both video form (above) and as an audio podcast.  People love listening to the podcast while driving, working-out, etc.  Please check it out and subscribe (if we get enough people to subscribe, we might be able to earn some income from this someday. So far, the podcast is just a labor of love).
Our podcast is available on all popular podcast platforms, including:
You can also listen here in the browser:
This week at Frequent Miler
FTU is running a series of Virtual Seminars. On Saturday, December 12, 2020, Greg & Nick did the closing panel for the first of this new series from FTU.
Positive changes on the horizon
If you had Marriott certificates set to expire in the coming months, they should now reflect an expiration date of August 1, 2021. While I don't find that to be nearly as generous as I'd like, it sure beats the alternative I was facing as I had several certificates set to expire in January with absolutely no plans to use them in time. The best news here though is that even old travel package certificates and previously-extended certificates have been extended yet again. Marriott had led us to expect those certificates wouldn't be extended so this is a pleasant surprise for those with those old certs.
This week, we saw Delta permanently remove international change fees and United followed suit soon after by also removing change fees (albeit with a poor policy if you change to a cheaper flight). Keep this post bookmarked for the latest in change fee changes.
Greg has updated and improved this post meant to help you time out your Hyatt credit card spend to hit the necessary amounts at just the right time to maximize your return.
Elite status and its benefits
If you pursue airline elite status, chances are that a strong motivator is the ability to earn upgrade certificates that can move you from the cheap seats to flyin' in style. In this post, Greg examines the similarities and differences in systemwide upgrades offered by each of the major US legacy airlines. This info is especially good for the free agents who live in a market with multiple carrier options.
In this week's Frequent Miler on the Air, I teased Greg about the fact that he booked a Marriott and got a Marriott and somehow felt disappointed, but the truth is that he was right to expect more from a property labeled "Luxury Collection". That said, my biggest gripe with the hotel after reading his review was something Greg didn't even bemoan: the cost of the destination fee and parking added nearly 40% on top of the nightly rate. That's ridiculous, particularly in the current environment. I know where I won't be staying the next time I visit Savannah.
For those interested in an extra dose of ask us anything, you can view this past week's edition where we discussed all the questions that readers could throw at us for an hour.
On the move
Are you suddenly able to work remotely? Are you willing to pack it up and move somewhere new for a year? Would ten grand be enough incentive to try out Tulsa or ship off to The Shoals of Alabama? Personally, I find these programs really intriguing. I'm kind of surprised that more areas haven't offered something similar to attract remote workers and their addition to the local economy and tax base. I can't see making a move right at this moment, but I could definitely see myself taking advantage of one of these programs if life returns to normalish before my kids reach school age.
We had previously published this guide with an eye toward the premium cabin options, but we have now updated it to include the best options for those looking to fly economy class. While most programs charge around 30K miles each way in economy class to South America, we list a number of ways you can get there for less. Check out the entire series of "best ways" posts here and keep in mind that you'll always find information like this listed on our resources page.
---
That's it for this week at Frequent Miler. Don't forget to check out this week's last chance deals.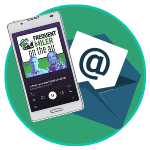 Want to learn more about miles and points?
Subscribe to email updates
 or check out 
our podcast
 on your favorite podcast platform.