Yesterday, Nick published a great post about how you can save lots of miles by booking award flights to a city beyond the place you want to go (See: Hidden city ticketing can save you an absurd amount of miles).  By booking a layover at the airport you really want to go to, you can leave the last segment of your itinerary un-flown.  This is a pretty well known technique for finding cheap one-way cash rates (there's even a website that helps find these for you), but this is less commonly done with awards.  Of course, hidden city ticketing (also sometimes known as skiplagging) isn't the only hack that can save miles when booking award flights.  In this post I've compiled all of the major hacks we could think of.
Overview
This post lists a number of ways to save miles when booking award flights.  For a list of tricks that are primarily about saving money (or bank points) on paid flights, see: Great ways to save money or miles on flights.
The topics in this post are roughly ordered from easiest to most complex.  And the topics do get very complicated!  If/when you find yourself overwhelmed, trust me — you are not alone!
Caution: Some of the tricks in this post are considered "hacks" because they take advantage of award booking rules in ways that are not as intended.  There's nothing illegal about taking advantage of these tricks, but there is always a chance that an airline rewards program could shut down your account if you do these things too often.
Hackless options
Not all tricks for saving miles are hacks.  Here are some common techniques:
Rebook when award prices drop: All of the major U.S. airlines now allow free award changes as long as you avoid booking basic-economy.  After booking your flight, check award prices regularly and rebook at the lower rate when available in order to get back some miles.
Book positioning flights separately: It's very common to find great award prices from or to certain cities, but not necessarily from/to the city you want.  For example, maybe you'll find a great award deal to Madrid, but you really want to go to Paris.  Fine.  Book the award flight to Madrid and separately book a cheap positioning flight from Madrid to Paris.
Book flights with partner airline miles: Flights often cost fewer miles when booked with miles from a partner of the operating carrier.  For example, I recently found that an Air Canada flight from Toronto to Detroit cost about 19,000 Air Canada Aeroplan miles vs. 15,000 United MileagePlus miles vs. only 6,500 Avianca LifeMiles.  This is very common across airlines, but the operating airline does have to make their flight available to partners for this to work.
Southwest Companion Pass: Once you earn this pass you can add a companion for free to all flights, booked with points or cash, for the rest of the current calendar year and all of the next.  Tricks for earning the Companion Pass are detailed in our Southwest Companion Pass Complete Guide.
Some credit cards can make awards cheaper:

United cards give cardholders better saver level award availability for economy seats.
The JetBlue Plus and JetBlue Business cards offer a 10% rebate on JetBlue awards
Avios credit cards (British Airways, Aer Lingus, Iberia) offer variations on companion award tickets after spending $30K on the card.
The Chase Aeroplan card offers a free companion on all awards for the rest of the current calendar year and all of the next after spending "only" one million dollars on the card.  LOL.
Hacks for saving miles
Schedule change re-routing
Sometimes the best priced award flights involve awful routings like the one shown above.  I searched AA.com to find business class flights from Detroit to Sydney, Australia and found that I could book for only 77K one-way as long as I'm willing to layover in Chicago, then Indianapolis, then Los Angeles.
Even if you have no interest in flying that three stop route, it can make sense to book it anyway.  If there is a lot of time between booking and the date of the flight, schedule changes are likely to happen to at least one of the flights on the itinerary.  When that happens, call center agents usually have the ability to put you on any flight you want (usually limited to their own flights and not partner flights) without changing the award price.  Usually you have to keep the origin and destination the same, but sometimes there's some latitude there too.
Travel Waivers
Often, when very bad weather is forecasted or if there are other reasons that the ability to fly to certain places is in doubt (e.g. war or civil unrest, viral outbreaks, volcano eruptions, etc.), airlines will issue travel waivers allowing you to make free changes.  In these cases it's usually possible to change for free to what would have been much more expensive flights.  For example, you may be able to change from a redeye flight with stops to a nonstop daytime flight.  You may even be able to change for free to a more expensive destination.
Book cheap then same day change
Whether booking with miles or money you may find that the 5am flight is cheap, but the flight you really want is expensive. Each airline has different same day change policies, but in many cases it is possible to book that cheap flight and then call the day before (or day-of in some cases) to get a confirmed change to the flight you really want.
Most airlines charge a fee for this unless you have high level elite status with the airline.  In some cases you won't be able to confirm the change, but may be able to stand by for the desired flight.  With Southwest you can book Wanna Getaway Plus fares in order to get free same day changes.
This is the type of thing that you wouldn't want to do unless you're willing to go on the originally booked flight in case things don't work out the way you hoped.  For example, my wife and I recently did this but when it came time to same day change, our preferred flights were completely full.  We had to fly our originally booked flights.
For same day change details and examples when flying Delta, please see: Leveraging Delta's Same Day Flight Changes (It's good to be Gold).  Even though that post focuses on paid rates, the same tricks apply with award bookings.
Throw away segments (Hidden city ticketing)
The idea here is that it is often cheaper, even with award flights, to fly beyond the airport you really want to go to.  For example, it's common to find that Air France awards from the U.S. to Europe are cheaper when connecting in Paris rather than stopping there.  So, you might save a lot of miles by booking, for example, Detroit to Paris to Budapest rather than Detroit to Paris.  The image above shows an example where I could book Detroit to Paris business class for 70,000 miles, or I could book the exact same flight plus add on a leg to Budapest for a total of only 56,500 miles.  If Paris was my final destination, I could simply leave the airport in Paris without flying onward to Budapest (works best with carry-on luggage only).
There are very important issues and cautions so please read Nick's post before trying this on your own: Hidden city ticketing can save you an absurd amount of miles.
Save on premium cabin awards by adding economy segments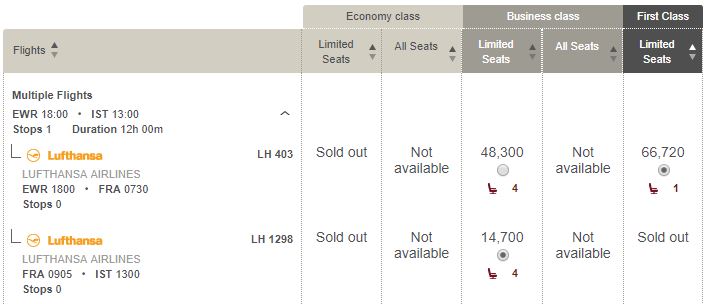 Both Avianca LifeMiles and Cathay Asia Miles have an interesting way of pricing awards that contain segments in different cabins of service.  They each average the award price based on distance flown.  For example, if you fly 2/3 of the way in first class and 1/3 in economy, the total award price will be 2/3rds of the first class award price plus 1/3 of the economy price.  This often means that flying farther can save miles.  For example, LifeMiles will charge 87,000 miles for Lufthansa first class between the U.S. and Europe.  However, if you add on economy or business class segments before and/or after the overseas first class flight, your total cost will be lower.  The image above shows that you can fly Lufthansa first class from Newark to Frankfurt for a total of only 81,420 miles by tacking on an business class segment from Frankfurt to Istanbul.  It would be even cheaper if that last leg was in economy.  You can do even better in the opposite direction by booking something like Frankfurt to Newark in First class plus Newark to Los Angeles in economy.
With Cathay Pacific you can do similar tricks.  Flying from the U.S. first class to Hong Kong and then economy to South Africa is much cheaper than simply flying first class to Hong Kong!
See these posts for details:
Take advantage of end-to-end distance based pricing
Many airline frequent flyer programs price awards based on the distance flown.  A rare variation of this is where awards are priced based on the distance between the origin and destination airports regardless of the distance flown in-between on routes with multiple segments.
Two programs that price based on end-to-end distances are Virgin Atlantic when booking short distance Air France or KLM flights; and Cathay Pacific Asia Miles one-way awards.
The image above shows an Air France route from Sofia Bulgaria to Tunisia via Paris.  The total distance flown on that route would be 2,017 miles.  The distance from Sofia to Tunisia, though, is only 808 miles.  That's important because you can book this route flying Air France with Virgin Atlantic miles.  Virgin Atlantic's award chart for short-haul Air France or KLM is as follows:
Notice above that economy awards for distances between 601 and 1,249 miles cost only 7,500 miles off peak or 8,500 miles peak.  And, in fact, during planning for my 3 Cards 3 Continents trip the above award flying SOF-CDG-TUN priced out at 7,500 points plus $44 in fees on Virgin Atlantic's website.  I didn't end up booking that award, but it's a great example of how one can fly pretty far and even traverse continents for very few points.
Another sweet spot in the same Virgin Atlantic award chart is to fly business class for only 8,000 miles off-peak or 9,000 peak on flights less than 600 miles.  The SOF-CDG-NAP route shown above is just one of many examples where I found 8K award pricing because the start and end points (SOF to NAP) are less than 600 miles apart.  It's possible to use a trick like this to fly cheaply between cities and sometimes even spend some time in Paris or Amsterdam if the connection is the next day.  Alternatively, you can use this to fly cheaply to Paris or Amsterdam and skip the second segment.  If you do the latter, don't check bags!
More about these Virgin Atlantic awards can be found here: Air France & KLM across Europe for less.
Similar tricks to the ones shown above can be done with Cathay Pacific Asia Miles awards.
Use free (or cheap) stop-overs to get free (or cheap) additional one-way trips
Free stop-overs on one-way awards are extremely rare these days, but Alaska Mileage Plan still offers them, and Air France / KLM introduced them recently.  Some airlines, like Air Canada Aeroplan and Singapore Airlines, offer one-way stop-overs for a fee.  And there are some, like ANA, that offer free stop-overs on round trip awards.  Here I'm going to explain how you can use Alaska's free stop-over to get free trips…
Suppose you live in Seattle and you are planning a trip to New York in the spring and to Dallas in the early fall.  Here's a simple way to take advantage of free stop-overs.  First, get to New York however you like.  This trick begins with your return from New York.  Rather than simply booking New York to Seattle, you can book New York to Seattle, stop for a long stop-over, then Seattle to Dallas all for the price of a single one-way award!  As you can see below, I was able to price out this award with a 5 month stopover (the stopover isn't shown, but trust me it's there) for a total of 12,500 miles in economy class:
Next you'll need to return from Dallas so again, rather than booking a single Dallas to Seattle flight, you can book something like Dallas to Seattle, long stopover, Seattle to Los Angeles (assuming you want to go to Los Angeles in the future, for example).
This approach to stop-overs requires a lot of long-term planning but it can nearly cut your award prices in half over the long term!
More about booking Alaska stopovers can be found here: Free stopovers on one-way awards w/ Alaska [Sweet-spot spotlight]
Hack the United Excursionist Perk
 In 2019, I took advantage of United's Excursionist Perk to fly most of the length of the African continent from Dakar to Johannesburg for only 10,000 miles; and I flew from Cape Town all the way to the Seychelles again for only 10,000 miles.  How did I do it?  I found a cheap 5K award from DC to Lewisburg which I flew once in each direction and then I booked a later throw-away 5K award flight from Chicago to Houston and one from Houston to Chicago.  All of this was to trick the Excursionist Perk into letting me fly across Africa for free, twice.  How this works and why it works is beyond the scope of this article.  Instead, please see: Maximizing (and understanding) United Excursionist Perks.
Techniques to save on award fees and taxes
It's difficult to discuss saving miles on award flights without also discussing taxes and fuel surcharges.  Here, briefly, are some ways to save on those pesky cash add-ons…
Book with select programs that don't pass along fuel surcharges: Air Canada Aeroplan, Avianca LifeMiles, and United MileagePlus are three great examples of programs that don't pass along fuel surcharges when booking awards.  So, for example, when booking business class awards flying Lufthansa or Swiss (both of which tack on huge surcharges), book with one of these three programs to avoid those fees.
British Airways credit card: The BA credit card offers up to $600 in award fee rebates each year. See: BA Visa $200 Award Fee Credit. 8 things you need to know.
Book British Airways with Asia Miles: When booking British Airways flights with miles, Cathay Pacific Asia Miles tends to charge lower fees than BA itself or other BA partners.
Book Virgin Atlantic with Air France Miles: Air France charges lower fees when booking Virgin Atlantic flights than Virgin Atlantic itself.
Book British Airways and Virgin Atlantic as one-way awards: When using BA's own Avios to book BA flights or Virgin points to book Virgin flights, surcharges are lower when booking two one-way awards rather than a single round-trip award.
Pick the best Avios: You can freely move Avios between British Airways, Iberia, Qatar, and Aer Lingus (click here for details).  When using Avios to book awards, each program usually charges the same amount of points, but fees can vary tremendously.  Here's an example for booking Aer Lingus business class one-way from Washington DC to Dublin:
Aer Lingus (via Avios.com) charges 60,000 points + $128.60 in fees vs. British Airways which charges 60,000 points + $729.80 in fees! Before booking an award using Avios, I recommend trying to pull up the same award search on each of the websites to see which offers the cheapest fees.  Not all flights are available to all four partners, but most are available to at least two of the four.
Avoid departing from the UK in premium cabin awards: The UK imposes a UK Air Passenger Duty tax on departing flights.  One easy alternative is to hop over to Dublin and fly from there.  For more options, see: Workarounds for the UK Air Passenger Duty.
Fly from places that regulate fuel surcharges: Brazil famously doesn't allow airlines to impose fuel surcharges.  As a result, you can avoid hefty surcharges by originating your travel in Brazil.  I don't have a full list of these but I believe that both Mexico and Hong Kong also ban or limit surcharges.
Other Hacks?
Do you know of additional hacks for saving miles on award bookings?  What did I miss?  Please comment below.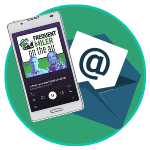 Want to learn more about miles and points?
Subscribe to email updates
 or check out 
our podcast
 on your favorite podcast platform.