The Citi Custom Cash card is Citi's simplified answer to the traditional 5x rotating-category card. This card offers 5x ThankYou points on the eligible category in which you spend the most each billing cycle (on up to $500 in purchases in that category; earn 1x on all other purchases). The key differentiator for the Custom Cash card is that 5x earnings are automatic in the eligible category in which you spend the most each billing cycle with no need to activate or choose a category in advance (and your top category can change each billing cycle with your spending patterns). The selection of eligible categories includes restaurants, gas stations, grocery stores, select travel, select transit, select streaming services, drugstores, home improvement stores, fitness clubs, live entertainment. This makes the Custom Cash a fantastic no-fee card to have and hold for that one category in which you intend to earn 5x points. This guide includes everything you need to know about the Custom Cash card and how it fits into the Thank You Rewards ecosystem.
This post is best viewed in a web browser, so if you are reading it in email form consider clicking through and viewing in your browser.
Citi Custom Cash Application Tips
Citi Application Tips
24 Month Rule (ThankYou Cards): To get bonus on any ThankYou card, you must wait 24 months after receiving a new cardmember bonus or closing any ThankYou card account. Applies to Preferred, Premier, Prestige, and Rewards+.
24 Month Rule (Expedia Cards): To get bonus on any Expedia card, you must wait 24 months after opening or closing any Expedia card account.
48 Month Rule (AA Cards): With Citi AA cards, you have to wait 48 months after receiving a bonus for the same exact card.
Velocity Rules: Max 1 personal card per 8 days. Max 2 personal cards per 65 days. Max 1 business card per 95 days.
Get Same Card Again: Citi allows getting same card again (even if card is still open) as long as you follow the 24 or 48 month rules and velocity rules (above).
Hard inquiries DO NOT combine into 1 when approved same day


Check application status here.
If denied, call reconsideration here:800-695-5171 (personal); 800-763-9795 (business)
If reconsideration # doesn't work, try the Citi Credit Card Executive Office: 423-477-6858
Should you apply?
The Citi Custom Cash card typically has a reasonable welcome bonus for a no-fee card that can represent decent return on relatively low spend. On the other hand, many people may find this card more appealing for a product change option (more on that below).
The Custom Cash is certainly appealing for the ability to set your own 5x bonus category on up to $500 in purchases each billing cycle. If you spend exactly $500 on the card in that category each cycle, this amounts to a pretty easy 30,000 Citi ThankYou points each year.
One nice thing about the Custom Cash card is that getting it should not automatically prevent you from also earning a bonus on other ThankYou cards like the Citi Premier.
Are you eligible?
To get this card, you must not have received a new cardmember bonus on the Citi Custom Cash Card in the past 48 months. Furthermore, official Citi policy is that they will only issue one Custom Cash card per accountholder, though we don't yet know if it may be possible to product change your way into more than one Custom Cash.
Should you product change?
When the Citi Custom Cash card first launched, product changes to the card were not yet available. However, product changes have since become available. If eligible, you can product change over the phone or via the chat tool on the website. Many data points have emerged indicating that product changing from other cards that earn Thank You points has not created a new card number. Thus, we expect that ThankYou points earned on those cards will remain intact through the product change (see How to keep points alive below for more on the complexity of expiring ThankYou points). Furthermore, a product change should not constitute a new account that increases your 5/24 count assuming that your card number does not change.
According to data points from reddit, cardholders have successfully product changed to the Custom Cash from the Citi Premier, Rewards+, American Airlines AAdvantage Platinum and AAdvantage MileUp cards, ThankYou Preferred, and Diamond Preferred. A couple of data points indicate that it is not possible to product change directly from a Simplicity or Double Cash to the Custom Cash card, but it may be possible to product change first to a Rewards+ and then to a Custom Cash in one phone call even though Citi policy normally requires you to keep the product-changed card for a number of months before switching again (YMMV depending on the rep). Alternatively, it is believed that direct product changes from the Double Cash to the Custom Cash should become available in the coming weeks.
The key disadvantage to a product change is that it is not eligible for the welcome bonus. Since Citi claims that they will only issue one Custom Cash card per person, product changing would effectively lock you out of the ability to earn a bonus on this card. On the other hand, that may be worthwhile if you would rather focus on more valuable welcome bonuses like that on the Citi Premier but you still want the easy 5x earnings here.
How to apply
You can find the current best welcome bonus information below. Click the card name to go to our Citi Custom Cash card page to find more information and a link to apply.
Application status
After you apply, call 1-866-252-0118 to check your application status.
Reconsideration
If your application is denied, I recommend calling for reconsideration (800-695-5171). It's surprising how often denials can be changed to approvals just by asking.
Citi Custom Cash Perks
The only clear perk offered by this card is that you'll earn 5x on the qualifying category in which you spend the most each month on up to $500 in purchases (you only earn 1x on all other purchases).
Since this card is a Mastercard, there is a chance that some World or World Elite Mastercard benefits may apply through Mastercard, but Citi is not advertising any additional benefits at all.
Travel Benefits
None. Note that this card has a 3% foreign transaction fee, so it is not a good choice for use overseas.
Travel Protections
While this card offers the ability to earn 5x on select travel and transit (if that is the category in which you spend the most in a given cycle), the card has no travel protections. This makes it an unideal choice for booking travel.
Purchase Protection
There is no purchase protection advertised with the Citi Custom Cash card.
Citi Custom Cash Earn Points
Intro Bonus
Although the Citi Custom Cash is advertised as a "cash back" card, this card actually earns valuable Thank You points. Here's the current welcome offer:
Note that there is sometimes a higher in-branch offer available, so if you live near a Citi branch it may be worth checking to see if they have a better offer.
Bonus Spend
Card Name w Details No Review (no offer)
Citi Custom Cash Redeem Points
Cash Back
Cardholders can redeem points for 1 cent each either as statement credits or as a direct deposit to a bank account. This card is marketed as a cash back card that earns 5% on your chosen category because the 5x ThankYou points earned are worth $0.05 when redeemed this way.
Travel
Redeem points for travel: 1 cents per point
Points can be redeemed for travel through the Citi ThankYou portal at a rate of 1c per point. Note that hotels booked through ThankYou.com will not earn hotel rewards. Worse, hotels booked through the portal often won't offer you elite benefits even if you have status. Furthermore, hotel pricing through ThankYou.com is often higher than what you'll find elsewhere (particularly so if you're booking a hotel where you would otherwise have access to a member rate or discounted rate like AAA or a corporate code. Note that you can not access any of those discounted rates through ThankYou.com). See: How bad are Citi ThankYou hotel prices? for more on this topic.
Transfer points
The best use of Thank You points, in my opinion, is to transfer points to airline partners in order to book high value awards. Your best bet is usually to wait until you find a great flight award before transferring points.
Note that you need a Citi Premier or Citi Prestige in order to transfer points to partners. If you have one of those cards, you can pool your points with the Custom Cash card in order to transfer points earned from the Custom Cash to airline partners. Points transfer at a ratio of 1:1 as shown in the list of transfer partners below. Keep in mind that while transfers are instantly posted to most loyalty programs, transfers to Singapore Krisflyer and Turkish Miles and Smiles are not instant.
Combine points to transfer to partners
You cannot transfer points directly from a Citi Custom Cash to airline partners, but you can pool points with a Citi Premier and then transfer the points to airline partners. Points can be transferred to the loyalty accounts of the primary cardholder or any authorized user on the account. For more on this, see the "Managing points" section below.
Transfer Partners
Best Citi Transfer Partners
The following transfer partners represent the best potential value in my opinion.
| Rewards Program | Citi Transfer Ratio | Best Uses |
| --- | --- | --- |
| Air France KLM Flying Blue | 1 to 1 | Monthly Air France Promo Awards often represent very good value. Air France miles can be used to book Sky Team awards, including Delta awards. |
| American AAdvantage | 1 to 1 Ends 11/13/21 | Best for AA's web special awards or for partner awards such as Cathay Pacific business class, Qatar business class, Etihad first class, etc. AA no longer charges change or cancellation fees on awards. |
| Avianca LifeMiles | 1 to 1 | Avianca LifeMiles can be great for Star Alliance awards. They offer reasonable award prices and no fuel surcharges on awards. They also offer shorthaul awards within the US (for flying United, for example) for as few as 7,500 miles one-way. Best of all, their mixed-cabin pricing can lead to fantastic first-class award prices. See this post for details. |
| Cathay Pacific Asia Miles | 1 to 1 | Cathay Pacific has a decent distance based award chart, but they no longer allow stopovers longer than 24 hours. Cathay Pacific Asia Miles can be a good option for booking American Airlines flights with a distance based award chart, especially if other OneWorld Alliance miles aren't available. For long distance flights, it is possible to reduce the cost of first class by adding on a business class flight. See this post for details. |
Useful Citi Transfer Partners
The following transfer partners can offer great value under certain circumstances:

| Rewards Program | Citi Transfer Ratio | Best Uses |
| --- | --- | --- |
| Choice | 1 to 2 | Choice Privileges points seem to be randomly valuable within the US, but dependably valuable internationally in expensive locations such as Scandinavia and Japan |
| Emirates Skywards | 1 to 1 | The best use of Emirates miles is to fly Emirates itself. See: Emirates Sweet Spot Awards - First class from 30K miles round trip. |
| Etihad Guest | 1 to 1 | Etihad has a very competitive award chart for American Airlines flights, among others.  For example, they charge only 50,000 miles one-way for business class flights from North America to Europe. Partner awards must be booked over the phone. |
| EVA Air Infinity MileageLands | 1 to 1 | If you want to fly one of the best business class products in the sky, the best way to snag EVA flights is with their own miles since they release more award space to their own members. One-way business class flights from the US to Taipei cost 75K to 80K miles. Fuel surcharges are very low on these routes. |
| JetBlue | 1 to 1 | JetBlue points offer the most value when cheap ticket prices are available and when award taxes are high relative to the overall cost of the ticket (more details can be found here). The JetBlue Plus Card and the JetBlue Business Card offer a 10% rebate on awards, so you can get more value by holding one of these cards. |
| Qantas Frequent Flyer | 1 to 1 | Best use is probably for flights on El Al with no fuel surcharges. Also useful for short AA flights. Qantas offers distance based award charts similar to Cathay Pacific. Both are OneWorld Alliance members. I recommend comparing award prices across both programs before transferring to either. Qantas offers round the world business class awards for only 280,000 points (but with many restrictions) |
| Qatar Privilege Club | 1 to 1 | Qatar has reasonable award prices for flying Qatar itself, but abysmal prices for flying partners. |
| Singapore Airlines KrisFlyer | 1 to 1 | Use to book Singapore Airlines First Class awards (generally reserved for their own members), Alaska Airlines economy awards, or for Star Alliance awards (including United Airlines). |
| Turkish Airlines Miles & Smiles | 1 to 1 | Miles & Smiles offers a number of awesome sweet-spot awards including 7.5K one-way anywhere within the US, even to Hawaii. Many awards cannot be booked online but can be booked via email. See: Turkish Miles & Smiles Complete Guide and Turkish business class sweet spots from the US. |
| Virgin Atlantic Flying Club | 1 to 1 | Virgin Atlantic offers quite a few sweet spot awards including ANA first class between the US and Japan for as low as 110K points round-trip; and US to Europe on Delta One business class for only 50K points one-way. See: Best uses for Virgin Atlantic points (Sweet Spot Spotlight). |
The Other Transfer Partners
Here are the transfer partners that didn't make my "best of" list, above. Note that some of these are still worth considering under certain circumstances.
| Rewards Program | Citi Transfer Ratio | Best Uses |
| --- | --- | --- |
| AeroMexico ClubPremier | 1 to 1 | AeroMexico is a SkyTeam partner. Club Premier points can be used to book flights on AeroMexico, SkyTeam alliance members (such as Delta or Korean Air), or on select partner airlines. Unfortunately many have reported that awards are extremely difficult to book through AeroMexico so we do not recommend transferring points to this program. If you want to fly AeroMexico, look to transfer points to another SkyTeam partner (such as Air France) and then book AeroMexico with that program. |
| Jet Airways Inter Miles | 1 to 1 | JetAirways JetPrivilege miles are useful only for a few very specific cases such as certain flights to Hawaii for as low as 15K (30K business) one-way, or to the Caribbean or Central America for as low as 10K (20K business) one-way. Details can be found here. |
| Malaysia Enrich | 1 to 1 | Given Malaysia's award chart devaluation in June 2017, I'm not aware of any good uses for these miles. |
| Shop Your Way Rewards | 1 to 10 | Don't do it. Shop Your Way points can be redeemed for a variety of gift cards. That said, unless Shop Your Way starts offering discounted gift cards, there's no point in converting transferrable points to Shop Your Way. |
| Thai Airways International Royal Orchid Plus | 1 to 1 | I'm not aware of any good uses for these miles |
Sweet spot awards
Our post, Citi ThankYou points sweet spots for high value redemptions, details the best value uses of Citi ThankYou points. Either click here or click below to jump to a section of the post:
Other ways to redeem points
Through the Thank You portal you can redeem points for cash back, gift cards, merchandise, or experiences. With this approach you'll usually get 1 cent per point value. One exception is that Citi occasionally offers gift cards at a discount so you may be able to get better than 1 cent per point value during a gift card sale.
You can also use points to pay some merchants directly (Amazon.com for example). Don't do this. These options offer very poor value. Further, they may compromise the security of your account (i.e. if someone hacks into your Amazon account, they might spend your Thank You points – causing you a headache in getting your points reinstated). The only time it is worth using points this way is when Amazon runs a coupon to save when using points: you can sometimes use 1 point to save $15 off of $50 or a similar discount and in those cases it might make sense to use only 1 point, though we recommend de-linking your points from Amazon after utilizing the discount.
Citi Custom Cash Manage Points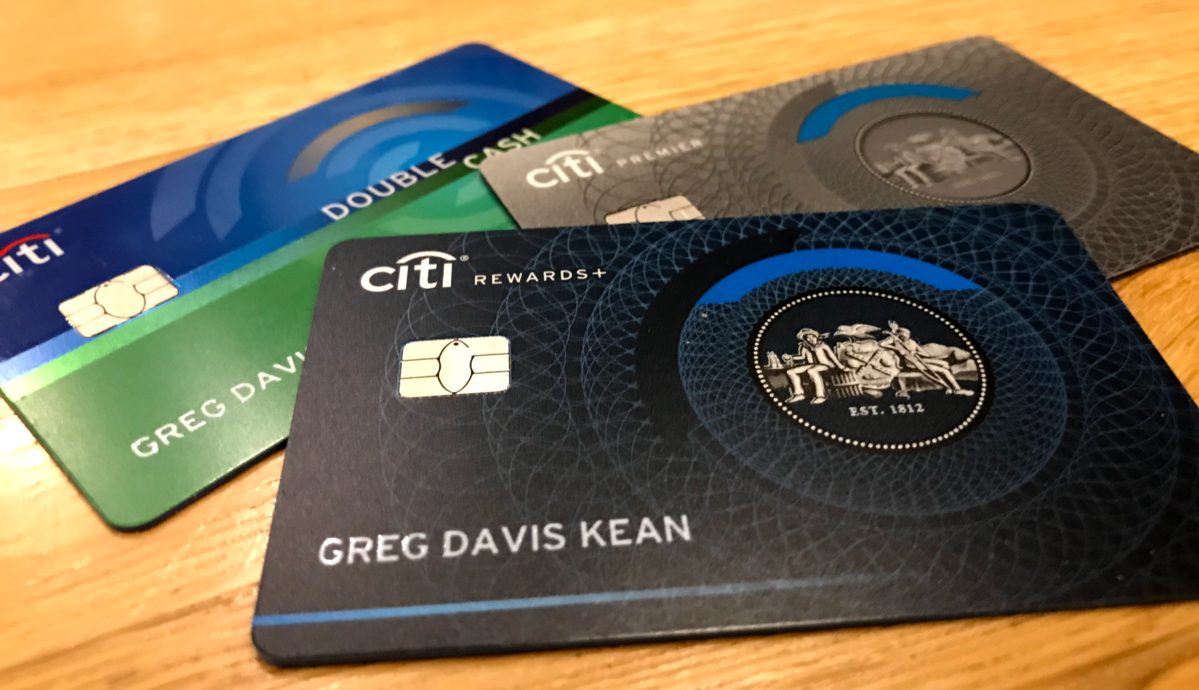 Combine Points Across Cards
If you are the primary account holder with multiple cards, you can combine ThankYou Rewards accounts.  When your points are combined, they can then automatically be redeemed at the same value as your best card.  For example, if one of your cards is the Premier card, you will be able to transfer points to airline partners even if the points were earned on a Custom Cash card.  Similarly, if you combine other cards with the Rewards+ card, you'll get a 10% rebate on all award redemptions (up to 10,000 rebated points per year) even if the points originated from a different card.  If you have the Premier and the Rewards+ card combined together and you transfer 100K points to a partner program, you'll get 10,000 points back. Combining a Premier, Rewards+, and Custom Cash means you can earn at 5x on the Custom Cash and then potentially get 10% back when you redeem those points.
There are some disadvantages to combining points:
You lose the ability to pick and choose which points are used when you redeem awards.
You lose visibility into how many points remain with each card.
The above disadvantages become important when you want to cancel a card: when you cancel a card, all points earned from that account are lost after 60 days. It is therefore advisable to keep no-fee cards like the Custom Cash rather than cancel (or product change to another no-fee Thank You card). That way your points are safe.
Keep in mind that if Citi closes your account for any reason, including due to inactivity, points earned from that account still expire after 60 days. Thus it makes sense to put a small recurring charge on all of your cards that earn Thank You points to keep them active.
Share Points Across Cardholders
Citi generously allows people to transfer ThankYou points to anyone else, for free.  There are two "catches" to this:
Shared points expire after 90 days. Make sure you have a specific near-term use in mind before transferring points.
100K limit: Each member may share up to 100,000 points per calendar year.  Each member may receive up to 100,000 points per calendar year.
Why this is valuable:
If a friend has airline elite status with one of Citi's transfer partners with which you want to book an award, you may be better off transferring points to your friend who can then transfer the points to the airline partner and book the award for you (to get free award changes, for example).
How to Keep Points Alive
There are several situations in which you may have Citi ThankYou Rewards points that will expire:
Points earned by a credit card account expire 60 days after cancelling that account.
Points transferred to your account expire after 90 days.
Points earned from some older credit cards expire in a set amount of time after points were earned (e.g. 3 or 5 years after December 31 of the year in which the points were earned).
Points earned from some credit cards expire if your credit card account has no purchase activity in 18 months.
Points earned from Citibank banking products expire 3 years after December 31 of the year in which the points were earned.
Credit card points: how to keep points alive
With most credit card points (except with some older credit cards which are no longer available), points remain alive until you cancel the card from which they were earned.  Once you cancel the card, points expire after 60 days.
Combining accounts does not solve the problem.  When you combine multiple ThankYou accounts, it's natural to assume that as long as you keep any ThankYou Rewards credit card open, your points will be safe.  That's simply not the case.  Citi keeps track of where each ThankYou point came from.  If you cancel a card, the points earned on that card expire after 60 days.  Period. They are not known to reinstate points.
The best way to preserve your ThankYou points is to keep your credit card account alive.  There is a side benefit to this approach too: Your no fee card may be eligible for occasional lucrative retention offers.  See: How one call led to a points bonanza and rethought plans.
Citi Custom Cash Lifecycle
How to meet minimum spend requirements
Once you are approved for a Citi card, you generally have three months to meet the required spend in order to get the welcome bonus. If your usual spend isn't enough, consider using the Plastiq bill pay service to use your card to pay bills that can't usually be paid by credit card (rent, mortgage, contractors, etc.). Note that Mastercards like the Custom Cash card can be used to pay a greater range of payees than Visa or Amex cards. Click here to find many more options for increasing credit card spend.
Keep, cancel, or product change?
Is this card worth keeping in the long run? Yes, I would argue that this card is absolutely a keeper. With an automatic 5x on up to $500 in the category in which you spend the most each month, this card is as easy as pie. Make this card your dedicated card for a category in which you can easily spend right around $500 per month and you'll earn a very easy 30,000 points per year.
The only downside on this card is that any spend beyond that $500 in your top category or on any other purchases only earns 1x, which is a very poor return. You'll need to stay organized if you choose a category where you will have many different purchases. On the other hand, if you frequently spend about $500 at a grocery store, you could commit to bringing this card on your first grocery shopping trip each month after the billing cycle resets.
With a range of possible 5x categories that includes a number of options that aren't often offered as bonus categories on other cards, it should be easy for most people to find a good fit.
Related cards