In December 2020, Citi launched Citi Merchant Offers – spending offers that work similarly to Amex Offers and Chase Offers.
There was a downside for many Citi cardholders though – they weren't targeted for this program. It seemed like Citi had been slow-rolling the launch of the program and my wife and I were some of the unlucky ones to not see any Citi Merchant Offers on our cards since they launched.
If you were in the same boat as me, there might be some good news – Citi now seems to have rolled this out to more cardholders.
Jeph36 gave us a heads up about this last week when they commented on this post about some Uber, Uber One and Uber Eats Citi Offers. They'd not been targeted for Citi Merchant Offers in the past, but dozens of offers now showed up on their cards. Prompted by jeph36's comment, I checked my account and all of my Citi cards now had these spending offers available.
For some reason Citi has decided to make it non-intuitive as to how to access these deals, so the easiest way to see if you have these offers is to log in here. It might be that only Citi personal cardholders have access to these offers – they're now showing on my account, but my wife who only has Citi business cards still isn't seeing Citi Merchant Offers on her account.
One of the useful features of these Citi Merchant Offers is that they'll usually be found on Mastercards. The reason that's useful is because it means they'll stack with card-linked offers from SimplyMiles, with many offers being duplicated – but stackable – through both programs. For example, there were Citi Merchant Offers for Uber, Uber One and Uber Eats with similar offers also being found on SimplyMiles, thereby enabling you to get statement credits from Citi and both AAdvantage miles and Loyalty Points from SimplyMiles.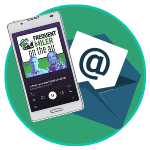 Want to learn more about miles and points?
Subscribe to email updates
 or check out 
our podcast
 on your favorite podcast platform.