This week, COVID-19 was likely on all of our minds: between the staggering numbers we see on the news and heartbreaking stories we read each day and the impact it has had on daily life for most of us is something we're all likely to remember for a long time. From a business standpoint, it has also been on our minds as we have seen revenue drop to historic lows for Frequent Miler. On this episode of Frequent Miler on the Air, we discuss Greg's response to the impact on our business as well as the impact that reader reactions had on us. We also talk about positive surprises from Hyatt and Simon, though we debate how exciting the Simon news is. All that and more in the video or podcast and the rest of this week in review to follow.
(Subscribe to our YouTube channel to get instant access to all of our video content and be notified when we go live)
FM on the Air Podcast
For those who would like to listen during the morning commute or while you're working, the audio of our weekly broadcast is available for download as a podcast on all of your favorite services, including:
You can even listen right here in this browser:
You'll also find us on Spotify and hopefully your other favorite platforms. If you're not finding the podcast via your favorite source of good podcasts, send us a message and let us know what you'd like us to add.
This week at Frequent Miler:
In Frequent Miler news
We're in the midst of times that none of us could have ever expected. Fortunately, Greg and I and our immediate families have been safe and healthy and our daily routines haven't been disrupted much since we've long worked from home. But unfortunately, the massive economic downturn has affected the business. In this post, Greg explains how revenue has gone from enough to sustain Greg and three employees to almost zero in the space of a few weeks. Don't worry: we're not going anywhere. Greg has committed to keep the staff of Frequent Miler on for at least six months despite what we anticipate will be a period of record low / nearly-zero revenue. See the post to read exactly what he wrote to us and get the same kind of transparency into FM the business for which Greg has always been known. I think I speak for all of us at Frequent Miler when I say that the supportive comments from readers here were overwhelming: at a time when we're all suffering from a little anxiety and isolation, they meant a lot.
You're home, the boss isn't looking over your shoulder, you're in points and miles withdrawal — we get it. Since we're all at home with nothing to do on Thursday afternoons, let's hang out. Greg and I went live on YouTube this past Thursday to answer your questions and have some live interaction with readers who are looking for a little entertainment. This coming Thursday, we're going to move it along faster and get more of your questions in to maximize the action / interaction. Please subscribe to our YouTube channel and you'll get notifications when we go live so you don't miss us next week.
This year, nobody was probably in the mood to be fooled, so Greg instead published a list of some of his favorite April Fool's Day posts. The Us card post was a fun read that I'd missed before and there are a few other oldies-but-goodies to be discovered.
In Manufactured Spending:
Simon has brought their $1K Visa Gift Cards online. While they aren't the cheapest gift cards you can buy online (especially given the $10 processing fee per order and $10+ in shipping), the volume they enable is potentially pretty exciting given that you can buy up to $25K in Visa Gift Cards per day. Greg and I helped Simon test the process as the first two customers to order these cards last month, so the posts above include Simon's announcement (the first post) and all of the details on the ordering process based on my experience (the "Everything you need to know" post). Keep in mind if you sign up that Simon is backlogged with folks signing up, so whereas they expected the onboarding process to take a couple of days, it looks like new signups may take a week or two to get approved, so be patient.
If you're going to go after the opportunity to buy Simon gift cards online, the next question is what credit card(s) do you use to buy them? This post covers the economics of the situation (including your cost-per-point given various payouts) and then lays out your probably best choice card for each bank. Of course, some of this varies based on needs and preferences, but these suggestions give you a good starting point.
In tips for playing the game:
Stephen Pepper offers an excellent roundup of the various methods you can use to buy gift cards online — whether while you're standing in line at the register at the store or when you're at your computer ready to place an order. I learned a few tricks from this post and maybe you can, too — it's worth a read if you like to save money.
Greg put together a guide for gathering your credit reports and scores thanks to various credit card issuers and related tools. Keep in mind that not all scores are created equally: many free score offers you see online are really FAKO scores, which can often be close to your true credit score but aren't the actual scores used by any lenders. Greg lays out where to find the real deal.
None of us know quite when things are going to return to "normal". If you're sitting on a stockpile of points that you can't use now and you're not sure you need to hold in the short term, this post gathers the ways to redeem your points for at least 1 cent each in value (including both transferable currencies and some loyalty program points as well). That's not a very good use of points, but for some, getting something now could beat the hope of something better down the road.
---
That's it for this week at Frequent Miler. Check back soon for our week in review around the web and this week's last chance deals.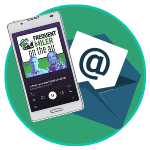 Want to learn more about miles and points?
Subscribe to email updates
 or check out 
our podcast
 on your favorite podcast platform.