Nobody wants to slog it out traveling without having elite status in order to earn the benefits of loyalty. You want to start with the benefits and then work your way to re-qualifying to keep those benefits. Getting something for nothing is the dream, right? If you want to drive off the lot in a sports car, get sweet upgrades, and let the airline pick up the tab for your bags without having to first prove to them that you're a worthwhile customer, you'll want to catch this week's Frequent Miler on the Air where we discuss easy paths to elite status through credit cards, spending thresholds, reciprocal benefits, and status matching — earn from home and reap the rewards when you get out to travel again.
Watch or listen to the show below or read on for more this week on how to decide whether the rumored new fee is worth it on the Marriott Bonvoy Brilliant, why neither of us are very excited about the new Sapphire perks, what to do with your newfound Amex riches, and more.
Frequent Miler on the Air
Subscribe to our podcast

We publish Frequent Miler on the Air each week in both video form (above) and as an audio podcast.  People love listening to the podcast while driving, working-out, etc.  Please check it out and subscribe (if we get enough people to subscribe, we might be able to earn some income from this someday. So far, the podcast is just a labor of love).
Our podcast is available on all popular podcast platforms, including:
You can also listen from your browser:
This week at Frequent Miler
I've never been one to chase after airline elite status, but with one of the challenges of our upcoming Global Upgrade Certificate trip being to earn meaningful elite status, I had to find a way to get a Delta status match challenge. Here's how I turned free Spirit status into a greatly reduced path to Delta Gold. On the podcast this week, I explained that I chose to go with Delta because all of the MQMs I earn completing this challenge will roll over to next year, making it easy to requalify and/or move up the ladder with next year's flight activity. If you would have scoffed at my Spirit Airlines Gold status, let's just see where it takes me.
An even more extreme version of shopping for elite status, I recently helped my mother-in-law start with free Hertz elite status and match it around until it came full circle when she ended up with top-tier Hertz President's Circle status (and an invitation-only high-level status with a competitor) — all without ever having rented a car in her name before. Rental cars are very expensive right now, but hopefully having high-level elite status will help her at least drive off the lot in a car that's worth the high price tag.
Greg's post about the rumored changes coming to the Marriott Bonvoy Brilliant card gives you the kind of logical analysis you'd expect in determining whether or not the new perks are worth more. There is no question in my mind that the rumored new perks are a huge improvement and are easily worth more than $650 in a vacuum. I could easily come to numbers similar to Greg's, but my problem is starting to become how many ultra-premium cards I can justify. Even if I can get more than face value, at some point there is just a ceiling as to how much I'm willing to pre-pay each year for travel and Amex seems determined to find out where that ceiling lies. If you want to know where you sit, Greg gives you the shortcuts here to figure that out.
Amex Membership Rewards points are my favorite loyalty point currency. Because of a combination of incredible transfer partner sweet spots and how unbelievably easy Amex has made it to accumulate a massive amount of points, it's just fun to imagine the possibilities. In this post, Greg gives the basic "do's" and "don'ts" for how to use your sudden influx of Amex points. If you've ever struggled to use Amex points or wondered how you could get amazing value from them if you took Amex up on that 125K + 15x offer, read this post now.
Greg does a great job of showing how the new perks on the Sapphire cards could be valuable enhancements to the right person. The problem? I'm not that guy. The new benefits are an absolute lemon to me and it is doubtful I'll use any of them. I rarely ever stay at an independent hotel that I'd like to book through Chase, so there goes the 10x or $50 hotel credit, I have cards that earn better return on dining whether in the US or abroad (and I don't spend that much on dining abroad anyway), and I don't spend nearly enough on streaming services to care how many points per dollar I'm earning on them at all. Again, these perks will appeal to the right person, but they do nothing at all for me. Are you Chase's target market on these?
---
That's it for this week at Frequent Miler. Keep an eye out for this week's last chance deals.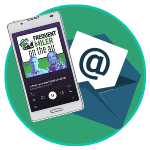 Want to learn more about miles and points?
Subscribe to email updates
 or check out 
our podcast
 on your favorite podcast platform.