Lately Amex has made it crazy easy to accumulate their Membership Rewards points.  Every time we turn around, it seems like there are bigger and better offers for referring friends, for adding authorized users, for signing up new, etc.  This has culminated in the most incredible new-card welcome bonus we've ever seen (really… we've never, ever seen anything like this): Earn 125K points after $6K spend in 6 months PLUS earn 15 points per dollar (yes, 15x!) on dining and small business purchases for 6 months (on up to $25K spend).  If you could spend $25K on eligible categories (planning a wedding perhaps?), you could end up with 500,000 points with this single card!
The question isn't how to earn points.  The question is how to use them.  Separately we published "Amex Membership Rewards sweet spots" which lists many ways to get great value from your points.  That post is a fairly geeky resource for those who already have the basics down.  For everyone else, this post is intended to give you specific examples of great ways to use your points.  This post is not intended to be a complete guide to all good uses for Amex points but rather an overview of a number of good uses so that you'll know where to begin looking.
Basic Info About Amex Membership Rewards Points
Here are some things you should know:
Points combine automatically: If you have multiple Membership Rewards cards, Amex will automatically pool all of your points together.
Points can't be shared: There is no way (other than dying) to move Membership Rewards points from one person to another.  However, you can transfer your Membership Rewards points to a loyalty account (airline or hotel points program) held by another person as long as that person has been an authorized user or employee on your account for at least 90 days.
Points never expire: As long as you keep at least one Membership Rewards card open, your points will never expire.  If you cancel all of your Membership Rewards cards, though, you'll lose your points unless you immediately sign up for a new Membership Rewards card.
How NOT to use your points
One reason that Amex can afford to throw so many points at cardholders is that they make it incredibly easy to redeem your points for poor value.  Don't do this.  Your goal should be to get more than 1 cent per point value.  Worst case, make sure to get 1 cent per point value.  While there are some exceptions, the following options for redeeming points are bad deals.  Stay away from the following:
Don't Pay with Points at Checkout: 0.7 cents per point
Amex makes it easy to pay with points when checking out at Amazon.com, PayPal, Best Buy, Walmart, and many other retailers.  In most cases you'll get only 0.7 cents per point value.  That's bad.  Don't do it.  Especially avoid paying with points at Ticketmaster where you'll only get 0.5 cents per point value!
Don't Redeem for Gift Cards: 0.5 to 1.0 cents per point
You can redeem points for gift cards, but you probably shouldn't.  While Amex does offer 1 cent per point value for some gift cards, in many cases you'll get less.
Don't Cover Your Card Charges: 0.6 cents per point
Amex makes it easy to redeem points to offset charges made to your credit card.  Don't do this!  You'll get awful value this way.
Don't Book or Upgrade Travel (with exceptions): 0.5 to 1.0 cents per point
In most cases when you use points via Amex Travel to book or upgrade travel, you'll get poor value.  There are exceptions to this for Business Gold and Business Platinum cardholders, described later in this post.
Do (sometimes) pay with points for flights
(Business Gold, Business Platinum and Business Centurion only)
All cardholders get 1 cent per point value when booking flights through Amex Travel, but only those with select business cards can also qualify for a points rebate.  Qualifying cardholders get a point rebate when redeeming points through Amex Travel for either a First or Business class flight on any airline, or for any flights with the cardholder's selected preferred airline.  The following cards qualify:
Business Gold: 25% Rebate (1.33 cents per point value)
Business Platinum: 35% Rebate (1.54 cents per point value)
Business Centurion: 50% Rebate (2 cents per point value)
Do (sometimes) invest with Rewards
Those with the The Platinum Card from American Express for Schwab can convert points to cash at better than 1 cent per point value.  Prior to 9/1/21, you'll get 1.25 cents per point value.  Starting 9/1/21, you'll get 1.1 cents per point value.
Those with the Morgan Stanley Platinum Card or Morgan Stanley Credit Card can also Invest with Rewards but at a value of only 1 cent per point.
Do! Transfer points to airline and hotel programs
This is the way to go!
American Express offers a huge list of airline and hotels to which you can transfer your points, usually 1 to 1.  For a complete list, see: Amex Transfer Partners: Which are Best?  By transferring points wisely, it's often possible to get far more than 1 cent per point value.
Please keep in mind these tips:
One-Way Transfers: Once you transfer points, you can't reverse the process.
Check Award Availability Before Transferring: Some amazing opportunities exist, in theory, but the awards you want might not be available when you want to book your flight or hotel.  Always wait until you've found award availability before transferring your points.
Check Award Value Before Transferring: Just because an award exists doesn't mean that it's a good idea to book it.  For example, you might find that a Marriott hotel is available for 40,000 points per night, but the cash rate (after taxes) is only $200 per night.  If you were to transfer your Amex points to Marriott 1 to 1 for this purpose, you'd get only a half cent per point value.
Partners Often Offer Better Value: When booking flights, you'll often find better value booking an award using miles from a partner airline rather than the one you want to fly.  For example, Delta may charge over 200,000 miles for a one-way business class flight to Europe, but you may be able to use Virgin Atlantic miles instead to book the same flight for only 50,000 points!
Watch for Transfer Bonuses: Amex often offers bonuses when transferring to select programs.  See our post "Current Point Transfer Bonuses" to see both current and expired bonuses (the latter can give you an idea of what to expect in the future).
Slow Transfers: Most transfers are instant but some can take a day or more to complete.  This can be a big problem since award space could disappear before the points are available to make an award booking.  The programs that take longer to transfer are: AeroMexico, ANA, Hilton, Iberia, Marriott, and Singapore.  See: How long does it take to transfer points to airline and hotel programs?
Fly First Class to Australia or South Africa
International First Class can be an incredible way to travel, but most airlines charge far more for first class awards vs. business class awards.  That said, Cathay Pacific Asia Miles can be used for very long distance flights (such as from the U.S. to Australia or to South Africa) in first class for a reasonable price.  International First Class and Business Class both tend to offer lie flat seats, airport lounge access, and excellent service.  In First Class, though, you can expect even more luxury: more room, more pampering, premium food and drink, etc.
Cathay Pacific has a distance based award chart: the farther you go, the more the award will cost.  As you can see above, though, first class awards top out at 125,000 miles.  So, regardless of whether you fly to Australia through Asia or to South Africa via the Middle East, you won't pay more than 125,000 miles for a first class award.  But, it gets better…
If you mix in economy or business class segments, the award will cost less.  For example, if you book New York to South Africa with a layover in Hong Kong, you can fly first class to Hong Kong and business class from Hong Kong to South Africa for a total award price of only 106,900 miles!  Since Cathay Pacific doesn't offer first class from Hong Kong to South Africa, you'd have to book the trip this way anyway.  If you were willing to fly that last segment in economy (I wouldn't recommend that, but still…) you'd save even more.
For more details about booking Cathay Pacific first class awards (blended with business or economy), see: Cathay Pacific Asia Miles mixed cabin award pricing. First class for less.
Fly First Class to Japan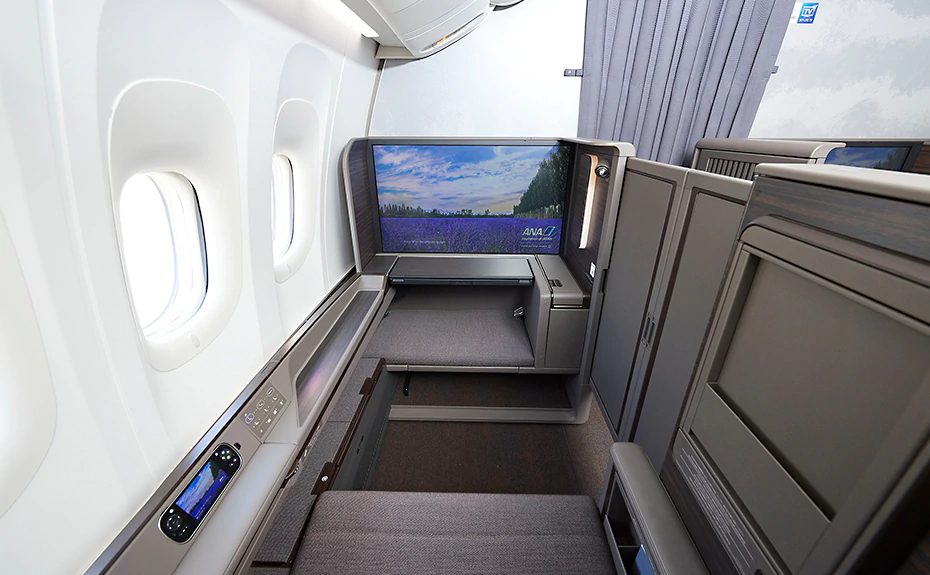 The cheapest way to fly ANA first class between North America and Japan (or between Europe and Japan) is with Virgin Atlantic points.  Here are Virgin Atlantic's award prices for flying ANA first class:
Fly between Japan and Western U.S., Canada, or Australia: 55K points one-way.
Fly between Japan and Central or Eastern U.S., or Europe: 60K points one-way.
If you can find first class award space (that's the tricky part!), these prices are amazing.  See also: Best uses for Virgin Atlantic points.
Fly First Class to Europe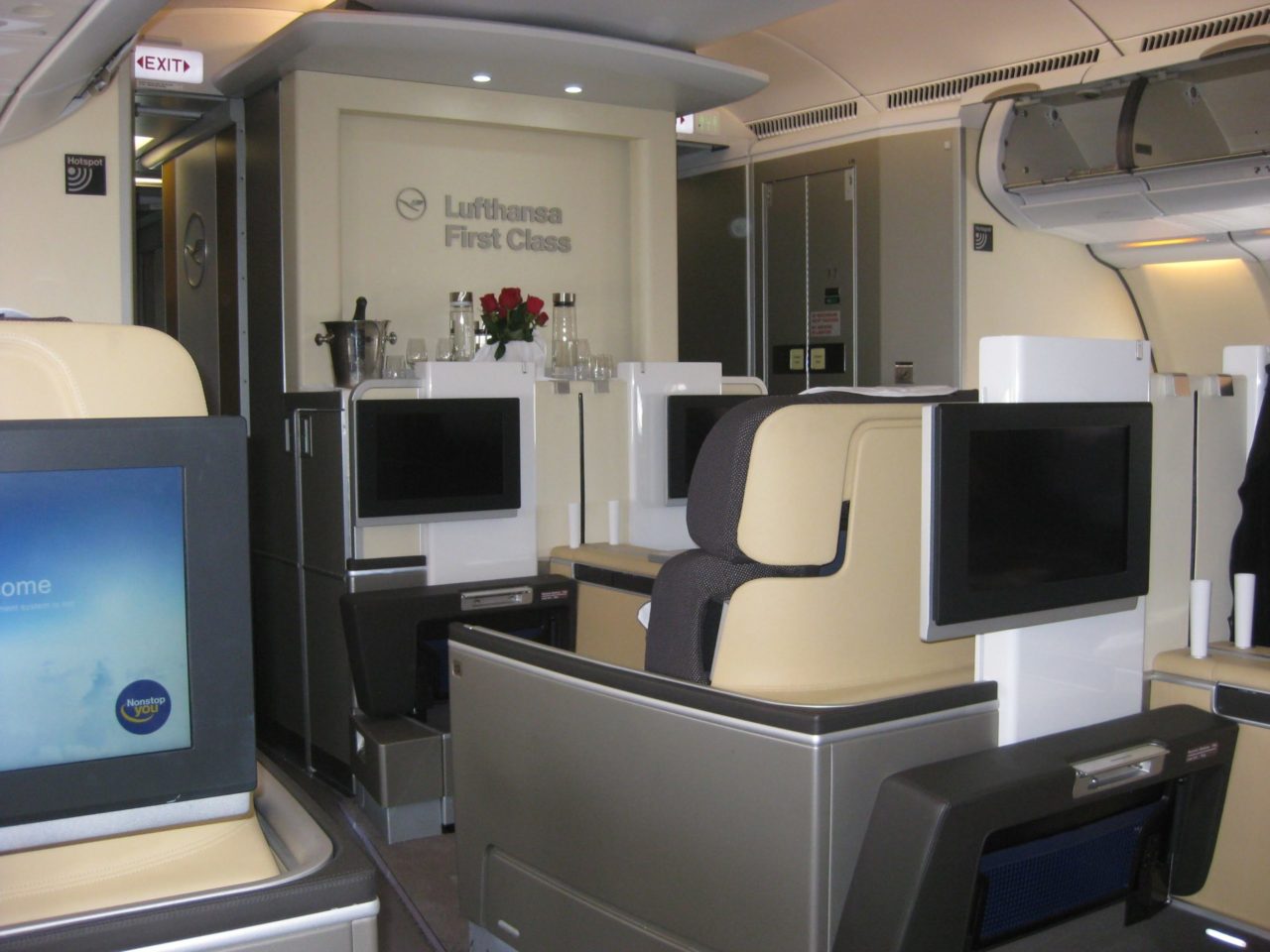 Avianca LifeMiles offers awards on Star Alliance carriers with no fuel surcharges.  If you're willing to book relatively last-minute, one of the most luxurious ways to fly to/from Europe is on Lufthansa First Class.  Lufthansa only opens awards to partners like Avianca within 2 to 4 weeks of travel.
In addition to offering an excellent first-class experience in the air (think caviar, top shelf champagne, complementary slippers and pajamas, and comfortable bedding), Lufthansa offers terrific ground services, especially in Germany.  First class passengers transiting through Frankfurt or Munich get escorted to and from their exclusive first-class lounges, passport control is often handled within the lounge itself, fantastic food and drinks are provided for free, etc.  Lufthansa's ground services, in my opinion, are what make flying Lufthansa first class so desirable.
Avianca charges only 87,000 miles for a one-way first class award between the U.S. and Europe.  That's already excellent, but you can do better.  By tacking on a Star Alliance flight in economy or business class to the end and/or start of your trip, the cost for the whole trip will go down.  For example, Newark to Frankfurt alone in first class would cost 87,000 miles, but if you fly Newark to Frankfurt in first class and then Frankfurt to Istanbul in business class, the price for the entire trip goes down to about 81,000 miles.  The longer the segments flown in economy and/or business class, the more the price of the trip will come down.  You could reduce the total award price a lot more by booking relatively long flights on both sides.  For example, fly Los Angeles to Newark on United economy, followed by Lufthansa First Class to Frankfurt, followed by Lufthansa economy to Istanbul.  Full details can be found here: Avianca LifeMiles' awesome mixed-cabin award pricing. First Class for less.
Fly Business Class Around the World
ANA has an incredible award chart for flying Star Alliance business class around the world: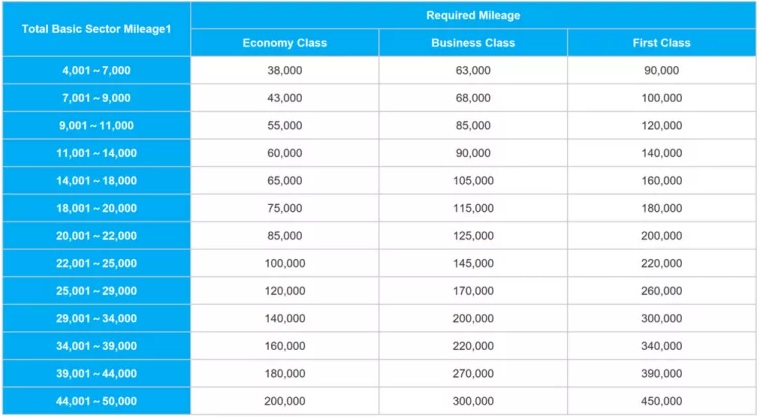 It's possible to fly around the world in business class for as few as 115,000 miles!  Most itineraries will take you a bit farther and so you'll pay 125,000 or 145,000 miles, but still, that's an amazing value!  You can stop in up to 8 different places along the way and build the trip of a lifetime.  To learn more, see these posts:
Fly Business Class to Australia, Africa, Japan, and more…
In addition to offering incredible prices for Round the World awards (shown above), ANA offers incredible round-trip award pricing to many international destinations.  Here are some notable examples:
U.S. to Japan, flying ANA: 75,000-90,000 miles round-trip
U.S. to Australia, flying ANA: 105,000-120,000 miles round-trip
U.S. to Africa, flying Star Alliance partners: 104,000 miles round-trip
One downside of booking with ANA is that they do pass along fuel surcharges.  ANA's own fuel surcharges are usually modest, but you'll want to avoid flying carriers like Lufthansa, Swiss, and Austrian when booking with ANA miles since they impose notoriously high fuel surcharges.
Fly Business Class to Europe
Fly Delta One business class for 50K Amex points one-way
Delta will often charge hundreds of thousands of miles for a one-way business class flight to or from Europe.  Their partner Virgin Atlantic, though, charges only 50,000 miles one-way for non-stop business class Delta One flights.  This price doesn't include flights to/from the U.K., but all other direct Delta flights will work if you can find award availability.  In my experience, award availability comes and goes over time so it's worth checking regularly.
See also: How to book Delta flights with Virgin Atlantic miles
Fly American Airlines business class for 50K Amex points one-way
American Airlines rarely opens up international business class award space to their partners, but when they do, consider booking with Etihad.  You'll have to call to book, but Etihad charges only 50,000 miles one-way between the U.S. and Europe for AA business class flights!
Fly United Airlines or Air Canada business class for 88K Amex points round-trip
ANA charges only 88,000 miles for round-trip business class flights from the U.S. to Europe on Star Alliance carriers.  The trick is to avoid flying carriers like Lufthansa, Swiss, or Austrian which impose huge fuel surcharges.  Neither United nor Air Canada impose fuel surcharges on these routes, so either is a great choice if you can find award availability.
Fly Iberia business class for as few as 34K Amex points one-way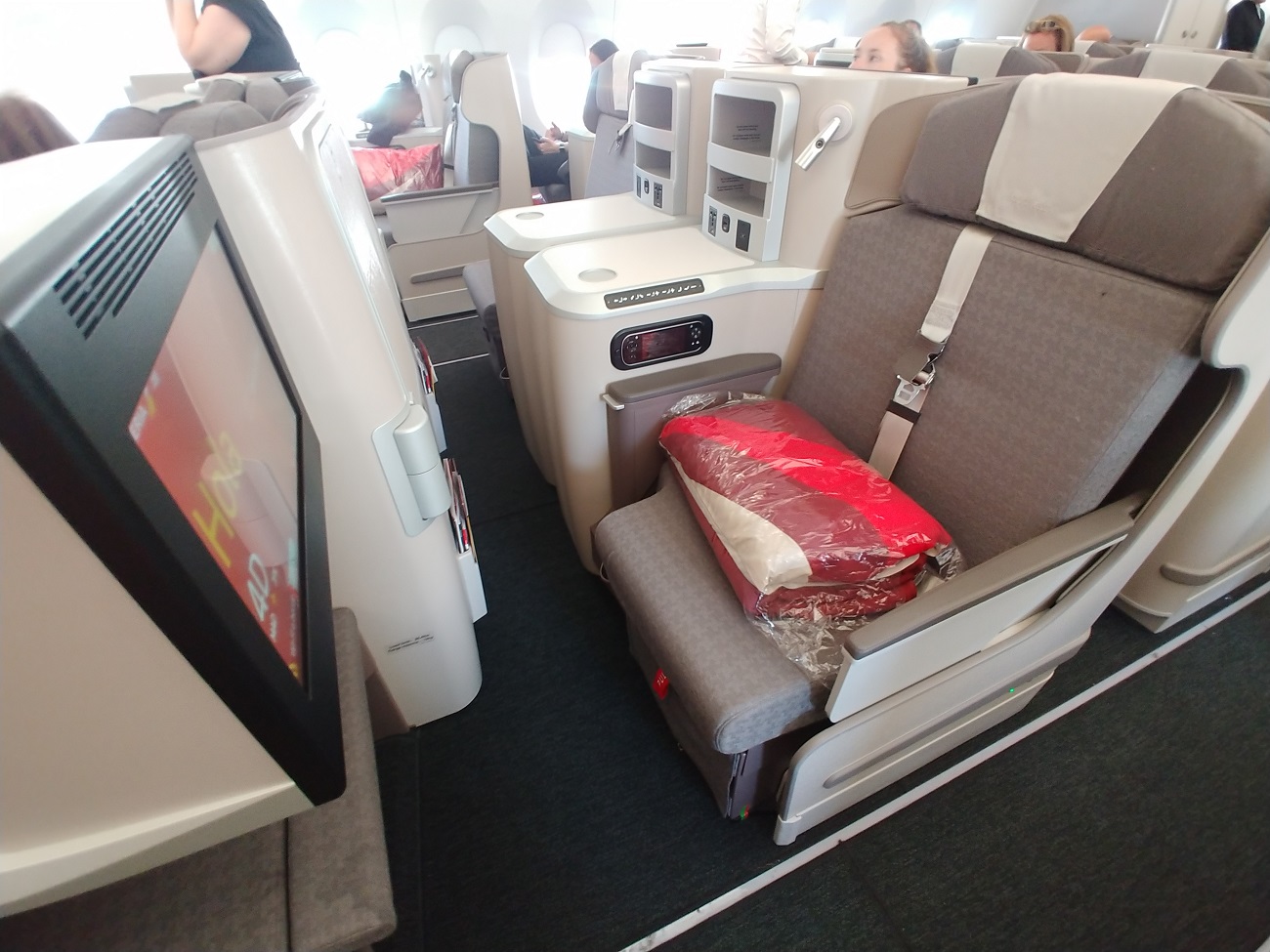 Iberia offers some incredible award prices for their own flights.  In particular, flights from New York, Boston, Chicago, or DC to Madrid, Spain, are very cheap: 34K during off-peak dates or 50K during peak dates.
Transfers from Amex Membership Rewards to Iberia are not instant.  A workaround is to instantly transfer to British Airways and then move those points to Iberia.  Note that you have to make sure that all of your personal details match exactly between the two programs before this will work.  For details, see: How to transfer Avios between Aer Lingus, BA, and Iberia.
Stay in top tier Hilton properties
American Express points usually transfer 1 to 2 to Hilton.  For example, 100,000 Amex points will normally transfer to 200,000 Hilton points.  Unfortunately, that's not as good as it sounds.  We've previously found that average Hilton stays only get about 4 tenths of a cent per point value.  So transferring 1 to 2 to Hilton gives you an average value of only 8 tenths of a cent.  That said, there are three ways to get much better value:
Wait for a transfer bonus.  Historically, Amex has offered 30%, 40%, or even 50% transfer bonuses to Hilton approximately twice a year (see: Current point transfer bonuses).  When they offer a 40% bonus, 100,000 Amex points will transfer to 280,000 Hilton points.
Book 5th night free awards.  Hilton offers 5th night free awards.  By booking exactly 5 nights, you pay for only 4.  This makes your Hilton points more valuable.
Book high value awards.  While Hilton awards, on average, only get about 0.4 cents per point value, there are many exceptions.  Some of the best exceptions are at top-tier properties.  Resorts that normally cost over $900 per night usually have standard rates that top out at about 95,000 points per night (about 1 cent per point value for a $950 room).  Some desirable Hilton properties that may be worth checking out include (but are definitely not limited to):

Waldorf Astoria Los Cabos
Conrad Maldives Rangali Island
Waldorf Astoria Maldives Ithaafushi
Conrad Bora Bora Nui
Mango House Seychelles
By combining the three ideas above, you can get excellent value from your Amex points.  Unfortunately, it can be very difficult to find 5 night award availability at standard award prices at the most desirable hotels.  Fortunately, we have a post that can help.  See: How to find the Hilton flexible date calendar.
Enjoy Top Shelf Drinks from the Delta SkyClub
If you have an American Express Platinum card, Business Platinum card, or Delta Reserve card, you can access Delta SkyClubs for free when flying Delta the same day.  Once inside, you can enjoy their free standard drinks or you can use your Delta SkyMiles to buy premium drinks at a very good rate: each Delta SkyMile is worth 1.5 cents towards premium drinks (and towards bartender tips).
Delta's full drink menu can be found here.
Amex unfortunately imposes a excise tax when transferring points to U.S. based airline programs like Delta.  So, if you want to buy a bottle of Dom for 13,000 SkyMiles, Amex will impose a $7.80 fee for that transfer.  That lowers the value of this award from 1.5 cents per point to 1.44 cents per point value (which is still not bad).
Conclusion
There are many exciting ways to use Amex points.  This post was intended to give you a taste of some of them.  I have no doubt that many readers will be eager to point out great value options that I left out (please do!).  This post is not intended to show you how to accomplish these things though.  For example, finding award space so that you can fly business or first class can be a very difficult trick on its own.  The solution, though, usually varies by circumstance.  If a type of award listed above sounds particularly appealing to you, I recommend searching for additional posts on the topic (e.g. search for "how to find ANA first class award availability").  Hopefully this post will at least help you decide next steps…