About a month ago, the Point debit card started playing games with referral bonuses, resulting in a situation where those of us referring others to the card didn't know how many referrals we had to give out or which bonus people would actually receive if they used our links (this resulted in our decision to stop publishing our referral links to Point). Little did we know that it would mark the beginning of a downward spiral where Point lost both lost its most valuable bonuses and stopped taking instant debit transfers.
In the midst of the conversation about the relative ongoing value of the card, Stephen mentioned that he had already cancelled his, partially because of Point's disingenuous/confusing referral shenanigans, but also because of the mental cost of using it. He said:
The best part of giving up the Point debit card for the last few weeks has been freeing up mental capacity. I no longer have to keep track of any of it; between checking each day for new Access deals, keeping track of streaks, making sure bonus points posted a month later, etc., it turns out it had taken up more mind-time than I'd realized. Not having to worry about having to earn $99 just so that I don't lose money in the future makes me not miss Point.
I completely understood what he meant. The world of points and miles can be like drinking from a firehose. There's just a massive amount of information and opportunity: rules to track, tricks to know, transfer partners to keep in mind, shopping portals to remember, category bonuses to maximize, etc, etc. For someone dipping their toes in the water, it can feel like getting hit by a tsunami. There's only so much decision-making and memory power that each one of us has in a given day…and let me tell you, it doesn't grow over time.:)
There are numerous US presidents and CEO's that alter their daily routines in order to ameliorate decision fatigue; from never having to choose what to wear in the morning to always eating the same thing for breakfast. Neither of those are very appealing to me, so I wanted to think through some basic ways of lessening the mental cost of living in the points and miles world, and hopefully save the energy we do have for the fun stuff.
Don't let FOMO make your eyes get bigger than your stomach
Restraint isn't a word that we hear a lot in the points and miles world. By nature, many us are gamers and we want to maximize any opportunity that we can find. That's part of what makes this whole endeavor fun. But, like my grandmother used to tell me before Thanksgiving Dinner: "don't let your eyes fill plates that your stomach can't empty."
In an earlier post, I wrote that "fear of missing out is the mind killer," specifically in reference to letting FOMO steal the joy of the incredible free travel that our points and miles experiences give us. FOMO on the earning side can be just as bad for many folks, including me, taking what should be a fun game of amassing points and miles and turning it into an exhausting slog.
It's sometimes tempting to feel as though I need to take on every opportunity that's out there…I've met people that are literally losing sleep over how they're going to meet spend on 99 authorized-user cards with AMEX…when they could have easily done 40 and gotten a full night's rest. But there's a lot of freedom in earning what I want and knowing that I can ALWAYS go back for seconds. The points buffet won't close, it just changes over from breakfast to lunch. It can be very helpful to be able to recognize how much of it you have space and time to consume while not worrying about how much the table next to you is having.
This can also be important with setting, and meeting, spending goals. Rome wasn't built in a day, so I shouldn't expect my Chase Ink Cash $25K annual spend on office supply to happen that way either. Breaking things up into regular, doable bites allows for me to make sure that I'm meeting the earning goals I want without being overwhelmed by overlapping spending requirements. Speaking of which…
Get friendly with a good spreadsheet
The other day, feeling a little like Jennifer Garner in a Capital One ad, I ended up talking briefly with a friend at a party about the American Express Platinum and Business Platinum cards (at his initiation…really). He asked me how I could possibly recoup multiple $695 annual fees, so I started talking through how I dealt with flight credits, Sacks credits, Dell credits, wireless credits, etc. After about 30 seconds he was flabbergasted. "How do you possibly track all of this stuff? I'd never have the energy!" Well, me neither.
This is where spreadsheets come in. I used to think that I did them pretty well…until I started at Frequent Miler and saw what Greg uses. Holy Spreadsheet. But even if you're not going to go all Greg the Frequent Miler and create a document that could immediately analyze the variables of a moon landing in real time, finding and using a good spreadsheet system can be incredibly valuable. You can use them for everything from card anniversary dates, spend bonuses, shopping portals, buyers clubs, annual fees, Amex offers, reservations, manufactured spending goals, etc. I use Google sheets for most of my P&M activity, and love the ease with which I can enter and track information in real time on my mobile device as I spend.
Check out the available tracking tools
Everyone at Frequent Miler uses at least a couple apps that help us with keeping tabs on our points and miles worlds. This is by no means an exhaustive list, just a smattering of some of the ones that we actually use:
Track Rewards Balances in real time with Award Wallet – Greg is huge fan of Award Wallet, a service that helps you track all of your loyalty points including frequent flier miles, hotel points, dining rewards, and shopping rewards, as well as keeping track of mileage expiration, certificate expiration etc. It also keeps track of membership numbers, log-in IDs and passwords. Greg uses the $30/year Pro version and loves the additional power it provides. Nick and I have the free version and the expired miles to show for it.
Direct Link to Award Wallet (our affiliate link)
Travel Freely to track credit card bonuses, anniversary dates and 5/24 status – Travel Freely is a website/app that guides you through the steps involved in earning points and miles via credit card bonuses. It recommends cards for you based not just on the current best offers, but also based on what cards you already gave. It's aware of most of the known multi-card rules (ie, it won't recommend the Chase Sapphire Preferred or Sapphire Reserve if it has been less than 48 months since you obtained a signup bonus for either one). The FM team all use Travel Freely to some degree.  It's completely free and easy to use: whenever my wife or I sign up for a new card, I enter the basic info (card name, date opened, signup bonus,required spend) into Travel Freely.  Travel Freely then sends reminders as needed: complete the minimum spend requirement; an annual fee is coming and you may want to product change or cancel; now is a good time to sign up for a new card; etc.  It also tracks my wife and my Chase 5/24 statuses, including when we'll drop below 5/24, so we never have to wonder or wade through our credit reports to find it.
MaxRewards to track card-linked offers – MaxRewards is a janky, glitchy-as-hell app that is fairly expensive at $60 a year. So why put it here? It's able to track all of your card-linked offers like those from American Express/Chase/BOA, it automatically enrolls you in the offers and it tracks the individual expiration dates of each offer. I sync my accounts once per week with the app and then I can scroll through all of the offers that are on all of my cards from the various issuers at one time. I can favorite the ones I want to use and ignore the rest. No more logging into each individual account and reading through which offers are targeted to which card…and then having to remember it all. Everything's in the app on one scrollable screen. A word of caution, though. The app automatically enrolls every AMEX card that you have for every offer, enabling you to redeem one offer on multiple cards, something that is clearly a violation of AMEX's terms. Some people exploit this as much as possible and never run afoul of the AMEX RAT, but shutdowns do occur. I value my relationship with AMEX too much to risk it for $10 or $20 here and there, so I never redeem an offer on more than one card. Just know the potential risks if you decide differently.
Direct Link to MaxRewards (my referral link, provides a free one-month trial of the paid service)
Set e-mail/calendar reminders
Stephen uses calendar reminders extensively. He'll set up events that remind him to do various tasks at their appropriate times, then has emails sent to himself every day, week, month, quarter or year depending on what it is, e.g. registering for 5% categories, tracking portal rewards and reminding himself to put spend on sock-drawered cards to avoid cancellation. Greg uses Gmail's scheduled send feature frequently to remind himself to do anything time-sensitive. He recently booked a just-in-case award to back up a flight that we was planning to take, so after he did it, he scheduled an email to remind himself to cancel the reward 20 days beforehand if he wasn't going to use it.
There's a plethora of different ways to use both calendar reminders and events, but the utility is that it fundamentally frees us from having to remember so much stuff. I don't ever have to worry about forgetting to cancel a trial subscription, cancellation periods for hotel and flight bookings, etc. It's an extremely easy (and free) method to clear some much-needed mental bandwidth.
Final Thoughts
I hope this is helpful to anyone who, like me, can sometimes feel exhausted by the amount of information to sort through in their points and miles journey. These ideas are by no means meant to be one-size-fits-all or exhaustive, but rather a few simple and low-cost ways of using time the time we have to earn and use points and miles more efficiently…and hopefully more enjoyably.
We'd love to hear about other time- and mind-saving strategies that folks have come up with to make their earning and burning awaeasier. Leave a note in the comments or send us an e-mail.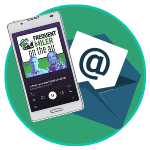 Want to learn more about miles and points?
Subscribe to email updates
 or check out 
our podcast
 on your favorite podcast platform.