We've written numerous times about the incredible offer available on the Platinum card from American Express. When applying through a special link from the restaurant reservation website Resy (found on our Platinum card page), new cardholders can earn as many as 500,000 points with qualifying purchases in the first 6 months thanks to huge potential bonuses when spending at Shop Small merchants in the US and at restaurants.
That sounds like a big number of points, but it also requires a lot of spend ($25K total to max out at 500K points). Newcomers to the game who have the capacity to meet the spend might wonder, "What can you do with half a million Amex points?" We've got a complete guide to Membership Rewards sweet spots, but that doesn't put into perspective how much a bonus like this can buy compared to retail cost. While I don't value my points against cash prices that I wouldn't ordinarily pay, it is amazing to consider what this bonus could buy you compared to what someone pays for a similar trip. Here are a few examples.
A European cruise including business class flights and hotels for a family of four
A couple of months ago, I wrote about an opportunity to use hotel elite status granted by a credit card and turn it into a deeply discounted cruise, including some European cruises. While a cruise may not be in cards for everyone in the immediate future, it is a perfect starting point for an example of the monster value possible via this single new credit card offer if you are able to max out the offer and pick up 500,000 points.
I booked a 10-day cruise that departs Rome and sails to Mykonos, Santorini, Athens, Sicily, Naples, and a couple more places. Read more about it in that previous post. We were able to snag a balcony room for four passengers on that cruise for a net cost of just over $1100.
My family of four will need to get to and from Italy for this cruise (assuming the trip will happen). One way to get there in comfort and style would be in Emirates business class aboard the A380 from New York to Milan.
My cruise departs from Rome but I'm using flights to Milan on Emirates as my example transportation. That's not a big deal since we could enjoy a night in Milan on arrival, which would be the perfect excuse for me to get back to the pizzeria I stumbled on last time we overnighted in Milan. I can taste this right now.
I know my kids and I would enjoy the 3.5hr train journey from Milan to Rome and tickets for that trip can be very reasonable (less than $34 each way for each person).
A quick glance at cash prices for Emirates business class flights from New York to Milan shows me that four seats in business class on the dates I'd need to travel would cost my family more than twelve thousand dollars if I were paying cash out of pocket.
However, I could alternatively book those same seats on the same dates for 360,000 points and $632. Yup, the same four seats that would cost almost thirteen grand above could be had for 360,000 Membership Rewards points transferred 1:1 to Emirates Skywards (and $632 in taxes & fees). Emirates is one of many Amex transfer partners.
While it won't be quite as glitzy as my experiences in Emirates First Class, which aboard this A380 would include a shower in the sky and free-flowing Dom Perignon champagne, business class would still be plenty comfortable for my family on this trip. We would of course also have access to the lounge at the back of business class, which is a unique and fun experience on Emirates when available.
Lounge service has been limited during the pandemic, but here's hoping for a return to more normal times someday before this theoretical trip comes to pass.
Note that in my case, I am considering the cost for four passengers in business class. However, perhaps you're traveling with only two passengers. In that case, you may want to keep your eye out for first class availability. First class on this route would cost 85,000 miles each way (so only 340,000 points round trip for two passengers). Emirates First Class is a pretty swanky way to cross the skies.
While flights represent a huge piece of the cost of the trip, they aren't the only cost that could be covered with that Platinum card bonus and card benefits.
I generally wouldn't recommend transferring Membership Rewards points to Marriott Bonvoy because Marriott points are worth so much less than Membership Rewards points. Furthermore, Marriott points can often be purchased on sale for less than a penny a point.
However, for the sake of example, I could transfer 30,000 points to Marriott Bonvoy and book the Four Points by Sheraton Milan Center, which is otherwise showing a ridiculous price of 528 Euros on the night I'd need.
After the cruise, we'd probably prefer to spend a night in Rome. Since the Platinum card includes an annual $200 credit toward a Fine Hotels & Resorts or The Hotel Collection booking, perhaps we'd stay at the Waldorf-Astoria in Rome on the night following the cruise since it is available for $309 via Fine Hotels and Resorts. I'd get $200 back and get free breakfast for two, a $125 property credit (which should easily cover dinner), guaranteed 4pm late checkout, possibility of an upgrade, etc. See more about Fine Hotels & Resorts here.
If you're keeping track at home, so far this vacation plan would cost me:
360,000 points + $632 for four round trip business class flights
30,000 points for one night in Milan City Center
$109 for one night in Rome at the Waldorf with free breakfast and a $125 property credit
$200 for three round trip train tickets from Milan to Rome (my youngest son would still be free on our laps)
$1100 for a 10-day European cruise
I would still have 110,000 Membership Rewards points left over
Let's focus on those last two bullet points: I am out of pocket on the cruise for about $1100. However, in this example vacation, I still have 110,000 points left.
Regular readers know that the Schwab Platinum card offers the ability to redeem points for deposits in a Schwab brokerage account. That cash deposited in your brokerage account can then be moved to your checking account, withdrawn, etc. See more detail about how to do this here.
Since the Schwab Platinum card is a separate product, I could open the Schwab Platinum card sometime in the future and then cash out the 110,000 leftover points for $1,210. That's enough to cover my balcony room on a 10-day European cruise for my family of four and the balance of my Waldof-Astoria stay.
In the end, I would be out of pocket for $632 in taxes and fees on the flights, $200 for the train journey, and whatever other food or spending money I want. That's $841 for a family of four on this trip.
For those keeping track at home, retail costs here were:
$12,804 for four round trip business class flights
$600 for the Four Points in Milan (which is ridiculously overpriced but serves as an example)
$3,735.60 for the cruise (retail price as shown in this post. Note that getting my $1100 deal on this requires some additional legwork)
$309 for the Waldorf-Astoria Rome
$200 for the round trip train tickets Milan to Rome
Total cost = $17,648.60
Getting a $17K vacation for $841 out of pocket sure ain't bad.
If you had two passengers flying in first class, the cash price of round trip airfare alone for two passengers would be $18,602 on the same dates. You could put together the same type of trip as above for even less money / fewer points and get even more value for just two passengers (note that the cruise would have also been significantly cheaper for two people).
Note that I don't really value this trip against the retail cost because I would never spend seventeen thousand dollars for my family to fly to Italy and take a 10-day cruise. And there are other costs to consider; for example, the Platinum card has a high annual fee (it also comes with a number of other valuable benefits that might help to mitigate that depending on your needs and situation). If I'm going to also open the Schwab card at some point, there is additional cost there as well (though that cost is pretty easily offset by the welcome bonus on that card and first year benefits).
That aside, my point here is to say that you can put together something pretty incredible with this bonus. I wouldn't pay the retail price on this trip, but surely there are people who do pay retail prices for these things. I love that a single credit card bonus could make a trip like that possible for my family for less than what the average American spends out of pocket on a vacation.
But that's not the only thing we could do with the points . . .
Round the world to South Africa, Turkey, and Japan
If you have a lot of flexibility, you could put together a really amazing trip around the world with the points from the Platinum card bonus.
Greg has written extensively about the incredible value of the ANA Round the World award chart. ANA is another Amex transfer partner, so points transfer 1:1 from Amex Membership Rewards to ANA Mileage Club. I have also noted many times what a value this award chart can be. ANA's round-the-world chart is distance-based and allows stops in up to 8 cities with 12 segments flown at the following prices based on total flight distance: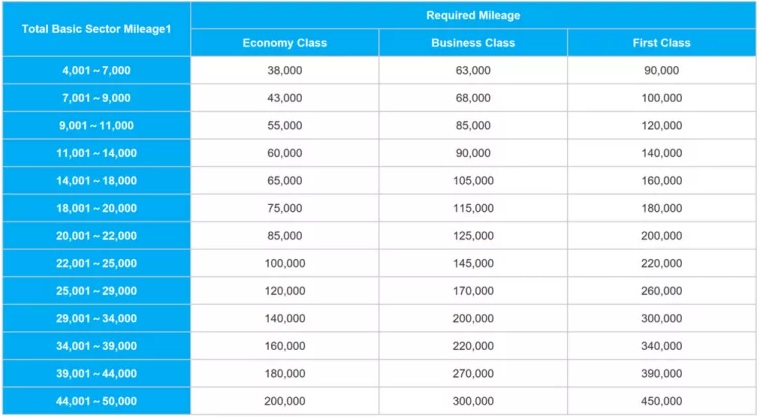 This can represent an amazing value. Unfortunately, ANA passes along carrier-imposed surcharges. However, you can avoid them by flying airlines that don't impose surcharges or have reasonable surcharges.
Here is an example itinerary that would cost 145,000 points per passenger flown entirely in business class.
This trip would cover the following flights with the ability to stop for as long as you like in each city (keeping in mind that you can book about a year in advance, so your last flight will need to be within the booking window):
New York to Johannesburg, South Africa on United (stop and enjoy a safari!)
Johannesburg, South Africa to Istanbul, Turkey on Turkish
Istanbul Tokyo on Turkish
Tokyo to New York on ANA
Obviously this type of trip would be incredibly difficult to plan during the pandemic (and in fact impossible today because of travel restrictions between some of the included countries), but it is a great example of the type of travel possible down the line with this huge cache of points.
By my calculations, the taxes and surcharges on a trip like that should ring in at about $530. To be clear, that's with stops in Johannesburg, Istanbul, and Tokyo and without going to great effort to avoid surcharges (Turkish and ANA each add some surcharges, while some other airlines would add none in similar sectors). Keep in mind that if you have the time, you could invest more points to cover a greater distance and visit up to 8 cities with 12 flights. You could depart the east coast of the US and return to a point farther west to save distance and pay fewer points (buying yourself a cheap domestic economy class ticket to get back to your point of origin at the end). See this post for more hacks.
To put that in perspective, look at cash prices. This itinerary would ring in at over $16,000 per passenger.
Again, due to the distance coming in under 25,000 miles flown, you'd be looking at a cost of 145,000 Membership Rewards points transferred 1:1 to ANA Mileage Club per passenger. For two passengers, that's 290,000 points for what will be north of $32,000 worth of airline tickets. And you would still have 210,000 points left over. Again, as before, I don't really value the tickets at thirty thousand dollars since I would never spend that much on these flights, but the point here is to show the incredible value possible if you have a way to meet the $25,000 in purchases required to max out the Platinum card bonus.
While I don't generally recommend transferring Membership Rewards points to Marriott, you could fill out lodging for your trip with transfers to Marriott with your remaining points.
For example, you could transfer 50,000 points to Marriott Bonvoy and spend 5 nights at the Protea Hotel Kruger Gate.
I've stayed at the Protea Kruger Gate before (and reviewed it here). It sits literally about a hundred yards from the entrance to the park and there is incredible wildlife viewing within an easy drive into the park from the hotel.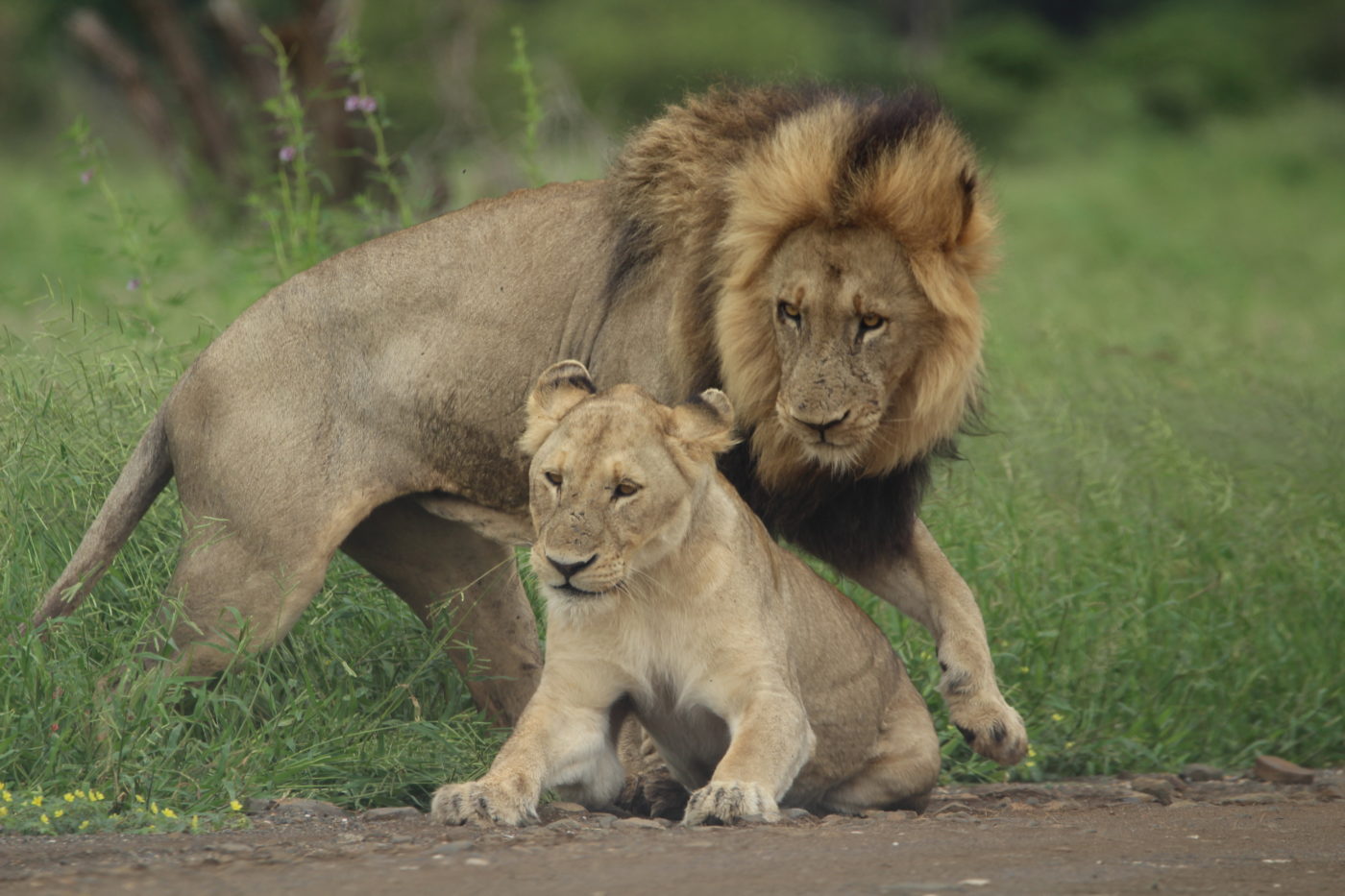 From there, a night (or few) in Istanbul can be had for a pittance of Marriott points. Let's suppose you stay at the Renaissance for 5 nights for a total of 60K points (though as you see you could stay for even fewer points at other properties).
After all of the flights and 5-night stays at Kruger Park and in Istanbul, you'd still have 100K points left. That would be enough to easily cover two nights at a Marriott in Tokyo.
Again, hotel transfers do not represent a particularly good value. With a transfer bonus, you might do slightly better with Hilton than Marriott. But with the examples above, the 500K points from a single welcome bonus could get you:
Lie-flat business class flights from New York with stops in Johannesburg, Istanbul and Tokyo before returning to New York (290K points for two people)
5 nights of hotel at the gate to Kruger National Park (50K points)
5 nights of hotel in Istanbul (60K points)
2 nights of hotel in Tokyo (100K points)
The above is a trip that would ordinarily cost in the mid $30,000's if you were paying cash rates for each piece of the trip. Instead, the bonus from a single card covers nearly the entire trip. While we often take this stuff for granted as award travel enthusiasts, it is pretty amazing that you could put together that type of epic journey with a single bonus.
Singapore First Class & The Maldives
Let's say you're a lone wolf looking to treat yourself to incredible luxury and a vacation of isolation. Singapore First Class is one of the nicest ways to fly in the sky.
Whether you find availability from New York to Singapore in the new first class suites shown below (before continuing to the Maldives):
Or you fly the old suites: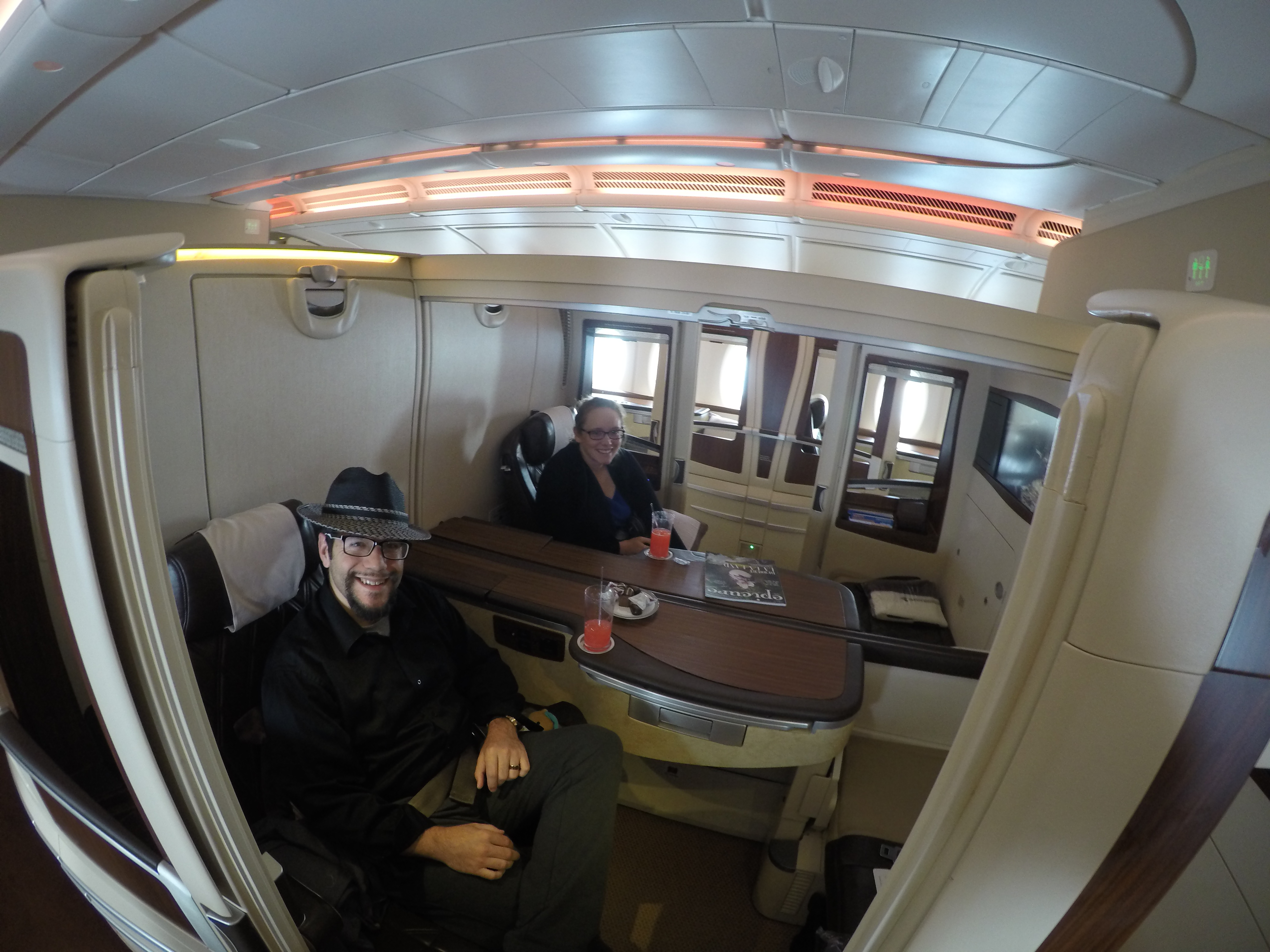 Or even if you fly in 777 first class from Los Angeles to Singapore before continuing to the Maldives:
All of the above options will ring in at 160K miles each way for a single passenger if you transfer Amex points to Singapore Airlines Krisflyer (yet another Amex transfer partner). Note that you can add a stopover in Singapore for $100, but otherwise you pay no fuel surcharges — you'll just be on the hook for less than $200 in taxes. Keep in mind also that through the end of February you could get Star Alliance Gold status by transferring 250K points or more to Singapore (but also keep in mind that they have an awful points expiration policy of 36 months with no way to extend your points, so there are additional award booking considerations not covered here).
To put that in perspective, cash prices run north of $15,000 for a ticket like this out of Los Angeles (it's a few thousand more out of New York).
Service in Singapore Airlines first class is legendary. You are very likely to enjoy your flight and ruin all of your future trips when they fail to measure up. Ask me how I know.
At 320K points round trip, that would be a very expensive trip in terms of points required — it isn't one of the best values to get to the Maldives, but it is one of the most luxurious. Assuming you earned the full 500K points possible from the Platinum card, that would leave you with 180K points from this Membership Rewards bonus, which would be more than enough to transfer 130K points to Marriott to book Le Meridien Maldives.
Greg and I stayed there this past fall and it was fantastic (read a full review here). Service was more on par with a Ritz-Carlton and the property was just opened so it is fresh and new. I would gladly return. While the standard room is now a beach bungalow, you could pay a cash upgrade of ~$50 per night for an overwater bungalow and enjoy sunsets like these.
That five-night stay would cost nearly $3,000 at cash prices. You'll still be on the hook for the $420 round trip sea plane transfer from the international airport to Le Meridien, but consider that after booking a $15,000+ round trip flight and $3,000+ hotel stay, you'd still have 50,000 points left over. That's enough points left over to book a flight for a second trip — for example, it would be more than enough points for a round trip to Hawaii from the mainland US.
Food in the Maldives is expensive, but with this single welcome bonus and relatively low out of pocket costs ($420 for the sea plane transfer, less than $200 in taxes, and food), you could have a bucket list-type trip from a single welcome bonus.
Bottom line
The new cardmember offer on the Platinum card via Resy can yield a massive haul of points. If you're able to meet the full $25K cap in the small business and restaurant categories during the required timeframe, you would end up with 500,000 total Membership Rewards points. It is incredible to think that the points earned on $25K in purchases could potentially buy $25K or more worth of flights and hotels. While I always caution newcomers not to value the points they earn based on cash prices they would never consider paying, it is nonetheless astonishing to consider just how far a single bonus could take you in booking a dream trip that you may not otherwise consider. Undoubtedly, maxing out the $25K spend required to earn that full Platinum card bonus would not be realistic for everyone — but stay tuned for more on that to come.