A question came up on our Youtube channel over the weekend (in a comment on this past weekend's podcast) that we haven't really addressed on the blog: Does it make sense to spend for status on an American Airlines credit card? After all, Greg has long spent his way to Delta elite status with Delta credit cards. Should someone on the Frequent Miler team drop the Loyalty Points pursuit game and just meet the spending requirements with an American Airlines credit card, perhaps through manufactured spending techniques? It sounded like a terrible idea at first blush, but I could see the appeal for some folks. I still wouldn't recommend earning elite status primarily through credit card spend, but it might be a reasonable option or supplement — particularly considering the ease of use versus the games we're playing.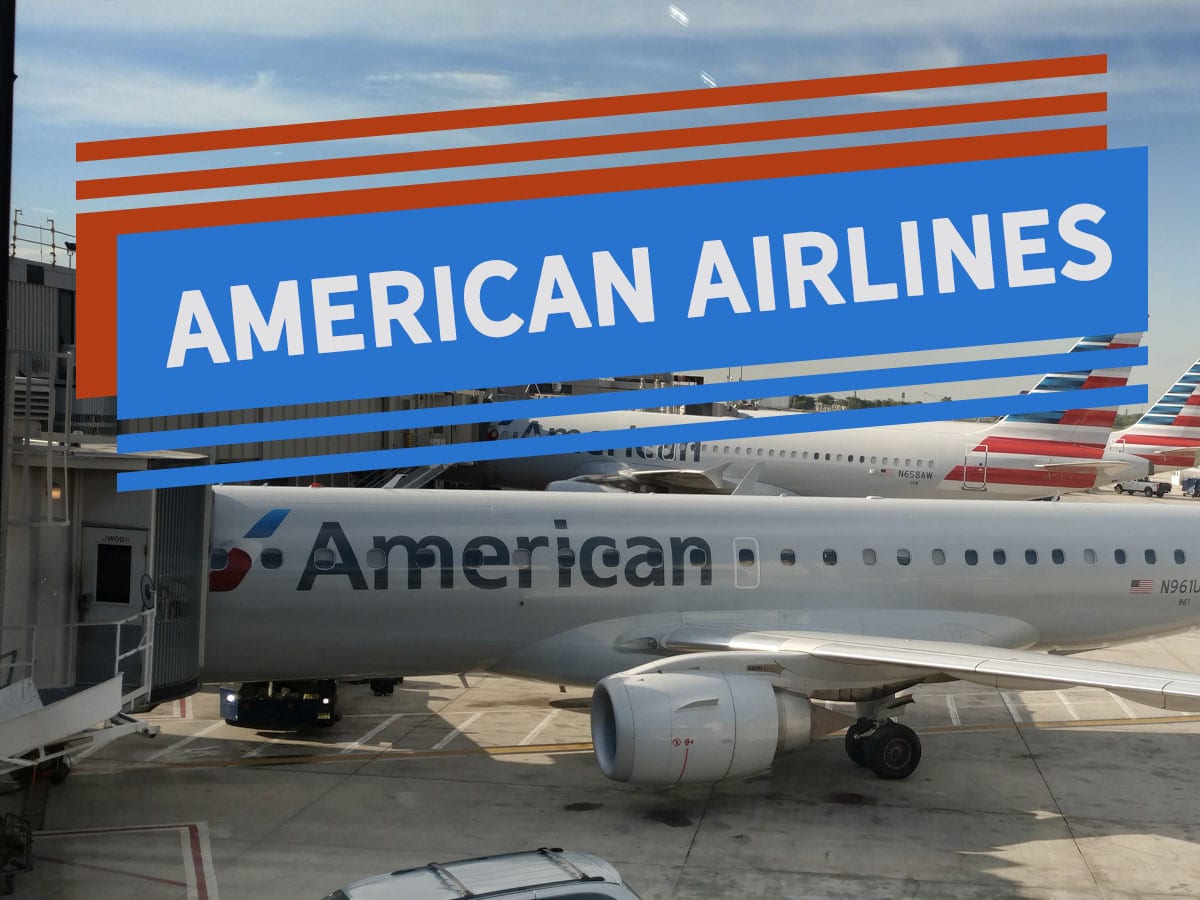 Spending your way to American Airlines elite status
We've written quite a bit about the ability to work the American Airlines AAdvantage shopping portal and SimplyMiles to earn high-level airline elite status and we are maintaining a cheat sheet for stacking methods. In fact, we've turned it into a game with Greg, Tim and I competing over American Airlines elite status (you can click here to find all of our posts on AAdvantage Loyalty points, including posts about our progress toward in pursuit of cheap status). Is the goal of our game to see who earns elite status the fastest? The cheapest? With the least headache? Your guess is as good as mine, but this is our idea of fun. With easy opportunities for pajama points, it's hard not to find the fun in earning status without leaving the couch.
That said, as a benchmark, it is worth considering the ability to earn elite status through spend alone. Keep in mind that the American Airlines credit cards available in the United States earn 1 Loyalty Point per dollar spent (regardless of category — while you can earn more than one redeemable mile per dollar in some categories on some cards, you'll only earn 1 Loyalty Point per dollar spent).
Given the number of Loyalty Points necessary for each status level, here's how much you would need to spend on an American Airlines credit card to earn elite status through spend alone and without the help of any American Airlines AAdvantage Shopping Portal or SimplyMiles offers:
Gold: $30K
Platinum: $75K
Platinum Pro: $125K
Executive Platinum: $200K
Those numbers might initially sound a bit nutty, but keep in mind that Delta requires spending $25K across Delta cards just to get an MQD waiver for up to Platinum status (you still also need the required Medallion Qualifying Miles (MQMs) on top of that spend!) and a whopping $250K spend for an MQD waiver for Diamond status (again, you also need to earn the necessary MQMs).
Because of the MQM bonuses on Delta credit cards, it is actually possible to earn Delta Diamond status almost entirely through credit card spend. Greg has written about it before. Still, even $250K spend across Delta cards will leave you a few MQMs short unless you catch a couple of welcome offers that include additional MQMs.
By comparison, American Airlines status is far easier to attain through credit card spend alone since there is no flying / "elite miles" requirement. Just spend enough to earn the required Loyalty Points and you're done (sort of). If you want choice benefits at the top tiers, you will still need to fly, but more on that later.
Here are the various American Airlines credit cards you can use:
Consumer
Business
Note that you can earn transferable points with the Bilt Rewards card that can be transferred 1:1 to American Airlines, but those points will not count as Loyalty Points.
Opportunity cost to spend for American Airlines elite status
When someone asked if they could get American Airlines Gold status with just $30K spend on an American Airlines credit card, I knew that the answer was yes but my first thought was that the opportunity cost wouldn't be worthwhile.
That's because with most American Airlines credit cards, you'll be earning just 1 redeemable mile per dollar spent. Our Reasonable Redemption Value for American Airlines miles is 1.3c per mile. It is certainly possible to get far more value when redeeming for international premium cabin flights on partner airlines, but it is also possible to get less value. If we accept the 1.3c valuation, that's like a 1.3% return on spend. That's really poor compared to many options available on the market.
At a baseline level, cards that earn 2% cash back are plentiful. The Nearside debit card is offering 2.2% cash back this year. Those with enough money on deposit or invested with Bank of America / Merrill Lynch or Merrill Edge can earn 2.625% back everywhere on the Unlimited Cash Rewards card or Premium Rewards card. The Discover IT Miles card earns an effective 3% back in the first year (after the first year double up). The point is that there are plenty of options to earn far better than 1.3% back.
Using 2% cash back as a baseline alternative, the opportunity cost to manufacture spend on an American Airlines card at an effective 1.3% back versus a 2% cash back card would be:
Gold: $210
Platinum: $525
Platinum Pro: $875
Executive Platinum: $1400
Bumping up to the Nearside debit card as a comparison point at 2.2% cash back instead of an effective 1.3% via an American Airlines credit card, the opportunity cost increases to:
Gold: $270
Platinum: $675
Platinum Pro: $1,125
Executive Platinum: $1,800
The costs increase from there if you have access to the stronger return on Bank of America cards, a Discover IT Miles card in the first year, or one of a few other cards offering 3% back for a limited time.
My initial thought was that these amounts were far too expensive to be worthwhile. First of all, those levels of spend could be put to use toward earning multiple new credit card bonuses worth far more than my 2% or 2.2% benchmarks above.
Furthermore, at the bottom level, the benefits at Gold status are pretty thin. Since you already get things like a free checked bag and priority boarding with an American Airlines credit card, you're basically adding the possibility of upgrades on paid flights, complimentary preferred seating (generally regular economy seats that are closer to the front of the plane) and complimentary Main Cabin Extra 24hrs prior to departure. That package didn't seem to be worth a whole lot.
On the flip side, at $210-$270 in opportunity cost for Gold status, it may not be a lot more than some have spent through the AAdvantage portal and SimplyMiles game. While Greg, Tim, and I have tried to keep net costs low, frustrations and clawbacks have added some cost both in terms of mental effort in tracking things and actual cost in terms of deals that didn't work out as planned.
At the upper end, the costs feel steep, but if you'll be flying American Airlines often they may not be crazy.
American Airlines Platinum status offers oneworld Sapphire status, which gives you access to partner business class lounges. Platinum Pro and Executive Platinum yield oneworld Emerald, which includes first class lounge access.
More interestingly, Platinum Pro and Executive Platinum members can get Loyalty Choice rewards. There are a number of options, but I think the most valuable choices are systemwide upgrades. Platinum Pro members can choose 1 systemwide upgrade. Executive Platinum members could choose up to 4 systemwide upgrades.
However, Loyalty Choice Rewards require both earning the necessary number of Loyalty Points and flying at least 30 qualifying segments. If you'll be flying enough segments to qualify for Loyalty Choice Rewards (and you'll presumably be earning some Loyalty Points from flying and therefore will need less spend and therefore incur even less opportunity cost than shown above), it may not be crazy to spend one's way to high-level status on a credit card. In particular, I could see spending toward Executive Platinum being potentially appealing in order to earn 4 systemwide upgrades at an opportunity cost of even less than shown above after whatever Loyalty Points you earn on the 30 segments you need to fly.
Could it be worth manufacturing high-level American Airlines elite status?
Costs to MS American Airlines elite status
While spending $30K, $75K, $125K, or $200K on credit cards may be possible for some folks who will put every single purchase or business expense on an American Airlines card, that will likely come at an even higher opportunity cost given that at least some of your spend is likely to be in categories where other cards earn significantly better bonuses.
What about those who would use manufactured spending techniques to reach the required spending levels?
I am not suggesting that one should pursue status through Manufactured Spending or that this or that this is risk-free. Manufactured spending techniques can be risky both in terms of financial risk (what if you lose a card, wash a money order in your pants pocket (done this), get robbed while carrying gift cards or money orders, your preferred liquidation technique suddenly stops working, etc) and account risk (manufactured spending techniques can send up red flags with the bank and lead to account closures). A sudden increase in spend is inadvisable.
However, I find it interesting to consider the costs and possibility of doing this even if I wouldn't do it myself or recommend it to others. If you pursue this, go in with eyes open regarding risks.
Manufacturing via Simon
Perhaps the simplest method for manufacturing the levels of spend required would be via Simon Malls. That's because Simon Malls sell Visa Gift Cards that are loadable with up to $1,000 on each card with an activation fee of $3.95. If you purchase online, you'll pay an additional processing fee and shipping fee, though they run frequent promo codes that reduce the fees when ordering online.
Whether ordering online or buying at the mall, the limit is $10K per day. That means that one could theoretically spend the $30K required for American Airlines Gold status in three trips.
Assuming that you're buying at the mall, you would pay the following in activation fees to meet the spending requirements for each level:
Gold = $118.50
Platinum = $296.25
Platinum Pro = $493.75
Executive Platinum = $790
Liquidation options vary wildly by region. In some regions, it is nearly or completely impossible to liquidate gift cards and in other areas it can be fairly easy and inexpensive. You'd want to know what works in your area before getting into this (and have a backup or two or three or five for when your preferred option stops working). Let's figure liquidation cost of $2 per $1K (this is intentionally conservative; there certainly may be cheaper options available to you). Total costs:
Gold = $118.50 activation fees + $60 liquidation costs = $178.50
Platinum = $295.25 activation fees + $150 liquidation costs = $445.95
Platinum Pro = $493.75 activation fees + $300 liquidation costs = $793.75
Executive Platinum = $790 activation fees + $400 liquidation costs = $1190
The numbers above come in addition to the opportunity cost of spending on an American Airlines card over your next best option.
"Cheaper" MS options
There are quite a few options for manufactured spending that would be cheaper than the Simon Mall path, at least on the surface. For instance, the American Airlines MileUp card earns 2x redeemable miles at grocery stores. You'll still only earn 1 Loyalty Point per dollar spent, but at an effective 2.6% return on spend and no grocery store spending cap and the chance to stack with various grocery store loyalty program promotions, costs could become much more reasonable.
Unfortunately, Speedway has seemingly stopped awarding Speedy Rewards on Visa Gift Cards over the past few days (we got no points on a gift card purchase yesterday in my household) as that was a way to significantly reduce MS costs since the rewards earned could outpace the activation fees, though it would have come at an increased opportunity cost given cards that earn better returns on gas station spend.
Office Supply Stores frequently offer opportunities to get Visa or Mastercard gift cards with reduced / zero activation fees. Since we have cards in my household that earn 5x at office supply stores, I would have a hard time swallowing the opportunity cost of spending on an American Airlines card over my other options, but for those who highly value American Airlines status this can be a way to get there more cheaply.
Another option would be using GiftCards.com. Tim wrote yesterday about an opportunity to earn an increased payout on Visa Gift Cards at GiftCards.com. While that could effectively reduce net costs quite nicely, you are limited to earning portal rewards on $2K in purchases per month, which reduces the effectiveness of this technique for those reaching for elite status through spend alone.
So is it worth it?
Spending toward status with an American Airlines credit card, (whether with regular purchases / tax payments / manufactured spending techniques) isn't appealing to me personally since I enjoy the gamified aspect of hunting for shopping portal deals and stacks with SimplyMiles and other card-linked programs, but I could see this being attractive to some members. As I see it, there are pros and cons:
Pros:
Spending toward elite status is simple. There's nothing to track / monitor apart from how much you've spent.
it's not unreasonably expensive for those who highly value status benefits.
Time investment could be significantly lower. Gold status could be had with three visits to the mall (though depending on liquidation options available, time investment could quickly increase).
Costs could be cheaper than shown here given promotions
Cons:
Significant opportunity cost if spending toward AA status limits your ability to earn intro bonuses on cards you would otherwise open
Suboptimal return on spend (opportunity costs figured in this post)
Benefits lower levels are weak and the most valuable benefits at the top levels still require flying 30 segments
Bottom line
I certainly won't be spending my way to American Airlines elite status, but I could see  the appeal of simplicity for folks who can easily meet the spending thresholds. Those with significant tax payments or business expenses and/or who regularly redeem American Airlines miles at optimal value may find the opportunity costs negligible and the low time investment in figuring out what works/worked preferable over using a spreadsheet to track shopping offers. Any way you slice it, American Airlines status is a lot easier to earn for those of us willing to play some games. While I am much more interested in shopping portals and card-linked offers, I could see the appeal for those looking for a simple way to earn American Airlines elite status without flying.