Recently, several readers have asked us about doing a post on which credit cards are in our wallets here at Frequent Miler. Part of my own hesitation in taking up such a post is that the cards in my day-to-day wallet aren't necessarily a reflection of A) what should be in my wallet, B) what should be in your wallet, or C) my full portfolio of credit cards, which includes many cards that get used in specific ways such that I don't need to carry them each day. Still, I understand the curiosity, so if you have wondered, ponder no longer: here are the cards in my actual factual carry-around-every-day wallet.
Citi Prestige Card for dining
Card Name w Details & Review (no offer)
FM Mini Review: The Prestige card's best in class 5X rewards for dining, airfare, and travel agencies is hard to beat. Sadly, this travel card doesn't provide any travel protections.
---
$495 Annual Fee
Earning rate: 5X airfare, dining, and travel agencies ⚬ 3X hotels and cruise line ⚬ 1X everywhere else
Card Type: Mastercard World Elite
Noteworthy perks: $250 travel rebate per calendar year ⚬ Free lounge access: Citi Properietary Lounges; and Priority Pass Select with free guests ⚬ $100 Global Entry application fee credit ⚬ 4th night free hotel benefit
This one is an easy carry for me: at 5x on dining, this card is always in my wallet to pay for food when I'm out. I love group meals where I can pay and others can Venmo me. While I certainly don't dine out daily (a "perk" of rural life), dining works out to be my biggest totally organic bonus category spend of the year, so this card always stays in my wallet.
Note that while this card offers 5x on airfare, I do not use it to book airfare ever since Citi removed all the travel protections last September. It's not worth the small bump in rewards to give up things like trip delay / cancellation insurance, baggage delay insurance, etc. On the other hand, I do sometimes use this at hotels, particularly when I'm staying at a Hyatt, IHG, or anything other than Marriott/Hilton (where I'd rather use the hotel chain credit card for more points).
Chase Ink Plus for gas stations
Card Name w Details & Review (no offer)
---
$0 introductory annual fee for the first year, then $95
Earning rate: ⚬ 5X office supplies, 5X cellular/landline/cable ⚬ 2X gas and hotels ⚬ 5X Lyft through March 2025
Card Type: Visa Signature Business
Noteworthy perks: ⚬ Points worth 25% more when redeemed for travel ⚬ Transfer points to airline & hotel partners
This card is no longer available for new applicants, but its little-brother card, the Chase Ink Cash, offers the same structure with a lower $25K annual cap on 5x categories).
This pick is likely to surprise many readers as it offers a relatively low category bonus of just 2 Ultimate Rewards points per dollar spent at gas stations. That's nowhere near the best category bonus on gas. I wouldn't recommend this card as a go-to gas card for most readers. So why don't I have something better in my wallet? The main reason is that I don't actually spend that much on gas. My wife and I both work from home. Sure, we live in the middle of nowhere and often drive somewhere on the weekends, but I'd guess that we spend far less on gas than the average American who owns a car.
No matter how much I spend at gas stations you can make the (correct) argument that I'm giving up a greater return by choosing not to earn at least 4% back on this category. But in the overall scheme of things, the actual amount lost in potential rewards has been relatively small. Until recently, I didn't have a convenient gas station for MS purposes and I've been replenishing a supply of Ultimate Rewards points that I depleted pretty heavily in 2018/2019. That said, I do now have a gas station at which I would like to increase credit card spend and as such I need to step my game up here. I'm very tempted to go with the Citi Premier card for gas for as long as the Turkish Miles & Smiles sweet spot exists, but it would likely make more sense to go after the Ducks card.
As a bonus, the Chase Ink Plus stays in my wallet in part because I always want to have it handy should there be an unadvertised Visa or Mastercard gift card deal at an office supply store.
Capital One® Venture® Rewards Credit Card: My "Everywhere else" card
If you told me three or four years ago that the Capital One Venture card would become my go-to "everywhere else" card, I'd have gotten a good laugh out of that joke. I'm as shocked as anyone that Capital One became aggressive in making this card a compelling option. At essentially 1.5 airline miles per dollar spent (with most transfer partners) or a floor-level equivalent of 2% back if you use the rewards to cover travel expenses, this card offers a nice mix of both worlds.
However, if that were the beginning and end of the story, I'd say that the Citi Double Cash might make a lot more sense as an everywhere else card: at what is essentially 2x ThankYou points everywhere (if you move the points to a Premier or Prestige card), the Citi Double Cash offers great earning potential with no annual fee.
The reason Capital One currently gets the spot in my wallet is because I apparently opened an old Venture One card during some limited window of time where the card offered a special gift card redemption that I've written about before (See: The best hotel credit card ever): while most gift card redemptions through Capital One offer 1c per Capital One "mile" in value or less, I have the ability to redeem Capital One "miles" at a value of 1.4c each towards $900 gift cards for Marriott/Ritz, Fairmont, or Raffles. I had a moment of panic yesterday when I thought that this function was actually disabled in my account, but it turned out they had just moved it. At any rate, I can move Capital One "miles" from my wife's Venture card (on which I am an AU) to my Venture One and then redeem 64,250 Capital One "miles" for a $900 Marriott gift card (a value of 1.4c per Capital One "mile"). That means I am essentially earning 2.8% back towards Marriott stays when I use the Venture card as my "everywhere else" card with the intent to make this redemption. That's solid enough for me to use it that way, especially because there isn't otherwise a very reasonable way to earn hotel rewards through credit card spend (since the Marriott cards offer relatively poor value for spend) — save for Hyatt of course (via Chase Ultimate Rewards). Hyatt isn't everywhere I need to be, so the Marriott gift card redemption is very useful for me.
As a backup, I can live with the 1.5x airline miles per dollar spent that I'd get through transfers to most of Capital One's transfer partners and could hope to take advantage of a transfer bonus that makes the ratio closer to 2 miles per dollar spent.
SoFi Money debit card
I don't often use cash, but I carry the SoFi Money debit card in case I need it. Since SoFi reimburses ATM fees at the vast majority of ATMs and charges no foreign transaction fees, this is an easy go-to card for withdrawing money worldwide. I used this card recently to withdraw cash at a gas station and had the notification that SoFi had rebated the ATM fee before I walked out the door.
Ironically, even though this account offers a decent APY of 1.6%, I don't keep much money in it just in case my debit card gets stolen.
With 20% back on Lyft rides until February 19th and the coming benefits when this converts to a Mastercard debit card, I continue to be impressed with SoFi Money and it'll keep a place in my wallet as long as they maintain the status quo. For more on SoFi Money, see this post: Easy money: SoFi Money & SoFi Investing new account / referral bonuses.
A Simon Visa Gift Card
While not quite always in my wallet, these days I often have a Simon Visa Gift Card in my wallet (and did when I went to write this post, so I included it). That's because, since Simon is so welcoming of those wishing to increase credit card spend, I've been making a couple of trips per month on average to a Simon Mall. I then need to use those gift cards. In my case, I'm often using them to buy money orders. However, living in a small town means I don't have liquidation options nearby (every couple of weeks I spend a night in a nearby city on a liquidation run). When I'm out and about, I'm always keeping an eye out for new places to try, so I generally keep a Simon card in my wallet "just in case" until I've liquidated my current supply.
My Niue Yacht Club Membership Card
During the 40K to Far Away challenge last year, I joined the Niue Yacht Club for about twelve bucks. Yeah, I carry the card. It's kind of fun.
What's not in my wallet?
There are a lot of cards that aren't in my wallet but are in my stable. I'm not going to list every card I have here, but there are a couple of key cards missing from the story above that are worth noting:
Amex Gold Card
Card Name w Details & Review (no offer)
FM Mini Review: This card offers an awesome return on US supermarket and worldwide dining spend, putting it at or near the top-of-class in both categories. Dining credits and Uber / Uber Eats credits go a long way towards reducing the sting of this card's annual fee.
---
$250 Annual Fee
Earning rate:
3X points for flights booked with airlines or on amextravel.com ⚬ 4x points at US Supermarkets (up to $25K in purchases, then 1x) ⚬ 4x at restaurants worldwide ⚬ 1X points on other purchases. Terms apply. (
Rates & Fees
)
Card Type: Amex Pay Over Time Card
Noteworthy perks: Up to $10 in statement credits monthly with participating dining partners (Goldbelly, Wine.com, Milk Bar, Shake Shack, Seamless/Grubhub, Cheesecake Factory) ⚬ $10 monthly Uber or Uber Eats credit (use it or lose it each month) ⚬ $100 hotel credit on qualifying charges on stays of 2 nights or longer, plus a room upgrade upon arrival, if available with The Hotel Collection at americanexpress.com/hc ⚬ Enrollment required for select benefits.
This is my wife's card and I had kept it on my Samsung watch for US Supermarket spend when I am without her, but I wiped my watch recently and haven't added this back yet. I need to get this back on my watch as I've missed out on some easy points recently. Still, we'll max out the category bonus spend this year easily.
One of the positive points of living in the middle of nowhere is that we actually spend far less day-to-day than many people: there's no Starbucks, no drive-through, no tasty little Thai noodle shack for lunch, etc. For years, I thought that made life boring (hence why I became a traveler!). As I get older, I realize that makes life cheap (or cheaper). One way in which life isn't so cheap: when I don't plan out a weekend trip to the supermarkets in a larger area, I get stuck running up to the store in my small town a couple of times during the week, where prices could be described as being as competitive as you'd set them if you had no competition within 30 miles. Between all of those trips and the other ways to increase spend at grocery stores, we'll keep this card for that bonus category alone.
Alliant Cashback Visa
Card Name w Details & Review (no offer)
FM Mini Review: Good cash back card for everyday spend as long as you do not spend more than $20K per billing cycle (at which point a 2% card would be better). Lack of foreign transaction fees is a positive.
---
No Annual Fee
Earning rate:
Tier One Rewards (which now requires $1,000 in an Alliant high-yield checking account and 2 electronic transactions per month) offers 2.5% cash back everywhere on up to $10K per billing cycle, then unlimited 1.5% cash back beyond $10K in purchases in a billing cycle. (Note that some purchases,
like those from GiftCards.com
, are not eligible for cash back)
<!–– qBaseq -->Base: 2.5%
Card Type: Visa Signature
Noteworthy perks: No foreign transaction fees
Truthfully, this alternates as an "everywhere else" card, though as I wrote recently, I think this one will be on its way out when renewal comes up at the end of this year thanks to the coming monthly cap on cash back earning and last year's increase in annual fee.
Citi AT&T Access More
Card Name w Details & Review (no offer)
FM Mini Review: Excellent choice for those who shop often online (thanks to 3X earnings)
---
$95 Annual Fee
Earning rate: ⚬ 3 points per $1 on products and services that are purchased directly from AT&T ⚬ 3 points per $1 on all purchases at online retail and travel sites ⚬ 1 point per $1 on all other purchases
Card Type: Mastercard World Elite
Big spend bonus: 10,000 anniversary bonus points after $10,000 in annual spending
This card is no longer available for new applicants, but it offers 3x at many online retail & travel merchants. This one is never in my wallet, but it gets monthly use. Each year in which I spend $10K, I also earn 10K bonus points, making this an easy keeper despite its $95 annual fee.
Bottom line
I do not profess that my wallet should be your wallet nor that my wallet is even quite ideal for my spend and redemption style. In fact, I'm always looking to improve upon the mix and I know that my gas station spend needs a better solution sooner rather than later. In part, I'm sharing this post to keep myself accountable: I know that a couple of readers are likely to take me to task about why not this card or that one and there are excellent arguments that I can make for why some other cards may deserve a spot. My choice of the Venture card for an "everywhere else" card is an option that just won't apply to many readers since most won't have my unicorn Marriott gift card redemption (though note that if you find someone in your family who does have it, remember that Capital One allows you to transfer points to any other cardholder who has a miles-earning card with no annual caps or stated limitations). Most would be better off with a Double Cash or Blue Business Plus as an "everywhere else" — or better yet the Bank of America Premium Rewards card with Platinum Honors if one can qualify. That last card is likely to push its way into my wallet by this time next year and at that point I'll have to consider where the Venture card stands.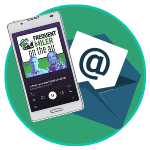 Want to learn more about miles and points?
Subscribe to email updates
 or check out 
our podcast
 on your favorite podcast platform.