Maximize your charitable giving by being strategic about how to earn rewards. From how to donate without saddling your chosen charity with processing fees to the best ways to stack up rewards on spend, this week we talk about how to do good, but better.
Elsewhere on the blog this week, read all about the Alaska changes (and see our Ask Us Anything about them), learn about leveraging the Excursionist Perk for a trip to Africa, find out what Carrie learned about award travel by watching Greg coach an award booking, and a lot more. Watch, listen, or read on for more from this week at Frequent Miler.
Subscribe to our podcast

01:13 Giant Mailbag
03:32 Giant Mailbag #2: United Quest card details
07:22 Card Talk: Capital One Venture X Rewards Credit Card & Capital One Venture X Business Credit Card
18:35 What crazy thing . . . did Marriott do this week?
23:27 Award Talk
23:28 Award Talk: Alaska Mileage Plan March 2024 changes
37:06 Do you want to collect Alaska miles now?
39:06 Award Talk: Use JetBlue points to book Qatar flights
42:15 Award Talk: Marriott free night certificate inside info
46:55 Main Event: A good deed is its own reward, but we can do better.
47:15 How do you find charities that do good? (search tools)
48:20 GiveWell
50:03 PayPay Giving Fund
52:15 Kiva Microloans
55:29 How do you earn rewards on charitable gifts?
55:47 Ways to earn miles for donating through airline programs, etc
56:48 Credit Card Rewards
46:49 US Bank cards that earn 2x on charitable donations….meh
58:13 Bank of America 2.62% cash back
58:48 Credit Card Big Spend Bonuses
1:00:25 Buying Visa or Mastercard gift cards and using them to donate
1:03:17 Earn a new card welcome bonus
1:08:20 Earn Air France elite credit
1:06:25 Donating miles and points
1:09:38 Question of the Week: Is it worth it to travel to Australia for just a week?
We publish Frequent Miler on the Air each week in both video form (above) and as an audio podcast. People love listening to the podcast while driving, working-out, etc. Please check it out and subscribe. Our podcast is available on all popular podcast platforms, including Apple Podcasts, Spotify, and many more.
Alternatively, you can listen to the podcast online here.
This week on the Frequent Miler blog…
Thanks to a status match tailored to Delta elite members, Greg and his wife now both have meaningful Alaska Mileage Plan elite status. If you are also in that boat and you're wondering what Alaska status gives you or whether it will be worth trying to keep it, this post should help you sort through and sift out the key info. My short take: Alaska status can totally be worth it, but even if you're not committed to re-upping your status, it can be great for earning even bigger bucketloads of points on cheap British Airways paid business class tickets (which you could book with your credit card points!).
Before you lean into earning Alaska elite status, you'll want to check out the major changes coming to Alaska's award charts in 2024. Yes, that is the still the plural "charts", but not at all in the same way that they have awards "charts" today. Starting next year, all partners will be priced from the same award chart with an actual "saver" price. This marks a major change for the Alaska program and more or less applies an Aeroplan-like situation to Alaska's set of partners.
As you'll have seen in the previous post about the new Alaska award chart, things are changing significantly for holders of Alaska Mileage Plan miles. The bad news is that the darling award chart sweet spots that we have come to know and love are going away. I'll personally miss those even if they mostly only exist in the theoretical sense. However, the truth is that although not simple, the new unified award charts are simpler and mark an actual enhancement for a lot of people on a lot of fronts. No, we're not all winners here — and ironically, the biggest losers in this are likely those located in Alaska's strongest hubs. On the one hand, the new award chart creates plentiful opportunities for many of us to get award pricing on par with other programs — and Alaska will continue to offer a free stopover on a one-way award. That can make them a slightly better value in some instances. On the other hand, there aren't many (any?) reasons to compel me to collect Alaska miles in the future since I won't stand to save much and Alaska miles are a hard currency to collect. Without a 55K-to-Fiji-and-Australia type of sweet spot that I can't get anywhere else, I'll probably stick to transferable points moving forward.
Have questions about all of the above and want to hear us wax philosophical (as a team) about what it all means? We ran an Ask Us Anything live on Youtube this week to discuss the Alaska changes where you could 'aska us anything. See what folks asked and what our thoughts were here.
I believe that Carrie holds the unique distinction of being the most well-traveled member of the Frequent Miler team. I don't know this, but I might further bet that she has flown more cumulative miles on award tickets than any of the rest of us — and perhaps apart from Stephen (who is on an 8-year, 50-state road trip), she has probably spent the most cumulative award nights in hotels. However, she would tell you that she did all that as a "Player 2" and she is still learning the ropes of award travel. In this excellent post, she talks about what she learned by watching Greg walk through award booking on video with Maisie, who you may remember as his culinary concierge on his 3 Cards 3 Continents trip. If you're still in that stage where you understand the general concepts but get a little intimidated by the details, I bet that Carrie's observations answer a couple of your questions.
Has a Marriott representative ever told you that a free night certificate can't be extended? We've long told readers to hang up and call again because for some reason some reps would do it and others wouldn't. Now, thanks to some insider tips shared with us, we understand why that happens (and just how futile it is to argue with someone who literally doesn't have the button to do it on their screen). The short story: be ready to redial until you hit a rep who actually has the ability to extend and be ready to tell them your story as to why you couldn't use your certificate. Learn more in the many updates to this post.
Southwest Airlines can now be booked through the Chase Travel Portal. Is it a good deal?
Not that long ago, I argued about why it doesn't make sense to transfer to Southwest rather than book Southwest flights with Chase points at a value of 1.5c per point. The challenge with that has been that the only way to book Southwest flights with Ultimate Rewards points has been to call Chase Travel. Thankfully, that has changed: you can now book Southwest flights in the Chase Travel portal. However, it isn't as simple or clean as I'd like. After reading Tim's post, I dug into things a bit. While the Wanna Get Away Plus fares and higher usually match Southwest's pricing, the exception is on really cheap flights. Southwest doesn't seem to be pricing any Wanna Get Away fares for less than $79 or Wanna Get Away Plus for less than $84, so the cheapest Southwest flights are more expensive though Chase. That said, I tested this out and learned several interesting things that I'll put in a separate post (including that yes, you can add a companion and change/cancel within the Southwest app even after booking through Chase). I think this is great news overall.
I have a trip planned to Africa next year and as fate would have it, that trip comes after a trip to Europe. That's great news because it looks like I'll be able to set my family up to take advantage of the United Excursionist Perk so that we can save a ton of miles within Africa by sandwiching our intra-Africa awards between legs booked in Europe. I expect to save six digits worth of miles by leveraging this perk to the fullest, and it just works out that I need a couple of cheap European awards that will fit the bill perfectly.
On the heels of Qatar launching the ability to book JetBlue points with Qatar Avios (which they subsequently pulled…I'm not sure if it's come back), JetBlue TrueBlue has launched the ability to book Qatar Airways flights with JetBlue points. While you won't get a better deal with JetBlue than with other award programs you can use to book Qatar flights, I nonetheless find this to be a major enhancement to the TrueBlue program since it creates a way to get far outsized value for your points if you're interested in flying on Qatar,
While I usually don't include quick deal posts in our week in review, I wanted to include this one this week because it is such a terrific value for veterans. If you are a veteran or active-duty service member (and/or the spouse of one), you can get a free MSC cruise through a free status you can get at Ocean Casino Resort in Atlantic City. While MSC does not have a reputation as a luxury liner, the offer through Ocean is as close to free as a free cruise gets and this doesn't require any existing credit card or elite status, so it's a great deal for those who have served.
Capital One's rewards ecosystem can be a great one for someone looking for a really simple credit card solution. In fact, I think that a combination of the Capital One Venture Card and a Capital One Savor card could be a killer combination for someone who only wants to carry two credit cards. That said, I think most people could save the  $95 annual fee by instead going for the SavorOne card, which is the little sibling to the Savor card. Read more about why in this review.
Short story: I love the St. Regis vibe, but after reading Tim's review I probably won't be seeking it out in Atlanta. I'm glad I read this as I may have been tempted to use an 85K certificate if I were heading to Atlanta, but I'm not sure I would be more enthusiastic than Tim's 1 thumb up and 1 thumb down given his description (which I'll add seems very fair). I'll hold out for a  St Regis elsewhere should my travels take me to Atlanta.
---
That's it for this week at Frequent Miler. Don't forget to keep your eye on this week's last chance deals, especially for those ready for this week's holiday shopping rush.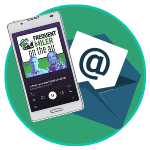 Want to learn more about miles and points?
Subscribe to email updates
 or check out 
our podcast
 on your favorite podcast platform.