Get JetBlue Mosaic-like benefits or Alaska elite-like benefits without ever setting foot on a plane with the American Airlines Loyalty Point game. This week on Frequent Miler on the Air, Greg and Nick discuss some reasons you may be missing that might make it worth playing the game.
Elsewhere on the blog this week, why you might want to be using at least one of the best award searching tools (it can save you time and find you awards you wouldn't have found), how you can get up to 30% cash back at popular stores without a Capital One credit card, and a lot more. Watch, listen, or read on for more from this week at Frequent Miler.

1:11 Giant Mailbag
2:29 What crazy thing….did Capital One Shopping do this week?
5:35 Mattress running the numbers: Should you do the American Airlines elite status fast track if you have Hyatt elite status?
15:50 Awards we booked this week: Hyatt Regency MCO
17:51 American Airlines Loyalty Games Hidden Treasures 
44:59 Question of the Week: What is the best card for unbonused spend? 
Subscribe to our podcast
We publish Frequent Miler on the Air each week in both video form (above) and as an audio podcast. People love listening to the podcast while driving, working-out, etc. Please check it out and subscribe. Our podcast is available on all popular podcast platforms, including Apple Podcasts, Spotify, and many more.
Alternatively, you can listen to the podcast online here.
This week on the Frequent Miler blog…
If you have World of Hyatt elite status, it can certainly make sense to fast-track to American Airlines elite status. On the podcast, I initially said that this probably wouldn't make a lot of sense unless you intend to fly American a fair amount next year, but throughout the course of the discussion on the show you'll see that you may want to complete the match even if you won't fly American. That's because you'll also get benefits when flying JetBlue and Alaska and open up opportunities to parlay the match elsewhere. Personally, I'll be giving this one a go since I was already intending to earn the miles for Platinum Pro — with the fast track, I think I'll take a swing at picking up Executive Platinum status for a few months in large part in the hopes of being able to match that elsewhere.
I have to admit that I've mostly been playing the American Airlines Loyalty Points game for the love of the game and not really because I expected to benefit all that much from American Airlines elite status. Then, last week, I got a pleasant surprise: I had booked a flight for 6 of us (my family of four plus two other family members) on JetBlue using my TrueBlue points, but I attached my American Airlines AAdvantage number — and I reaped the rewards of playing the game: all six of us got complimentary Even More Space (extra legroom) seating at check-in and I got two free checked bags. We even got to drop our bags at the JetBlue Mosaic line thanks to my AA Platinum status. The extra legroom seating would have otherwise cost more than $300 and I would have had to have paid $60 for our two checked bags. It'll only take a couple more trips like this one to make it feel like playing the Loyalty Points game has paid off nicely. As you can hear us discuss on the podcast, you'll get similar benefits on Alaska — so the AA Loyalty Points game can be worth playing even if you have little to no intention of flying American.
Greg compared Point.me and AwardLogic side-by-side with a very realistic example scenario. I loved this post and seeing how it turned out, but I think the thing I found most interesting was looking at how much time you can save with either of these tools. Yes, you can do what they do for free with some time and patience — but having gotten really used to using these types of tools over the past few years, I just don't think I'd want to go back to searching the way that Greg describes at the beginning of the post. I should add though that neither of these tools is the perfect solution since there are still some options that will be missed by either tool, but the overall time savings can be immense.
I found the update that Greg did to this post about SeatSpy to be incredibly useful: in this post, he now explains the use case for SeatSpy with each of the ~13 programs it supports. Some of them have very limited use cases, but some of them can be quite helpful when you're planning an award trip. SeatSpy is a totally different tool than things like Point.me or AwardLogic, but it can be great for these specific purposes.
It occurs to me that a lot of people don't understand that you don't need a Capital One card (or any Capital One relationship) to get offers like 30% back at Lenovo or 24% back at GiftCards.com. In this post, I explained and compared the key differences between several different Capital One programs (including which require a credit card and which don't).
My recent Disney trip would have been a comedy of errors were in not for the fact that it's really not funny how much you can spend on not having a great time at Disney World if you don't do it right. That's not to say that we didn't have some fun in the parks — our experience at Epcot was pretty good — but rather than you really need to commit to read up and prepare if you're a miles and points person / bargain hunter. By contrast, I enjoyed a Royal Caribbean cruise a few days after Disney that cost me less than a day at a Disney park and offered more enjoyment on the net whole.
Well this is a bummer: Marriott will no longer allow a soft landing for those of us who fail to requalify for elite status. I currently have Titanium and hadn't been worried about qualifying for Platinum this year since I expected Marriott would likely give me Platinum next year even if I didn't hit the nights for qualification. Unfortunately, it sounds like that isn't going to happen — so now I'm going to be scrambling to find those extra nights I need to have Platinum status. Getting the Brilliant card for Platinum status isn't in the cards for me thanks to my Ritz card (which I don't want to product change because I'm grandfathered into a $395 annual fee!), so I'm going to have to consider getting the Marriott business card even though I may not be eligible for the welcome bonus. It's a bummer that I missed out on the 100K offer on that card since I didn't know about this change in requirements. I definitely want Platinum status now that my Ritz card annual free night cert is usable at higher-end hotels, so I'll have to prioritize getting back to Platinum status.
Greg went back to Charleston and stayed at Wentworth Mansion again and it looks like he still recommends this property if you'll be in Charleston. Thus far, my few experiences with SLH properties have me interested in trying them out whenever they are a good fit, so if and when I make it to Charleston again, I'll certainly consider Wentworth Mansion.
---
That's it for this week at Frequent Miler. Keep your eye on this week's last chance deals to be sure you don't miss those set to expire this week.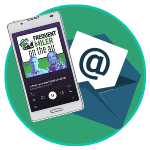 Want to learn more about miles and points?
Subscribe to email updates
 or check out 
our podcast
 on your favorite podcast platform.